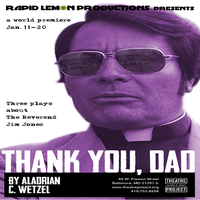 Amanda N. Gunther | TheatreBloom
In a world exploding with fake news, the facts often get
lost in the chaotic flurry of excitement fluttering all around the story. And
even when the facts are straight forward, they don't tell the whole story. The
facts here are straight forward. On November 18, 1978 over 900 people died in
the Jonestown agricultural commune in Guyana; over 300 of them were aged 17 and
under.