Guess what, in his bed, Pharaoh had an uneasy night! He had had a dream that pinned him to his sheets with fright: he dreamed that you missed out on seeing The Saint Gabriel Miracle Player's spring musical Joseph and the Amazing Technicolor Dreamcoat! Directed by Kacy Conley, this fun-loving, energetic modern-day classic show has a little something for everybody. It'll get you go-go-go-dancing up in the aisles by the time the final curtain comes down!
Not without their hiccups and holdups along the way, St. Gabriel's Miracle Players does a solid job of getting the high-octane production up on its feet, rolling along smoothly. There are a few transitions that could use some tightening, and a few places where Orchestra Conductor Matt Elky could vamp to keep the audience from total silence— though to his credit, Elky is exceptionally well versed at how to spin and repeat a phrase to ensure everyone has returned back to the stage once the characters go meandering into the audience— and some opening night sound issues that will hopefully resolve themselves as the production progresses, but on the whole, the production was enjoyable and filled with enthusiastic heart.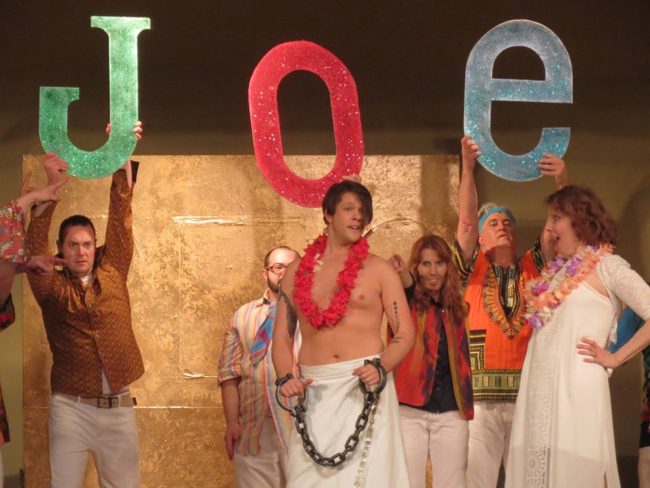 One of the things that makes the St. Gabriel's production unique is its use of the Children's Chorus. Though many productions feature a children's chorus, Director Kacy Conley and Children's Chorus Director Marie Pango find bunches of special instances to incorporate and include the children, including a post-intermission cabaret that features the young performers singing selections from the opening act of the show. The Children's Chorus (comprised of: Margaret Akchin, Lois Care, Mayah Lohrmann, Anu Nkah, Julia Ann Nkah, Gracin O'Connor, Cynthice Ogu, Prince Ojng, Princess Ojng, Emmanuella Omuonua, Faizah Soh, Farrah Soh, Nancy Tita, Whitney Tita, Nathalie Tolosa, Jack Wiggins, Molly Wiggins) even has a special feature during "Go, Go, Go Joseph!" where they roller blade, ride scooters and bikes, and cartwheel up and down the aisle of the audience. Pango works with the children to create strong backup sounds for their portions of "Close Every Door" and other musical numbers in which they are featured.
The design team—  with Michael Hulett and John Wiggins heading up Set Construction, Jennifer Danielle Alexander, and Anna Care taking care of Set Painting, Bob and June Frank of SUNBRIGHT Productions covering lights, and Terri DiPaola, Heidi Toll, Sally Kahn with Anna Care and Jennifer Danielle Alexander working on dozens of costumes— puts forth a fine effort to get the stage looking shipshape for the production. The giant head of the sphinx, complete with sunglasses, for the scenes in Egypt as well as the fancy lettered sign "The Canaan Café" for "Those Canaan Days" are lovely touches that really make the production pop. Using all white for everyone in the "Joseph Megamix" at the show's end is another solid choice that reminds the audience that everyone is an important part of the production. Director Kacy Conley ensures that there is attention to detail as well. Giving Joseph his golden cup and ensuring he uses it throughout the entire scene with the brothers as opposed to just pulling it out to stuff in Benjamin's sack, and having a bright silver 'J' emblazoned on the front of the golden chariot; these are the little details that make a true aficionado of the theatre smile.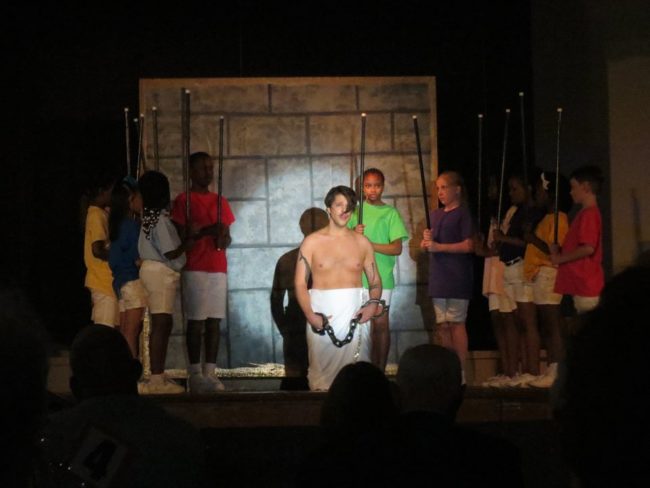 Choreographer Kristin Rigsby puts a great deal of energy into the routines that fill the production. Tackling several different dance styles, it's no easy task for Rigsby to bring dozens of dancers at a time together for routines like the hoe-down featured in "One More Angel in Heaven" or the jazz routine used during "Joseph's Dreams." Using featured dancer Terri DiPaola during "Those Canaan Days", Rigsby is able to showcase a deeper bench of choreographic understanding. There are simple routines for the larger groups, especially during the "Joseph Megamix" at the show's end, and lots of fun participatory gestures for the children's chorus throughout the performance, all of which have high energy thanks to Rigsby's encouragement.
There's talent featured throughout the production, tucked away into clever nooks and crannies. Like the singing Camel (Merrell Weiss) and Snake (Jennifer Danielle Alexander) who both pop their heads out from behind the curtain (to very smartly cover a scene change) and sing "Poor, Poor Joseph" as these anthropomorphized animals before Joseph is hauled off to Potiphar (Rodney Bonds.) Doubling up as Potiphar and Jacob, Bonds puts his best baritone-bass foot forward and gives both characters a sturdy sound. Watching the way Potiphar's Wife (Heidi Toll) spins around the dance floor during "Potiphar" is quite the scene as well. And then there's Anna Care, a featured 'angel' soloist for "One More Angel in Heaven." With a serene voice like a songbird, Care alights upon the soprano notes of this solo with grace, ease, and a lilting loveliness that is just beyond compare.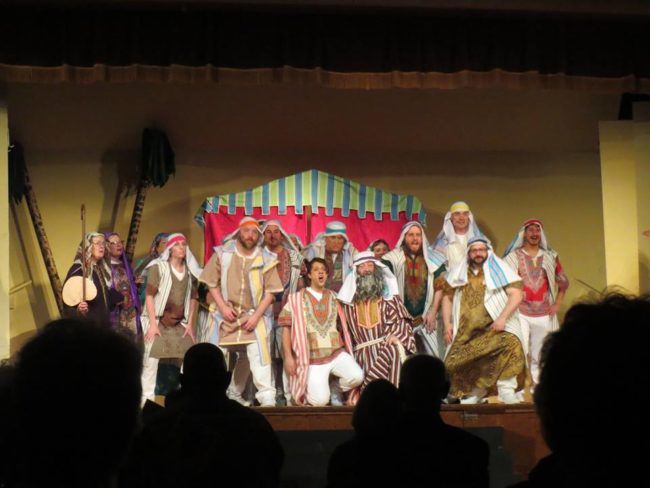 Of the brothers there are a dozen; technically there are 11 as Joseph is much in a category all his own, but of the 11 there are several who stand out in various musical numbers. Chip Willett as Naphthali takes the lead in "One More Angel in Heaven" giving this cornball song a real burst of gusto. Followed closely by Mark Care, playing brother Asher, who gives a spoken rendition of his bits here, the pair bring home the song to a hilarious end for good measure. Levi (Jonny Akchin) and Zebulon (Lenny Taube) take pointe for "Those Canaan Days", making the number an engagingly hilarious one. Reuben (Forest Deal) and Judah (Anthony Johnson) lead the "Benjamin Calypso" with Johnson really bursting out vocally and leading that number through to its happy conclusion. And no one can forget Simeon (Nick Ruth), but not because the brother does anything spectacular as a brother. Ruth plays The King in every sense of the word, doubling his brotherly role as the mighty Pharaoh. Channeling a late-in-live Elvis with all the swagger and charisma of the king of rock-n-roll, Ruth handles "Song of the King" with guts and panache, thank you very much.
The guiding voice of the show, the Narrator (at this performance Ruth Hulett) traverses a musical path like no other during the performance. Going up, down, and all around the town for every song she sings, Hulett is channeling every pop-diva icon from the last several decades of top 40 musical charts. Whitney, Cher, Madonna, all of the riffing divas are rolling through her performance, which is as outrageous as her costumes. (Try to keep track of how many different outfits she rolls through, it might be as many as the colors in Joseph's coat!)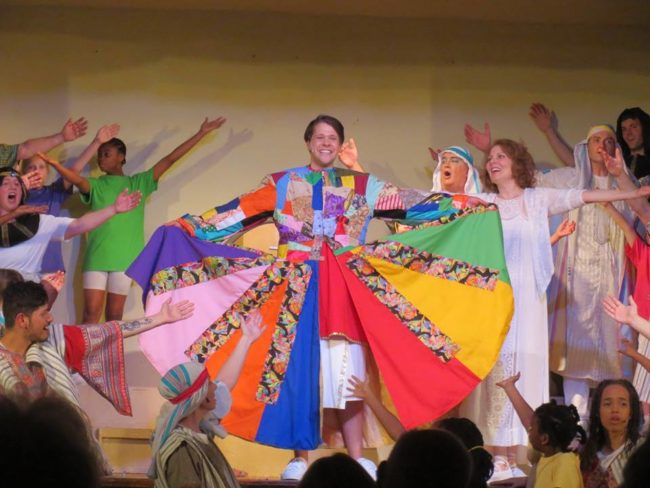 Carrying the show square on his shoulders, Paul Kennedy aces the titular role and carries the audience along the road of this journey. With a sensational voice that is both emotionally attached to the character arc and richly grounded in the pathos of Joseph's discovery, Kennedy brings an honest heart, a raw sense of compassion, and an exceptional understanding of the character to his performance. "Close Every Door" becomes a truly heart-wrenching experience as he power-blasts his way through this number. Convivial and mindfully present, with hints of cheeky humor— like the facial expressions he pulls for the end of "Pharaoh's Dream Explained"— Kennedy delivers an exceptionally well-balanced and well-rounded Joseph.
So go, Go, GO see Joseph and all his brothers, and everyone else in the production that is nothing short of a miracle with all its energy and enthusiasm at St. Gabriel's Miracle Players.
Running Time: Approximately 2 hours and 15 minutes with one intermission
Joseph and the Amazing Technicolor Dreamcoat plays through May 21, 2017 at at The Saint Gabriel Miracle Players— 6946 Dogwood Road in Baltimore, MD. Tickets can be purchased at the door or with an advanced reservation request online.