The real King John of England has a murky reputation. We know him for the Magna Carta. We know him as a villain from the tales of Robin Hood. And, at a stretch, we know him as Shakespeare's earliest monarch, chronologically. Folger Theatre capitalizes on a chance to tell the rarely-told tale of this questionable king in its current production of Shakespeare's King John, directed by Aaron Posner.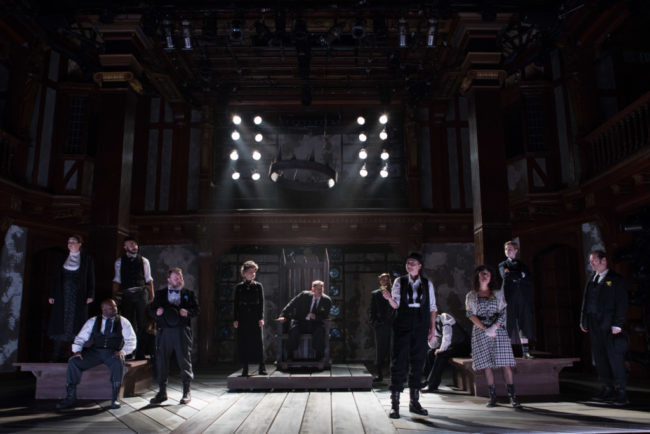 As the Folger describes, "King Richard 'the Lionheart' is dead. His younger brother, John, gains the throne, an inheritance that is instantly questioned by the King of France, who declares that Arthur, John's nephew, is the true heir to the throne. Against this backdrop of suspicious legitimacy, John maneuvers among a sea of ambitious pretenders, religious politics, familial corruption, and deceptions that threaten the kingdom and his reign."
The set itself, designed by Andrew Cohen, is strikingly minimal, and its decaying, peeling paint looks a bit similar to a crumbling map. The lighting design, by Max Doolittle, is equally minimal and effective, providing dim setting, stark contrasts, and enclosing spotlights for asides. The costumes serve a similar effect; Costume Designer Sarah Cubbage has decked the cast in crisp, uniformly bi-chromatic modern formal wear, with only a colored boutonniere to indicate national affiliation.
Brian Dykstra is subtle as the title King, and Howard W. Overshown provides an excellent foil in the King of France, showing incredible stillness and expressiveness in the midst of the chaos surrounding him. Maboud Ebrahimzadeh brings tireless strength to all his roles, and here, as Austra, Salisbury, and others, was no exception. Akeem Davis as the Dauphin brought an unexpected and palpable energy to his role, and watching the growth of his character was a highlight.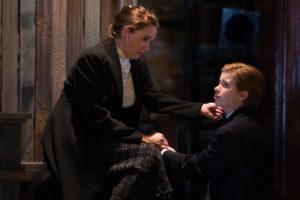 Yet it is Kate Eastwood Norris, as Philip the Bastard, and Holly Twyford, as Constance, who take this production to its heights. Norris and Twyford are powerhouses in their own rights, and while their onstage interactions are minimal, it is a delight to witness them working together once more. Norris was born for the role of the Bastard, not only walking a perfect line between comedic timing and ironic commentary, but she also takes her character on a seamless arc, bringing him from a downtrodden bastard to embodying his father, Richard the Lionheart. Twyford, likewise, lends enormous empathy to her text and competently holds the stage for monologues lasting, at least in one case, as long as ten minutes.
With this production of King John, it becomes increasingly clear that the Folger excels particularly with the obscure: Shakespeare's lesser known, or the works of his contemporaries. With the dramaturgy and scholarship and its disposal (provided, in this case, by Resident Dramaturg Michele Osherow), they are especially equipped to tell stories that are new, and perhaps opaque, to an audience, with all the finesse and entertainment of a hit. More than one audience member remarked and wondered after the show why King John was not a more popular play.
What makes this production of King John capable of such commentary is the attention to detail typical of Director Posner's style. Every moments delivers a touch, a glance, a gesture that enriches or foreshadows – Arthur's proclivity for balancing on platforms, a quick pat of the throne from the Bastard, John's clumsiness building up to his death. No movement is without purpose, and anywhere the audience chooses to look closer will prove rewarding.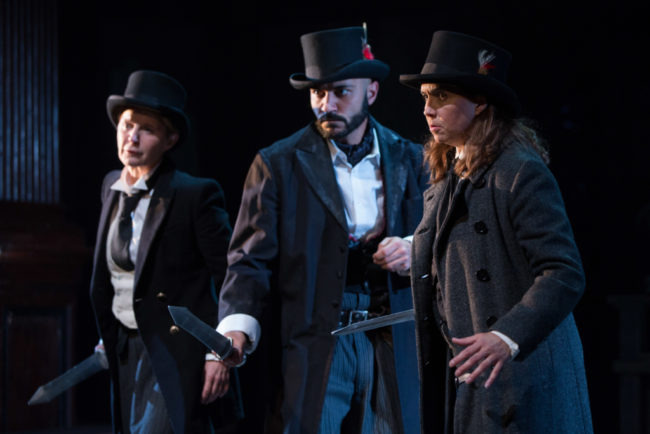 Conversely, what is equally typical of Posner's style is an experimental and modern lens that can be hit or miss. In an effort to make the play accessible and familiar, the show begins with the actors speaking directly to the audience, using new dialogue, to explain who their characters are. While helpful, it somewhat missed the mark, in that the audience is told who everyone is, which they could get from the first few scenes, but not the more inscrutable what it is they want. Similarly, in an effort to be aggressively modern, the opening bordered on condescending, for example, describing Queen Eleanor as "England's first badass queen," never mind England's badass queens that predate her. Equally experimental were the battle scenes, which replaced any actual fighting with actors standing in blackout, lighting their faces one by one as they quoted irrelevant fighting scenes from other Shakespearean plays. While creative, it was not immediately obvious what this was meant to mimic, and one is left waiting afterward for the actual battle.
You will never see a better production of King John, and only partially because you are unlikely to see any other at all. Posner's creativity and eye for the minute, blended with the raw talent and force of this cast, make this an unmissable experience.
Running Time: 2 hours and 15 minutes with one intermission
King John plays through December 02, 2018 at Folger Theatre in the Folger Shakespeare Library— 201 E. Capitol Street SE in Washington DC. For tickets call the box office at (202) 544-7077 or purchase them online.