Every holiday season I search the idiot box for that feel-good show of the year. Little did I know that this year I would find it at the Chesapeake Arts Center, in Stand Up For…Theatre's La Cage Aux Folles. Like Macy's, Best Buy, SUFT brings Christmas early; only instead of a big box they use a black box.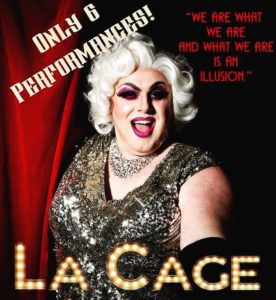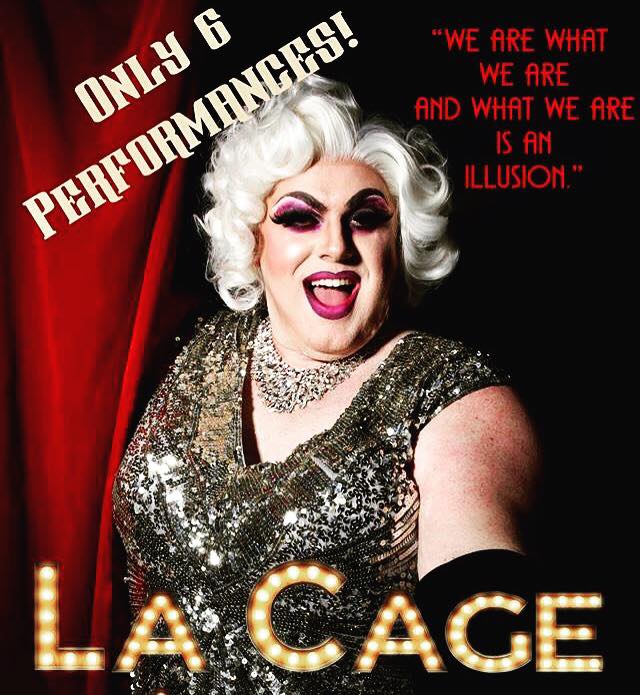 Before I dive into the cast, crew, and show itself, I think it's important to understand who and what SUFT is. Stand Up For…Theatre is the theatrical branch of How Do You Like Me Now? Productions, Inc. (Erase Hate Through Art is their social campaign featuring artworks exploring various themes associated with bullying and hate crimes as a means of prevention.) HDYLMN aims to promote acceptance and equality through theatre productions and fine art exhibits focusing on the harmful effects of hate-crime and bullying. They serve to advance the acceptance of the lesbian, gay, bisexual, transgender and questioning communities in and around greater Baltimore and Washington, DC.
Director Ed Higgins takes La Cage beyond its entertaining humor and makes sure the audience grasps the entire concept. If you walk away from this show with nothing else, Higgins ensures that you understand that words mean things. From the choice of words between father and son, a married couple, a son and his mother, an ultra-conservative politician, or even a sassy butler/maid, what is said has consequences. There is an old saying among law professors that, "You can't unring a bell," and Higgins teaches that lesson.
The set is simple, functional, and amazingly dazzling. The colors pop and sparkle doing both the La Cage stage scenes and the home interior scenes justice. Designers Ryan DeVoe, Jordan Hollett, Patrick Anderson and Josh Anderson have put together the finest set I have ever seen at the Chesapeake Arts Center. Their use of doorways and curtains in developing space and depth is brilliant. The design allowed for Stage Manager Sarah Burrall and her stagehands to streamline set changes with little to no down time.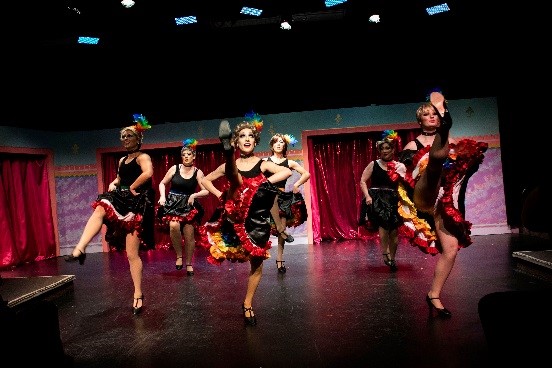 If Tan France ever steps down, then Netflix needs to seek out Grant Myers. With the help of Jennifer Hollett, everything Myers touches turns to gold…lamè, or turquoise, or coquelicot, or smaragdine, or any of those other colors I can't picture with my ally eye. Myers and Hollett blanket the stage with color like rose centifolia, jasmine, and violets bloom on the French Riviera. The costumes for the Cagelles are to die for and would be the talk of the show if not for everyone wanting to see what/who Jacob was wearing. The design team of Myers and Hollett must have Greg Barnes and Catherine Zuber looking over their shoulders. Look out, Broadway!
 Music Director Michael Pistorio should be all smiles when it comes to this cast. In the production that I saw there was nothing but perfection. Singing against a track can be tricky in the sense that the recording is unforgiving. An orchestra conductor can adjust tempo or even repeat to help an actor, with canned music you are on your own and whether a group number or solo, this cast was on point and up to the task.
Kristin Rigsby's choreography showed again and again that this production team understood the material. When the principles are singing they glide across the stage with a performance a cut above what you would expect from community theatre. On the other hand, when the Cagelles perform either with or without the principle cast they are stellar. Rigsby stages a floorshow akin to what you may see in Nice or Marseille. She not only produces high quality dancing, lifts and movement, but she does it with a clear knowledge of the French culture. Beau travail Mme Rigsby!
The group of Cagelles, Lenore Florez, Bambi Galore, Alicia Kenefic, Katie Sheldon, Kay Sweitzer, and Andrew Syropoulos are the show within the show. We are introduced to each lady at the beginning of the show and their performance has us pining for more. The more they give us the more you want them and their leader ZaZa. Honestly, I would dine in any restaurant just to see these ladies perform.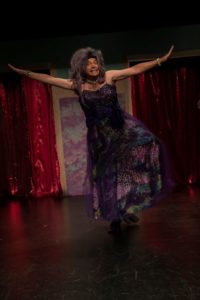 I thought the show was very well cast. As a group they all bring wonderful things to the productions. It's like having a pot luck dinner and no one brings three bean casserole; every dish is delightful. Adam Abruzzo (Jean-Michael) and Olivia Winter (Anne Dindon) are a cute couple and there is a chemistry between them. Winter is quite the dancer and her reactions to her or Jean-Michael's parents are hysterical. Christy Stouffer (Marie Dindon) and John Dignam (Edouard Dindon) are everything the young newlyweds are not. He is condescending, arrogant and abusive, while she is run down, tired and still in love with the man she married. They play well together, and they are very believable as to being married a very long time. Kudos to Stouffer for not overplaying the end once the tables are turned. She has her moment yet still shows the respect for her husband and his situation. Let me say that I am a fan of John Dignam and his work throughout Baltimore theatre. However, this show should come with a public service announcement. While Dignam delivers another wonderful performance, no audience member anywhere should every have to view him in a dress. I'm not sure how long it's going to take to un-see that.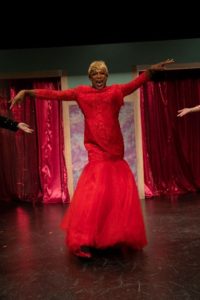 John Sheldon as (Francis) the stage manager of the club is a hoot. As the show progresses he finds himself a little more for the worse and a lot more in love. Jennifer Hollett (Jacqueline) commands attention whenever on stage. Her portrayal as everyone's favorite restaurant owner will keep you chuckling. Her over the top busy body character would be the perfect scene stealer if it weren't for Timoth Copney (Jacob). As funny as Hollett is, Copney runs away with every moment he can. From his wardrobe to his witty one-liners, Copney says what is on his mind and delivers with impeccable comedic timing. Think Marla Gibbs as Florence Johnston (Google it, young people). Add to that he is the butler who dresses like a maid.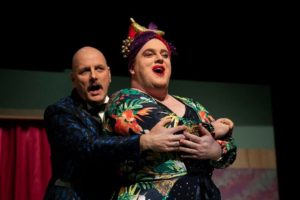 Hands down, the spotlight shines brightly upon Michael Bevard (Georges) and Ryan DeVoe (ZaZa). These two are simply phenomenal together. While both are exceptional, they understand their symbiotic relationship. DeVoe could entertain an audience alone for hours, he's just that good, but he realizes that Bevard makes him even better, and uses it to his advantage. Bevard has a soothing baritone voice that resonates throughout the theatre. Bevard is comfortable playing the not-so-straight straight man to DeVoe, but he is in no way in his shadow. Musical numbers like "With You On My Arm", and "Song On The Sand" highlight the relationship between them that makes this casting special.
The one and only downside to the show was the volume of the music. I heard this over and over among the audience members. There are times when you cannot hear the cast, and this is most unfortunate because when you can hear them they are amazing! Either the cast needs to be mic'd or the music needs to be turned down.
Once again SUFT delivers a powerful production and wraps it up as their gift to us. I encourage you to get down to the Chesapeake Arts Center to receive yours; and as you open it, think of these words from Director Ed Higgins, "Tolerance and acceptance are tantamount to what we should not only expect from others, but what we should be giving as well. Sometimes it takes time to understand whether we are part of a problem, and if so, how to become part of the solution."
Running Time: Approximately 2 hours and 30 minutes with one intermission
La Cage Aux Folles plays through November 04, 2018 with Stand Up For… Theatre, the theatrical production wing of How Do You Like Me Now? Productions, at The Chesapeake Arts Center— 194 Hammonds Lane in Brooklyn Park, MD. Tickets may be purchased at the door or in advance online.