A couple of minutes is all it takes; your life can change just like that. In these unsettling and disturbing times of political unrest and social unease with humanity caught dangling in the balance between civility and annihilation, it is no surprise that Everyman Theatre is once more producing two time Pulitzer Prize-winning dramatist Lynn Nottage. This time it's her core-shaking production of Sweat, Directed by the company's Artistic Director, Vincent M. Lancisi. Cultivating reality inside the confines of a stage play is half playwright and half theatre; Everyman Theatre takes Nottage's work and does exactly that with their production of Sweat, engaging the audience with the visceral reality of turning points in America that weren't so long past as to be considered history and bare striking, albeit eerie, similarities to what's happening all around us in the present day.
The play itself is a masterful work of art, delving deep into the roots of the rusted remnants of America's factory workers. Reading, PA is the location. 2000 and 2008 are the time stamp, but all that happens therein has harrowing echoes of truth to today's present existence, even if the situational circumstances do not mimic exactly the dramatization that Nottage has created. Nottage has an extraordinary manner in which she manifests archetypes into realistic human characters for whom the audience is cheering and for whose lives they find themselves deeply invested. All sides of the story are experienced, not just a protagonist and antagonist breakdown of the bigger issue. You want to support everyone; you feel for everyone; you care about everyone and understand all of the complex emotional nuances that makes them relatable, realistic human beings.
Nottage's work in the hands of Director Vincent M. Lancisi is an experience of the emotional engagement. There is a core-gripping moment— the pinnacle of the show's action and otherwise the cataclysmic climax to which the play ascends— that claws through the flesh covering your breast plate, cracks ribs, and rips out your heart. Lancisi, alongside Fight Choreographer Lewis Shaw, delivers this moment to the cast with such precision, that it appears to stun even them as it happens (though a deeply profound respect is added here to both Shaw and the performers as such endeavors could not be achieved safely without a foreknowledge of the event's occurrence.) The pacing is deliberate; intense and loaded with emotional gravitas in the back-half of the performance, slow and steady, burbling with intriguing and an enigmatic charm in the first act. There is truth and candid reality in the company's work; Lancisi's casting choices are stellar and breathes great justices into the lives of these characters that Nottage has fabricated.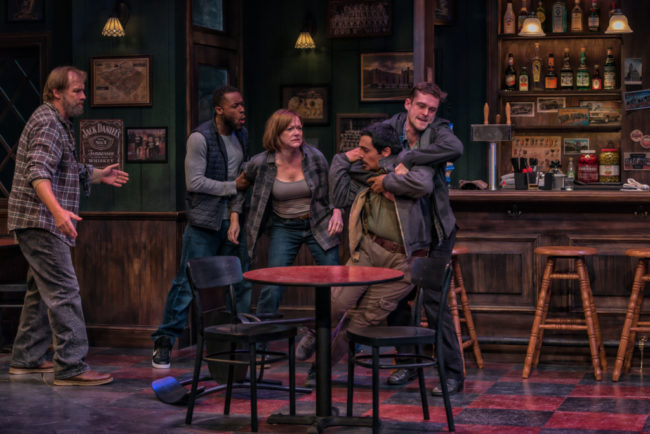 When impressive talent meets a stunning script, the possibilities are endless. When the set is crafted and dressed to the caliber of the performers, theatrical magic is born. Set Designer Daniel Ettinger is nothing short of a scenic sorcerer with his turn-table magic, transforming a seemingly ordinary gray office space into a breathtaking bar interior. The attention to detail inside of the bar (complete with functioning bar room taps that poor what appears to be a live beer stream) is dizzying almost to the point of distraction. But the performers command their presence with vigorous verve, forcing the audiences' focus to them rather than the magnificent set. Lighting Designer Harold F. Burgess II and Costume Designer David Burdick deserve nods of praise for keeping their portions of the show's creative elements on par with the rest of the show's spectacular design. Sound Designer C Andrew Mayer is also noteworthy for the news media clips harvested to help ease the transition from month to month during the scenes which reside in the year 2000.
Truly an ensemble piece, the production lives and breathes in stories of these nine characters. Even Evan (Jason B. McIntosh), a character only experienced in selected moments of the 2008 scenes of the play, has a compassionate existence which winds through the character of Jason (Matthew Alan Ward) and Chris (Vaughn Ryan Midder.) It could be said by some that the story's focal point finds ground around these two characters; the play opens in an office setting— leaning a bit more toward a sterile interrogation room than anything else, though this is much implied rather than actualized— and it is quickly learned that both Jason and Chris have been released from prison, have encountered one another, and that there is bad blood between them from their past, presumably whatever led to their incarceration. And while these two characters are important, the story stretches so much further than just their aspects of the narrative.
Midder and Ward give astonishing performances. The pair have harrowing transformations from what you see at both the beginning and end of the play, which are themselves different from one another, and what is witnessed during the scenes that take place in 2000. Nottage's writing is crystalline in its delineation between the timelines, Lancisi and the creative team further that contrast with great fluidity. Both Midder and Ward deliver passionate explosions of emotion, primarily late in the second act when tempers run akin to the sun. While they are two distinctive characters, both Midder's Chris and Ward's Jason have a symbiotic existence, even after the series of scenes and incidences occurring in 2000, which entangles their performances together impressively.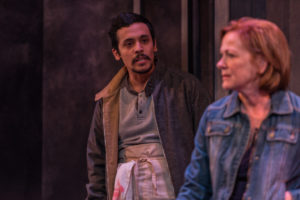 Oscar (Alejandro Ruiz), A character that could be readily dismissed to the background in any other narrative, finds traction as an important piece of the bigger picture in Nottage's work. Delivering a coarse and hardened exterior, with deep-seeded passions and needs teeming just beneath the surface, Ruiz creates a multi-faceted, deeply expressive individual out of Oscar. You feel for his story; you understand is struggle, the same as you do with any other character featured in the story. Stan (Kurt Rhoads) is crafted in a similar fashion. Though Stan could initially be dismissed as the "ears open" bartender, Rhoads brings a dynamism to this portrayal that puts him above a bartending stereotype. Taking no sides, but hearing, seeing, and feeling all of them, Rhoads shares this pulsating passion that passes between the other players in the performance.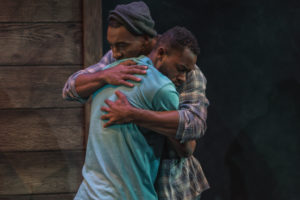 Brucie (JaBen Early) appears to be the perpetual flunky from the school of hard knocks. Early does an exquisite job of making Brucie the addict for whom your heart bleeds just a little, even when you know you shouldn't feel for him because he's a victim of his own doing and circumstance. There a familiarity to the way Early portrays Brucie, desperately trying to convince the others, but mostly himself, that he's doing everything he can to straighten his life out, to get cleaned up, and to get back to work, just as soon as the situation changes. It's harrowing watching the fallout between Brucie, his wife Cynthia (Dawn Ursula) and his son, Chris, as it seems to hang in limbo— never quite reaching full destruction and rock bottom, yet never truly progressing to a point of recovery or healing.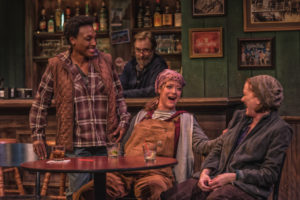 Nottage's work is filled with social issues— not the least of which is racism addressed head on in the character of Cynthia. The aforementioned Dawn Ursula puts a tremendous amount of vigor into her portrayal of this headstrong individual character, who comes to blows with friends Jessie (Megan Anderson) and Tracey (Deborah Hazlett) when their working dynamic at the factory shifts drastically. Anderson, Hazlett, and Ursula are initially presented as the best of buds, the fastest of friends, and quite deeply invested in the lives of one another, right up until the moment when they're not and everything turns sour. The vast depths of impressive traits this trio of empowered women portrays is mind-blowing. Watching them in the heat of the moment is heart-wrenching on multiple levels for multiple reasons.
People will say what they're going to say— about who deserves what, about how it should be, about what it means to be in a certain class— be it economic, social, racial— people have their opinions and they will say what they're going to say. Does it make it true? Does it make it a part of your story? Is it just their story or are you in their story as well? That is the grounding element of this production of Lynn Nottage's Sweat, regardless of who you are— you are in this story. It's a must-see for the 2018/2019 season, no question. Sweat will put you in an emotional tailspin that will push blinding new perspectives into your scope of vision, comforting the disturbed and disturbing the comforted as the old adage goes.
Running Time: 2 hours and 20 minutes with one intermission
Sweat plays through November 25, 2018 2018 at Everyman Theatre— 315 W. Fayette Street in the Bromo Arts District of Baltimore, MD. For tickets call the box office at (410) 752-2208 or purchase them online.