Oh, God! I Hate Shakespeare! That's right! I said it! I do! I really hate Shakespeare! I just don't get it! How a mediocre actor from a measly little town is suddenly the brightest jewel in England's royal crown! Oh, God, I HATE SHAKESPEARE! His plays are wordy— ooh. Wait. Maybe I shouldn't sing all about it. Something is rotten in the state of— Essex!? Actually that's sort of funny (Essex is in Shakespeare somewhere…isn't it?) No, no, they're not doing Something Rotten (give it time) they're doing something better. They're doing I Hate Shakespeare! And they— the royal they— are The Children's Playhouse of Maryland with their seasonal non-musical production! Directed by Liz Boyer Hunnicutt, this spitfire comedy takes the punches and the pi— well— let's not be crass like the Brits… and instead say it has a royal go at Shakespeare! An uproarious comedy by Steph DeFerie, featuring 10 bold and talented young performers, this little comedic romp picks apart all of the things we know and hate (or love to hate) about Shakespeare and his infamous works of wordy art.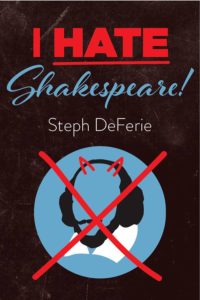 The sets are simple, the lights are functional, and at times there are some quirky looks all across the board by way of costumes. Diane M. Smith, Ed Lake, and Sharon Bird, give active life to the set, lighting, and costumes respectively so that these ten talented actors can feel comfortable with the text and find the humor as it unfolds in this underrated, under-produced, gem of a production. Director Liz Boyer Hunnicutt divides the roles up— there seem to be just shy of 40, not including the zombies. (Who knew zombies and Shakespeare would be a thing?) And everyone feels well-suited in the roles they play. The pacing is quick, the comedic timing is punctual and well-loaded, and ultimately the production is a proper barrel of laughs.
The show, which is not dissimilar (though in my honest opinion, funnier) than The Complete Works of William Shakespeare Abridged. This production, however, doesn't start with all that pretentious crap; in fact, there's even an Audience Heckler (Nick Blahut) who calls Shakespeare's work exactly that— pretentious crap! It's pretty hilarious the way Blahut keeps interrupting poor Hamlet (Jacqueline Hicks) in the opening few moments of the production. Anyone who has seen or experienced Hamlet has at the very least once in their life had the exact same thoughts that Blahut's character is expressing loudly and with great vehemence. It's quite amusing, all things considered.
As mentioned the actors each take up multiple roles throughout the performance. Jacqueline Hicks, who plays the aforementioned Hamlet for the brief bullet-point rendition of the Bard's greatest (not bloodiest) tragedy, also appears throughout the performance in segments of Zombie Shakespeare Theatre. It's truly hilarious and brilliant way to gloss over some of the less entertaining (read: longer, boring histories) of Shakespeare's plays. Hicks also plays a seriously stoic director in one of the scenes and it only adds to the humor of the scene. The aforementioned Nick Blahut, who is super engaging as the audience heckler, also plays Jerry Springer in a hysterical segment that debunks all the insanity that is Othello.
Noah Charles Thrappas plays Othello, Freddy Wambaa plays Iago, and Melody Blahut plays Desdemona in a true Jerry Springer style showdown. The way they fuss, fight, and egg one another on is delightful and tickles the funny bone the way that the a more traditional production of Othello never could.  The way the play tackles Romeo & Juliet, in two separate scenes, is maniacal and truly laugh-worthy. In one bit, they break down the "Romeo, oh Romeo, deny thy father and refuse thy name…" speech with Sophia Possidente playing the hyper-modernized version of Juliet against Katelyn Thayer's traditional reading of that monologue. Thayer delivers Juliet realness with Shakespearean justice while Possidente does a great deal of justice to the realness of a hyper-animated modern tween of the millennial/Gen-Z era. Both are saying the exact same thing, but it's hilarious to listen to their difference in word usage, tone, inflection, and overall attitude when address these moments.
The other presentation of Romeo & Juliet features Thayer as Juliet on a mocked-up version of The Dating Game. Sadie Perkins plays Prince Paris, Freddy Wambaa plays Romeo, and Noah Charles Thrappas plays Bob (the poor generic third contestant.) And the way each of these students finds unique personality quirks for their characters are exciting, humorous, and really impressive. Nick Blahut, who reappears here in this scene, serves as the charismatic gameshow host, and really puts a fuel into the fire of the scene's motivation.
Erin Acerno's first cameo character— the cheerleader— wins a barrel of laughs from the audience when she shows up to spell out how boring Shakespeare is. Appearing as a zombie, among many others, Acerno's peppy personality is present in each of her performances, and she keeps well-engaged with the work. And let's not forget the show-stopping laugh-aloud moment when Gabriella Galoni strides into Macb— wait— I don't want anything bad to happen— so I'm not going to say it. But you know, that Scottish tragedy? When Galoni strides into "That Scottish Tragedy" as King Duncan, and then is quickly dismissed (because, well, he bites it pretty quickly, that poor king…SPOILERS!) her zingy quip of "all that for one little moment?" is to die for!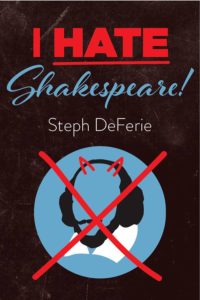 Ultimately a great feel-good production, these young performers are giving you all the great humors and easily digestible bits of Shakespeare in a way that is appealing to everyone. If you don't like Shakespeare, don't get him, or just generally have a bad taste toward him? This production will help. If you've seen bad Shakespeare, or are totally in love with Shakespeare, this production is a reward unto itself. Be sure to catch these crazy talented kids in their non-musical production of I Hate Shakespeare this fall season!
Running Time: Approximately 80 minutes with one intermission
I Hate Shakespeare! plays through November 4, 2018 at the Children's Playhouse of Maryland in the Lecture Hall of the Administration Building at the Community College of Baltimore County Essex Campus— 7201 Rossville Boulevard in Baltimore, MD. For tickets call the box office at (443) 840-2426 or purchase them online.