John Webster is, perhaps, an even better patron saint for Brave Spirits than William Shakespeare: he brings both the verse, and the violence with The Duchess of Malfi. Katie Culligan brings the Duchess' power from her first silent moments on stage. She is strong and self-possessed, charming and beautiful, grounded and passionate. Her performance is closely nuanced at every moment.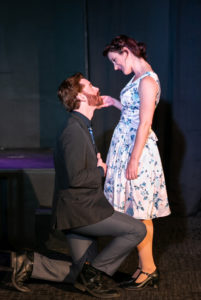 The villain of the piece is Ferdinand, her brother, deftly played with menace by Ian Blackwell Rogers. But the real opponent is Rebecca Speas' extraordinary Bosola, a challenging character who's all over the emotional map, at once a cold-blooded murderer and a deeply emotional human being. Speas and Culligan play a brutal intellectual chess game that can end only one way. Director Casey Kaleba is also Brave Spirits' fight choreographer, and has given the Duchess an extraordinarily interesting death. (This is a Jacobean revenge tragedy, and surely no spoiler alerts are required that the play will end with few left alive to tell the tale.)
The emotional heart of the play is the triad of Speas, Culligan, and Musa Gurnis' affecting, tender Cariola, whose heart pours out for both the Duchess and the Duchess' tender babes in her own arms. She is the witness and the audience's point of view, finding genuine tragedy what could otherwise be a simple totting up of the body count. Duchess is an uneven play, which takes a while to establish the background for its tragedy, and really kicks into high gear when Speas forces Culligan to gaze in the mirror, both threatening and compassionate, as Gurnis watches and connects. 
Kaleba's choice to cast a woman as Bosola throws a whole new light on this scene. Brave Spirits has chosen a pair of plays (Malfi is presented in rep with Middleton's and Rowley's The Changeling) that present strong women broken by a society that forces women down. The choice was made before the travesties that put abuse of women on every front page this summer, but it rings through the directors' notes and the staging. But it was fascinating to see Speas' complicit female Bosola, and the real connection that could easily have seemed simple oppression and spite.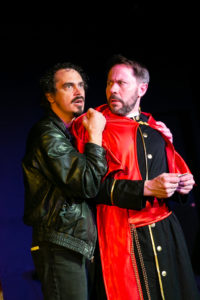 Director Kaleba has a similar insight with the relationship between the Cardinal (the brother of the Duchess, magnificently voiced by Steve Lebens) and his mistress Julia (the sexy, ironic, mischievous Adrianne Knapp). I won't spoil that one, but I will say it's a terrifying take on the way violence against women is presented, and consumed… including by us here in the audience.
Brave Spirits, as always, rounds out its cast with an incredible depth of talent. Jared H. Graham is the husband that the Duchess must keep secret from her brothers: awkward, and easily outshone by the dazzling power of the Duchess, but supportive and charming. Charlie Cook, Ben Peter, and Ryan Fields play an array of supporting roles: they help set a brisk and energetic pace, along with Kaleba's lively and engaging blocking. Alex Brady's lights are perfect for a Halloween terror, the mood enhanced by Jordan Friend's electronic soundscape. 
For a play with Duchess' body count, the violence itself is surprisingly spare but well-executed. It's a brutal play: the murderers are there to kill, not show off. And the victims are largely defenseless: they fight with words, but usually to no avail. Webster's script takes a while to get moving: as the director notes, it's a revenge tragedy that almost forgets to be one. It's a very modern approach to the Duchess, and another fine achievement by the ambitious, insightful, and powerful Brave Spirits.
Running Time: 2 hours and 30 minutes with one intermission
The Duchess of Malfi plays in repertory with The Changeling at Brave Spirits through November 18, 2018 at The Lab at Convergence— 1819 N. Quaker Lane in Alexandria, VA. Tickets are available for purchase at the door or in advance online.