Hear me now! Oh thou bleak and unbearable world— thou art in need of good quality musical classics on the stage! There's a company, with their banners all bravely unfurled now hurling their gauntlet to thee— they are they— Third Wall Productions— bringing you the Man of La Mancha and all of its exquisite fantasy! They are they— Third Wall Productions— with their Man of La Mancha and your destiny calls you to go! Directed by Mike Zellhofer with Musical Direction by William Zellhofer, Pit Conduction by Andrew Zile, and Choreography by Timoth David Copney-Welton, this stellar reinvigoration of a tired theatrical chestnut will give you new hope, give you license to dream, and to believe in the impossible.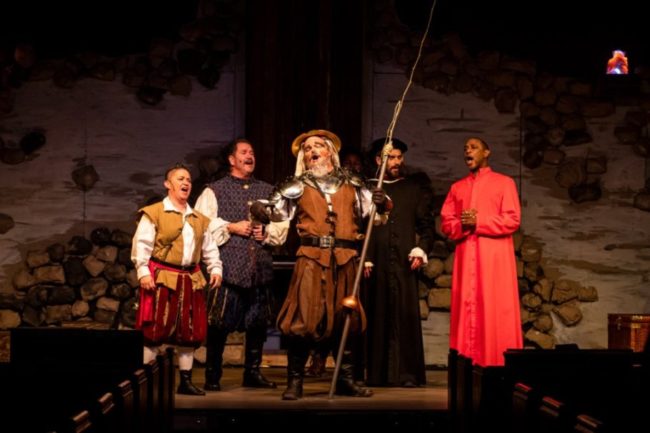 Known for attempting to pedal upscale quality community theatre, Third Wall Productions sallies forth into the windmills of change with their production of Man of La Mancha, boldly tackling that dusty classic (that nobody actually produces) and doing so with rigorous results. Scenic Designers Jordan Hollett, and Amy & Pat Rudai have outdone themselves with the winch-lowering drawbridge-prison gate. It isn't something you oft expect to see in community theatre, let alone see it used to such impressive extent; this sets the production a notch above in its aesthetic as well as its overall fantastical feel. (The show itself is a play-within-a-play which hinges upon the suspension of disbelief both in the audience and Cervantes' minds.) Hollett and Rudai have punched up a rather impressive exposed brick interior in addition to the magnificent drawbridge-door, which helps focus the actual location of the show right inside the prison holding cell.
Director Mike Zellhofer takes full advantage of the space provided by Third Wall's production home— St. Thomas Episcopal Church— and floods the house with interactions to further expand Don Quixote's fancies when they seize him. Charging down the aisle at the windmill (cleverly two girls extending their arms and scarves in a gimbling fashion) or sallying forth back up the aisle as they approach the castle, even going so far as to borrow spectacles from an audient to better see said approaching castle; all of these expressive nuances draw the production literally down off the stage and into the hearts and eyes of theatergoers, making it a more invested theatrical experience. The pacing is solid, which is impressive given the show's propensity to length. Including Intimacy Coach Lee Conderacci for those inexcusably brutal sexual scenes which are severely lacking in consent, allows for a safe working environment for the performers while giving the audience the most authentic experience possible.
Marking a historical notch in the design book of Third Wall's history, Lighting Designer Jim Shomo has finally found his calling, lighting this show nearly to perfection with simple, ordinary white and warm lights, an occasional use of a blue mood diffuser, or tightly focused spotlight, and subtle cues that rise and fall upon deeply emotional moments. Shomo, who is oft known for his outrageous rager-style lighting plots, has mellowed for this production, well-serving the epic nature of the production in a most satisfying visual manner. Costume Designer Maggie Flanigan follows the aesthetic suit in this vein, and although the show's sartorial selection is vastly more complex than a few simple pieces, it is tastefully selected, keeping everyone in period-adjacent couture. The most impressive costume fixture is the transformative facial hair, helmet, and armor that Cervantes uses to transform right before the audiences' eyes into Don Quixote. Also of brilliant note is the masks worn by the horses (Maggie Flanigan and Hope Standish-Pallanck, who serve as Don Quixote and Sancho Panza's steed respectively), designed by Tara Cariaso.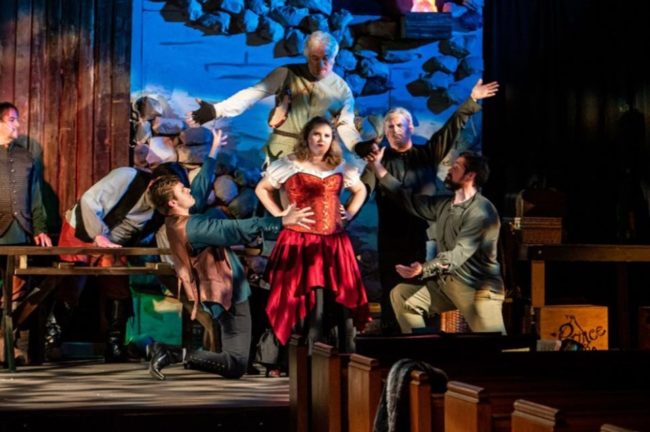 Musically the production is quite sound; William Zellhofer works the ensemble to their fullest and richest potential while Pit Conductor Andrew Zile resplendently delivers balance to the music so that they do not overplay the performers. The iconic music is well handled by both Zellhofer and Zile, making sonic bliss from start to finish, particularly in the numbers which feature The Muleteers (Robert Howard, Brian Reagan, William Zellhofer, Nick Ruth, Andy Collins, and Glen Charlow.) These Muleteers and their mocking background vocals for "Dulcinea" is intentionally gritty, showcasing their rough and tumble lifestyle. Their rendition of "Little Bird, Little Bird" is particularly unsettling, with Andy Collins' character serving as the seedy leader of ruthless behavior and ill-repute attitudes.
Other cameo-style characters of note include the dulcetly voiced Padre (Timoth David Copney-Welton), whose subline sound is best witnessed during "The Psalm" and "To Each His Dulcinea", though his more irksome comedic characterizations can be witnessed when he transforms from foppish prisoner into the "Padre" of Cervantes' story. Copney-Welton also binds the number, "I'm Only Thinking Of Him" together (along with "We're Only Thinking of Him") in harmony with Antonia (Olive DeVille) and the Housekeeper (Eve Carlson.) Both DeVille and Carlson lend sweet soprano sounds to the number, giving it ease of emotional burden, as it's a rather bitterly intended musical number. Equal parts delightful and charming is The Barber (Jim Morgan) who is but a blip in Don Quixote's narrative, though Morgan's adorably woeful characterization and portrayal are memorable, particularly when he sings his little "Barber's Song" and protests pitiably during "Golden Helmet of Mambrino."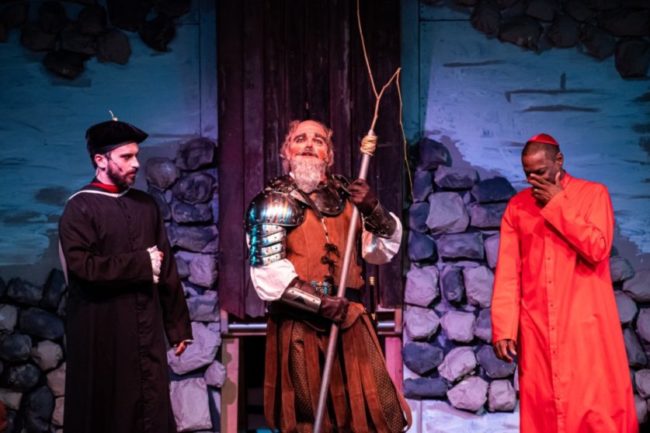 A side-cast antagonist, Henry Cyr plays as The Duke (in prison) and Dr. Carrasco in the fantasy. Both are severe, imbittered, and stoic characters. Cyr, whose glorious sound graces songs like "We're Only Thinking Of Him" with sublimely smooth notes, is rather loathsome character, particularly when he marches in with his brigade for "The Knight of the Mirrors" scene. The furious and fearful facial expressions that Cyr expresses when Alonso Quijano slips dreamily back into the persona of Don Quixote are fascinating and send shivers up the spine. While Cyr's Duke is charged with malice and distrust upon Cervantes' arrival at the prison, it's James Doggett's rendering of Th Governor (and then the Innkeeper) that provides balance to this portion of the tale. Wicked, but only just so, Doggett's characters warm much more readily to the antics of Cervantes (perhaps because his Governor receives a much larger part in the fantasy of Don Quixote than Cyr's Duke) and his voice is bold, crisp, and deep, particularly during "Knight of the Woeful Countenance."
Amid all the chaos of fantasies whose lines blur with reality there is food! Wine! Aldonza! Played by Jessica Preactor, this slovenly scullery maid sits somewhat outside the realm of reality when it comes to the imaginative ramblings of Don Miguel Cervantes under the auspices of Don Quixote. Preactor, full of voice and vinegar, does her best to settle into the grit of the character, though this proves difficult as she is often pretty of voice and quite pretty of face. There are moments, largely during her namesake's song, where their irate shrieking— a device used by Preactor to express her unfathomable feelings in those instances— overcome both clarity and intelligibility of words and lyrics. But the emotional intent is pure and intense. Preactor, who feels oddly modern at times in the role, holds well against the other talents in the cast and her peculiar modernity brings an unintentionally clever level of relatability to the production. Aldonza's struggle is still very much a tragic reality for those in the present day and the connectivity found in Preactor's portrayal of her is potent.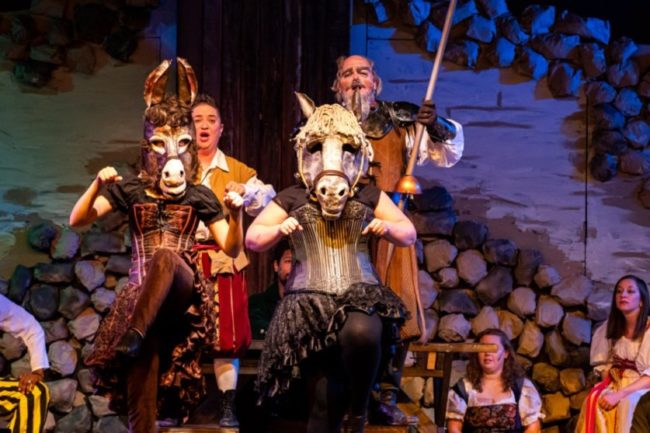 Flatly deadpanning through most of the spoken lines, Annmarie Pallanck is an oddly perfect choice for Sancho Panza in this production. Normally a flatline of textual delivery would read as boring or unimaginative, but in this case, Pallanck brings such awkwardly quirky charm to her deadpan that its really quite adorable and serves the character well, creating exquisite moments of doubtful confusion, which only serve to strengthen Sancho's devotion to Don Quixote. The relationship of devotion between Sancho and Quixote rarely makes sense at the best of times, especially as Sancho can fully see through the delusions, but Pallanck's baffled state of deadpan blended with this open honest nature of her overall stage presence brings clarity to their bond. "I Really Like Him" and "A Little Gossip" are comically quaint numbers with just the right balance of humor and sincerity, well crafted in Pallanck's control.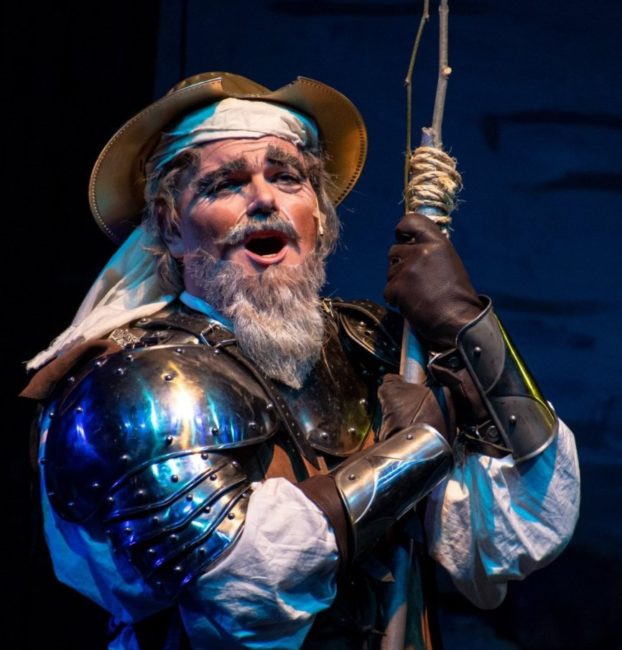 Truly a Man of La Mancha, Lance Bankerd somehow just is— almost indescribably so— Don Quixote. And Miguel Cervantes. And Alonso Quijano. Seized with this spellbinding magnetism that defies imaginative description, when Bankerd launches into "Man of La Mancha", you're compelled to believe me, hanging breathlessly on his every word. As if watching and hearing his transformation from Don Miguel de Cervantes into Don Quixote wasn't enough, there is this unmistakable transference of soul that slithers out of his mouth through song and grips the audience, throttling them along on his journey. You start to see his delusions, you start to feel the tenderness that Sancho carries for him, and when he sings "Dulcinea" you're torn between swooning at its beauty and laughing along with Aldonza because Bankerd has drawn you so deeply into his chimerical resplendence. In a stunning moment, boldly unique to this Cervantes, Bankerd shows us tremulous fear in the master storyteller. The Inquisition arrives— seizing not Cervantes but another nameless prisoner— and Bankerd's Cervantes is paralyzed in fear, having to be breathed down from it with subtle, silent coaching of The Governor. It's extraordinary, the humanity which he brings to the role, both as Cervantes, and as Don Quixote.
May the wild winds of fortune carry you onward, oh whithersoever they blow— onto Third Wall Productions you go! Whithersoever they blow— to see Man of La Mancha you go!
Running Time: Approximately 2 hours and 35 minutes with one intermission
Man of La Manchaplays through November 17, 2019 with Third Wall Productions at St. Thomas' Episcopal Church— 1108 Providence Road in Towson, MD. Tickets are available for purchase at the door or in advance online.
To read Part 1 of the Dreaming The Impossible Dream Series, click here.
To read Part 2 of the Dreaming The Impossible Dream Series, click here.
To read Part 3 of the Dreaming The Impossible Dream Series, click here.
To read Part 4 of the Dreaming The Impossible Dream Series, click here.
To read Part 5 of the Dreaming The Impossible Dream Series, click here.
To read Part 6 of the Dreaming The Impossible Dream Series, click here.