To right the unrightable wrong! To love pure and chaste from afar! To try when your arms are too weary! To reach— the unreachable star! This is their goal— Third Wall Productions— with their upcoming production of Man of La Mancha, directed by Mike Zellhofer. In a TheatreBloom exclusive, we've sat down with the entire cast of the production and gotten an idea of what it is to dream the impossible dream. In a six-part series, we'll hear from everyone— horse (and it's rump) to Cervantes himself— about dreaming the impossible dream.
Thank you all for sitting down with me. If you'll just give us a quick intro of who you are, who you play in the show, and what the last thing you did in/on/around/adjacent to a stage, we'll get started!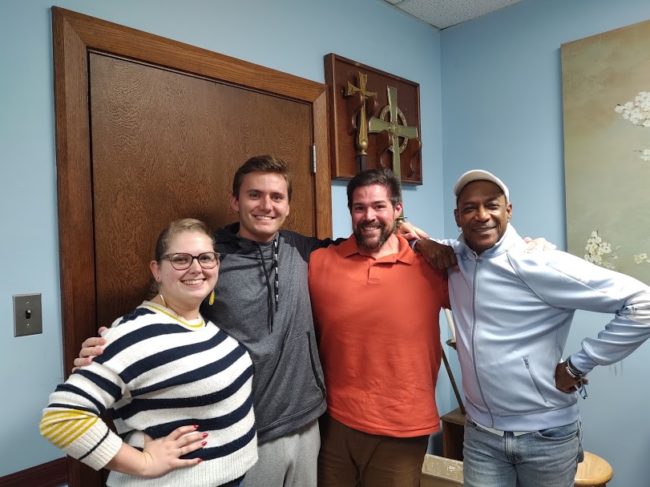 Timoth David Copney: I'm Timoth David Copney, I'm the choreographer and I'm also playing the Padre. Right before this I directed the world premiere of Crusade for Rapid Lemon Productions, as part of the Baltimore Playwrights Festival.
Jessica Preactor: I'm Jessica Preactor and I play Aldonza. I don't want to mention the last thing I did on a stage. But the last thing I did here at Third Wall was My Fair Lady, I played Eliza Doolittle.
Nick Rose: I'm Nick Rose, Captain of the Inquisition. The last thing that I did was Urinetown. I was in the ensemble up at Harford Community College, PFT. It was a lot of fun.
Andy Collins: I am Andy Collins, I play Anselmo and the last production I was in Mary Poppins over at Glyndon Area Players. I was a sweep. Before that I was in Newsies at Third Wall…I played Jack.
What is your personal impossible dream?
Timoth: My personal impossible dream? At 63? I'm running out of impossible dreams. Most of my dreams have actually been possible. My next impossible dream will be to do a couple more parts on my bucket list, one of which that I have been cast in but I cannot reveal yet.
Jessica: My impossible dream? Well, my most recent impossible dream is that I'm getting married in a year. So I guess that's not impossible anymore. I guess I would like to be a director and owner of Timomy own dinner theatre.
Nick: I've just started getting back into theatre about a year ago, so I'm really hoping to find my way into a principal role at some point.
Andy: To be frank, even though my name's Andy, I'd like to become a successful actor. And not successful in the "making a lot of money" sense, but successful as in "being well known."
Timoth: I would like to be empress. Again.
Jessica: Wait— like impossible, impossible? Okay, so I'm changing my answer. I'd like to learn how to fly. I mean, I did for a show, and I want to do it again!
What does it mean to you to live the impossible dream?
Timoth: If you can achieve some— if not all— of the things that give you joy in life, if you can wake up— not every day but most days— feeling like this is where I should be, this is where I want to be, feeling like I've earned this spot in the universe, if you can look at the world and know that it's looking back at you with a modicum of respect, that you're looked at with a tiny bit of admiration from some— not all— just some, with some comfort to know that you have actively tried to not hurt anybody, not embarrass anybody, and never give anyone any reason to feel bad about anything you've done, that would do it for me.
Jessica: To me? I'm too young! I mean, I guess it would just mean to be blissfully happy and content with what you have and not want anything else than what you have. That would be the living the impossible dream.
Nick: For me, I think it's to manage to find joy despite the multitude of horrors in the world right now.
Andy: Um…I—
Jessica: Santa Fe!!!
Andy: Yeah, she's not wrong. Santa Fe. Whatever that song may mean to you.
Why should people come to see this production of Man of La Mancha?
Timoth: Because the choreography is brilliant.
Jessica: Then you should have seen My Fair Lady, it was gorgeous. So why should people come see this show? Because I'm in it. No, no, that sounds—
That's actually pretty on point with what most people say when I ask them about why they want people to come see their shows…
Timoth: That's actually a very good answer. That's my second answer.
Jessica: No, no, no! I take that back. That was horrible of me to say! You should see it because it has something that this world needs to see! It has—
Universal healthcare?
Jessica: Hahahaha! I wish. But no. Seriously, people have lost the innocence. What is the line— facts are the enemies of truth. This is—
Timoth: Believing in a dream.
Jessica: Yes! It's being in a dream. This is something that people need to see and need to hear and need to know and I think a lot of people aren't able to dream as much as they used to. I think people need to see this so that they can remember how to dream.
Nick: I think it's a great classic show and we have a fantastic group of people and we're having a lot of fun with it.
Jessica: Way too much fun with it!
Andy: He said classic show, but every time I try to tell my friends to come see it because it's the latest thing I'm in they say "The what?" And I end up saying, "You know that weird story you had to read in like third grade about Don Quixote where he fought the windmills but he thought they were giants?"
Jessica: Everyone remembers the windmill part and that's it.
Andy: Yeah. That's what I end up telling them. So come out and see it if you don't know what it is, it's a great show with a great cast, and has great songs.
Man of La Manchaopens on Friday November 8, 2019 and plays through November 17, 2019 with Third Wall Productions at St. Thomas' Episcopal Church— 1108 Providence Road in Towson, MD. Tickets are available for purchase at the door or in advance online.