To beat the unbeatable foe! To bear with unbearable sorrow! To run where the brave dare not go— this is dream! This is Part 2— continuing on in a multi-part interview series with the company of Third Wall Productions' Man of La Mancha, we explore the impossible dreams of three more individuals involved with the production.
Thank you all for continuing to donate precious rehearsal time to us so that the denizens of the greater Baltimore area can be privy to your impossible dreams! If you'd just start by telling us who you are, a thing you've done recently in/on/around/adjacent to a stage, we can get started!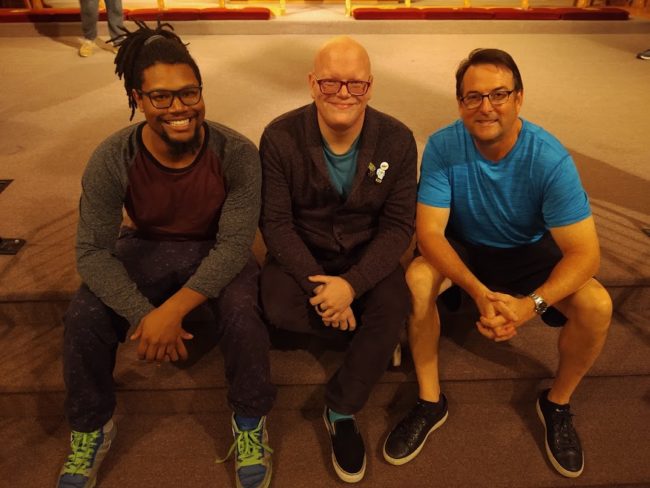 James Doggett: My name's James, and I'm playing the Governor. In, on, around, or adjacent to a stage? I would say I dance like a goofy goofer on stage before rehearsal. This is like number 15 of shows I've done. But this is my first time working with Third Wall.
Brian Reagan: I'm Brian Reagan. I'm Tenorio, one of the Muleteers. Currently, I'm playing Lt. Brannigan in Guys & Dolls over at ASoB (Artistic Synergy of Baltimore's Guys & Dolls, which closed on October 20, 2019) and I'm actually doing a lot of other things in that show, I've got three costume changes in the first 11 minutes of that show. I also did Miracle on 34th there back in December.
Lance Bankerd: I'm Lance Bankerd and I'm playing Miguel de Cervantes…and Don Quixote. I don't know what I've done recently…this morning I was in Macbeth at Chesapeake Shakespeare…for 300 kinds. I play Ross. That is temporally the most recent thing I've done. And ten million other things.
What is your personal impossible dream?
James: Can you expand upon that? What do you mean impossible dream?
You take that whatever way you'd like it to go.
James: Okay! My personal impossible dream is really to inspire a lot of people in any way that I can through doing theatre. That's really why I do it. So I guess that's my impossible dream because I never know if it's really going to come true.
Brian: Record something that gets printed…audio, video, something legit.
Lance: I don't know. The impossible part is the sticking point. I don't think there are any. I don't think I have any ones that are impossible. Yep.
Brian: I think we all probably feel that way. I really want to do those things I just said. So I guess I won't say they're impossible, but they are definitely a big dream.
What does it mean to you, in regards to the show or in regards to life, to live the impossible dream?
James: To live the impossible dream, to me that means taking risks even if you know you're going to fail. It's the attempt that you're doing that really counts and not whether you succeed or fail. It just matters if you put the effort out, and that you did it the best that you can. That way when you look back at it, you won't say "Hey, I didn't do this, I wish did that."
Brian: Not caring what other people think, especially in the industry that you're in. Or really with whatever it is that you're doing in life. Like with doing Guys & Dolls, there was a lot of stress with tech week and all that stuff. And you know, the directors are criticizing everything and I said, "you know what? When I'm up on that stage? I'm doing it for the people out there in the audience." And it doesn't matter to me what anybody says to me about how I'm doing.
Lance: I think it's self-actualization. It's that state of imaginative living where you don't have any boundaries.
Why do you want people to come and see this production of Man of La Mancha?
James: I want people to come see this production of Man of La Mancha because we're all in it, so why not come guys, it's right down the road!
Brian: Yes! And we're going to put on a great show.
Lance: Yeah, because we need to talk about how great dreams are.
Man of La Manchaopens on Friday November 8, 2019 and plays through November 17, 2019 with Third Wall Productions at St. Thomas' Episcopal Church— 1108 Providence Road in Towson, MD. Tickets are available for purchase at the door or in advance online.
To read Part 1 of the Dreaming The Impossible Dream Series, click here.