How can you connect in an age when strangers, landlords, lovers, your own blood cells betray? What binds the fabric together when the raging, shifting winds of change keep ripping away? RENT! While often appreciated as somewhat of a "period piece" or an iconic stamp in musical theatre history, now entering its 25th years (in the fourth incarnation of the 20th Anniversary Tour), Rent is still incredibly relevant to today and all that's happening around us in our 525,600 minutes. Appearing at The National Theater for a one-week limited engagement, this show, ultimately about compassion, acceptance, and love at its core, under the direction of Evan Ensign (based on the original direction by Michael Greif) and choreography by Marlies Yearby, has joy and sorrow, laughter and tears, and all of the emotional feel-good and feel-real moments any musical show could hope to offer.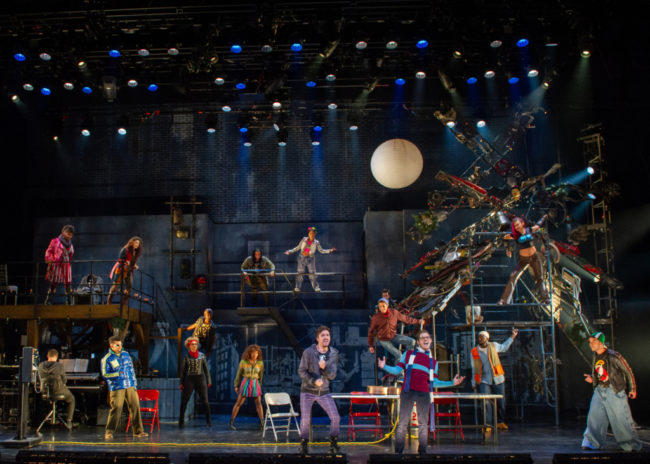 The grungy industrial set, fabricated into existence by Set Designer Paul Clay, exposes the house to all the elements— the players, the musicians, we see it all. There's stairs and railing, an interpretive Christmas Tree, and everything you need for an iconic production of "documenting real life" the way Rent does. Jonathan Spencer's Lighting Design ups the ante of the production tenfold because so many of the critical moments are highlighted or obscured in shadow by his intricately complicated lighting plot. The focal frameup of this particular production of Rent seems to be Roger's experience, where life is often passing him by. Director Evan Ensign articulates this on the stage by having the Roger figure often in shadow while the action (that he's missing out on by staying in with his guitar) happens around him. Spencer's lighting design becomes a critical component in this concept's success. Costume Designer Angela Wendt ties together that street-grunge look of the 90's appropriately; Wendt throws in a few surprises as well— the teal-bulb pants on Mimi for her "Take Me Out" number accentuate everything that number is about, and everything about Angel— from those bubblegum pink knee-high boots featured in "Happy New Year" to even the basic street garb in which we first encounter the character, is stunning.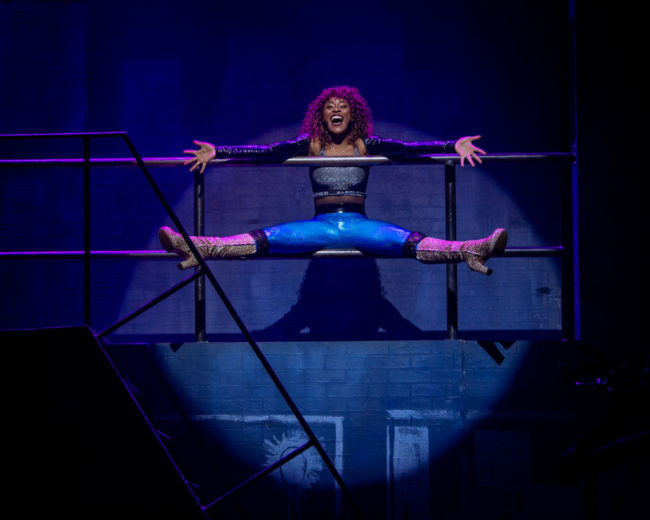 One of the other, perhaps more subtle, innovations in this particular production, is the humanizing qualities that are overlaid to the characters and the story. Rent already has a strong focus on everyone being a human being whose life matters, but in this production, there is a plethora of minutia that makes that concept even more pronounced. Mark, as the seer and document-maker of their lives, sees even more than you might think. When Mimi falls off her wagon, even though he's nearly all the way off stage, Mark observes it. Or Angel starting out on the street as a boy in street clothes rather than the exuberant joyous drag queen that she later becomes; little instances like this home in on the human element of the production, making it strike home in a heavy-handed but greatly respectable fashion.
Truly an ensemble piece, even though there are eight rotating principal roles, the sound that arises from the more recognizable numbers, like "Seasons of Love", "Rent", and "La Vie Bohème" are emotionally evocative and strong enough to send electrifying thrills up the spine. Rayla Garske stands out as the featured soloist in "Seasons of Love." (Which is what often sets Rent apart from other musical productions, in addition to all of its other amazing qualities, the most iconic and recognizable song has its solo portions performed by an unnamed member of the ensemble.) Fully capturing the attitude and the reality of the universe in which Rent exists, the ensemble (Lexi Greene, Benjamin H. Moore, Rayla Garske, Stephen Rochet Lopez, James Schoppe, Zare Anguay, Ysabel Jasa) add layer upon glorious layer of grit, integrity, and gorgeous sound to this production.
The only drawback to this current tour of Rent appears to be the reconstruction of Roger (Coleman Cummings.) There is no denying that Cummings has a powerful voice, though it is very different from the more rogue and rocker harsh sounds that are generally associated with the Roger character. There's a simplistic sweetness, in addition to something of a nasal quality, to Cummings' sound that just doesn't quite settle into the overall essence of Roger in this production. And while the Roger character is genuinely detached and underwhelmed with life, there is something missing from Cummings' stage presence. In moments where Roger should be cresting emotional peaks— particularly when rage-venting his frustrations at Mimi— Cummings hits a barrier that he's never able to breakthrough, leaving the character feeling somewhat underwhelming against all of the others.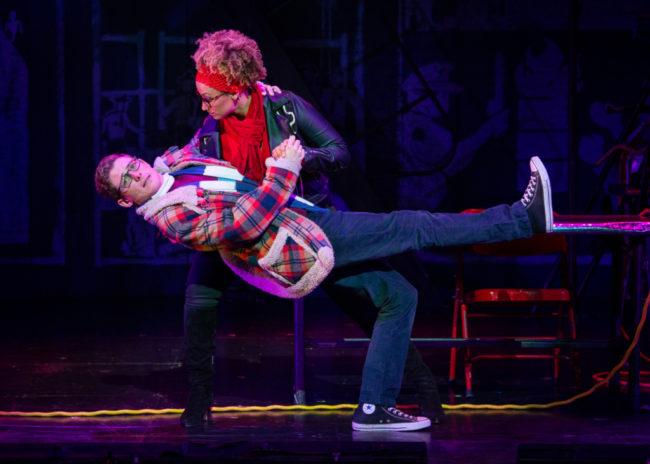 Many of the other characters have been adapted to be their own modern-day perceptions of these characters, overlaid with a 90's lens; everyone except for Mark Cohen (Cody Jenkins) who is so textbook Mark that you'd swear Anthony Rapp time traveled. If you're going to emulate a character to its original incarnation, a level of flawless imitation is required and in this case Jenkins succeeds. His vocal tenacity, his emotional control, his narrative perspective are all on point with the character's originator and give those familiar with Rent a grounding point in this newer incarnation. Jenkins addresses the audience outright, the house lights are even up during his opening monologue before the music starts, and there is an undeniable familiarity to his portrayal of Mark.
Sleek and scummy with a modern 20-teens' edge that still somehow feels decidedly 90's, Juan Luis Espinal takes up the role of Benjamin Coffin III and makes us all feel ill at ease. This is particularly true of the table interplay between the Benny character and Mr. Grey (his rich investor father-in-law played by Stephen Rochet Lopez) during the "La Vie Bohème"/Act I Finale scene. The intolerance and attitude portrayed here shows a sharp juxtaposition to the turning point of Benny rediscovering his heart, humanity, and sole, which arises rather unexpectedly in "Goodbye, Love" where he surprisingly attempts to keep the peace amongst quarreling friends before falling back into place with his old, true, friendly self. And Espinal has a crisp, clear sound which accentuates his vocal solos throughout the performance.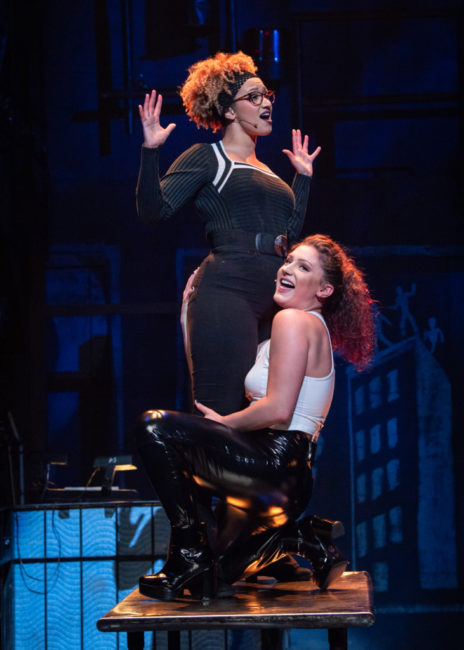 Doing her own insane over-the-top thing for that outrageously inconceivable number, "Over The Moon", Maureen (Kelsee Sweigard) shows up with her game face on ready to play hardball. There is this indescribably cheeky charm that Sweigard brings to the role, which makes you readily experience all of the frustrations that Joanne (Samantha Mbolekwa) feels when dealing with her rowdy lover. The choice to have Mbolekwa's Joanne witness Sweigard's Maureen making out with someone in the café before "La Vie Bohème" concludes, is a fiery motivator to give Mbolekwa reason to storm in and start up "La Vie Bohème (Reprise)" which features at the tail-end of the first act, but is technically title-rolled into the main number. Both Sweigard and Mbolekwa are stellar belting their faces off during "Take Me or Leave Me", one can't be considered more powerful than the other as they take turns venting their spleens in one another's faces. Mbolekwa gets a chance to showcase her vocal chops early on as well, pulling out her power and prowess early on in both "We're Okay" and "Tango: Maureen", which features Jenkins' Mark as they try to figure their way through their shared love of Maureen.
She'll make you take her out tonight, that Mimi Marquez (Aiyana Smash.) Ferocious in her sexual charge and fearless when it comes to thrusting her body all over the high-rise staircase scaffolding, the physical and core strength Smash possesses to achieve those moves while hanging half over the railing is nothing short of stunning. And in addition to being physically stunning with all of her impressive dance-aerobic-acrobatic type movements, her vocals are powerhouse and loaded with fury, even when she's pleased. "Take Me Out" will blow you away and when she digs into "No Day But Today" your heart will readily skip beats. It's difficult to watch her character's decline because of its self-destructive nature but Smash humanizes her struggles all the more, making the Mimi story-arc one of immeasurable value.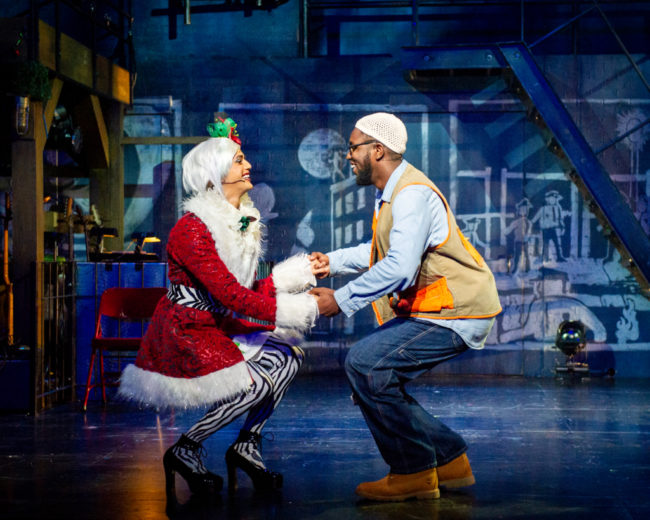 With a radiant, deep voice (that just glistens into that lowest of low bass ranges) Shafiq Hicks' Tom Collins is delightful, particularly when adding little hints of comic relief to the show. Often regarded as a secondary character to Mark's solo story line or Roger and Mimi's storyline (and sometimes falling into he tertiary tier beneath the Joanne & Maureen arc), Hicks' Tom Collins rises to the top of the performance focal points because of his raw and compassionate honesty. There are moments, largely in silence (which is a shame because Hicks voice is so soothing and welcoming) where you see the Tom Collins character sharing moments of honest feeling with others, often Angel, and it makes your heart weep. "Santa Fe" soars with hope while "Goodbye, Love" is a deeply wounded outcry of his soul, giving Hicks the full emotional gauntlet in this production.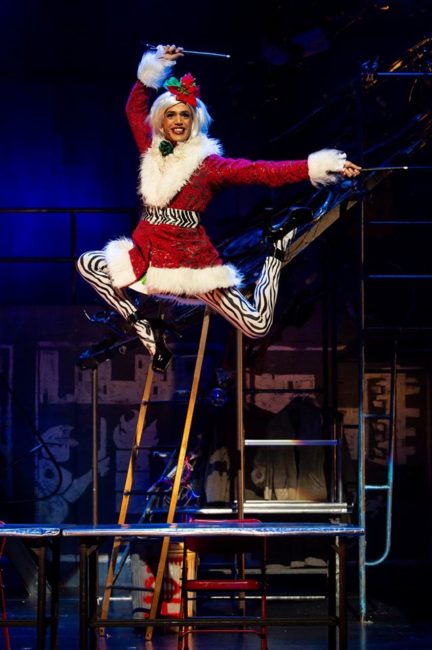 Truly the epicenter of joy in this production, Angel Joshua Tavares) is a radiant ball of compassion and love and acceptance and all of the things that Rent truly is at its core. There is a sassy simplicity to Tavares' Angel that just melts your heart and warms your soul, especially when first encountering him not as this sensational drag queen but as an honest, human individual on the street with a plastic pickle tub. "You Okay Honey" is a balm even for those who weren't just jumped like Collins. Transforming into a larger-than-life hero of the narrative, Tavares' "Today 4 U" is a crowd-pleasing show-stopper, with vertical up-leaps onto tabletops and stairs, showcasing Tavares' indefatigable energy and performing prowess in addition to that fine vocal sound that accompanies his portrayal. Tavares is perpetually radiating the heightened epitome of honest glee, driving the show to have a happy heart at its core.
As they say, no day but today, Rent isn't here for very long and it's a strong, intense production well worth seeing on its stop in the nation's capital.
Running Time: 2 hours and 40 minutes with one intermission
Rent plays through Sunday November 19, 2019 at The National Theatre— 1321 Pennsylvania Avenue NW in Washington, DC. For tickets call the box office at 800-514-3849 or purchase them online.
To read the interview with Joshua Tavares on playing Angel, click here.