"Interviewer: Did you ever think maybe you were no good?
Nevelson: …No, I don't think I ever thought that, but I did think I'd maybe never get where I knew I could–to that space I knew was supposed to stand in… To occupy."
The compulsions that drive an artist to fame, and the nebulous line between truth and created persona, animate Edward Albee's Occupant, directed by Aaron Posner, which opened last night in a sharply mounted production at the Aaron and Cecile Goldman Theater at the Edlavitch Jewish Community Center (Theater J). The play's conceit is that the late, "great" sculptor Louise Nevelson returns from the dead for a posthumous interview that explores her transformation from a young Russian-Jewish immigrant into an acknowledged (and highly flamboyant) master of her chosen art. "Do facts mean anything to you?" asks the interviewer, as Nevelson emotively recounts the turmoil and triumphs of her life, weaving evasions and deliberate "mis-remembering" into her iconic self-characterization, like the colorful strands in her exotic, if slightly worn, attire.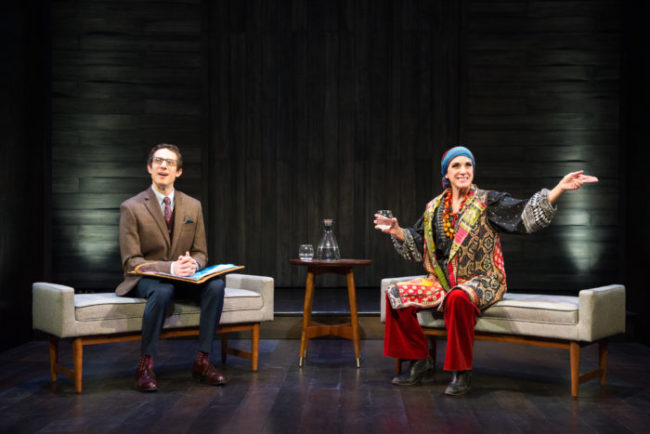 As Nevelson, Susan Rome strides the stage commandingly, flashing her two-tiered sable-shadowed eyes, and appealing directly to the audience for vindication or approval as she chastises her irreverent interviewer. Amidst all her look-at-me chutzpah, Rome still manages to score a skillful selection of laughs, as she suddenly alters pitch or tone for a particular line delivery, or searches for a word that unexpectedly transforms her response into a zinger. As her interviewer, Jonathan David Martin twitches, smiles, nods encouragingly, even emphatically, at Louise's responses, but drenches so many of his questions and comments with acid or irony that the interview seems often like a personally-driven attack. The contrast is effective, yet raises interesting questions—who is this interviewer, and why does he care so intensely about the truth beneath the artist's persona?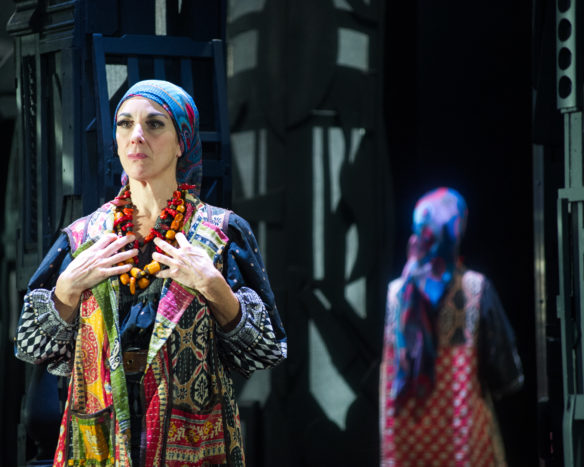 A more traditional play would likely explain this interviewer's personal purpose in the interview, but here– known only as Man– the interviewer's questions and asides instead fuel the larger philosophical questions that haunt Edward Albee's oeuvre. The duo's contrasting themes– self-creation and self-expression vs. truthfulness and accountability–in the end, create sufficient dramatic tension, but the result is predictably unresolved. Even as we applaud Louise Nevelson for her entertaining flamboyance and for her self-transformation into an artist who "occupies" a preeminent place in her art's canon, we sense that perhaps there's something slightly unnerving about the need to be an "Artist" rather than to be one who simply creates art.
The scenic and costume design is by Nephelie Andonyadis. As Nevelson was known for her distinctive style of dress – daring and outlandish, but always costly and new–Andonyadis surprises here by dressing her deceased Artist in an outfit slightly mismatched and worn, perhaps something Nevelson would have worn while working, but never to an Interview. However, Andonyadis effectively contrast's Louise's eclecticism by deliberately dressing the interviewer as a conservative intellectual. The set is a deceptively simple lecture hall – a podium, a couple of benches and a small table. The floor and back wall are wood planks and the set is dominated by a projection of an imposing photo of Nevelson by Richard Avedon, which captures an undeniable personal strength, a strength which, to be fair, we never see fully realized in the evening's performance. The lighting design by Jesse Belsky effectively reinforces the effect that we are ourselves spectators in this lecture hall, while at other times narrowing the focus for intimate moments between Nevelson and her interviewer.
This late-career gem by Edward Albee runs through December 8th, 2019.
Running Time: 2 hours with one intermission
Occupant plays through December 8, 2019 on The Trish Vradenburg Stage in the Aaron & Cecile Goldman Theater in the Morris Cafritz Center for the Arts in the Edlavitch DC Jewish Community Center— 1529 16th Street NW in Washington, DC. Tickets are available for purchase by calling the box office at 202-777-3210 or by purchasing them online.