And their Don Quixote, their— Man of La Mancha opens in just days! Carrying on further into the Dreaming The Impossible Dream interview series, the fourth installment of the cast features the Housekeeper, a member of the ensemble, Don Quixote's niece, the assistant choreographer, and the show's musical director.
If you want to tell us who you are, who you play in this show, and the most recent thing you've done in/on/around/adjacent to a stage, we'll give our readers an idea of who you are and we'll get underway.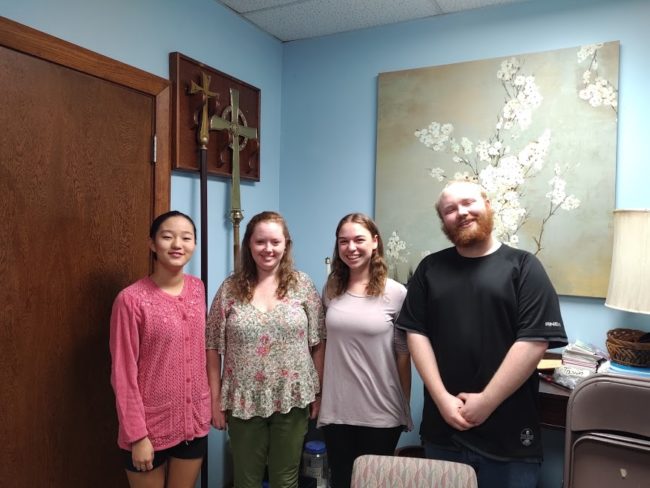 Eve Carlson: I'm Eve Carlson, I play the housekeeper, and the last show I was involved with was here at Third Wall, I was in The Producers.
Sarah Joyce: I'm Sarah Joyce, I'm in the ensemble, and the last show I was involved in was Aladdin Jr. also at Third Wall.
Olive DeVille: Hi. I'm Olive DeVille. I play Antonia, Don Quixote's niece, and the last show I was in was Mary Poppins with the Glyndon Area Players. I was the ballerina doll.
Will Zellhofer: I'm Will. Zellhofer. This is the first show that I've been in in a while. I mean, I do Babes in Toyland at Goucher every year, but other than that the last show that I was actually in was Lend Me a Tenor—
Lend Me A Tenor. Is that the same Lend Me A Tenor where you and J (J Purnell Hargrove) broke the bed!?
Will: The very same! With the one and only J Purnell Hargrove! But outside of that I play piano for theatres all over the area.
And what are you doing in this show, Will Zellhofer, breaker of beds on stage?
Will: I am Paco! And I'm also the Music Director.
Olive: Wait. Am I also allowed to say that I'm the assistant choreographer? Because I'm the assistant choreographer.
Yes, yes you can. Thank you for that wonderfully entertaining introduction. What is your personal impossible dream?
Eve: Oh come on, that's not an easy question. I thought you said there weren't going to be difficult questions!
Did I say that?
Will: Yes, you said these questions were going to be easy.
Olive: And short.
I lied. These are hard. What is your personal impossible dream, Eve?
Eve: My personal impossible dream? Is to get paid to do what I love to do everyday and to bring joy to other people through doing it.
Sarah: To help get world peace.
Olive: I would have to agree with Eve, but I'm going to expand on it. I just hope that, in addition to world peace, that someday I can have a career in musical theatre, whether that be on stage or behind the scenes as a choreographer. I would just love to be able to perform and make a living off of it.
Will: That is basically what I was going to say but I'm not going to continue on in this vein. Let's go with, I want to continue to create meaningful theatre and not just something that's out to entertain audiences, but something that's going to educate somebody. Something that's going to make somebody walk away with a different way of looking at something. Not to name drop or anything, but Guerilla Theatre Front's production of Hair was a very meaningful production; I want to do something in that vein.
What does it mean to be living the impossible dream the way you guys talk about it in the show?
Eve: I think it means to have no fear and to strive to be authentic.
Sarah: I feel like everything I was thinking of is just quoting the song. You know, to run where the brave do not go, etc. Just be.
Olive: I think that it means to live out your dreams and not be afraid of going for things that may seem impossible.
Will: I think that it's not about the shit that you go through— maybe censor me— but it's not about the shit that you go through on the way, it's more about that final destination. In the lyrics of the song, he describes all these terrible things that he's going to have to deal with, like the weight of the world on his back, but he— spoiler— he dies at the end— but he says in the song, "to be willing to march into hell for a heavenly cause and I know I'll only be true to this glorious quest that my heart will lay peaceful and calm when I'm laid to my rest." So even though he dies at the end, it's still this wonderful thing where he goes through this impossible dream that he's describing. He achieves his end goal; he says in the song that it's gonna be fine if I die as long as I stay true to my goal. And he does. There you go. That's impossible dream. In a nutshell.
Why do you want people to come and see this production of Man of La Mancha?
Eve: Because it's an older story but it has relevance today and I think it's important to bring audiences of all ages to experience it together.
Sarah: It has a great message and great music.
Olive: I think I was also going to say that it has wonderful music that I just love and it's been really fun to be a part of and I think it will be really fun to watch. And it can make you laugh and cry at different parts; overall it's just a really fun show.
Will: Man of La Mancha is in that weird theatre-grey area where theatre people like it and I think most people would call it a classic and yet it's not very often done. So I think when it is done, like right here right now at Third Wall, you should come out and see it. It's a really great story and there's some really, really memorable songs in it.
Man of La Manchaopens on Friday November 8, 2019 and plays through November 17, 2019 with Third Wall Productions at St. Thomas' Episcopal Church— 1108 Providence Road in Towson, MD. Tickets are available for purchase at the door or in advance online.
To read Part 1 of the Dreaming The Impossible Dream Series, click here.
To read Part 2 of the Dreaming The Impossible Dream Series, click here.
To read Part 3 of the Dreaming The Impossible Dream Series, click here.