Sometimes, it's all in the timing. When the circles of life coincide with your best efforts, everyone wins. There is a history of shows that premiered to little or no hoopla, but when revived later in a different political or social climate, felt way more relevant and meaningful. The most popular example is Kander & Ebb's classic musical Chicago. Opening in 1975 under the direction of Bob Fosse and starring dual leading legends Gwen Verdon and Chita Rivera, Chicago is a sensational tale of sordid attention seekers so desperate to be noticed that they would commit murder for fame. Murder became entertainment and murderesses celebrities culminating in the "trial of the century". Chicago, the talk of that pre-season, was only a modest success, completely overshadowed by the new phenomenon A Chorus Line that would go on to break box office records and become the longest running show on Broadway. However, twenty years later an extremely scaled down revival starring Fosse protégée Ann Reinking, Bebe Neuwirth, and a busload of attitude and sass opened in 1996 to soaring reviews and, ironically, went on to break not only the record set by A Chorus Line but every other show in Broadway history except The Phantom of the Opera (both of which are still currently running). The difference? In 1996, the country was fresh off the unfathomable circus of the 1994-95 true crime "trial of the century" where accused murderer OJ Simpson and his motley cast of associates (including defense attorney Robert Kardashian whose legal profits parlayed a subsequent media freakshow today) played five shows a week in our living rooms, as real life murder became entertainment and real murderous celebrities.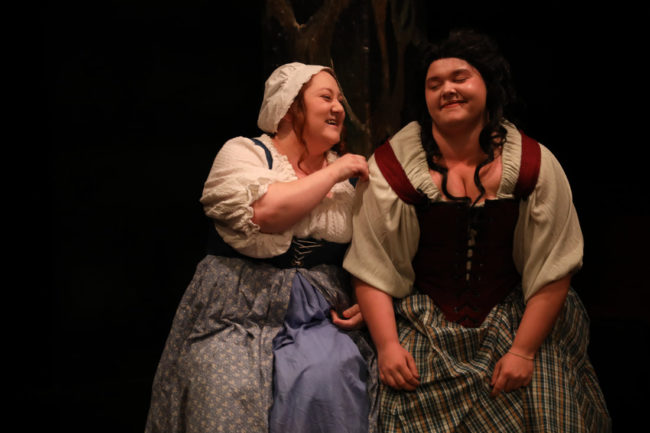 Fuzz Roark and company at Spotlighters have likewise benefited from that same fortuitous blend of material, theme, and timing with their current production of Caryl Churchill's Vinegar Tom directed by Erin Riley. Written in 1976 at the height of that decade's wave of feminism and campaign for women's rights, Churchill used a fictional story of local women in 17th century England being framed for witchcraft as a metaphor of women being oppressed and stripped of their rights to everything including their very bodies by men. What Roark may have anticipated, considering the current political climate of this nation, but could never without a crystal ball (or witchcraft??) have expected was a sad instance of perfect social timing. Suddenly three southern states would pass massively regressive and restrictive abortion laws literally in the days directly preceding the scheduled opening of this feminist tale. Cheers to immediate relevancy, Mr. Roark and company.
The story is straightforward. Jack and Margery (Izaak Michael and Nicole Mullins), a working class couple in a small English village, experience a series of frustrations on all fronts, everything from the economic to the sexual. Rather than chalk it up to bad timing, bad luck, or sheer chance, they seek to place blame on Joan and Alice (K. Tony Korol-Evans and Lanoree Blake) a low class woman who cursed Margery for refusing her some yeast and her daughter who turned down Jack's sexual advances, accusing them of witchcraft. Not aiding the duo's cause is the fact that Alice has had a sexual tryst with an unnamed "Man" (Jamal Kitchen) who may or may not be somewhere on the spectrum of a Satanist to the Devil himself.
Also in the mix is Betty (Marela Kay Minosa), a frivolous young woman who refuses to get married to her proposed suitor; Susan (Jennifer Hasselbusch), a simple-minded local girl who finds herself in an unwanted state of pregnancy; and Ellen (Tami Moon), the local cunning woman who peddles potions for profits, including folk remedies to attract Alice her lover and to terminate Susan's pregnancy. As the gossip takes wind, enter Packer and Goody (Daniel Douek and Margaret Condon), a witch hunter and his assistant, who conduct a variety of rigged tests to rid the village of its evil presences.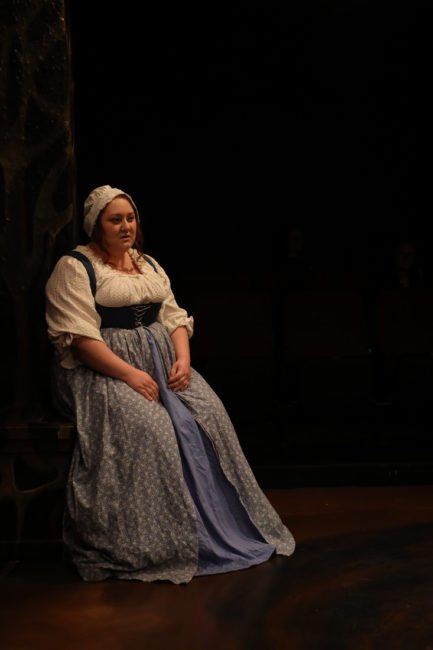 The feminist lines are clearly drawn in contemporary colors, in a society where we have a man who has been humiliated by aggressive women address a system where other men condemn and punish strong, non-conforming women for their independence in taking control of their bodies, their relationship status, their sexuality, and their economic livelihoods. From the Middle Ages to the 70's to now, all topics that induce fiery and virulent conversations.
Riley's entire cast is a very well-matched and engaging ensemble, all playing well with and off each other in Churchill's concise, well-written scenes. Particular standouts are Moon as the profiteering snake-oil saleswoman, Hasselbusch as the confused mother-to-be, and Karol-Evans as the beleaguered elderly farmwoman at the center of it all. Several actors portray secondary characters, and Moon and Karol-Evans finish the show in a strong epilogue as a latter day male Music Hall interlocutor duo whose act involves a witty parody about the evils of women.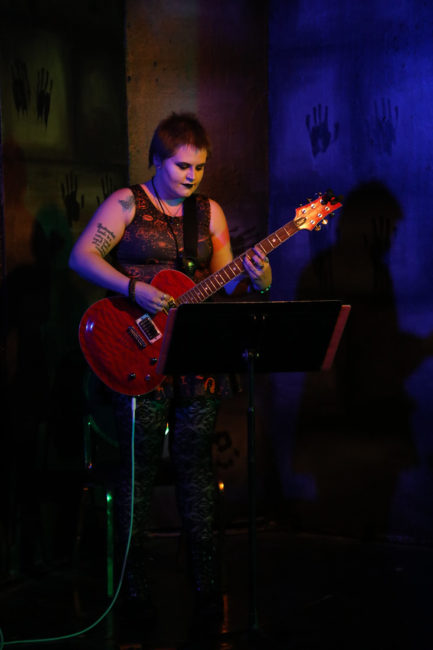 Worthy of special note is Parker Bailey Steven who plays and performs a series of contemporary feminist-themed musical interludes between the scenes like a modern-day Emcee of this messed-up "Cabaret". Not only is Steven's style a strong and interesting contrast yet reflection of the scenes, but author Churchill has included an exciting opportunity of using her lyrics but dispensing of the suggested melodies for local composers to contribute their own. Not only is Steven a very engaging vocalist, she composed her own appealing alternative rock score, and the result is quite original and cast-album ready.
Director Riley keeps the action flowing rapidly and precisely, and she receives competent assists from set designers Gaya Sel and Lance Bankerd, lighting designer Lana Riggins, and costume designer Kate Smith-Morse, all providing simple but effective additions.
Whether 40 years old or 340 years old, Vinegar Tom and the stories that inspired it have some very strong messages to convey, and Spotlighters' strong production sheds a much-needed beacon on them all. Another lesson that history is so important to understand, because the minute we turn our back on it, it inevitably repeats itself.
Running Time: Approximately 2 hours with one intermission
Vinegar Tom plays through June 2, 2019 at The Audrey Herman Spotlighters Theatre— 817 St. Paul Street in the historic Mount Vernon neighborhood of Baltimore City in Maryland. For tickets call the box office at (410) 752-1225 or purchase them online.