Whenever I am assigned to review a show presented by Stand Up For… Theatre, I know for sure that I am going to be challenged to examine my conscience. For years now SUFT, the theatrical division of Erase Hate Through Art, has been giving us productions that challenge us to not only look at the world around us and the role we play in it, but our perception of the madness that surrounds us. Miguel de Cervantes wrote, "When life itself seems lunatic, who knows where madness lies? Perhaps to be too practical is madness. To surrender dreams — this may be madness. Too much sanity may be madness — and maddest of all: to see life as it is, and not as it should be!" This challenge, this trumpeting call to be awakened and see life as it should be, is what separates SUFT from other theatre companies.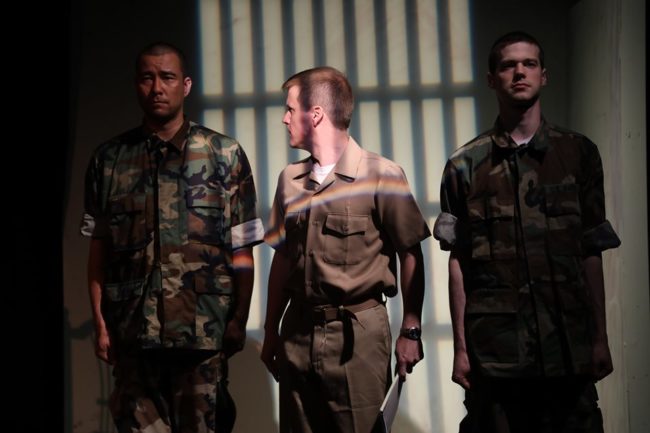 A Few Good Men, directed by Andrew Syropoulos, asks us to examine words like code, duty and honor. Can service to one's country include service to God and our fellow man? Is doing what is required to complete the mission the same as doing what is right? Syropoulos brilliantly draws these lines in the sand and tasks his audience with the dilemma of following your head or your heart.
From a technical / production standpoint the show falls short in several areas, the biggest and most glaring being costumes. To costume this show properly is a huge undertaking even for a professional company. Being community theatre, a pass can be given as to the hodgepodge of officer and enlisted uniforms being crossed over, or tailoring issues, but Costumers Grant Myers and Ed Higgins need to look at these actors before they come on stage so that at the very least everyone is wearing what they have the same way. Where Myers and Higgins fell short in costuming, they more than made up for in their set design. The multi-level set worked well in aiding the somewhat cumbersome scene changes. Having the defense and prosecution on the floor, near the audience was a great decision and nice touch. You feel as though you are at the table with the lawyers. Technical Director/Light Designer Joshua Anderson does a nice job setting the mood with his lighting. One stand-out feature is the jail cell. It is dim and gives a cold, damp feeling. The projection of the cell bars is a good choice that allows the actors to remain seen.
The performance came across as scripted in certain areas but was for the most part engaging. Aforementioned issues aside, the cast was talented, and you could tell that they put in the work. Matthew Glen (as LtJg. Daniel Kaffee), Scarlett Corso (as LCmdr. JoAnne Galloway) were entertaining and a pleasure to watch. You could tell that the supporting cast was having a good time and they were an added source of enjoyment. There were several standouts that deserve to be pointed out.
John Imahori as Lt. Johnathan Kendrick has a stare that can look right through to your soul. Imahori is as intense from his first scene to his last. He spends most of the show with clenched teeth and fists. As his anger rises you can see his knuckles whiten as the blood is forced from his fists. His character development and performance are to be commended.
The role of LtCol. Nathan Jessup is perhaps one of the most difficult to play in the show. His love of God, country and Corps needs to be balanced with a human side. The duality of a Marine on the rise and that of a man moving to DC in a more political billet can be hard to pull off, but John Pierce does it flawlessly. Pierce has the skill for political speak while at the same time his body language screams, "Don't screw with me!" I was most impressed that Pierce didn't try to duplicate the iconic Jack Nicholson portrayal, but he made Jessup his own. To be honest I preferred Pierce's rendition.
Jonathan Halberstam (as Pfc. Loudon Downey) and Chris Dochin (as LCpl. Harold Dawson) play Marines through and through. Halberstam oozes mid-west country charm, innocence, and naivety at the same time demonstrating a polished military bearing. Dochin does an excellent job as a Marine who loves to serve and places his code above all things. Even in the end, Dochin sticks by his principles and feels as though he has done nothing wrong. He did as he was told and would do it again.
The shining star for the evening was Chris Pence as LtJg. Sam Weinberg. Pence was not just acting but an embodiment of the spirit of the character. Pence does not miss a moment while on stage. When he is not delivering his lines, he is reacting to what is going on around him. It's almost as if he is not playing a part but IS what Aaron Sorkin had in mind when he created Sam Weinberg. A fine performance, Chris!
While many of us go through life content with "answers", SUFT continues its relentless pursuit of "the truth". You may or may not be able to "handle the truth", but that should not stop you from seeing SUFT… 's A Few Good Men at the Chesapeake Arts Center through June 9. I promise you that their message is "crystal."
Running Time: 2 hours and 10 minutes with one intermission
A Few Good Men plays through June 15, 2019 as a Stand Up For…Theatre production in the Black Box Theatre space of The Chesapeake Arts Center— 194 Hammonds Lane in Brooklyn Park, MD. Tickets may be purchased at the door or in advance online.