Something I wasn't prepared for when I walked into the theater to see Tornkid was that I would slowly become a part of the play. The first scene seemed to have more characters on set than I'm used to seeing in the introduction to a story, as a series of people sitting on pillows at the edge of the audience played silent ancestor spirits of the main characters, clapping their hands to send signs to our hero and narrator, to confirm they were watching and influencing the story. A 2-D world jumped into 3-D as the narrator subtly started including we members of the audience in her attempts to summon a supernatural response. The greater her communication with the ancestors the greater our participation, until the role seemed to belong solely to us, landing me on a pillow, on set, before the show's end, and it was an unexpectedly pleasant thing to experience the story rather than watching it. Playwright Katelynn Kenney deserves a lot of credit for writing this dimension into the show, but it Kim Le's warm, intuitive contact with the crowd as Magic Teller that allowed much of that interactivity to take on the comfortable and genuine feeling it had. That's not to say everyone who attended was forced on stage or that anyone was made to clap or interact as a spirit; those not wanting to participate were probably safe staying in their comfort zone, but I can imagine this would probably thrill a child as much as an adult.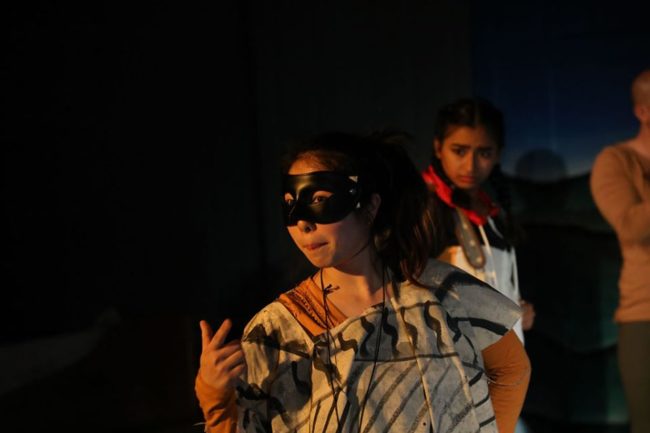 Interactivity was a treat, but before even arriving at the theater I saw a photo of the Tree Spirit puppet and was intrigued. His face was urgent, in a way that might suggest he was seconds away from an emotional outburst, but anything malicious was deep beneath the surface of this personified foliage. Puppet Designer Jess Rassp captured the vibrant power and majesty one would expect to see in a spirit, in vivid colors that seemed to fit into the tapestry of a tropical pacific forest, perhaps on an island. My initial impression was puzzlement at puppets that were carried around by people standing right out in the open, but the more I saw this approach working its magic, the more effective it was. As Jess Rivera and Brian Lai breathed life into their roles, it became easy to not notice the puppeteers right before our eyes.
While the visual impact of the spirits and crowd interactions may have grabbed my attention, there was a message beating deep in the heart of this play that calls back to a childhood challenge I think many of us have faced, as we see the expectations of being the children of our parents, our culture, and reconciling that with whoever we choose to become in the world we are growing through. The question of who we are and if that is determined by our birth, our choices, or peers is a topic Tornkid is struggling with, as they are faced with culture clash between peers expecting one kind of lunch and parents packing another. I like how Tornkid touches on the subject of if we should view ourselves through our own lenses, the lenses of others, and how much of that we get to control, in the form of them losing their voice, which begins the spiritual quest to get it back. As much as this quest takes physical form in our story, the metaphor here is anything but hidden. Sometimes your voice is something that has been with you, all along, but if you aren't sure of yourself you can feel you have lost it, so even if you haven't lived through a childhood at the cross-section of two cultures, I feel the story comes across as very relatable. Any child can benefit from this theme. That might not have been the case if not for the extremely emotive facial expressions, body language, and emotional outpouring shared with us by Surasree Das, whose performance as Tornkid was organic in every way.
If Tornkid sounds like it might be heavy with topics that provide a feast for thought, particularly for a younger audience, or a worrisome struggle, Mika Nanako's humorous role as Tornkid's Other Half / The Trickster provided balance to that on-going anxiety so clearly felt by Tornkid, and we needed that levity. As The Trickster originally appeared, I wasn't very fond of the character, much the way I feel Tornkid probably felt, yet with each new encounter the role began to feel like a welcomed friend on the journey; a lonesome trip through a place as alien as it is familiar, being experienced by a main character who is fresh out of living through embarrassing alienation. By the end of the show, The Trickster had totally transformed in the eyes of Tornkid, as much as the audience, and a black mask was the last bit of insecurity cast off as a voice was reunited with its owner.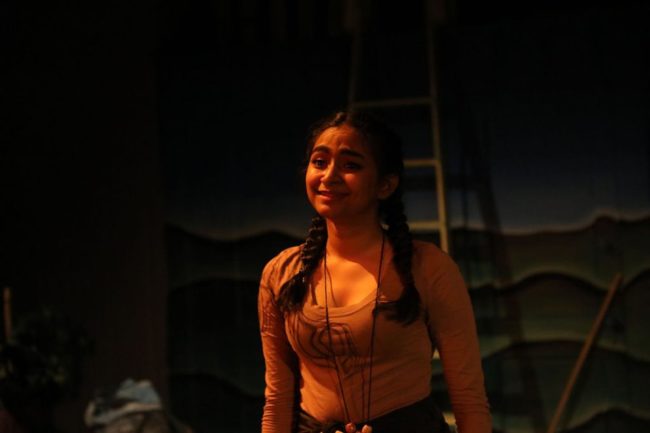 This play has a lot to offer viewers of all ages, and the folks at Baltimore Asian Pasifika Arts Collective (BAPAC) are aware of that, as they opened with a special Meet The Creators event, but will later have a Meet The Puppets event on Sunday, June 2nd, before the 4 p.m. matinee, to allow younger audiences to become acquainted with the puppets so they aren't scared during the show. The combined efforts of Cohesion Theater Company and BAPAC have created something not to be missed. There is, however, no intermission, so it would be wise to avoid the water spirit until after the show, if at all possible.
Running Time: Approximately 80 minutes with no intermission
Tornkid plays through June 9, 2019 as a co-production between Baltimore Asian Pasifika Arts Collective and Cohesion Theatre Company at the Fallout Shelter of the United Evangelical Church— 923 S. East Street in the Canton neighborhood of Baltimore, MD. Tickets are available at the door or in advance online.