There's a little ditty they're singing in the city— right here in the city of Windsor Mill!
And if you've got the patience, then your imagination will tell you what you want to hear!
Oliver! Oliver! Ol-li-ver! That's the ditty they're singing in the city— Oliver! at The St. Gabriel Miracle Players, who have produced another miracle by keeping their theatre alive and thriving in the building that their audiences know and love. Directed by Kacy Conley with Musical Direction by Mary Beth Bunting and Choreography by Kristin Rigsby, this well-worn tale of Dickensian orphans finds strong footing in all of its wonderful supporting players in the production.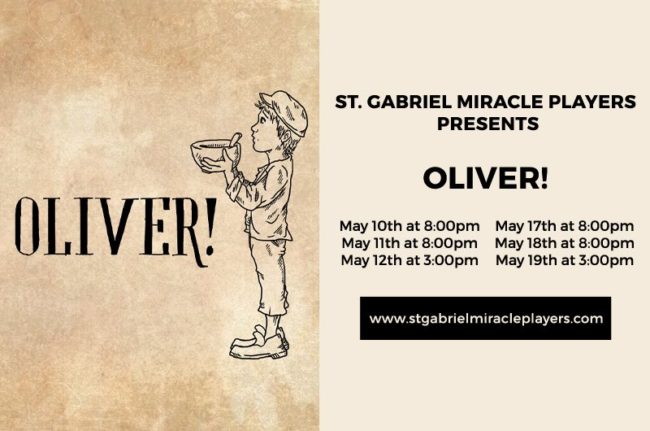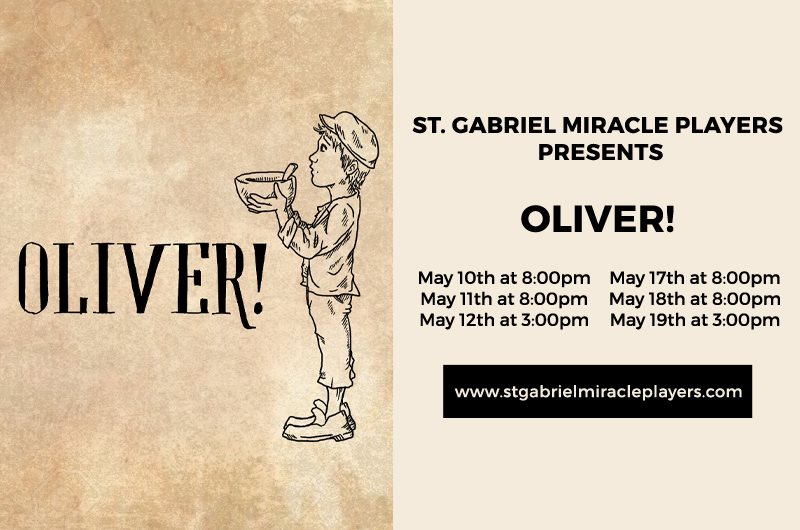 With a food, glorious food— before the show, you're in for a good and proper treat for the evening. Partnered with St. Gabriel's parish, there is a delicious dinner ready for the eating before the show and while it doesn't feature hot sausage, cold jelly, or mustard— like the darling little orphans sing about in their opening number— it's good enough to make your belly feel full and stuffed so that when those poor orphans start singing, you wish you'd saved some to give to them!
Overall, a strong orchestral sound arises from the pit of live musicians, which is a rare treat in community theatre both on the fronts of live music and polished sounding music. Conducted (on the second weekend) by Jessica Thomas, the orchestra— featuring more than a dozen musicians— was engaging and kept the tempo divinely, which ultimately aided in the musical's success. Musical Director Mary Beth Bunting created blissful harmonies all throughout the production, encouraging robust sounds from the ensemble during numbers like "Oom-Pah-Pah" and "Consider Yourself". Bunting's finest example of smooth harmonizing comes during the quartet number, "Who Will Buy?" The song features Jonny Akchin as the Knife Grinder, Katherine White as the Rose Seller, Heidi Toll as the Milkmaid, and Deb Carson as the Strawberry Seller.
Sartorial selections are on par for any true Dickensian production of Oliver! Resident costumers Sally Kahn and Heidi Toll pull together a full array of varying rags. When the orphans march their way into "Food, Glorious Food" they look properly distressed, like revolting little filthball urchins that no one has bothered to scrub ever in their lives. But for as ragged and rugged as the various characters of the street look, Kahn and Toll polish characters like Mr. Brownlow, Dr. Grimwig, and even dear Oliver once he finds himself new, clean clothes, to reflect the vast disparity between the wealthy class and the street-ridden class. John Wiggins, as chief Set Designer, furthers the show's aesthetic in the matter, working within the confines of the St. Gabriel space to create little nooks and crannies that serve as the workhouse office, the sick bed at Mr. Brownlow's, and other such venues throughout the performance.
Corralling large bunches of children and adults on stage for moving numbers like "Consider Yourself" is no small feat. Especially when the most precious and adorable member of the cast isn't even six months old! (The adorable Josh Wiggins turns six months old the Friday after the production closes but is hands-down the cutest little street-baby in any production of Oliver! ever seen.) Choreographer Kristin Rigsby puts her skills to work, keeping movements simple but clean, especially during the rowdy "Oom-Pah-Pah" led by the boisterous Nancy (at this performance Laura Toll Marchiano.) With Rigsby's choreography in mind, Marchiano brings great strokes of enthusiasm to the pub-rousing number and flings through it with bright gaiety; this is one of her happier moments in the production.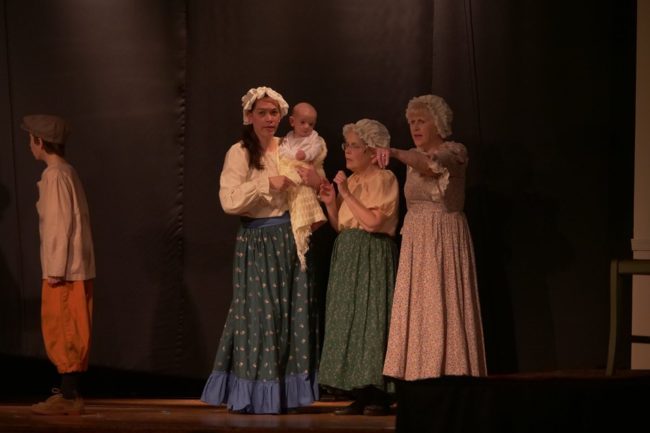 Anyone who has any familiarity with Oliver! knows Nancy's story is not a pleasant one, but there's little that can be said for how the book is written. St. Gabriel's production has split the role between Marchiano and Kate White. At this performance, Marchiano puts her own personal "Oom-Pah-Pah" to work, particularly during "I'd Do Anything" having a fun and fancy-free good time with The Artful Dodger, Bet, and Oliver. Marchiano delivers a clean sound with sobering clarity during the most difficult number to listen to in the piece, "As Long as He Needs Me."
The Orphans (Annie Akchin, Margaret Akchin, Sophia DuClos, Ben Fregeau, Vivienne Fregeau, Amelia Gauvey, Kieran Gauvey, Abena Poku, Efau Sam Poku, Jack Wiggins, Molly Wiggins,) are really impressive. They sing with vocal strength, they move with clean coordination, and are ultimately a delight to watch, whether they're marching about as workhouse orphans to "Food, Glorious Food" or scrabbling about as Fagin's gang of streetwise urchins. Margaret Akchin gives the adorable not-quite-six-month-old Joshua Wiggins (who isn't even a street urchin orphan!) a real run for his money as cutest young performer in the show. There is a brief scene at the end of one of the musical numbers where little Miss Margaret Akchin is sweeping the stage, just looking too precious for words and the audience just about loses its mind over this cherubic youngster with a broom bigger than she is on stage.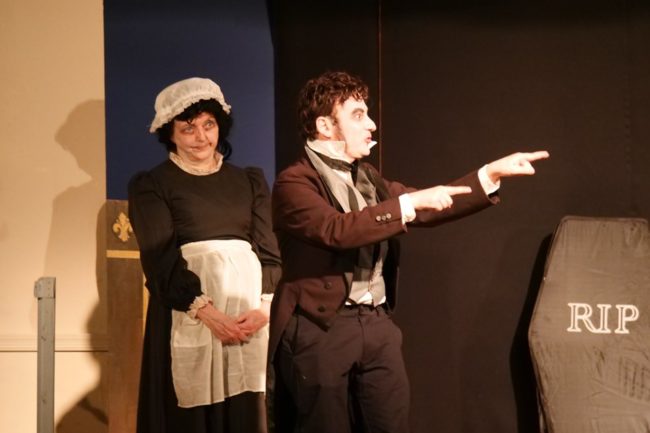 Really stealing the show as cameo characters, Heidi Toll and Lenny Taube as Mrs. and Mr. Sowerberry are maniacal marvels. Toll, to put it bluntly, looks deranged. One might think that's an insult, but as the dour wife of the Dickensian town undertaker, it's quite the compliment. Toll is maddening in the role, but she pales in comparison to the utterly madcap Lenny Taube who is channeling his own personal Dracula into the role. While the pair only gets a singular solo number, "That's Your Funeral", they make the most of it. Taube's mannerisms are as ghoulish as his pasty pale makeup and his vocal affectation is to die for. The way he slinks and skulks about the stage (particularly later when he wobbles in soused) are just too funny for words. Fortifying "That's Your Funeral" with his rich, haunting sounds, Taube really gives your money's worth for his lone cameo appearance. Watch his coffin-incident at the end of his scene; deadly funny!
The aforementioned Nancy (at this performance Laura Toll Marchiano) has to hold her own against the terrifying Bill Sikes (Nicholas Tackett.) And if you think Lenny Taube looked slightly spooky as the creepy undertaker, duck and run for cover when you see Tackett coming because his Bill Sikes' appearance is enough to give you ghastly nightmares! (I was assured he's a delightful individual, even a sweet, proud father of the sweet Falynn Tackett, playing Charlotte in the second weekend's run of the production!) The way he stalks across the stage, with his full, frightening beard, and general towering stature is enough to put anyone off. It's no wonder they all go running when Tackett starts growling his way through "My Name" the brutal song that comes attached to the Bill Sikes character.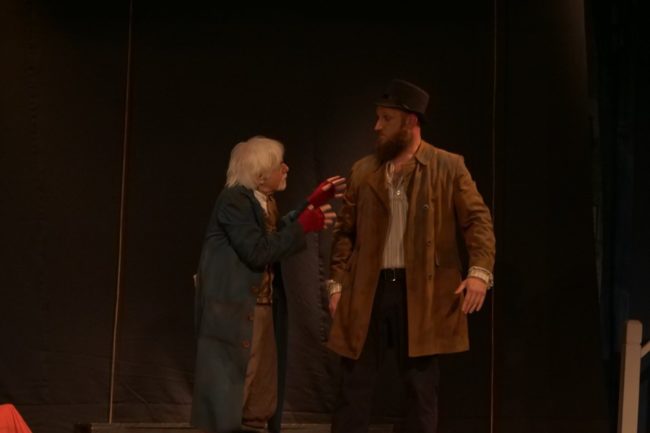 On the opposite end of the baddie spectrum, Fagin (Michael Hulett) is the more lovable and befuddled old codger of the streets. Hulett's versatility as a character actor is impressive beyond compare. Fleet of foot, simple of gesture, and well-sounded of voice, Hulett puts a spry spring step in Fagin as he minces through "You've Got to Pick a Pocket or Two" and again with his racing patter through "Reviewing the Situation." One of the funniest moments Hulett delivers is his secret moment with his treasures. Trying to keep the peace between Bill and Nancy is one of Hulett's character's finer moments, and his initial treatment of Oliver is rather endearing.
Poor Oliver (at this performance Mayah Lohrmann, first weekend Finn Smith) just gets bounced around and around! Starting off in the workhouse with the brutish Mr. Bumble (Jonny Akchin) and the shrill Mrs. Corney (Deb Carson), life is not very pleasant right from the beginning. Akchin and Carson do have a fine time playing with one another up in the little workhouse office, with Carson really putting plucky punch into "I Shall Scream" the solo which also features Akchin's Bumble. From there to the streets, to the Sowerberrys, to Fagin's gang, back to the streets, into the tender and mindful arms of the reverent Mr. Brownlow (Marc Rehr), whisked away by Nancy and Bet (the ever-effervescent Molly Laska) to the treacherous claws of Bill Sikes— it's a wonder poor Oliver doesn't need a passport for all these ports of call! Lohrmann makes a convincing Oliver, especially when blasting her temper at the ornery Noah Claypole (James Morgan) and when trying to turn over a good and honest leaf in the comfort of Mrs. Bedwin's (at this performance Ann Henry) syrupy singsong lullaby, "Where is Love Reprise." Lohrmann also has a delightful voice of her own for singing "Where is Love" from underneath the coffins when poor Oliver finds his new sleeping quarters to be among the caskets at the Sowerberrys!
Oliver! the show is a bit like Julius Caesar in the sense that the title character plays somewhat of a secondary role to some of the other things and people happening around him. This is most certainly true when it comes to all of the hands of corrupt and kind adults that pass Oliver around as if he were a loaf of bread. Oliver's guiding beacon, albeit a torchlight to the seedy side of thievery, is none other than The Artful Dodger. Again, with split performances the role is shared between Molly Connell and Therese DeMarco. This performance blessed the audience with the vivaciously rambunctious Therese DeMarco, who artfully dodged about all through the performance. DeMarco dropped her natural voice into a lower timbre to convince the audience she was a rapscallion boy of the London city streets and did so very convincingly. With pluck and spunk, DeMarco waltzed through every scene with savor faire befitting of an underbelly rogue trying to hobnob with the cityfolk whilst simultaneously picking their pockets. Leading the entire cast with rigorous gusto through "Consider Yourself", DeMarco is really more like a mature adult, accomplishing with practiced ease and polished flare her fine footwork, her excellent singing skills, and her smartly delivered comic timing. The dynamic shift between her funny playful nature during "I'd Do Anything" into the gulping panic when Nancy asks "…would you fight my Bill?" and DeMarco's response, in sheer panic with expressive facial features to match, as she squeaks, "…what!? Fisticuffs?" is priceless.
So they'd do anything— for you, audience— anything! They'd do anything to give you a good show (and dinner too!) And they do! It's a fine, fine show, this Oliver! of theirs! Be sure to catch upcoming performances of St. Gabriel Miracle Players as the continue to miraculously produce musicals and straight plays later this 2019 season.
Running Time: Approximately 2 hours and 30 minutes with one intermission
Oliver! plays through May 19, 2019 at The Saint Gabriel Miracle Players— 6946 Dogwood Road in Windsor Mill, MD. Tickets can be purchased at the door, by calling Dan Conley at (410) 747-5626 or by purchasing them online.