There is so much light in the world. Light from the sun, light from inside that glows out from the human spirit, there's all kinds of light. But what about artificial light that's natural? The disturbing glow the illuminates from a diabolically dangerous substance? Radium. Playwright D.W. Gregory historically fantasizes a dark spot on American history, shining an incandescent beam of harrowing truth, with dramatic flair, onto historical events of the shadowy 20th century. The Maryland Ensemble Theatre presents Radium Girls, directed by Gerard Stropnicky, as the fourth main-stage offering in their 2018-2019 season. Evocative and stunning, Gregory's work surrounds this historical tragedy with a dramatic and fantastical veil that pierces through time and human conscious like the obliterating aura of a radium-dial watch glowing in the night.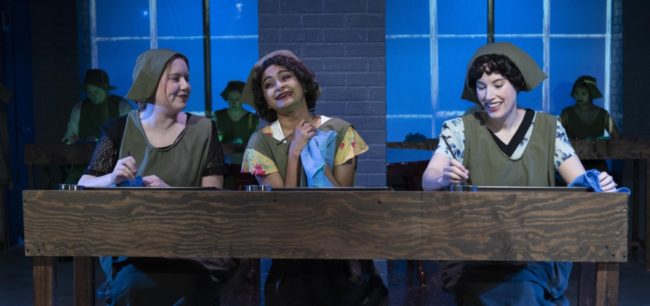 Radium Girls, under the direction of Gerard Stropnicky, moves like a perpetual clock dial in slow motion, lending itself to the ensemble nature of productions that the Maryland Ensemble Theatre strives and succeeds in continually producing. D.W. Gregory's work is crafted in the ensemble vein, but the seasoned talents at the MET, in conjunction with Stropnicky, create a striking theatrical masterpiece that is aesthetically appealing as well as dramatically engaging. The story itself is gripping; the production team and the performers hone in on the radiant nuggets of truth that shape this drama into a miraculous piece of theatre and illuminate them divinely.
Stropnicky, who serves alongside Doug Grove as the show's Scenic Designer, has created a unique world in which the story unfolds. Using the confines of the MET stage to his advantage, the play space becomes a whirligig of scenery, simple constructs of wooden pallets on wheels that house furnishings for the Factory Floor, house interiors, board rooms, and more; each spin in and out of place (by way of the ensemble moving pushing and pulling them around) like clockwork. Further praise of the show's aesthetic craft should be given to Lighting Designer Tabetha White. Her use of the fluorescent and ultra-violet glows create the eerie sense that unsettling things are always on the precipice of occurring. One of the most stunning lighting choices in the production occurs late in the second act when White bathes the Arthur Roeder character in full, bright light, as he is for the first time sheds light on what he believes to be true. This symbolic use of lighting to tie the character into the script's words is deeply profound and brings the show to a glowing head in that moment.
White works with Stropnicky and Grove to create a series of astonishing projections that are featured throughout the performance. The back wall of the scenery appears to be grimy windows but its panes serve as projection screens for a proper plethora of projected imagery. When the real life Radium Girls (and other actual historical figures) are mentioned, black and white photographs slide from one side of this backdrop to another. This is most profoundly memorable when the brassy "Sob Sister" reporter is grilling two of the Radium Girls, clicking away with her camera and with every blinding flash and archaic photo bulb clacking sound effect, a gruesome image of these real life girls and their condition appears on the screen. (Shine a bright light on the production's dramaturg— David Allerton— for all of the immense historical research churned out for this show and the way it has worked its way into the final performance.) The back-projection space is also used to show newspaper headlines, and all sorts of scenic shift, and is extremely effective throughout the production.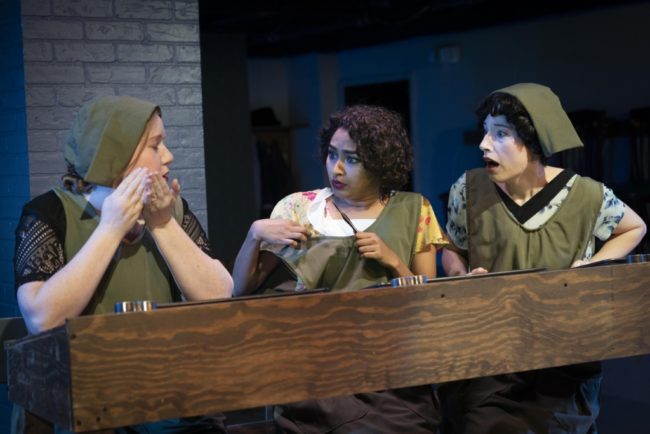 Tom Majarov's soundscape for the performance (the aforementioned photo bulb clacks being just one of just a handful of noteworthy special effects) is a jumble of sound that evokes a maelstrom of emotions, often times at odds with what's happening on the stage. Majarov's selections for scenic interstitial music traverses a musical map— with everything from classical pieces to the sounds of vaudeville and the times with little rhyme or reason to what is where and why. This chaotic cluster of sound, however, is precisely the disorienting thread needed to remind the audience that while they are deeply engaged in the story, this is D.W. Gregory's dramatization and fantasticalization of historical events, and not straight re-enacted truth.
Situated heavenly between 1918 and 1928, Costume Designer Sherry Shaner masterfully and accurately represents the style and the classes of the late teens and early 20's in her sartorial selections for the show. The hats alone are enough to give any millinophile severe pangs of envy. With at least a dozen chapeaus in play, Shaner is a goddess in her accurate and brilliant portrayal of 1920's fashions. And the dresses are equally as impressive. There's little to be said for the suits and lab coats featured on the men (they're intentionally banal but don't' at all diminish the exquisite work and detail Shaner has put into the various costumes featured on the women) but they serve their purpose. Shaner goes to great lengths to display the difference between the factory girls, the wives of society, those struggling to find their place and those simply trying to look a part and it is a visually rewarding fashion feast throughout the entirety of the performance.
D. W. Gregory's work is affecting; it will be difficult to leave the theatre without the show having a profound impact on the audience in one sense or another. While not immediately politically prescient or potent, there is the underlying current of corruption that burbles through the play, which is all too relatable in today's society. Big corporations with corruption running rampant, driven by the almighty pursuit of money and financial gain, in a thriving capitalist economy will, regrettably, never not be relevant. But Stropnicky and team MET focuses on the core of these stories, the relationships that evolve and dissolve between characters, and the impact of that corruption on the lives of these human girls.
One of the most fascinating things about the performance is the way the team so flawlessly slips in and out of their multiple characters. Only the actor and actress playing Arthur Roeder and Grace Fryer are cast with no other roles (per the scripting of D.W. Gregory.) But the remaining seven ensemble members take on half a dozen or so characters a piece and the nuances with which they craft each of these characters is mesmerizing. Even though it's a simple flip of a jacket, a switch of a class hat or slight shift in accent and posture, new and distinct individuals are created right before the audiences very eyes without so much as a blink of time from one character to the next. What's more captivating still, is some of the relationships and dynamic scenes played out amongst these minor characters.
Mastering the breakneck patois of the 1920's both Julie Herber and J.D. Sivert go neck and neck in opposition as Reporter Jack Youngwood and 'Sob Sister' Nancy Jane Harlan (The New York Graphic's only female reporter!) Though Herber and Sivert's reporter characters are not the hard and meaty core of the show's somewhat hilly narrative, their interactions as rival journalists is priceless. They face off as if their headlines were life or death and their dual mastery of speed, precision, and articulation in these moments are both impressive and entertaining. Herber's more notable and memorable character is as Mrs. Fryer, Grace's Mother, and her cold and bristling exterior is top notch. The emotional dam-break for that character is tear-worthy and is a monumental testament to Herber's versatility. Sivert, who plays series of maddening characters— including the intended spouse of Grace— has a uniqueness about each character that separates them from one another. His Dr. Knef character is by far the most off-putting in his quarto-repertoire.
Molly Parchment's claim to fame in this production comes in her role as Madame Dr. Marie Curie, and although this character is encountered briefly, Parchment's portrayal is striking and darkly comedic. Her broken English and stifled accent is befitting for the French scientist, and the audience takes dark notes of laughter every time Parchment utters the characters signature line, "The Radium will cure the cancer." Parchment is featured as a part of a trio of Board Members later in the production, alongside Surasree Das and Dena Transeau, and exemplifies a satire of fusty patriarchal poison. The whole scene, its corrupt overtones aside, is hilarious, as these three women squawk and cluck like decrepit barnyard cockerels, squabbling over how to handle the lawsuits that are arising from all these Radium Girls.
Transeau and Das, like the other ensemble members, take on multiple roles, not the least of which are their characters Irene Rudolph and Kathryn Schaub, respectively. Both of these characters are factory girls and ultimately victims of the U.S. Radium Corporation. Transeau's larger footprint on the production comes by way of her portrayal of societal leader Miss Katherine Wiley. With determined spirt and calm sensibilities, Transeau creates a noble sense of dedicated victory in the banner-bearer of a seemingly hopeless cause. Das, whose versatility seems to know no bounds, is harrowing to watch, particularly as the narrative of her Kathryn Schaub character progresses and deteriorates.
Corruption takes firm hold of C.B. Charlie Lee (as portrayed by Matt Harris) and grips fiercely to what conscience the character appears not to possess. Harris, who is highly enjoyable as the ruthless antagonist for whom the audience loves to hate, makes little difference between his Charlie Lee character and his Dr. Cecil Drinker character, not excepting the extreme vocal affectation on the latter, to exemplify how big money and big power controls even the learned men and that all men come with their price. In stark contrast, Jack Evans plays the subtler snake in the grass type villain of the story, as the formidable Edward Markley, attorney for the U.S. Radium Corporation. The sterile and callous exterior is transparent, revealing a calculating and meticulously heartless core, a revolting role with Evans masters despite saying very little as Markley. His Dr. Sobin Von Sochocky— the discoverer of Radium and inventor of Radium Paint— is thrilling to watch, particularly as his own truths come to light. Silent, with expressive facial animations, and an intelligible grip on his Ukrainian, Evans gives a tour du force supporting role performance with this character.
Ron Ward and Bette Cassatt share the dual burden of being the only two performers in the production who do not change their roles or shed their skins from one character to the next, and yet their versatility is strikingly profound. Both Ward and Cassatt are commanding in their own right and create stunning and phenomenal performances as Arthur Roeder and Grace Fryer, respectively. Ward is grounded in the character's reality, which is less driven by malice and corruption and more guided by juggling too many flaming torches at one time over an open vat of kerosene. He does a superb job of expressing and articulating the character's growth and overall transformative arc from beginning to end. Ward possesses depth and understanding when it comes to this multi-faceted and deeply complex character; this serves as a rewarding treat for the audience as it would an easy trap to play Arthur Roeder in the singular dimension of 'bad guy.'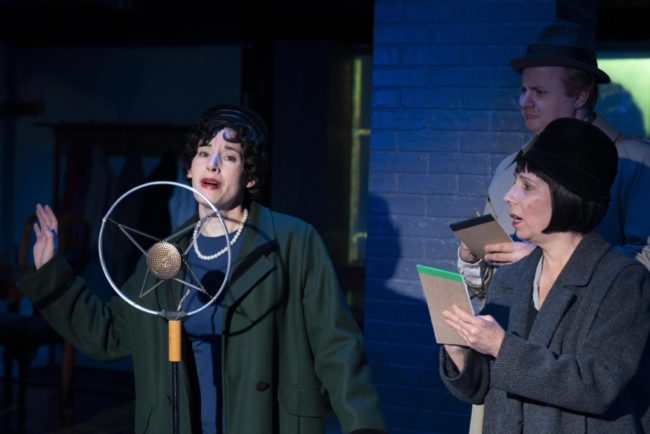 As the primary Radium Girl, Bette Cassatt is as aglow in her spirit as the radium is on the faces of the watches these girls paint. Convivial, congenial, lively and lithe of spirit and expression, Cassatt is the perfect fit for this role. Even when the character becomes broken— both in spirit and in physicality— Cassatt harnesses the frustrations and furies of that brokenness and channels them into something extraordinary. Cassatt understands the cadence of her character's speech and movement and how subtly and gradually those things change and devolve as Grace changes and devolves. Tragically beautiful, Cassatt brings an eternal glow to the character's face, the character's heart, and the character's soul in her performance of Grace Fryer.
Belabored words can never truly illuminate the sensational work occurring on the Maryland Ensemble Theatre stage for this production of Radium Girls, but at the very least might shed a bit of light on an unknown marvel, a secretive miracle, a true diamond in the rough of small professional theatres. Radium Girls is an experience to be had, but come prepared and know that not all light is that of a happy ending.
Running Time: Approximately 2 hours and 20 minutes with one intermission
Radium Girls plays through March 10, 2019 on the Main Stage of the Maryland Ensemble Theatre in the Historic FSK Hotel building— 31 W. Patrick street in downtown historic Frederick, MD. For tickets call the box office at (301) 694-4744 or purchase them online.