First and foremost, there is no freaking monkey. It is important to know right off the top that this national tour of the 2009 Broadway smash hit, written by Chris D'Arienzo, paying homage to the big hair bands of 80's pop/rock radio is nothing like the horrendous, bloated travesty of a movie by Adam Shankman that was more offensive than his previous ruination of cult classic Hairspray. The movie, which you probably turned the channel from after ten minutes, is a soulless, shallow, excessive ode to the fact that his obvious man crush Tom Cruise agreed to do his self-gratuitous film. Like Hairspray, the deluded Shankman felt he knew better than the creators and inflated it with self-indulgent nonsense, making it the Tom Cruise Show—and adding the stupid monkey to kiss Cruise's star butt. In the process, he sucked all the heart, fun, and musical life out of the piece until it was nothing but a hodgepodge mess of all his favorite 80's songs (having purchased the rights to a dozen extra songs that are not in the show, but he liked them!) Wipe that mess from your mind.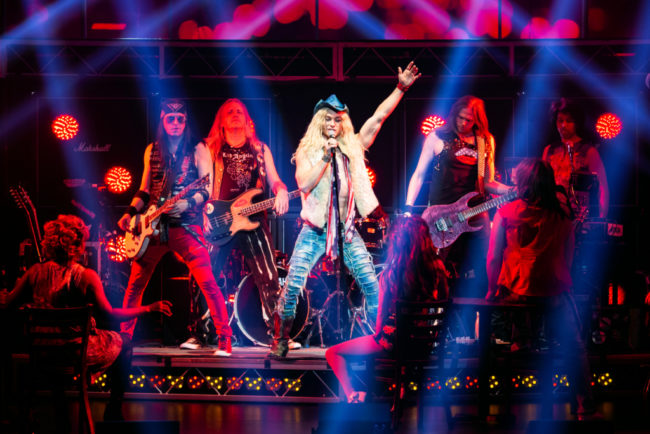 Fifth Estate Entertainment has returned the show back to its basic bleached-blonde roots. An energetic, inspired parody of the musical excesses of the day, it's likewise a valentine to virtually every small-town-kid-with-big-dreams-and-an-even-bigger-heart-makes-good 80's movie ever made. Featuring a virtual K-Tel Records collection of the greatest hair band music of the day (including selections by Journey, Poison, Bon Jovi, Pat Benatar, and White Snake, to name but a few), the tour is directed with obvious love for the genre and the generation by Martha Banta (who resists no temptation to sprinkle a little extra parmesan on D'Arienzo's already deliberately cheesy script). So sit back, grab your Bartles & James wine cooler (you can now drink in the theatre—more on that later), and let Banta and company melt your jaded corporate heart. They'll have you rooting for Ferris Bueller to have one more good day in no time.
In a plot comprised of a thousand 80's youth culture movie clichés, here we get a double dose of big dreamers at legendary mock-Hollywood Strip rock bar, The Bourbon Room. First there's Drew (an earnest Anthony Nuccio), aka "Wolfgang von Colt", the too-nice assistant barkeep from Michigan with dreams of being a rock and roll legend like the bands he cleans up after, and Sherrie (Katie LaMark), an aspiring actress fresh off the bus from Kansas. But the Bourbon Room has hit upon hard times as greedy German industrialist Hertz Klinemann (Andrew Tebo) and fey son Franz (Chris Renalds), seek to raze the Hollywood Strip to build a mega mall, over the objections of radical feminist city planner Regina— pronounced with a long "I"…(Kristina Walz). In a desperate last attempt for profit, Bourbon Room owner Dennis Dupree (Ryan M. Hunt) pulls a few strings—and a few threats—to land the final performance of mega band Arsenal, who played their first show at the bar, before they break up for lead singer Stacee Jaxx (Sam Harvey) to go solo.
To say the whole saga is narrated by the ever-present bartender/sound engineer/confidant Lonny (John-Michael Breen) does the show-stealing Breen a disservice. Breen doesn't so much break the fourth wall as he does demolish it. Not only is he the voice of the show, he is also simultaneously the voice of the times, the voice of rock and roll, the voice of reason, and the voice inside our heads. His continuous free-association comic monologue, emerging from anywhere in the set, keeps the show moving at a breakneck speed. Nothing is sacred, including the show itself. In his best moment, he has a comic breakdown, confessing his big 80's dreams never came true. He too aspired to be a serious actor, playing complex, highly-developed characters, and here he is "in a show with poop jokes and White Snake music". Breen slyly walks the line between self-awareness and self-parody with wit and a wink. In a show that is in itself a guilty pleasure, he himself is the greatest guilty pleasure of the evening.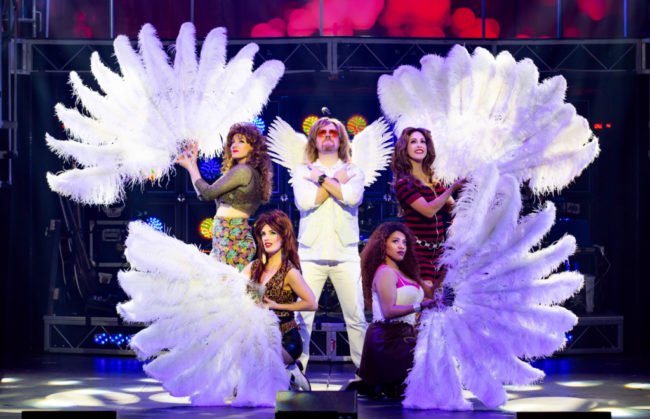 The entire cast is along for the ride, all are solid singers and engaging actors, particularly Nuccio, LaMark, Harvey, and Breen, who carry the bulk of the period screlting (scream-belting) off the limits of the musical staff with remarkable ease and power. Nuccio is endearing and self-deprecating but carries the bulk of the demanding voice-shredding score solidly on his exceptionally broad shoulders. Vocal bombshell LaMark is a Benatar-esque powerhouse who matches him note for note in a role that demands many facets from her as an actress, traveling from dream to nightmare and back to different dream. Harvey brings the house down as the perfect 80's lovechild of the chemical excess of Brett Michaels, the raw sex appeal of Jon Bon Jovi, and the Bob Mackie glamour of Cher (you had to be there in the 80's to understand that draw of that combination). But unlike all his predecessors, he somehow infuses Jaxx with a child-like simplicity that somehow dilutes his bad boy behavior, a little more acceptable in the age of #MeToo
Tebo, Renalds, Walz, and Hunt all provide great comic and vocal support, especially Walz in a role that is somewhat annoying as written made more palatable by her vocal prowess. Great moments to watch for include Renalds emerging from his shell and a surprising 11 o'clock duet of "I Can't Fight This Feeling Anymore" by a pair of unlikely lovers. Rounding out the cast, Kenya Hamilton as Justice Charlier, the mother hen proprietress of the nearby gentlemen's club provides some very welcome R&B moments on "Shadows of the Night" and "Every Rose Has Its Thorn"
For a score comprised of songs critical in igniting the then nascent video era, the look is vital. Costume Designer Cynthia Nordstrom has replicated all the requisite teased-up hair styles (hair and wigs by Monica Sebedra) and shred-down jewel toned fashions of the day. Her best work is the glam rock wear for Jaxx, a gentle slam on early boybands, and the transition from rock bar to strip club.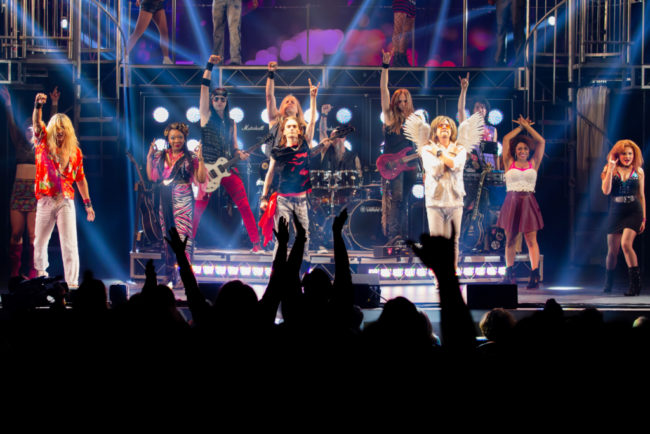 Choreographer Janet Rothermel has all the right MTV moves and a very capable spandex-clad ensemble to flesh them out. Special praise goes to an inspired and hilariously awkward bathroom stall sexual encounter staged during "I Wanna Know What Love Is". On the audio side, an amazing 5-member house band (Zach "AttAkk" Hennig, Maddox, Chris Moore, Oliver Hofer, and Marshall Keating) under Keating's direction provide perfect rock accompaniment true to their iconic sources (orchestrations and arrangements by Ethan Popp).
Production designer billed as "Visual Storyteller" David Gallo is the only designer who disappoints a bit. The original production fleshed out the Bourbon Room as a salute to the legendary "Whiskey A Go Go", a dive staple of the strip where on any given night a big name act can show up for a surprise set. Defining the bar gave the story a grounded hominess. Gallo legitimately chooses to— instead of emphasizing the physical side of the rock and roll bar— to glorify the metaphysical, designing the entire set as a rock concert, all scaffolding and mock roadie crates that transform into set pieces. The result is new and admittedly very clever but leaves the production a little cold and sterile, an idea that seems more appropriate for small regional productions rather than a national tour.
Sound Designer Cody Spencer has a tough job in a short run from house to house, no sooner getting the balance right for each performance space then tearing down to go to the next venue. Opening night was 90% of the way there, with the electric band sometimes overpowering the soloists a bit much in instances. He was not helped, however, by a new and disturbing trend in local theatre—unwarranted audience participation.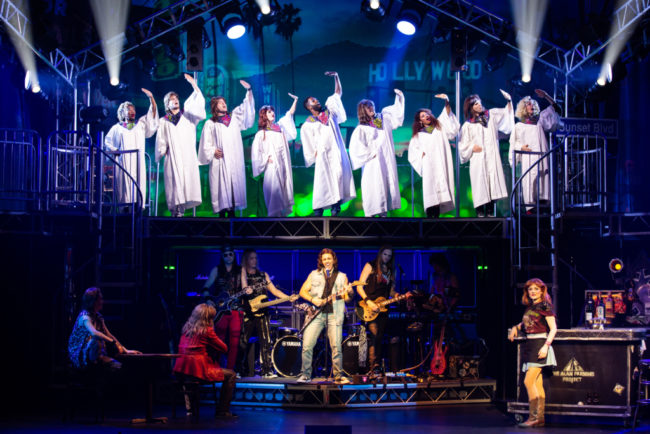 Yes, this show, especially when emphasizing the rock concert atmosphere, subtly encourages it, but this opening night audience was inexcusable. Multiple parties of post-happy hour drunk-assed bargirls in seemingly the whole house right section of the audience treated this performance as their own private viewing party, sloppily singing along, full volume and 2 1/2 keys flat, even in the quieter solo moments. This is a new trend that is happening alarmingly more and more frequently, and I have personally witnessed its spread at the Hippodrome over the past few seasons. There was the audience that felt they needed to constantly testify throughout Sister Act like they were in church, and the audience who felt Mamma Mia was their private disco karaoke night. But this was the worst episode of bad audience behavior yet. This is even happening in New York, but these Baltimore audiences have been particularly disrespectful not only to the other audience members (who many times now pay more for a touring production than the New York version) but to the very talented performers of these shows. There were moments so bad during Miss LaMark's quieter ballads where the sing-a-long was so bad it was hard to tell if it was the audience or off-stage back-up singers accompanying her—until the 2 1/2 key discrepancy solidified the answer. And Spencer could obviously not account for that. Stop it. Stop it now, Baltimore.
A special note of praise must go to this cast. There was a show-stopping medical emergency in the rear orchestra midway through the first act that cleared the stage for a good twenty minutes, breaking every bit of momentum and energy they had created at that point. This cast however, picked up in the middle of a quiet scene and kept the show going at top energy as if nothing had happened, an almost impossible task to accomplish. This is the sign of true professionals.
In the end, despite the drunk bargirls' best attempts, this tour is a delightful, fun, high-energy night out that unfortunately is only here for one more day. So hurry and don't miss out. To paraphrase a few of the stratospheric hits incorporated in the show, if the voice in your head is screaming "I Wanna Rock", grab your animal print spandex, spray up your vertical bangs, and head to the Hippodrome for Rock of Ages. You're guaranteed to have Nothin' But A Good Time.
Running Time: Approximately 2 hours and 30 minutes with one intermission
Rock of Ages is visiting with Fifth Estate Entertainment through February 16, 2019 at The Hippodrome Theatre in the France-Merrick Performing Arts Center— 12 N. Eutaw Street in the Bromo Seltzer Arts District of Baltimore, MD. For tickets call the box office at (410) 752-7444 or purchase them purchase tickets online.