Uncle Vanya, written by Anton Chekhov, is the story of a group of people embittered by loss, disappointment, disillusionment, and hardship, and the power of faith through adversity.  A retired professor, Alexandre (Bill Bodie), and his glamorous young wife Yelena (Erin Nealer) visit the rural estate that funds their city lifestyle.  The estate is run by Vanya, (Nathan Rosen) Alexandre's deceased former wife's brother, and Sonya, (Claudia Bach) Alexandre's daughter by his former wife.  The estate, which also includes Vanya's mother Maria (Leah DeLano), the town doctor Astrov (Joshua Engel), Marina the Nanny (Moira Parham), Ilya "Waffles" Telyegin (Eric Honour) and Yefim, a workman (Samuel Kopel.)  Both Vanya and Astrov fall for Yelena whilst Sonya struggles with her love for Astrov and her strained relationships with her father and stepmother.  The entire estate, meanwhile, suffers as the result of conceding to Alexandre's city lifestyle.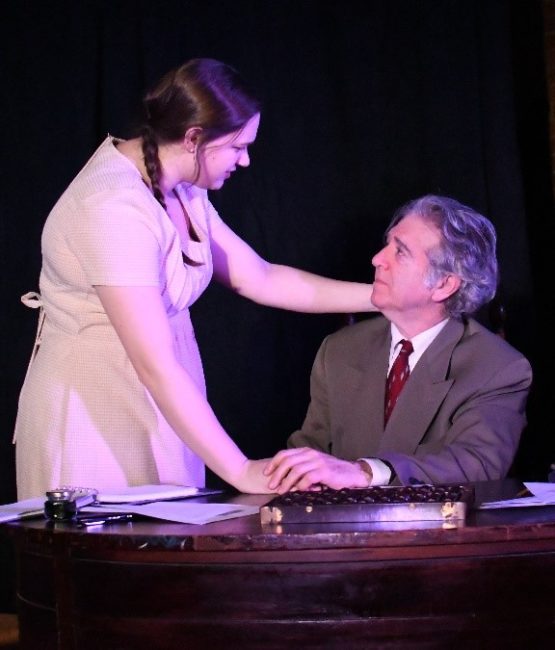 This Rude Mechanicals production, directed by Melissa Schick, shifts the play's set from its traditional setting in the late 1890's Russian countryside to early Dustbowl era Colorado, making the characters Russian immigrants and first generation Americans trying to find footing in a deeply unforgiving environment. The costumes (courtesy of Spencer Dye and Leah DeLano) reflect this both in time period and in the disparity between Vanya and Sonya's simpler, plainer clothes and the more ornate city clothes of Alexandre and Yelena. This shows the very different goals and ideas of achievement that Vanya and Alexandre share. The set (designed by Erin Nealer) shows pretty but slightly worn furniture, all of it seeming to be from the era, and is telling—there are no antiques from the homeland in this household, and the environment is abrasive to everyone. The lighting (Jeff Poretsky) and sound (Eric Honour) are tasteful and minimalist, never distracting from the lives unfurling onstage. The concept works with the theming—there is much to the narrative of the immigrant experience, and the faith behind leaving one's country of origin to pursue a new life and new opportunities falls into the theme of faith that hard work will ultimately bring peace and happiness, even if one may not see it in their lifetime.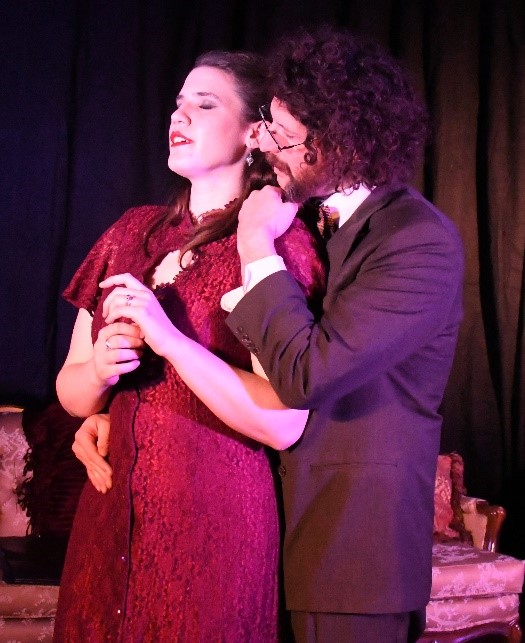 The cast is excellent.  Every character has a unique dynamic that forms a cohesive whole.  While individual performances certainly deserve praise, it cannot be overstated how well the ensemble works.  Nathan Rosen shines as the eponymous Vanya and plays the role with both energy and charisma and an all-too-real sense of weariness and disillusionment with his lot in life.  Claudia Bach is equal parts expressive and subtle in the role of Sonya, bringing heartbreaking emotional honesty to her performance.  Her scenes with Astrov and Vanya in particular provide the emotional meat of the play.  Joshua Engel plays Astrov, a character easy to demonize and simplify into a trope, with vulnerability and sensitivity.  His doctor is not callous or indifferent to love so much as he wishes he could be.  Erin Nealer plays Yelena, who likewise can be and often is simplified into a few negative stereotypes and likewise, Nearler defies that trend.  Nealer's Yelena is, behind the façade of airy charm, unhappy with her life and uncomfortable and resentful of men's fixation with what is effectively an idea of her.  Bill Bodie is effective as Alexandre; he plays a man who is obsessed with the image of success and class but is left adrift without his career and without the adoration of his young wife who has already fallen out of love with him.
What we see onstage are not characters but flawed, complex, motivated people who have each been disappointed and hurt by life but soldier on regardless, in the pursuit of a sense of resolution and peace that has evaded them. It is a humanist story, and this production shows its themes and its characters at their best.
Running Time: 2 hours and 20 minutes with one intermission
Uncle Vanya plays through February 23, 2019 with The Rude Mechanicals at West Arundel Creative Arts— 1788 Dorsey Road in Hanover, MD. Tickets are available for purchase at the door or in advance online.