Now is the time to seize the day! Third Wall Productions are staring down the odds— and everyone else who wants to tackle this bear of a musical production— and seizing the day! Proudly carrying the banner of their first major children's inclusive production since 13: The Musical (their second-ever production as a company, almost three full years ago!), TWP is thrilled to present Disney's Newsies. Directed by Henry Cyr, with Musical Direction by W. William Zellhofer, and Choreography by Cecelia, Lucy, and Maia DeBaugh, this enthusiastic revolution of children shaping their own destiny is bona fide entertainment. Not without its challenges, especially when it comes to the grandeur and stratospheric expectations of any Disney production, the show is filled with heart and young talent that is truly worth watching.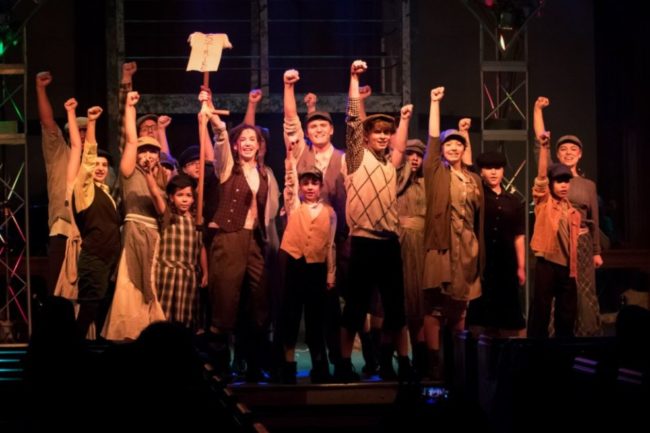 Director Henry Cyr wastes no time in putting his directorial signature on the piece right from the initial concept of the show. With express permission from Disney, Cyr takes a more literal historic approach to the performance and boldly casts nearly half of the newsies as girls and dresses them accordingly. While the production was originally and henceforth traditionally has been staged with all-boys as the newsboys of New York City, Cyr digs deep into his dramaturgical capabilities to address this historic fact— surprise, girls sold newspapers on the street too— and uses it to accommodate the talent pool that arrived for the show's auditions. And this history-forward casting choice, which puts the newsgirls in dresses appropriate for the show's setting, isn't just reserved for the ensemble roles. Feature characters like Specs (Emily Signor) and the ferocious Spot Conlon of Brooklyn (Elizabeth Volpe) as well as one of the major principal newsboy roles— Crutchie— are all played by capable and talented females. Cyr sticks by his choice and showcases gender parity throughout the newsboys; this shines a reckoning light on the facts of history in a way that Disney itself usually fails to do.
The show's biggest issues are mostly technical challenges, which although at times are distracting do not completely negate from the intense and enjoyable experience that the talented performers provide with vehement consistency from start to finish of the production. Jordan Hollett and Pat Rudai craft an intricate set of bridge scaffolding to create the iconic "penthouse apartment" in which Jack Kelly and the other newsies live, complete with two side banks of raised platforms. Cyr's use of these side banks, however, feels incomplete as we only ever see one newsie at a time on either side during larger numbers, which creates an overcrowded feeling on the stage below. For the most part, despite the challenges of the constricted stage space, Cyr's blocking prevents these moments of cramping, but it is noticeable when the side risers— though not enormous by any stretch of the imagination— have but one newsboy or girl in them.
While aesthetically Hollett and Rudai's set creates the derelict streets of New York City circa the turn of the 20th century, Jim Shomo's Lighting Design is harsh, modern, and overly active. The intensely persistent swiveling white-pop spotlights featured during many of the dance numbers create the wrong vibe for the wrong period in history for what's happening in this production. Shomo's work overall feels edgy and modern, with too many colors and specials, and not enough simple focus on scene work and musical solos. This design flaw, along with Sound Designer Charles Hirsch's mic issues (with a few too many to list) create difficulties for the cast and the audience throughout the performance. But despite these issues, even when mics drop off entirely, the cast push on, shine through, and ultimately overcome these obstacles for a solid and impressive performance.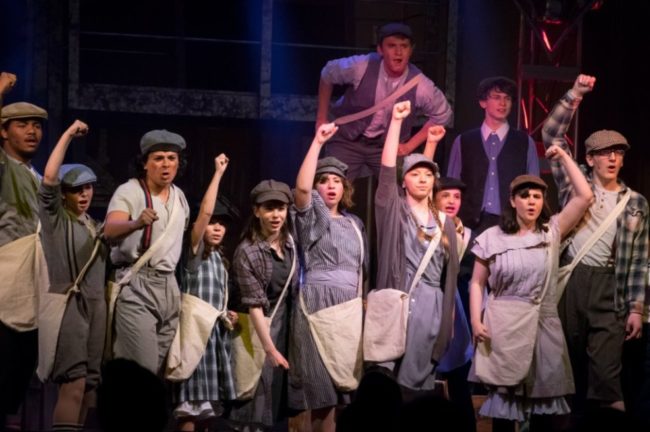 Costume Designer Amy Rudai really rounds out the dreary aesthetic that Cyr is attempting to capture with this production. (All except for one newsgirl who wears a bright red dress while the others are wearing drab blue and washed out drudgery of the times…and this is before the flannel reds of Brooklyn newsies are introduced…and the rather peppy pink affair featured on Medda Larkin, which feels a little more "Hot Box Dancer" circa Guys & Dolls than it does "Bowery Beauty Bonanza" circa Newsies.) Rudai has a firm handle on the style and how to fit the costumes to her cast. Katherine Plummer's outfits are perfect for a young female writer trying to breakout on the scene (all except for that surprisingly saturated teal accent belt, which appears to come from another century), and the news caps for all the newsies have a uniformity to them whilst maintaining a sleek look of individuality for each newsie that wears one.
Musically the show is a challenge, but it is a challenge to which Musical Director W. William Zellhofer rises and meets head on. The youth harmonies are sublime. When they chorus through "Seize the Day" their blends are smooth and the harmonies as they are written can be heard clearly. This is often the case throughout the performance and the sound of the vocals in this show is ultimately satisfying under Zellhofer's direction. The orchestra, as led by Andrew Zile, struggles somewhat with tempo throughout the production, however, and at times leaves many of the numbers dragging their musical feet, which disrupts some of the show's choreography and some of its solo performances. Most problematically, Zile's rendition of "Watch What Happens" is really behind tempo and off-beat. This causes Katherine's (Jamie Williams') patter to falter significantly, making the whole song clunky and awkward. Williams' as a whole feels flat in the role, though this could easily be ascribed to not being synchronized with the music. Though boasting a powerful set of pipes, her modernized pop-quality sound bristles against the way the score and lyrics are composed, making it difficult to enjoy her scenes.
Choreography of any major Broadway hit that lives in the recent memory of the masses is a daunting challenge. Add to it the confines of the Third Wall Productions' resident play space, a largely populated cast, and the notion that everyone will except the iconic "newspaper dance" and it's almost a recipe for disaster. But choreographers Cecelia, Lucy, and Maia DeBaugh overcome this notion of pending catastrophe with simple clean routines. And although at times the movements are repetitive— there's a lot of strong-willed in-place marching— the dancing in the production is crisp and moves to the music (when the music hasn't fallen behind tempo.) The DeBaugh choreographers know when to split the group apart in favor of featured dancers verses when it is best to have everyone on the move. They send newsies out into the house a lot for the "go-get-'em" type numbers, which helps intensify the sound of the rebellion on the move.
The World will know about all the colorful characters that populate this production of Newsies, and you'll read it here first! Like the ornery and curmudgeonly grump Weasel (J Purnell Hargrove) and the charming yet sincere Governor Roosevelt (Patrick Rudai) who are featured briefly but memorably in the production. The rough-n-tumble strong arms of The World— The Delancy Brothers (Andrew Pedrick and Chip Willett as Morris and Oscar, respectively) look like the hired meat-heads that they are, while seasoned stage veterans like H. Ray Lawson and James Driver take on subtler but noteworthy roles as Seitz and Mr. Jacobi, respectively. And let's not forget to mention Miss Medda Larkin (Lizzy Jackson Fleischmann) whose bold vocalization ensures that no microphone failure will lose her rendition of "That's Rich."
For all the rich characters, there's one richer than Midas and of course he's the show's natural baddie, Joseph Pulitzer (Joel Signor) and he's out to crush the newsies with his big brass boot. Signor toes the fine line of being ruthless without being scary. In all Disney fabrications— from live action to stage musical— the lead villain has to have some humanity somewhere within him or her, otherwise they just become too frightening for younger audiences. (Often, though mistakenly, Disney opts for that humanity to manifest itself as zany quirks or humorous flaws, but in this case it's in Pulitzer's being a father.) Signor has a crisp, clear voice that fully intones the ominous and nefarious meaning of his two featured solos, "The Bottom Line" and its reprise. Cold like steel and sharp like a knife, Signor's portrayal of this baddie is spot on, and puts everyone just at the edge of uneasy without being completely revolted.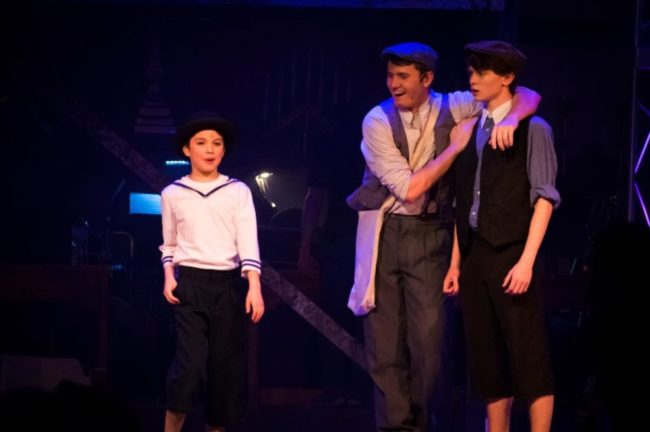 Standing out among the newsies— both boys and girls— is Josh Leach, playing Race. With a tougher-than-nails outward attitude and a cigar constantly hanging from his mouth, Leach fits right in with these street urchins, despite being the tallest newsie on the stage. He jumpstarts "King of New York" and is seconded perhaps only by the gumptious and precocious Les (Bailey Gomes.) This spunky little kid has got serious pluck and really knows how to nail a comedy line with zip and pizzazz. Too cute for words and really high-spirited, Gomes is an adorable and talented addition to the cast that just makes everyone in the audience want to eat him up and buy all the papes he's selling!
Earnest, noble, big-brother Davey (Logan Snyder) is a quieter character without nearly as much chutzpah as little-brother Les, but that doesn't mean Snyder is any less impressive as a performer. With a clear headspace for the character's internal feelings, Snyder addresses the Davey character with an open sincerity that really ingratiates the personal backstory into his drive that helps push the newsies to rebellion. When the contagious fire of rebellious spirit ignites beneath Snyder's Davey, he burns brightly and gloriously into "The World Will Know."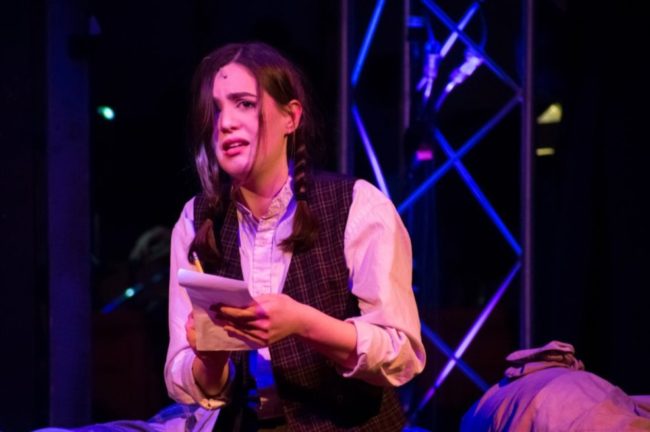 Sarah Mackin deserves more props and praise than there is space in this review to give it to her. Personally, the idea of a female Crutchie just did not sit well with me, but Mackin readily overturned that and had the tears flowing when she blasted out her rendition of "Letter From The Refuge." Despite the entire dynamic of her and Jack Kelly's relationship being upended (and through Cyr's vision becomes almost more endearing as big brother and little sister), Mackin delivers so much emotional intensity with flawless vocal and articulated clarity in that number that it's breathtaking. In addition to being spunky and fun on the stage, her New York City street accent is on point and carries through her singing voice. Mackin is a 5-star performance all her own and well worth coming to see in this production.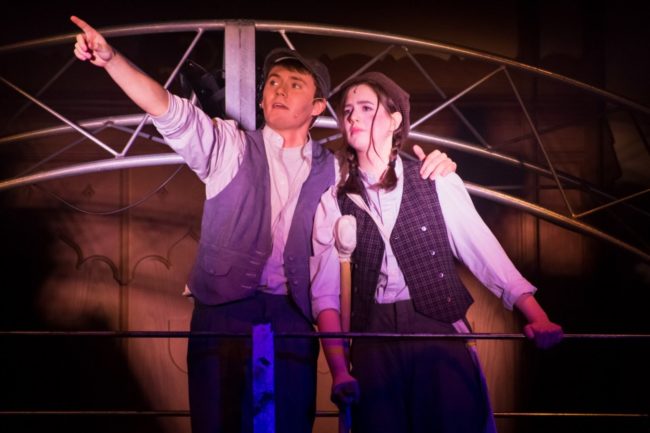 Carrying the banner of the show on his squared shoulders is Andy Collins as Jack Kelly. Robust and hearty and full of that glimmer of hope, Collins' portrayal of Jack Kelly is everything one expects from the leader of the newsies. With a hearty and deeply satisfying vocal quality that really sails through his solo features, Collins consistently sings with his New York City sound in a way that enhances the songs, rather than detracts from it. Delivering a stunning, mercurial rendition of "Santa Fe" at the end of the first act, there is a cataclysmic explosion of pathos that erupts through his person and his voice, really drawing a hard close to the first act of the performance. Convivial and enthusiastic, even in his down-beaten moments, Collins is a smashing success in the role, even when tackling the ridiculous harmonies of the obligatory contractual Disney-meet-cute love song, "Something to Believe IN", the duet shared with Katherine Plumber (Jamie Williams.) Collins gives the whole of the newsies something to believe in when he leads them with gusto through "Carry The Banner", "The World Will Know", and "Seize the Day." A tour du force who sings, dances, and New York's the heck out of that character, Andy Collins is a rising star to watch out for as he seizes the day in Newsies.
What you do today will be tomorrow's news! So don't miss your chance to make headlines with Third Wall Productions and their smashing production of Disney's Newsies. This is a headline for the books and you won't want to miss it.
Running Time: 2 hours and 40 minutes with one intermission
Newsies plays through February 17, 2019 with Third Wall Productions at St. Thomas' Episcopal Church— 1108 Providence Road in Towson, MD. Tickets are available for purchase at the door or in advance online.