What started out as a bold new idea last year has realized itself as an exciting new staple of the Baltimore/DC theatrical scene. The Kennedy Center's Broadway Center Stage concert series, which features top notch Broadway and Hollywood talent in quickly-assembled one week runs to add special event variety to their already busy tour and concert seasons, once again strikes gold (or perhaps more accurately, brass—an entire marching band's worth) in their jubilant current production of Meredith Willson's Tony winning classic The Music Man. One of only a handful of composers to perform the triple crown of penning music, lyrics, and book for a single show (based on an idea by Willson and Franklin Lacey), Willson has created the penultimate musical valentine to turn-of-the-century, middle America Main Street, and Director Mark Bruni and cast flesh that vision out in a spectacularly conceived production that is scaled down yet never feels like it.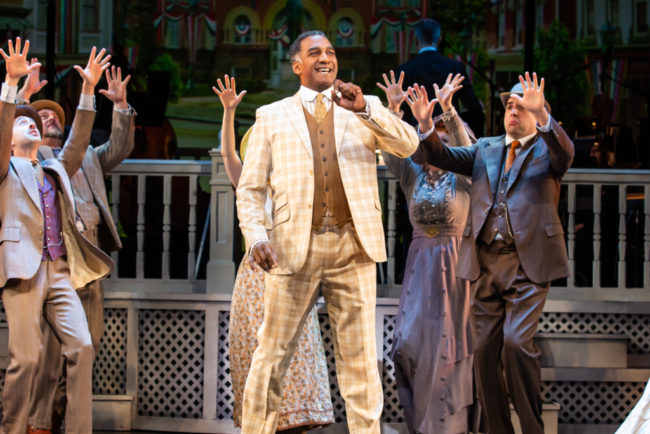 Willson's masterpiece (his other notable theatrical attempts, The Unsinkable Molly Brown and Here's Love! –now known as its source's name, Miracle on 34th Street –never reached the critical heights of his debut) has over time tarnished in reputation compared to the musical that it beat for 1957's Best Musical Tony, West Side Story. But West Side Story has been romanticized by the superior movie version that fixed the many holes that exist in the stage production's book, while The Music Man remains perfect from stage to movie to revival to now. Willson's score was extremely revolutionary for its day, drawing music in many instances from the sounds and surroundings of everyday life. Songs derive from humble beginnings such as the scales of a piano lesson, the muted rhythms of a library stamp checking out books, the chirps and cheeps of the town biddies in the hilarious "Pick-a-Little, Talk-a-Little", mimicking the barnyard sounds of the gossipy hens they are, and, most notably, "Rock Island", a totally unorthodox for the day "opening number" that sets the tone of the musical with no music and no accompaniment, using only a train full of traveling salesmen speaking in rhythm to the sounds and motions of the steam train they are riding. His entire score is flawless from top to bottom. The big numbers like the splashy "Seventy-six Trombones", the king of all patter songs "Ya Got Trouble", and the simplistic yet lush eleven o'clock ballad "Til There Was You" are all bona fide classics. But when your throw-away numbers are such gems as the breezy yet wistful "Sweet and Low", its heartwarming counterpoint melody "Lida Rose", and the witty and fun ode to fallen women everywhere "The Sadder but Wiser Girl", you have a gold-standard score and vindication for sixty years and counting of accolades.
Drawing from nostalgic memories of his childhood in turn of the century Mason City, Iowa, his story concerns the lot of a con man traveling under the guise of Prof. Harold Hill (Norm Lewis), selling a scam of a boys' marching band, instruments to uniforms to lessons. On a whim and a dare, he stops off on a challenge to peddle his wares to the most difficult and notoriously stubborn denizens of idyllic River City, Iowa. Immediately running into his former partner in crime Marcellus Washburn (John Cariani), he gets the local intel on who and what to watch out for, including the blustery mayor (Mark Linn-Baker) and the local music teacher/librarian, Marian Paroo (Jessie Mueller), who could blow his cover.
As Hill, Lewis (The Phantom of the Opera, NBC's Jesus Christ Superstar) faces a daunting obstacle. There are certain roles in musical theatre that are so strongly associated with their iconic originators it's hard to follow them: Carol Channing in Hello, Dolly, Barbra Streisand in Funny Girl, and, among others, Robert Preston as Harold Hill. One can't listen to the overture without Preston's version of "Ya Got Trouble" racing through the ears. Fortunately, Lewis carves out his own charismatic version of the con man with a heart of gold, less of Preston's seemingly gentle blue-eyed benevolence and more dashing leading man charm, with the added bonus of his gorgeous trademark baritone that gives the classic score a whole new sound.
Mueller (Beautiful, Waitress) is a modern gift to classic theatre. Youthful followers who only know her from her great pop takes on Carol King and Sarah Bareilles will be shocked to hear the ease and grace of her true range, up to the easy high A♭ in her soaring solo, "My White Knight." Following her recent Tony-nominated performance as Julie in Carousel, Mueller is fast becoming a great gateway actress for young people to make the classic soprano roles more accessible for their modern listening sensibilities, providing impeccable technique with a more blended sound, as well as a more modern sensibility to her character interpretation. Her Marian has a subtly more feminist stance concerning the unwanted advances of a traveling stranger, more relatable to young women today.
But if Lewis and Mueller shine individually, their chemistry multiplies when they pair up, culminating in the trickiest moment of the show. Conceived as a brilliant but usually lost moment, Willson composed Marian and Harold's big first act themes, "Goodnight My Someone" and "Seventy-six Trombones" as the same melody in different time signatures, hers in the more reserved 3/4 waltz, his in a rousing 4/4 march. But when they reprise their themes in a duet near the end of the show after confessing their feelings, they each start singing their own version but by the end find themselves singing the other's. They have both over the course of the show literally changed their tune for having known each other. In lesser hands this smart bit is usually fumbled and nothing more than a quick chuckle, but Lewis and Mueller, under Bruni's expert hand, find every beat Willson intended in yet another clever musical twist.
Rosie O'Donnell as Marian's pushy Irish mother is inspired casting, giving her a showcase for her unique comic charms. It would be tempting to say that she steals the show until the rest of her supporting comic cohorts show up with game attempts to do the same. John Cariana's (The Band's Visit, Something Rotten!) Marcellus is adorkable as the genial comic sidekick, and shines when given the opportunity to take center stage in his loose-limbed version of the second act opener "Shipoopi". Mark Linn-Baker (Perfect Strangers, On the Twentieth Century) as a comically befuddled Mayor Shinn, who can barely control his own family let alone the goings-on in River City, nails the many hilarious, tongue-tying malapropisms in Willson's clever book. Veanne Cox (An American in Paris, La Cage aux Folles) channels all the greatest redhead comediennes from Holland Taylor to Hermione Gingold to Lucille Ball as the mayor's wife Eulalie Mackecknie Shinn, never missing a laugh with either a perfect turn of phrase or flawless physical comedy (her interpretive Grecian Urn "ballets" are a high point). Young Sam Middleton is appealing as Winthrop, Marian's sullen younger brother who, like the rest of the town, blossoms under Hill's guile, then brings the house down with his joyful ode to "Gary, Indiana". Even David Pittu makes the most of his critical cameo as blowhard Charlie Cowell, a rival salesman out to settle a score with Hill. Hence, O'Donnell and each of her equally polished comic costars pass the baton generously to each other, teaming up Ocean's Eleven style to perform grand theatrical group larceny.
Special note needs to be given to Jimmy Smagula, Arlo Hill, Todd Horman, and Nicholas Ward as the members of the long-feuding school board who can't be civil until Hill manipulates them, via the power of music, into a crackerjack barbershop quartet. Whenever this pitch-perfect quartet gathers, the show amps up, till they also get their scene-stealing opportunities when they hit their pinnacle with the sweet, smooth "Lida Rose". Likewise, Damon J. Gillespie (Newsies, Aladdin) received national exposure last year as the quarterback who wanted to be a musical star in NBC's Rise. As Hill's in-town protégée and bandleader Tommy Djilas, he puts that athleticism to great use in Chris Bailey's inspired choreography. His featured moments, either solo or with dance partner Eloise Kropp as the Shinns' frivolous daughter Zanita, are exhilarating.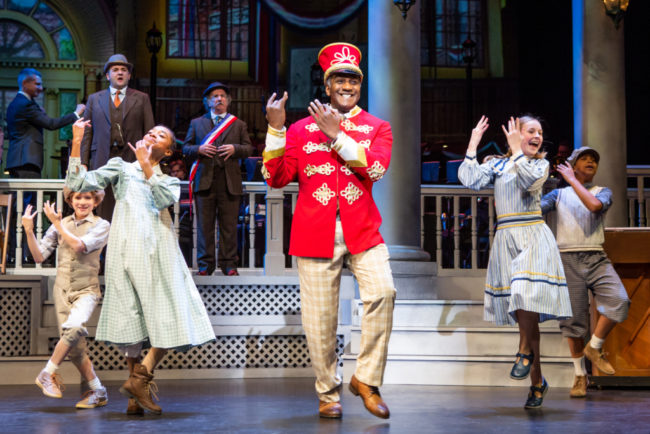 Director Bruni deserves praise on many levels, starting with instilling Willson's 60 year old story that takes place over 100 years ago with a very modern day relevance. Not only in the delicate way he negotiates the sexual politics of a traveling stranger making advances on a single woman in this age of #MeToo, but with Hill's MO of creating a sense of false urgency from town to town in order to sell his product, he gives us one of the earliest documented cases of fake news. Bruni not only keeps the pace moving and coaxes superlative performances from his entire cast, but he also helmed some critical decisions in how to reshape this enormous show. As written, the show calls for a huge cast divided into many separate and critical ensembles—the barbershop quartet, Eulalie's gaggle of town gossips, a dancing youth corps, a vocal ensemble, in addition to the many leads listed. Bruni in collaboration with choreographer Bailey and music director James Moore find a way to compress that to an abbreviated group of versatile performers who can handle many jobs. Many a member of this talented ensemble go from featured character to ensemble to dancer and back. But Bruni mans and coordinates this entire show with an amazing energy and precision, in the process guiding his cast to find new and interesting interpretations of their characters.
Bailey's chorography is likewise fresh, new, and energetic, most notably his novel take on Cariai's "Shipoopi" and the way he embraces Gillespie's straight-out-of-Newsies athleticism (occasionally with some unexpected acrobatics). His staging camouflages the smaller-than-usual dance ensemble by magnifying their presence. Music Director Moore also gets outstanding sound out of a cast literally half the size the show is written for. His razor-sharp work with the quartet also must be praised. Moore also deserves stellar credit in his double duty as conductor of the amazing orchestra, particularly critical in this show where the brass section is practically a featured character.
Amy Clark's costume designs are stunning. She somehow creates an entire virtual rainbow using of earth tones and sherbets, saving it all for the band red to pop at the necessary spots. Her designs are flattering and play perfectly off each other in style and color. Her efforts culminate, however, in Marian's stunning gown for her Cinderella moment on the footbridge, trading her brown plaid librarian duds for a flowing, simple but elegant silver beaded gown, almost as if Bob Mackie had stowed away on the Titanic. Cory Pattak's lighting design keeps the action focused and moving fluidly, and Kai Harada expertly balances the sound with a smaller than normal vocal ensemble and brass heavy orchestra. Paul Tate dePoo III pulls out all the visual stops as set and projections designer. He masterfully simplifies the many locations of the story to a single unit set that is equal parts town hall, porches, and columns which works perfectly as all the interior and exteriors throughout. This only works, however, because he has outdone himself with a series of amazing projections that not only provide backdrops, but also the sense of motion and even simulate physical set changes the way they unfold. His juxtaposition of the two are simply breathtaking.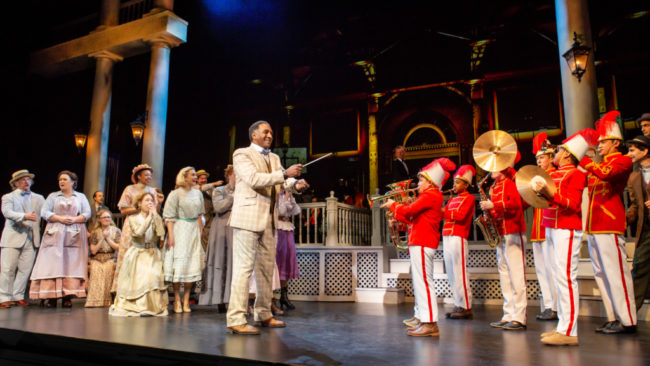 Again, the Kennedy Center has provided yet another thrilling "concert" version of a classic musical that is superior to many of the national tours circulating through other houses. These innovative efforts provide a valuable gateway to introduce young people (and some stubborn old people too) who "don't like the boring old shows" to fresh and wonderful new ways to appreciate them. But hurry. Professor Hill is only in town for a few short days before the breath of summer he brings is gone on the next train out of River City. In all seriousness, The Music Man may arguably be their best work yet.
Last note, if you are that annoying person who has to climb over everyone before curtain call to rush to your car, resist at least this once. There are surprises as the exuberant curtain call unfolds. But even if there wasn't, stop that, you're just rude.
Running Time: Approximately 2 hours and 30 minutes with one intermission
The Music Man currently plays through February 11, 2019, as a part of the Broadway Center Stage Concert Series in the Eisenhower Theatre at the John F. Kennedy Center for the Performing Arts, 2700 F Street NW, Washington, DC. For tickets call the box office at (202) 467-4600 or purchase them online.