Look at their set; isn't it neat? Wouldn't you think their set design is so sweet? Wouldn't you think Michael Rasinski's the guy— the guy who's designed everything? Look at those lights— colors so bold! How many wonders can Lighting Designer Thomas Gardner behold? Looking around the stage you'd think— the creative team's done everything! They've got James Hunnicutt designing the properties. They've got Brent Tomchik making splashes with sound. You want Choreography? That's Karli Burnham. But there's more— so much more— just look around! You want to be at Cockpit in Court. You want to see— see The Little Mermaid! Directed this summer by— what's her name again? Oh! Jillian Bauersfeld. And Musical Direction by Andrew Worthington; with a pit that plays perfect through every number. You'll be humming along to those— whaddaya call 'em? Tunes! Up on the stage, at CCBC (Essex) that's where they play all summer in the sun! Well now you can see, just come and be, part of their world.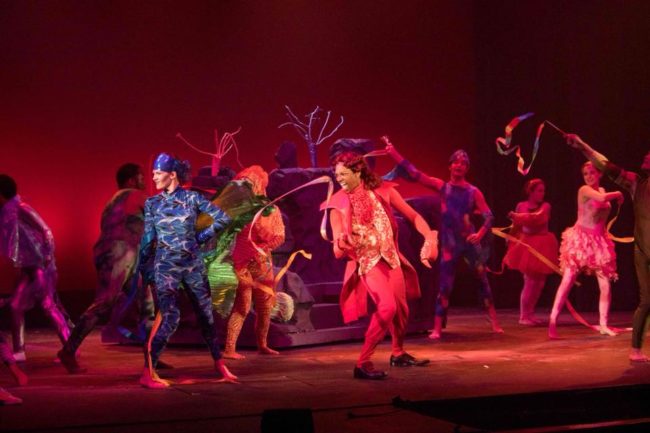 One can't imagine a production of Disney's The Little Mermaid without all the flashy underwater magic that accompanies its syrupy fairytale (even if librettists John Musker and Ron Clements have effectively neutered any proper villainy from the show by cutting one of the smarmiest and snarkiest numbers from the currently licensed running version…but that's a different whale of a tale…) and the creative team as Cockpit in Court has set the bar high. Set Designer Michael Rasinski has created lavish pieces to really incorporate the "surf-n-turf" elements of the show. There's an enormous rock fixture that doubles as Ariel's Grotto and the concert hall, a few pieces for Ursula's lair and a myriad of backdrops that complete the nautically whimsical aesthetic divinely. Stage Manager Robert W. Oppel's run crew needs a few more performances under their belt to get all set pieces moving smoothly, fluidly, and silently on and off the stage in a timely fashion, but when it comes to the boat— easily the most cumbersome and majestic piece of the show's scenery, Oppel's crew manages that unit with perfection.
The magic of the show truly comes to life with Lighting Designer Thomas Gardner and his illuminating creations. The underwater effects are particularly striking and whenever trouble's a-brewing below the surface, be it during the Act I finale or when the sailors are singing of Triton's potential wrath, Gardner whips up a frenzy of storm-style light effects that enhance the nautical experience. Mood lighting, effects lighting, Gardner has it all. Accompanying him in this venture, Sound Designer Brent Tomchik gets little moments of perfection sublimely executed— like the splash when Prince Eric pitches the fork over the boat's edge.
Visually engaging, the production's primary aesthetic enhancement comes to the stage by way of Costume Designer Deana Brill. Ariel and Prince Eric are spot-on replicas of their full-length animated feature incarnations. And the Mersisters as well as Ursula and King Triton look like well blended creations of aquatic life and fairytale creature. Brill relies heavily on her unique imagination to costume the rest of the cast; many of the underwater creatures, which in this production appear limited to fish of varied flavors, wear vivid, busy full-body jumpsuits, giving them an aerobic look. There's also an inconsistency in which fish wear face paint making some pop out from the crowd more than others. But Brill's creativity speaks volumes for the production's individuality.
Karli Burnham's choreography is somewhat of a mixed bag experience for this production. While the tap routine featured during "Positoovity" is a smashing success, several of the other routines— like the chaotic movement featured during "Under the Sea" feels jumbled, despite its eager enthusiasm. One of Burnham's greater successes is the "wave-storm dancers" who are donned in shades of teal, blue, and purple, and carry streamer-tailed fans about them as the whirl, twirl, and spin around to create the illusion of turbulent waters. This anthropomorphizing of churning sea storms, a concept Director Jillian Bauersfeld has laid over the show just swimmingly, is one of the most stunning and fascinating effects achieved in this performance. Burnham's choreography for "One Step Closer", the dancing duet between Prince Eric and Ariel, is also lovely.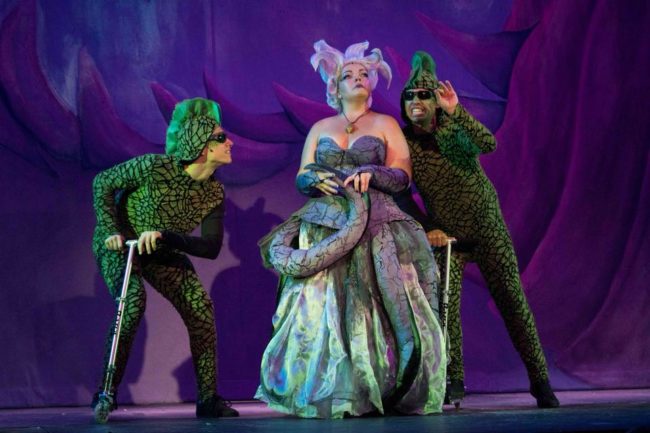 Director Jillian Bauersfeld runs a tight ship! Her decision to keep most of the fish and Mersisters off of the heelies was a well-chosen one, though it would have better served the production's cleanliness to have enforced this decision for the entirety of the cast. Unfortunately, despite her tenacity, Ariel's movements on the heelies are somewhat less than graceful. And for some strange reason, Jose Teneza of the male ensemble (perhaps only when he's the attendant to Triton at court) is also wobbling about on them, again showcasing how clunky and difficult the wheeled-shoe can be to master. Better to let the mind imagine fish gliding (and trust in the extraordinary illuminations of Lighting Designer Thomas Gardner) and create magic that way than distract the audience with wobbly performers. Bauersfeld puts Flotsam and Jetsam on scooters; this is a very cool idea and gives them that slippery motion that is expected of the henchmen eels. The decorating of said scooters, however, is a bit sloppy in its consistency, though it is apparent that the tangles of green fabric is meant to be seaweed.
The most surprisingly impressive accomplishment in this production is the clean and clear sound of the live orchestra, with an impeccably balanced pit, conducted by Musical Direction Andrew Worthington. With a pit of just seven (Stephen Deininger, William Zellhofer, Christopher Rose, Stacey Antoine, Brett Schatz, William Georg, Gregory Troy Bell), Worthington brings all of the iconic melodies from The Little Mermaid to wondrous life. Bits of harmonies and incidental music that is oft over-glossed in live productions resounds and echoes with resplendence under Worthington's direction. The overall sound of the production, both from the pit and the performers, is one of fantastical enchantment, truly inviting the audience into the world of fairytale play.
With an ensemble full of singing fish and grunting sailors, Aaron Hancock takes his 15-seconds of fame and runs with it. Playing the uncredited 'Pilot' of Prince Eric's ship, Hancock receives a brief solo during the number "Fathoms Below" and nails it vocally, while simultaneously imparting a stern warning about the Sea King. Hancock's performance pops, making him noteworthy for the few moments that he catches the audiences' eyes. Nicholas Pepersack, playing the stodgy and reserved Grimsby, is of a similar nature. While only given a moment's vocal attention during "The Contest", there is something convivial and quaint about Pepersack's portrayal of the character. Aloof yet concerned for his charge, Pepersack makes Grimsby approachable, and even finds the adorable moments of humor laced into the character's dialogue, exemplifying them without overdoing it.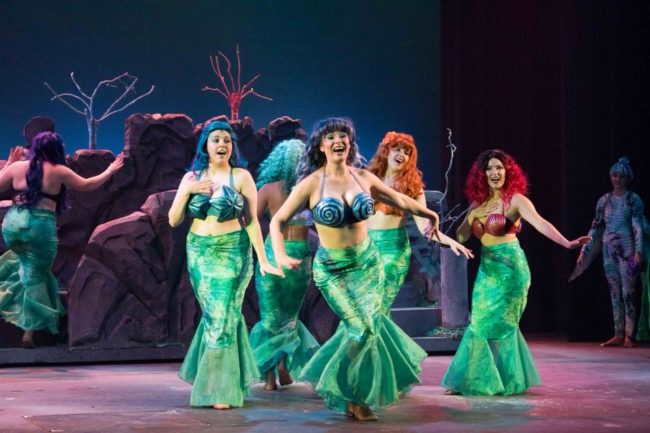 They are the daughters of Triton— Ellen Manuel, Elisabeth Johnson, Malarie Zeeks, Kaitlyn Jones, Emily Caplan, Hannah Bartlett— playing Aquata, Andrina, Arista, Atina, Adella, and Allana respectively. With bubbly, bouncy personalities, and each wearing a different vivacious color of hair and shells, all six of these lovely ladies adds perky life to the underwater dynamic. Their principal songs include "Daughters of Triton" and of course "She's in Love" where they swish and splish their way through the discover of their youngest sister Ariel's current amorous interests. See if you can't catch these sisters later on, perhaps when they're exercising their vocal worst during "The Contest" (intentionally so, of course.) Overall the six create a lovely blended sound, with all six of them having their little attitudinal moments just after Ariel's failure to appear at The Concert, reeling out those fish puns. The aforementioned King Triton (Mark Lloyd) is King of all the sea. With an anger that funnels out of him just before the destruction of the Grotto, Lloyd showcases the character's darker side When he blends his voice into "If Only" (the quartet shared between himself, Sebastian, Ariel, and Prince Eric) there is a humbling sincerity that transforms his character arc.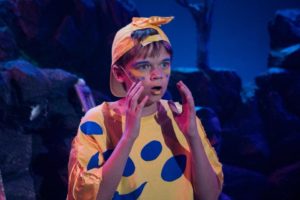 Little Flounder (Adrien Amrhein) is just the cutest thing on fins! Keeping him off of heelies and letting him gyre his arms about slowly when he's standing still is the perfect way to showcase that he's underwater. Amrhein is precocious and masters that awkward age of the pre-teen, where he totally wants to be friends but is secretly in love with Ariel even if he's way too cool and totally too shy to admit it. Amrhein has a powerful voice, which he showcases readily during "She's in Love" and when he hits the notes that are just above where his vocal range is now naturally setting, he showcases his training and effectively throws his sound into his head voice and out of his belt to maintain the pristine sound and pitch of the note, rather than sacrificing the song quality for the sake of volume.
The aforementioned slippery eels— Flotsam (Josh Schoff) and Jetsam (Jonah Wolf) are unsettling. They slip about on their scooters, being general riff-raff of the water. When the pair take to creepily crooning "Sweet Child", both Schoff and Wolf find that floating falsetto to really give that number an extra eerie edge. Their murky mistress Ursula (Holly Gibbs) knows how to make an entrance. Gibbs plays the character as dangerously deranged but in that saccharine later-00's Disney villain sense. There's a cheeky Hollywood feel to her performance as Ursula, which fits the gooey number "Daddy's Little Angel." Gibbs puts on a strong belt and punches volume all throughout the more iconic number "Poor Unfortunate Souls" and we'll just say that her grand exit is as impressive as her commanding entrance, if a bit more meltingly wicked.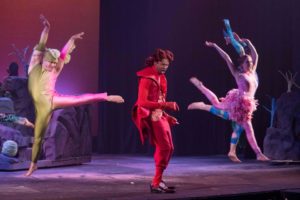 Somebody's gotta nail dat crab's claws to de floor. Dat crab being the distinguished court composer Horatio Thelonious Ignatius Crustaceous Sebastian (Derek Cooper.) With an affectedly bent walk, and serious facial attitude with expressions that would create small-craft advisories while he's venting his spleen beneath the waves, there is an undeniable liveliness to dat crab! Cooper is a stage maniac, really putting his all into every zany choice that he makes as the skittering crustacean. With a delightful singing voice, albeit a wavering Cajun-Island-esque accent, both "Under Da Sea" and "Kiss the Girl" becomes as marvelous as one can remember their being from the movie the very first time they heard it. Cooper is full of sauce and sass and throws some serious shady glances and accusations all throughout the production, but is versatile too. When he sings his portion of "If Only" the quartet, it's sincere, honest, and sublimely blended with the other three sections of the number.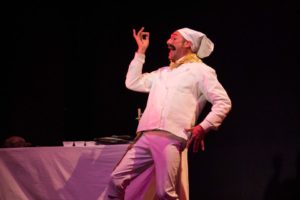 Vying for chief comic, Chef Louis (Brian Jacobs) is a zany master of full-on shenanigans. With a thick and heavily affected accent, Jacobs runs away with his one and only number in the show, "Les Poissons" and its reprise. With a surprisingly clear vocal sound, Jacobs puts earnest musicality into his singing in addition to finding all of the ridiculous comedy that accompanies both the number and the character. When the chase, rather the dining room chaos, explodes all around him, Jacobs takes point and dashes about madly, almost spirited like an inferno in his hot pursuit of Sebastian the crab, and overall the antics he puts forth in this role are indeed most memorable.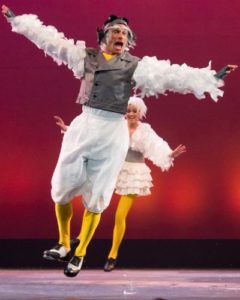 And while Jacobs may be on fire, Gary Dieter's Scuttle is the Vesuvius of comedic eruptions. With a squawky voice that's affected to the hilt and a sheer sense of nonsense flying through his every feather, there's laugh-until-you-cry comedy pouring straight out of Dieter's beak. Strutting his stuff, being goofy and loveable, Dieter makes the comic character truly praiseworthy, especially when he has his little stand-off moments with Grimsby, as the latter tries to shoo him off the stage. Despite only having one true vocal number (thanks again to Disney's restrictive licensing of this touring version), Dieter pushes punch, pizzazz, and panache into "Positoovity" where he flaps, flings, and flies his tap-dancing feet all over the stage. A remarkable comic character man, Dieter is flapping away with this role, and really gives the gulls the giggles.
Pristine chemistry— true love (not just teenage hormones like Ursula insists!)— is what's bubbling up between Prince Eric (Jim Baxter) and Ariel (Allison Comotto.) A delightfully divine pairing on stage, the duo is simply smitten with one another from the moment they meet-cute. Just like a Disney fairytale, Comotto and Baxter's adoring amore for one another is enough to fill you with giddy glee, and raise your blood sugar level by a good 100 points. Watching their simple exchanges blossom and flourish into true storybook romance is as comforting as the Disney tale itself.
Baxter brings a rich and warm vocal palette to the character, exciting Prince Eric to life with an unquenchable thirst for the adventurous life. Defiant, but in a friendly and youthfully spirited nature, Baxter's Prince is more than just charm and fairytale charisma. "Her Voice" becomes his vocal mission, a perfect outcry of determination and drive, charged with welcoming resonance of his character's pathos. "One Step Closer" also showcases his ability to flirt merrily with lyrics and melody whilst putting his fancy footwork on display.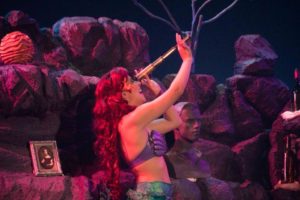 Comotto's Ariel looks every bit the part though behaves far more like Princess Anna from Frozen. There is an inexcusable wonder and devastating curiosity about this princess portrayal that makes you fall in love with Comotto's Ariel over and over again. Watching her utter fascination and extreme enchantment once she starts playing with her freshly-earned feet and toes at the top of Act II is so extraordinarily humorous and silly that it touches the very cockles of the heart. And with a voice that could truly run a ship aground for all its beauty, Comotto's rendition of "Part of Your World" is childhood recapture in all of its dreamiest finery. The indefatigable enthusiasm that pulses through "Beyond My Wildest Dreams" accompanied by Comotto's explosive physicality is where the channeling of Princess Anna comes into play, but ultimately, Comotto create an Ariel that is truly out of this world.
Don't wait and see if their seaweed is greener, come to Cockpit in Court to see the final main-stage production of the 2018 summer season, and be a part of The Little Mermaid's world.  
Running Time: Approximately 2 hours and 20 minutes with one intermission
Disney's The Little Mermaid plays through August 5, 2018 at Cockpit in Court in the F. Scott Black Theatre of The Robert and Eleanor Romadka College Center at the Community College of Baltimore County Essex Campus— 7201 Rossville Boulevard, Essex MD. For tickets call the box office at (443) 840-2787 or purchase them online.