How do you spend your summer? At the pool? In the sun at the beach? How about in your car driving down the highway? Becky's New Car by Steven Dietz is a summer sensation performing now at Bowie Community Theatre and take my word for it – drive your car straight to the theatre in the woods and see this show! Bowie Community Theatre's production is under the talented direction of Ilene Chalmers and has a tour de force cast of seven talented actors. The show is side-splittingly funny and poignant at the same time, making it for a fantastic evening of theatre and enabling the audience to wonder, for just a moment, the possibilities of "what if?"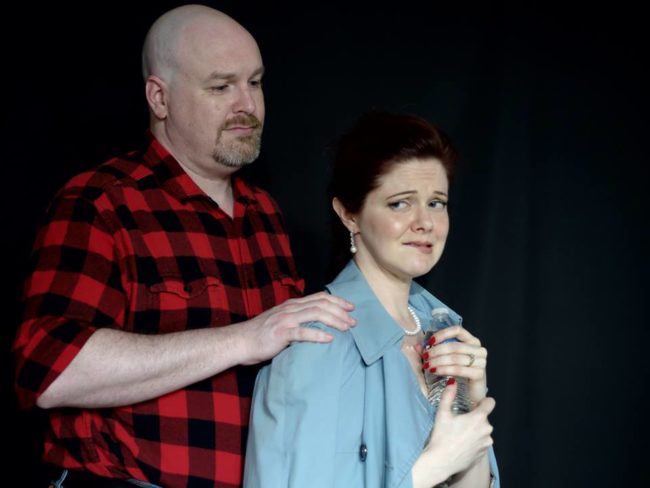 The show itself deals with Becky (Rebecca Ellis), who has been married to her loving husband Joe (Matt Leyendecker) for nearly 30 years. Becky's home and work life are hectic to say the least. At home, she is ordering pizza for dinner and constantly picking up after her son, Chris (Thomas Peter), who lives in the basement while going to graduate school for Psychology. At work, Becky is over her head as the office manager at a car dealership where she handles everything from juggling paperwork and dealing with angry customers to be an ear for her coworker Steve (David Chalmers), who lost his wife within the last year. With Becky's life in a mindless rut, and a need for change, two events happen that will change her life and having her pondering the "what ifs" of her own life. Mrs. Tipton, a wealthy widower purchases a new fully-loaded black car from Becky's dealership after giving up all her belongings and keeping just enough to buy the car so she can just "Drive Away," leaving Becky to wonder if a change could be possible. Enter into Becky's life just when she starts questioning what it is she wants is Walter (Greg Anderson), a socially awkward billboard baron whose wife recently passes away. When Becky makes an offhanded comment about Joe, Walter misunderstand and assumes that Joe is deceased, leaving her with his phone number and taking her business card. Not correcting the misunderstanding, Becky begins seeing Walter and living a double life. All comes to a head as the two families begin to intermingle when Chris falls in love with Walter's daughter Kenni (Meghan Sova) and Joe bids on a job fixing Walter's roof.
The show is fast-paced with great comic timing and lively, appropriate, and unusual audience interactions when Becky breaks the fourth Wall to discuss issues and have chats with the audience. Director Chalmers has created such a wonderful show that it is hard to come up with all the positive adjectives to describe it properly. The set design by Malia Murray works great for the space with four unique playing areas for the Home, Office, Car, and the exterior balcony of Walter's home. Lighting design by Garrett Hyde enables actors to move seamlessly from space to space and scene to scene. The lights are used to appropriately create moods for more intimate and night scenes. Costumes by Hillary Glass are perfectly representative of the time, date, and social statuses established in the show. Of most important note is the sound design. From the opening of the show through to the end the Sound design by Richard Atha-Nicholls is perfect, both in levels and in sound effects, adding to the hilarity of the show when appropriate as well as allowing for the dramatic moments as needed.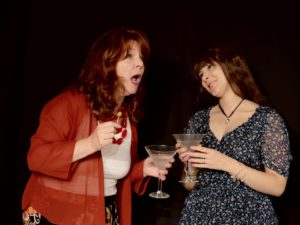 The cast welcomes you into the production swiftly and soon you are travelling right along with Becky in her "new car." Barbara Webber portrays a fantastic Ginger who has lost her money and is attempting to find her way or a new wealthy husband while drinking just a little too much, a little too often. Thomas Peter does a great job of portraying the grad-student son who is more interested in psychologically analysis life than living it until he meets Kenni. Meghan Sova has been able to create that social-elite child who wants more than what her father can give her and traverses the worlds of the rich and the middle to lower class families with aplomb. David Chalmers' Steve is both a sob story character who has a spiteful streak to attempt to get what he wants.
The shining stars of the show are Matt Leyendecker as Joe, Greg Anderson as Walter, and Rebecca Ellis as Becky. Leyendecker has created Joe to be a caring and loving husband who works hard to support his family, but that just does not have enough to satisfy Becky. Leyendecker's wide range of emotional characterization and his timing make for well-rounded character development and enhance his ability to show his true feelings for Becky. Greg Anderson's Walter is a true pleasure to watch in interactions with each of the other characters on stage. His interest in Becky is genuine and felt in the audience, while his love for his deceased wife still shines. Anderson is able to portray the flaws of Walter exquisitely as he deals with attempting to give gifts, interact with his daughter, and fight off advances from Ginger.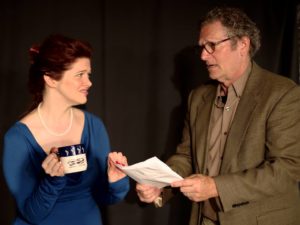 The pièce de résistance of the performance is Rebecca Ellis as Becky. From an opening monologue that is a conversation with the audience to the stunning end, Ellis is engaging, open, and honest with a burst of energy on stage that engulfs the audience in each situation. Ellis's interactions with the other cast members creates the comedy and drama that is portrayed on stage. A true delight to watch is Ellis in her interactions with Walter and then indecisiveness on how to handle what is happening. Kudos to director Chalmers for casting a talented cast and using their talents to their fullest extent!
Whether you are in the mood for something different or a great night out on the town, drive your car over to Bowie Community Theatre for a fantastic night of both touching and humorous moments. Bowie Community Theatre's season opener (a season that celebrates women) will leave you wanting more from this cast and this company. Who knows, maybe you will go searching for your "new car."
Running Time: 2 hours and 30 minutes with one intermission
Becky's New Car plays through July 29, 2018 with Bowie Community Theatre at The Bowie Playhouse in White Marsh Park— 16050 White Marsh Park Drive in Bowie, MD. For tickets please call the box office at (301) 805-0219 or purchase them online.