All's fair in love and war. Shakespeare said it. Well, he didn't actually. In fact, he wrote a whole bunch of plays that seemed to prove the opposite of fairness in war and especially in love. Much Ado About Nothing, one of the less-troubled comedies, is one such that is now making its way to outdoor (and temporarily indoor) stages by way of Gypsy Wagon Theatre Company this summer. Directed by Bill Soucy, the comedy of stubborn bachelors comes to a head, despite rain or shine, for as the old adage goes, the show must go on!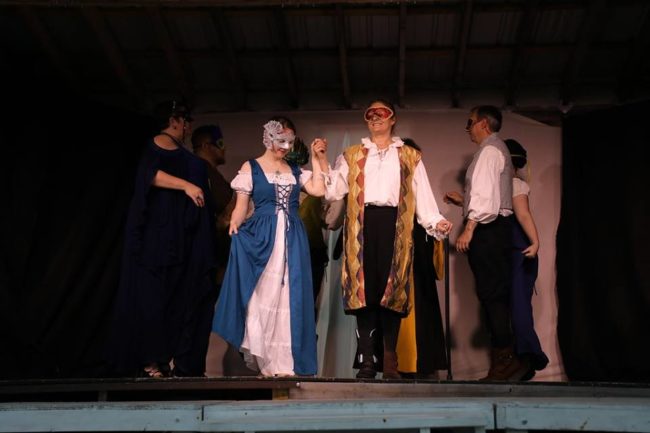 Gypsy Wagon Theatre Company, true to its namesake, had set up its three-week production with three different outdoor locations in mind, the first of which was meant to be at Hannah More Park in Reisterstown. But with flash-flood-inducing rains, the production was forced to seek drier grounds, and Dionysus be blessed they found a stage space (complete with roof, walls, and full electricity!) inside The Strand Theatre (located in the Hamilton district of Baltimore) and set up their opening weekend performances there. Cast and crew alike did their best to adapt a show designed with specific lights and spatial arrangements into the indoor space, and the production did not suffer for these last minute changes.
Lighting Designer Bob Frank and Lighting Operator AJ Flynn had to make a scramble-n-dash to get some lights together for their quick-change setting, but Frank and Flynn made it work. Moreover, it was Damien Gibbons quick know-how that rigged up fully functioning cues to give the production a more authentic feel (despite Producer Andrea Bush's happiness with simply having a roof and a stage!) And thankfully the period-appropriate sartorial selection of Costume Coordinator Diana Soucy was as portable as the actors and the production, so everyone in attendance opening weekend got to see the resplendent looks displayed upon the performers as they acted their way through a suddenly indoors performance.
Director Bill Soucy, who's had to jump into the roles of the Watchman and The Messenger, has done a fine job of presenting the production in its entirety. Including Innogen (wife of Leonato and mother of Hero played in this production by the well-spoke Karen Eske) and all of her scenes as well as a saucy and cheeky scene shared between Margaret (Katie Knotts) and Benedick are just a few of the things Soucy ensures the audience gets to experience. Often productions of Much Ado will cut the character of Innogen, giving her lines to Leonato, and truncate this exchange between Benedick and Margaret, if not cut it entirely for the sake of time. But Soucy minds not the matters of time when it comes the to the production itself, but rather makes up for time in the expedience of which the scenes play out.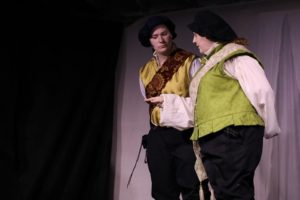 Soucy follows Shakespearean gender-swapping, casting opposite the character's assigned gender, in this case having several women playing men's parts. This showcases both Deb Carson (as Leonato) and Jennifer Hasselbusch (as Don Pedro) in resolute, empowered roles that are otherwise attributed to the patriarchy. Both Hasselbusch and Carson do fine work in these roles, being reverent but fair, quick and hot to temper when the occasion calls for it, and sobering and somber when those moments arrive. Carson's Leonato is a strong guiding force, especially when encountering the exasperative Dogberry while Hasselbusch's Don Pedro is the backbone to the regiment of marching soldiers upon their arrival in Messina.
Paul Ballard is the everyman actor of this production, creating three unique characters, each of whom have distinguishing personalities so that even though the costume change is subtle, everyone watching can tell The Friar from Balthasar from Verges. As the latter, Ballard adapts a perfect physicality, stumbling to the point of falling but not so melodramatically as to upstage Dogberry when playing the town drunk that is Verges. As Balthasar, first cheeky and charming at the masked ball, Ballard delights the gentlefolk with a true and warm song when singing and his voice is sweet and delightful on the ears. It's his reverence and sagely wisdom as the Friar that sets his performances truly above those of an ordinary ensemble player. Speaking with great depth and imparting much wisdom into Shakespeare's text, he conveys the intentions of the plot without overdeveloping them.
It accused of at least two in this production that they be knaves! But how could he be other than a plain-dealing villain, this Don John (Gareth Kelly), though his vein of villainy is much more sullen and sulky than vicious and malicious. The latter descriptors seem to go rakishly to the roguish knave Borachio (Robert Soucy) and this dismissive Conrade (Malissa Cruz Romero.) Kelly, who later doubles up as the Sexton, has vivid facial expressions while Soucy and Romero share a kindred sense of knavery which they both portray in their physical postures.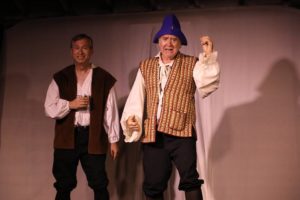 Let it be writ that Nathan Rosen plays an ass! And he does so with rigorous aplomb! Hilarious to a fault and bumbling to the point of hilarity, Rosen's Dogberry is something to write home about in this production. Though his encounters be brief, that absent-minded stupidity that oft accompanies the character is in full color waving proudly about as Rosen tromps about the stage doing his 'watch-patrol' duties. Commanding the town drunk Verges (the aforementioned and talented Paul Ballard) and the Watchman (quick-study and quick-witted Bill Soucy), Rosen's Dogberry gets a great deal of the comedy that the play cries out for in his momentary encounters with these other characters.
Sweet Hero (Emily Plovan) and smitten Claudio (Joanna Matthews) are the story's ingénue lovers. Both Plovan and Matthews are taken immediately with the other's character upon their incidental meet-cute. Plovan gifts Hero with a naïve simplicity, which all the better serves as the harbinger for her innocence during the chapel scene where she falls weeping inconsolably to her knees. Matthews masters the brooding and bratty nature of a young boy too big for his britches and too much in love with the idea of being in love rather than the girl with whom his character is actually in love. Watching Matthews give Claudio a hot-pot bursting temper and comparing it to the gooey-eyed lovesick nonsense expressed in the earlier scenes is one of the strong points of her performance.
Strangely calm and unlike the bragging and brash Benedick that the Bard's followers have come to expect, Damien Gibbons creates a Benedick that is oddly more human. Though he's still an erstwhile lady's man, the cocky bachelor attitude is mellowed into a simpler vein in this performance. Though his facial expressions are lively, albeit muted during the 'garden overhearing' scene, and when it comes to temper and blows, Gibbons holds his own with the loudest in the cast.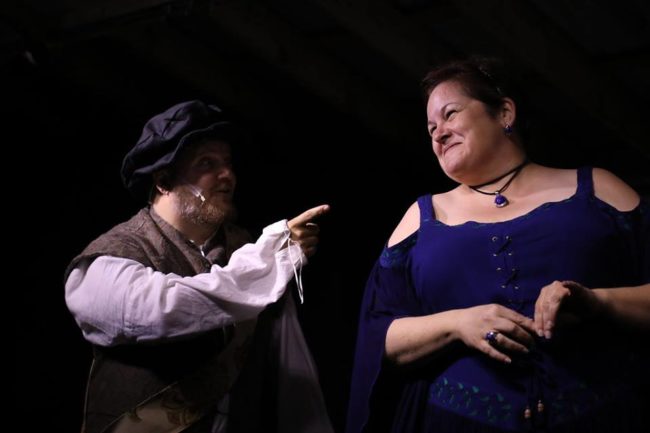 Snappish, almost shrewish, and set with a longsword for a tongue, which she wields quick and true like a dagger, Andrea Bush masterfully commands the lady Beatrice for all that she's worth in this production. There's humor, there's sincerity, there's emotion, there's all sorts of things happening with Bush's Beatrice. Watching Bush during the 'garden guiling' scene is hysterical entertainment at its finest; her facial expressions and overall bodily expressions are to die for, only adding to the nonsense of this scene. Capable of deep sincerity as well as flippant dismissiveness, Bush delivers a well-balanced Beatrice that commands the show as she pleases.
Enjoy Shakespeare under the stars (once they indeed do get back under the stars) complete with live music of the times, played on a lively series of instruments by Patricia Brunker and Gregory Ortiz. Much Ado About Nothing will delight and tickle your Shakespearean fancy this 2018 summer.  
Running Time: 2 hours and 40 minutes with one intermission
Much Ado About Nothing plays through August 4, 2018 with Gypsy Wagon Theatre Company in various outdoor locations. Please be sure to check their ticketing site to see when they will be appearing in an outdoor space in Parkville and Catonsville near you! Tickets can be purchased at the door or in advance online.