In the final days of the summer of 1955, a definitive cultural event rocked teenaged America when screen idol James Dean was killed in a car accident at the age of 24. Having starred in only three major films (Rebel Without a Cause. East of Eden, and Giant), he defined the prototypical rebellious, misunderstood teen and resonated with American youth unlike any actor ever. Despite his minimal time in the public eye, his legacy has lived on for generations and he has the distinction of being the only actor to have received two posthumous Academy Award nominations. Come Back to the Five and Dime, Jimmy Dean, Jimmy Dean, the final production at Cockpit in Court's upstairs cabaret stage series, is Ed Graczyk's 1976 ode to an isolated band of his fan girls whose lives were changed forever that summer.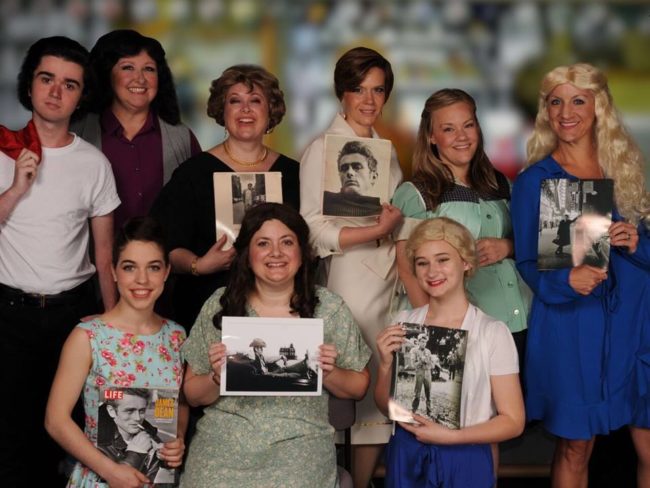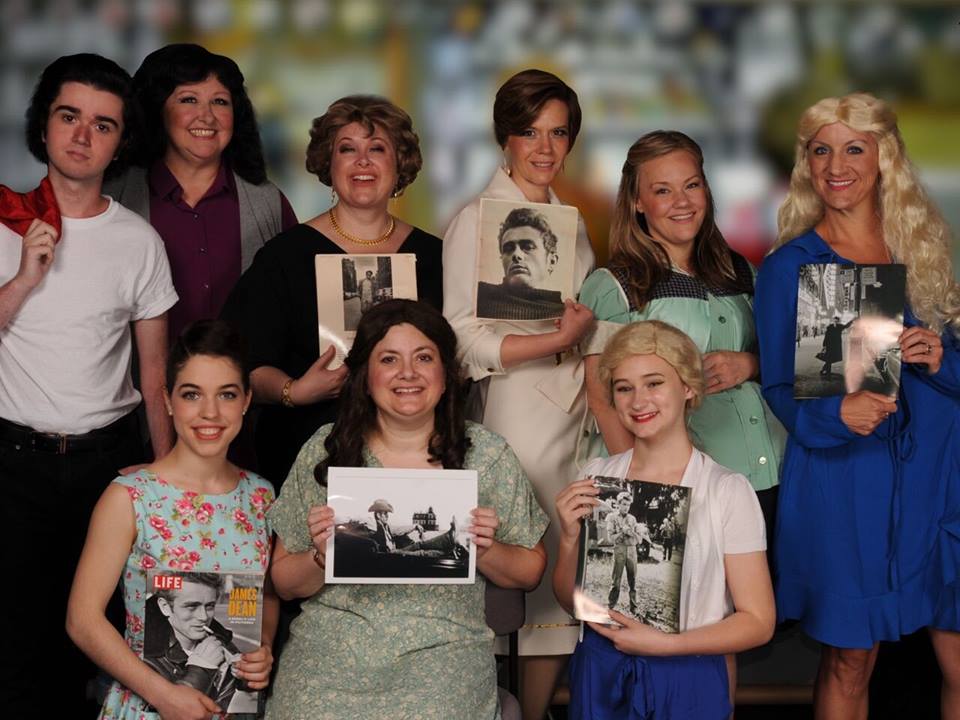 Unearthing this lost gem of sleepy town pathos (very few know anything of the work today except its trivia status as being Cher's first and only Broadway credit), Director Linda Chambers finds parallels in the undeniably dated period piece that suddenly and eerily reflect society today. With themes of celebrity worship, fake news, and the living lies told daily to make life seem more palatable, it is perhaps the handling of its delicate LGBT subplot (which was almost universally panned in original reviews as ringing strained and stagy) that reveal the play to maybe have been decades ahead of its time.
Unfolding in 1975 in a Woolworth's Five and Dime in tired, dusty, McCarthy, Texas (a short hop from neighboring town Marfa where Dean filmed Giant), members of a former all-girl fan club put finishing touches on plans for their reunion on the twentieth anniversary of his untimely death. The action slips back and forth between then and the seminal events of the summer of 1955 that forever altered and defined the futures of those young teens.
Lonely and unstable Mona (Regina Rose) is a world-weary single mother to a mentally challenged young man she named Jimmy Dean, whom she maintains is the love child of Dean himself, the result of a passionate one-night tryst that fateful summer when she worked as an extra on Giant (in a scene where no one can pick her out despite her specific locator instructions). She and wise-cracking Sissy (Cher's role, portrayed here by Jennifer Skarzinski) still work at the rundown five and dime, which is still owned and run by no-nonsense Juanita (Liz Boyer Hunnicutt). As the core guests return, they all complete each other's facts of the last twenty years and are forced to come to terms with some hard and sad truths.
Rose as 1975 Mona is a sad, deluded, beaten down version of her 1955 self (Sarah Jones), who shows in retrospect she may not have been entirely stable even then. Having had the chance to get out of town and start a new life in college, young Mona, fresh-faced, quietly personable, and more beautiful than she realizes, turns around, a nervous mixture of fear, homesickness, and low self esteem, all of which are intensified by the fact that she is secretly pregnant. Jones' performance is a bittersweet testament to squandered potential and broken dreams. While the older Mona is the tragic result of that damage, it's Jones' younger self who is the heartbreaking character as we see the origins and the warning signs that, even when presented with a better future, her bad choices fueled by her budding mental illness sabotaged her before she ever had a chance.
Skarzinski as 1975 Sissy is the eternal party girl, a little trashy, funny but loud, still dressing inappropriately, but the most honest of the denizens who never moved on. She has the riskiest role in the show, but thoroughly escapes any comparisons with her iconic predecessor (the only thing most folks remember from even the cult movie), making Sissy her own character, not a poor man's Cher impersonator (this critic interpreted a couple of well-timed hair flips as her choice of a warm and subtle salute, whether intended or not). Katelyn Thayer as 1955 Sissy shows us that the roots were planted even in high school. Fast then and fast now, Thayer has perhaps the most fun with her role of anyone in the cast.
As Joanne, who shows up for the reunion although the others have difficulty placing her, Laura Malkus is an alluring but unnerving mix of mystery and brutal honesty who cautiously rations out information on her life since she left McCarthy soon after the club disbanded. Malkus smartly keeps her cards close to her bosom and adds to the intrigue as she slowly and deliberately reveals them.
Providing necessary comic relief as the darker story unfolds are Laura Weeldreyer as nouveau riche but still common and loud-mouthed Stella Mae, and Karen Starliper as sweet as pie but dumb as the crust on it Edna Louise (apparently about 8 3/4 months pregnant with baby number 7).  Both are prerequisite comic stereotypes to about every homegrown Southern comedy ever from Bus Stop to Alice Doesn't Live Here Anymore to Designing Women, but Weeldreyer and Starliper deliver a wealth of very welcome laughs.
Jake Schwartz appears in the flashbacks in a small but pivotal role as the girls' former best friend Joe, a misunderstood young man struggling with his sexuality who left town to escape the vile treatment at the hands of the small-minded good old boy yokels that would never change. Schwartz has the least stage time of the group, but he makes a strong, sad, and striking impression as he unfolds his story.
Veteran actress Liz Boyer Hunnicutt as Juanita is the glue that holds both timeline stories together. She is a strong professional presence that provides a solid core for all her costars to work from. Unchanged in both eras, her Juanita is neither young for her age nor old for her age. She is instead rather timeless. In her hands, what could be a stock Southern throwaway character becomes a continuous stream of laughs with her unique and razor sharp comic timing, with line deliveries that hearken to a 70s era Carol Burnett.
In addition to finding new purpose in revisiting Graczyk's work, Director Chambers also excels at seamlessly weaving the two timelines together into a fluid story. Even when saddled with the usual annoyances of in the round staging (everyone go to a corner so you don't block anyone out….), she stages a clear linear story in parallel eras. She is also to be credited for plain and simple good casting (a rare and much greater accomplishment than your average patron understands). In order to keep the integrity of her dual stories intact as intimately as Graczyk enmeshes them, it is imperative that there is a believability and continuity between the younger and older versions of each character.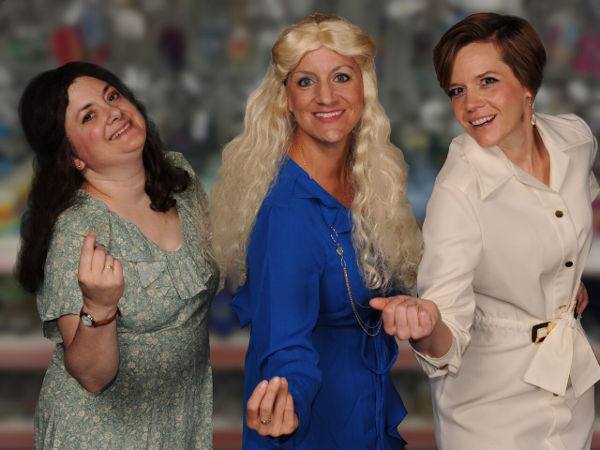 In addition to a strong physical resemblance, Thayer finds all the trashy seeds in Skarzinski's performance as older Sissy and deliciously plants them in a smart salute to her future self. Malkus' Joanne bears an uncanny resemblance to her younger counterpart, not only being virtually the same height, build, and coloring, but she delivers a wisdom and confidence, acquired from being the only one to truly get out and grow up, while still providing glimpses of her former self. But these two pairs seem to have consciously found a common path to transition from 1955 to 1975, echoing each other's cadences, gestures, and mannerisms, not just relying merely on physical similarity.  It is only the Monas that suffer from a disconnect. Hampered by the fact that they bear absolutely no physical resemblance other than hair color, that would not necessarily be a drawback—people change, looks change—if there was a more determined attempt to fuse the characters as the other duos have. Both Rose and Jones give strong performances individually, but the laws of time dictate that Jones' Mona has the advantage of coming first, and she establishes a strong basis for all of Mona's neuroses, so Rose has the onus of following the arc. A remnant of the essence of young Mona should be somewhere in older Mona, and Jones establishes a sad fragileness that we don't find in Rose's Mona.
Technically, set designer Moe Conn delivers a hilarious tribute to small town kitsch, excelling in the corner shrine to Dean, complete with tacky memorabilia and used looking holiday decorations of all types. It was a complete and relatively perfect set, however, without the unnecessary addition of a faux partial window frame (alluded to only once) that overhangs too far in design and partially obstructs one quarter of the audience. And, inexplicably, the corner entrance to the back of the shop is well concealed beyond the door, but the front screen door entrance, which features several key allusions to a shadowy figure in the doorway seen by older Mona, isn't concealed at all, so most of the house doesn't have the proper angle to see the figure, but clearly sees that it is Schwartz, who only appears in 1955, as a utility player who is providing it.
Costume designer Nicole McClellan Smith has a real feel for visuals. Her costumes are true and complementary to both characters and eras, and her understanding of color is exemplary. She cleverly adds to the character continuity by using the same defining shade for both past and present representations of the split characters (an inspired touch is that the bright red flowers on young Mona's mint green dress are a more faded shade of pale pink on older Mona's). Joanne's white couture suit is a particularly nice selection to distinguish her as the one character that time didn't forget.
In an aside, an admittedly only somewhat related but frequently overheard complaint at the theatre, Cockpit no longer utilizes traditional programs, but a contemporary single page format where the patron must visit a website to look for anything other than the most basic information. It is shameful and cheap looking when all the smaller theatrical companies around town without institutional funding can manage to provide a nicely printed program for their patrons to appreciate and explore the production and the performers–not to mention advertisers who pay handily for exposure–more easily, but one of the most prominent, high profile companies can't, despite the fact that they have their own in-house printing department on campus, just looks tacky. It's fine for the Children's Playhouse of Maryland on campus, but not for an institution with a near 50-year history of significant theatrical contribution. It also makes it unnecessarily more difficult to impossible for a critic to find the information he needs to give a proper positive review. Just saying…
But excuse the PSA digression. Overall, Graczyk's script is a little uneven, with too much repetitive exposition in the beginning of Act One resulting in a slightly longer running time than necessary, but once the peripheral characters arrive and revelations begin, Act Two flows with a greater coherence and pacing. Nevertheless, the engaging cast with great chemistry do their best to help the evening move along, and elaborate on the show's themes that both resonate again today while simultaneously providing a salute to two bygone eras. So it is recommended that, unlike the unseen titular character (the closest to whom we come meeting is when we hear him take a joyride in Joanne's Porsche, the same car in which his supposed father was killed), come back to the five and dime and enjoy a blue plate special of warm nostalgia and chilled dreams.
Running Time: Approximately 2 hours and 15 minutes with one intermission
Come Back to the Five and Dime, Jimmy Dean, Jimmy Dean plays through August 5, 2018 at Cockpit in Court in the upstairs Cabaret Space of The Robert and Eleanor Romadka College Center at the Community College of Baltimore County Essex Campus— 7201 Rossville Boulevard, Essex MD. For tickets call the box office at (443) 840-2787 or purchase them online.