What happens in Vegas stays in Vegas! But what happens at the Rice Auditorium with STAR Ltd. needs to be broadcast on a big blinking billboard! The 2018 sizzling summer production— Honeymoon in Vegas— is that zany, whacky weekend everyone wishes they could have in the great Nevadan desert oasis! Directed by Michael Juba with Musical Direction by Cheryl Campo, Pit Conduction by David Wacyk, and Choreography by Lauren Lowell, this hilarious musical comedy with a whole lotta heart and a hunka hunka burnin'— Elvii?!? Is absolutely the show for you!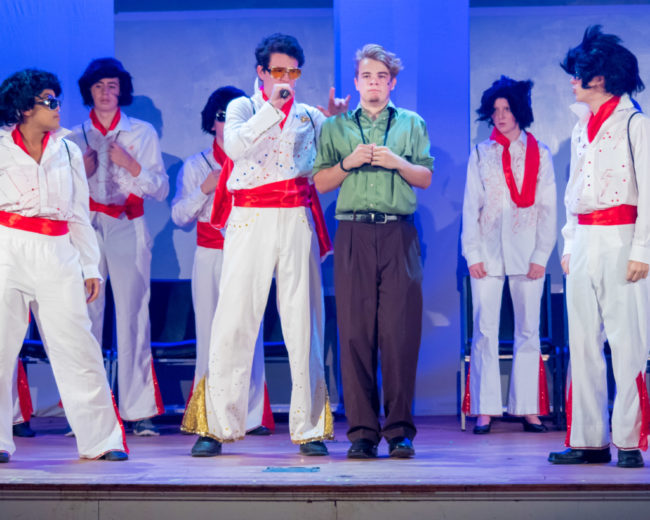 While the primary focus of a teen-youth acting program is of course the teens and youths performing, what's happening on stage around them (designed by adults of the trade) cannot be ignored. Costume Designer Cami Wise really affects the Vegas flare into her flashy take on showgirl costumes and puts the razzle-dazzle in the Buddy Rocky showman character with that blinding white sequin jacket. Wise really outdoes her best efforts when it comes to all the skydiving jumpsuits for quite a few Elvis characters, with the magnificent cape on Rudy Elvis truly taking the cake.
Lauren Lowell's choreography is smart, simple, and clean, but once again its built around the shazam-wowing effect of "Elvis" (because what's more iconic to Vegas than glittery jumpsuit-wearing pompadour impersonators?) Lowell's routine utilized during "Higher Love" is a true and proper scream and full of potent energy. Other group numbers display a similar energy and showcase Lowell's understanding of the show's overall vibe and general vibrancy. Lighting Designers Daniel Goodrich and Director Michael Juba work to augment Lowell's choreographic efforts with a lot of punchy, day-glow Vegas-style lighting effects. Juba and Goodrich even put card deck gobos on the curtain prior to the start of the production to prime the audience for a full Vegas experience.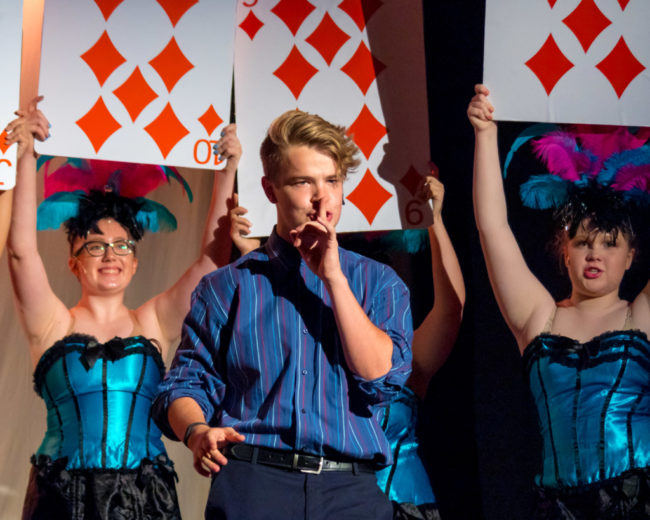 Set Designer Michael Stromberg, who is in his final year with STAR as an on-stage teen performer, keeps the scenery simple as a great deal of it has to be mobile. But the visual cues in his design are on point for the rotating scenery. That's right, it's not just the smooth high-rolling atmosphere of casinos in Las Vegas but the slick, bustling streets of New York City and the relaxing, breezy beaches of Hawaii that have to be conveyed in this production. Stromberg's use of periaktos and single-paneled upright flats makes scenic transitions flow smoothly. The Properties Team (which is essentially half the cast and then some) enhances the Vegas experience with jumbo-sized poker chips, playing cards, an old-school slot machine and wild island Tikki masks (for once the scene shifts to Hawaii), really giving the audience some bonus visual delights.
Musical Director Cheryl Campo, Pit Conductor David Wacyk, and Director Michael Juba draw a polished focus to these teens, keeping them on track for a successful production. There are high levels of energy being consistently displayed, there are enthusiastic and well-developed characters who exist on more than one dimension, and on Wacyk's part, there's a well-balanced orchestra that doesn't overplay the vocal performers despite the challenges of the space. Musically, Campo creates solid blends, boisterous sounds, and an energized soundscape from the ensemble. She achieves perfect tri-blend harmonies, a la The Anderson Sisters, with the Ticket Agents (Sarah Gonder, Gwendolyn Lowell, Sophie Talbert) during "Airport Song." While the song does command pristine harmonic blends, it is not without its daffy humor, whose torch is carried boldly by Sophie Talbert with her holding of an insufferably long and nasally "no" and her antics regarding the flight's being closed.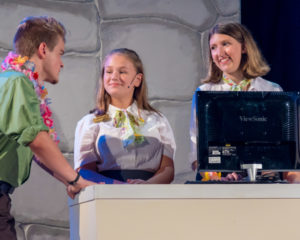 The ensemble, a bountiful font of talented individuals including the aforementioned Ticket Agents as well as John White as the Milano Manager, Grace Lambdin as The Waitress, Bentley Cech, Cora Coulson, and Katherine Ryan as Hotel Staff, Brogan Hurd and Libby Ruppel and Brogan Hurd alternating as Joanne, Beatrice Irwin and Katherine Ryan alternating as Debby,  Ezra Melchor and Bentley Cech alternating as Rudy Elvis, and of course the dancing, ever-smiling Showgirls: Lily Gretz, Sarah Gonder, Claire O'Donnell, Alayna Radner, Anna Grace Ryan, and Sophie Talbert. The Showgirls really punch up numbers like "When You Say Vegas" and "The Game/Betsy's Getting Married" with their flashy smiles and shimmy-shaker dance moves.
Spoken characters include the versatile Keche Arrington who plays Rose, Beau, and the Sapphire Sasspot featured in the Vegas scene and her air-guitar shenanigans are hysterical. James MacLellan as Alex, who plays well off of Keche when they're paired together, and Thomas Greenslit as Johnny Sandwich are also worth mentioning. Greenslit provides deadpan comic relief in the form of a reedy, weaseling, sidekick, whose really more of a barnacled minion to Tommy Korman, the big casino boss. Musically inclined cameos include Henry O'Toole as Teihutu and Evan Bickel as Raymond, with the latter doing a most welcoming and warming rendition of "Hawaii" for the arrival to the island and the latter doing a hilarious and cheeky upbeat version of "Ev'ryday is Happy in Hawaii" with a bit of a Dean Martin flare in his performance.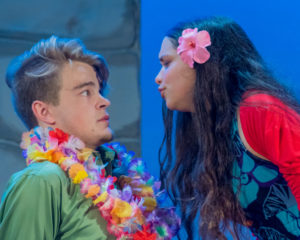 A radiant ray of island sunshine, that doesn't appear until the plot relocates to Hawaii in Act II, Mahi (Claire Mitchell) is a tropical tease with hips that sway like an island breeze! Indeed enchanting with her islander accent, Mitchell is vocally and rhythmically in-tune with the dreamy temptress notions of "Frikki Frikki." Six sorts of sultry and sensually persuasive, Mitchell attacks the song— and the poor Jack Singer character— with liberal lustiness that sets the whole song on fire.
Channeling The King direct from the tomb at Graceland, Henry O'Toole (who is pulling double duty!) is a hunka hunka burnin' Elvis at his pinnacle and prime playing the Roy Bacon character. The hips, the speech, lip lip— it's all there. And when O'Toole sings— mercy! It's all Elvis. Though the role is a hyper-charged cameo appearance, O'Toole runs away with the show flapping from the back of his rhinestone-bejazzled cape. Hilarious, fully live and in the moment, Henry O'Toole takes Elvis and the number "Higher Love" to insanely high heights!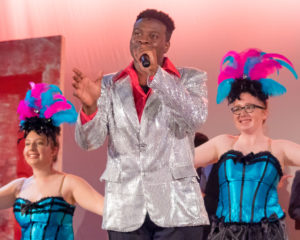 When you say Vegas, you're really saying Hosea Mundi as Buddy Rocky! Embodying that big name personality that plays the Palace or The Colosseum, Mundi is overflowing with Vegas vim and just bursts at the seams vocally when he rolls out for his big introductory number "When You Say Vegas." Eat your heart out Sinatra, Bennett, and all those other high-rolling entertainers, because Mundi is channeling them all into one sparkling personality, completely larger than life in his dashing sequin suit jacket. Fully of that natural Vegas sparkle, Mundi closes the Vegas scene (and the first act) in true celebrity style rolling out with "Do Something."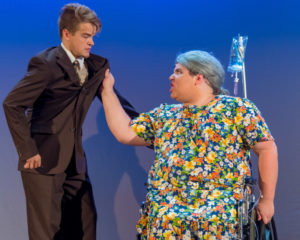 Fierce falsetto never sounded so fine as it does when it comes flying out the front of Jack Buzard's face as he tackles the role of Bea Singer, Jack's decade-long dead mother. Sassy, ferocious, and living larger than life in this role, Buzard is the perfect fit for the part, glammed up to look like a bitter old bitty who could haunt even the dreams of the dreamless. Buzard's comic timing is second to none in the production and he slays with his permanent case of RBF and Ultra-Sass-Glare. Both "Never Get Married" and "The Garden of Disappointed Mothers" are his musical moments to push the boat out with that outrageous falsetto sound and Buzard does not disappoint in either number. See if you can count all the places the Bea character appears and watch all of the maniacal getups every time Buzard avails himself.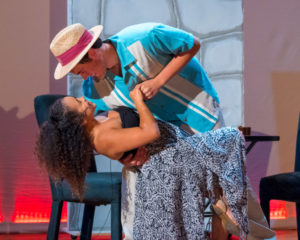 Michael Stromberg is living the role of his young career when it comes to character depth and versatility. The dichotomy of this two-faced viper is astonishing and the fact that Stromberg plays both halves with diabolical investment and intense honesty is all the more sensational. Not to mention Stromberg's superb bari-bass sound which peels through "Out of the Sun" with all of the moody heart and melancholy that such a song would indicate (but listen carefully to the actual words Jason Robert Brown has penned and try to keep a straight face.) Stromberg deftly masters the split duality of his character, and when he purrs his way through "You Made the Wait Worth While" you'll all but melt like a frozen Mai Tai in the midday island sun. But fear not, that charismatic casino Casanova is burbling away just beneath the surface and soon arises in "A Little Luck."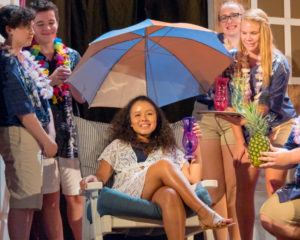 Betsy (Jessica Ramon) is getting married! Ramon is getting her first, and unfortunately her last, mainstage production with STAR (as she's just at the end of the program's age range!) but boy does she make a lasting impression! With a fiery spirit that really puts the situational comedy into perspective, Ramon nails the character of Betsy right on the head. Her tremendous vocal capabilities are an intense bonus that accompanies her performance with unwavering consistency. From the moment her voice sweeps into "Anywhere But Here" you'll hear the vocal sincerity that accompanies her character's ever-changing mood, and feel the tsunami of pathos perpetually crashing over her as the play evolves. The chemistry Ramon creates— first with Jack and then Tommy and really all over— is genuine and comes from a strong and pointed place and is filled with natural compassion. "I've Been Thinking" echoes these sentiments divinely.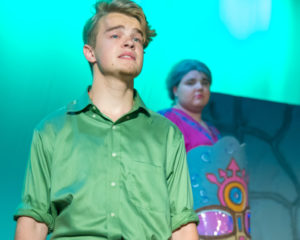 With a mature voice beyond his youthful years, Nick Zuelsdorf wears Jack Singer like his very own skin. The smooth, slick sound that Zuelsdorf produces for "I Love Betsy" is nothing short of a sound that could make Michael Bublé turn a few shades of green. Showcasing his vocal versatility in this number and in every other number where he sings, Zuelsdorf is the triple crown, triple threat, and ultimate trifecta. Singing, dancing, acting, Zuelsdorf has a proper royal flush in all three hands. The facial expressions he presents throughout the show— particularly his desperation and resistance during "Frikki Frikki"— are to die for and loaded with such intense animation that you can't help but laugh until you're practically crying. But when it comes to sincerity and heart, Zuelsdorf doesn't falter there either. "Isn't That Enough" the 11 o'clock number of reckoning for the Jack Singer character, has Zuelsdorf pouring out heart and soul for all he's worth. A remarkably phenomenal performance given, Zuelsdorf and company has one hell of a amazing show on their hands.
So while what happens in Vegas stays in Vegas, what's happening on the STAR ltd. stage is a must-tell. As in— you must tell every single person you know to get out and support these tremendously talented young performers and experience one thoroughly enjoyable musical theatre ride all along the way.
Running Time: 2 hours and 20 minutes with one intermission
Honeymoon in Vegas plays through August 5, 2018 with STAR Ltd in the Rice Auditorium of the Spring Grove Hospital Campus— 55 Wade Avenue in Catonsville, MD. Tickets can be purchased at the door or in advance online.