Quotidian Theatre Company's An Irish Twist on Shakespeare's A Midsummer Night's Dream, directed by Leah Mazade and Stephanie Mumford, and set in 1817 Galway, Ireland, embraced the fun in the original text while putting a uniquely, playfully Irish spin on the setting. This creative re-imagining is a delight to watch, and the talented cast, crew, and musicians create an engaging, uplifting revival of Shakespeare's classic fairytale.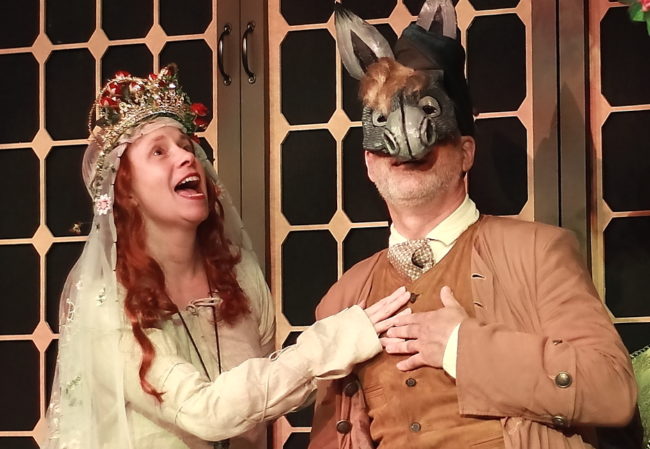 Midsummer follows the plight of two young women, who, for reasons each their own, cannot be with the man they love. In desperation, they flee into the dark forest, where night falls and faery time is just beginning. While names and locations were changed to fit the Irish 19th-century setting, all choices maintained the original meter of the text, even swapping out a couplet or two to maintain the rhyme. Other than these changes, however, the text itself seemed, on the whole, untrimmed, which did leave some scenes overstaying their welcome.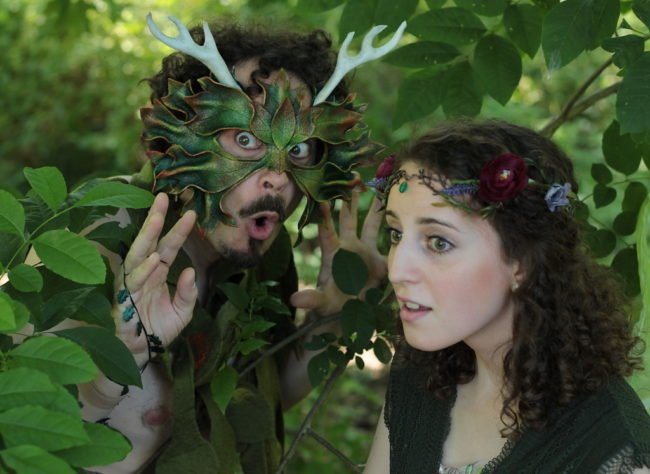 The stage is set as the inside of an Irish family home which masterfully created an intimate, multi-purposed space. While stunningly crafted, its one modern step-ladder seemed oddly out of place, and as a whole, it often clashed with the text, which takes place mostly in the forest outside of town. The lighting compensated for any dissonant moments, however, and evoked the forest with the help of dancing faeries and dryads, performed by Madie Kilner, Katherine Kemp, and Julie Olsen.
The Mayor of Galway and Lady Montbrook, played by Addison Switzer and Laura Russell, respectively, were cleverly double-cast with Finnvara and Oonagh, the faery King and Queen. Both commanded the stage in each of their roles, and while their performances were uniquely captivating, they were very nearly overshadowed in the best possible way by their stunning costumes, designed by co-director Stephanie Mumford. The same command of the space could be said of Puck, played by Ian Blackwell Rogers, whose satyr-like movements and energy brought life to his scenes.
Ladies Aveline and Margaret, played by Angela Kay Pirko and Laura Rocklyn, and their off-and-on-again lovers O'Connor and Lord Gregory, played by Seth Rosenke and Grant Cloyd, were multi-talented singers, dancers, and actors who carried their physically demanding roles with ease.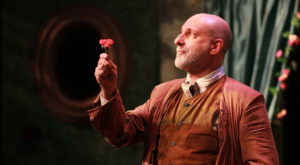 No less entertaining were John Decker, David Dubor, Leah Mazade, and John Allnut as Shakespeare's rude mechanicals, presented here as the household staff. Each brought their own splash of comedy, from Decker's delightfully flustered Reverend Quince, Dubor's alternatingly subtle and bombastic Bottom, Mazade's earnest and eager Mrs. Starveling, to the scene-stealing Allnut's perplexed but well-meaning Phin the Yardsman.
The live music was an engaging touch for a play whose setting thrived so intensely on music, and it allowed for the play to embrace, rather than rush through or cut, Shakespeare's many songs and dances. Music Director Peter Brice, along with Mazade on cello, and Samantha Suplee on fiddle brought the audience into the setting.
Quotidian Theatre Company has creating something that is lively, creative, and fiercely entertaining. Fans of music, dance, or Shakespeare, even those who have seen Midsummer many times, should not miss this production.
Running Time: 2 hours and 15 minutes with one intermission
An Irish Twist on A Midsummer Night's Dream plays through August 12, 2018 with Quotidian Theatre Company currently playing at The Randolph Road Theatre— 4010 Randolph Road in Silver Spring, MD. Tickets can be purchased at the door or in advance online.