If it were done when 'tis done, then 'twere well it were done quickly. With expedience and precision one can readily say 4615 Theatre Company's production of Shakespeare's Macbeth were done both well and quickly. Directed by Jordan Friend, this intimate production unfolds in the laps of the audience, shaking tremors of terror and raw Shakespearean storytelling into the minds of 30 individuals at a time, ensuring that they shall burn for dreams restlessly and indeed sleep no more.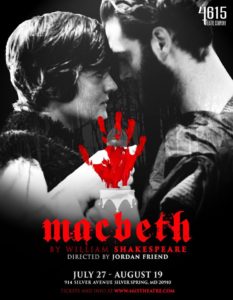 Director Jordan Friend's approach to the production is a unique one for while he stays true to the text and relies somewhat on a tried and true backdrop of history— an almost ancient magical feel of woodland denizens— it's the delicate instruments of light and sound with which Friend treats the production that makes it stand out and haunt the dreams of its surveyors. Friend, who doubles up as the show's Sound Designer and Musical Composer elevates the Shakespeare-in-your-lap experience with these divine vices, fully utilizing the compact space to allow for full penetration of his concepts.
The rectangular outstretch of the play space is confined and narrow but that does not stop Friend and his production crew from creating a thoroughly captivating production. Scenic and Properties Designer Brian Gillick drapes the walls with a netted camouflage, earthen and bosky in its color and appearance. Costume Designer Benjamin Weigel follows suit using coarse fabrics, loamy and muted, to carry on these theme of being steeped deep in the Scottish woods of Dunsinane and Burnham. Muddy browns, blended mosses, and shaded grays comprise the color palette of the show's aesthetic and only serve to enhance Director Jordan Friend's fearsome soundscape.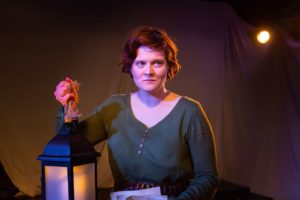 Friend captures madness and fear, two driving components in the telling of Macbeth, in the peculiar sound design that he uses, which is comprised primarily of startled birds flapping away en masse, those same birds cawing eerily like stolen echoes in a forbidden sky, and a wuthering wind, restless and ominous, whenever the Weird Sisters appear. Having composed original score music for the production, Friend enlists Linda Bard on cello and Nahm Darr on setar to further enhance the experience. Critical scenes are riveting with chills when Bard and Darr play Friend's score, creating heightened excitement and foreboding. Tying these ominous elements together, Lighting Designer Dylan Uremovich uses a lot of stark and suddenly striking lighting cues to drive home the impact of these visual accents.
Focusing on the Weird Sisters is not such an unusual concept; many a director and production of Macbeth has done so in the past. Friend chooses to add an additional layer of complexity to this notion by truly making the Weird Sisters ministers and instruments of death. Watch the way they tug and push at life forces; this in itself is a fascinating component of the production that sets it apart. Movement Specialist Paige Washington guides these and many other physical motions throughout the performance to create a surreal otherworldly experience.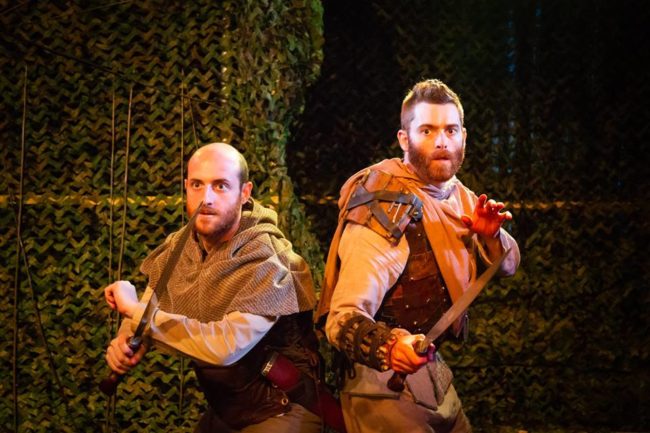 The ensemble is strong; they are well-versed of Shakespearean tongue, speaking it with ease, readiness, and a fully forward expression of both emotion and ideas. Katie Abramowitz, playing the deeply timid Fleance and the sprightly and almost flighty daughter (rather than son) of Macduff, is a delight to watch, especially because the two characters— though briefly penned as Shakespeare made them— are so vastly different in her portrayals. Jack Russ, first as Angus and a Servant and later as Young Siward, is equally engaging and holds his dignified head up high when charging into battle as the valiant, albeit green, young soldier.
He prays us 'remember the Porter' but tis unlikely James Allen Kerr will be forgot as the aforementioned Porter owing to his rowdy nature and bombastic outbursts. Kerr is a bit of a comic cad (just watch his third tenant of drinking… "great provoker of urine" …in action) but well balanced in his grumbling and griping. For reasons unbeknownst, Kerr appears later in scenes alongside the murderers, Charlie Cook and Steve Lebens, but those darkened characters are indeed foul of presence and create unease whenever they stalk about. Lebens also doubles as the most reverent Duncan, a smart casting decision from the director in this case.
Double, double, toil and trouble— Alani Kravitz, Linda Bard, and Morgan Sendek round the cauldron bubble! The trio of witches, all double-cast (as Lady Macduff, Ross, and Donalbain respectively), are a most intriguing part of this cast. With minimal props and no distracting scenery, Kravitz, Bard, and Sendek use their own voices as the vices with which they twist and distort Macbeth's mind. The three do not speak as one but often use one voice, mimicking one another in their chanting, sharing the sentiment and sickness of their spell as if they were but one individual. This adds further to the unsettling feelings created throughout this performance.
Tis rare for a performer to be noted more for his secondary role than his primary but Joshua Simon leaves a lasting and darkly comedic impression as the Doctor, though he is principally treading the boards as Banquo. There is a deeply invested physicality in his Doctor character, a mincing walk, an affected voice, a worried face, while Simon's Banquo is straight forward, delivered in earnest and rather ordinary. This is not to say that he does create a compelling character in Banquo, particularly during the infamous dinner scene, but rather that his affected character creates a durable footprint in the mind's eye in this performance.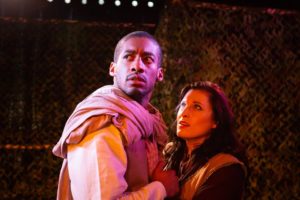 Bratty Malcolm (Brendan McMahon) is oft a character overlooked despite his importance in the tragedy. McMahon makes the audience take note, particularly during the heated exchange between his character and Macduff (Tim German.) While this scene is often tedious and laboriously stretched out in its entirety, McMahon and German swap a myriad of expressions, emotions, and ideas, leveling the playing field with one another back and forth, creating this fascinating private exchange to which the audience becomes intrigued flies on the wall for this clandestine bartering of plans. German, ferocious and full of a raging heart, is an exquisite Macduff. Goosebumps assail the skin and shivers assault the spine when German grits out his lines about "…must feel it as a man…" after the news of Macbeth's siege to his castle is delivered. It is a harrowing and yet powerful moment to watch German's Macduff barely cling to the final filament of his emotional sanity with the rawest hint of composure in that delivery.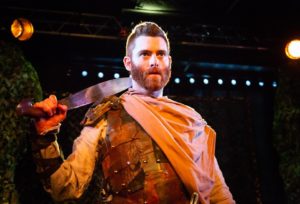 Full of scorpions is the mind of Macbeth (Jared H. Graham.) Vigorously vim, Graham's Macbeth is sorely and immediately conflicted in his initial soliloquy; there is a rambling of a divided soul unchecked that drives his speech. Readily drawing to the surface the milk of human kindness, which Lady Macbeth (Charlene V. Smith) attributes as his weakness, Graham creates a versatile humanity inside of the Scottish tyrant that dissolves quickly into putrid villainy beyond the darkest pale once he's awash in the acidic blood of murderous deeds. Smith's Lady Macbeth pours her spirits into our ears as she tries to gush forth the glee of potentially becoming queen. Creating an equally versatile characterscape from Lady Macbeth's plight, Smith engages the audience with her descent into darkened madness by way of varying volume and blank expressions upon her face. The pair are lusty, intensely driven in their carnality toward one another, and create a fascinating dynamic as they interact with one another as well as the other entities of the play.      
Catch it in rep or on its own; Macbeth at 4615 Theatre Company is a unique and must-see summer experience. There is little else to be told of the experience without spoiling the possibilities for potential viewers, so seek to know no more!
Running Time: 2 hours and 20 minutes with one intermission
Macbeth plays in repertory with Dinner at 4615 Theatre Company housed in the Highwood Theatre— 914 Silver Spring Avenue in downtown Silver Spring, MD. Tickets are available at the door or in advance online.