You've been invited to a marvelous weekend! Aren't you lucky to all be at Third Wall Productions' Something's Afoot? You're stimulated by the music in the air, there's murderous mayhem everywhere! Some dazzling costumes with flash and flare! And watch out you don't get grabbed on your derrière! It's a remarkably humorous and uplifting production, despite the fact that the bodies are piling up in the library by the dozen! Directed by Mea Holloway with Musical Direction by W. William Zellhofer, this thrilling spoof of murder mysteries everywhere is a rollicking good time and guarantees to be a splendid laugh all two weekends that it runs!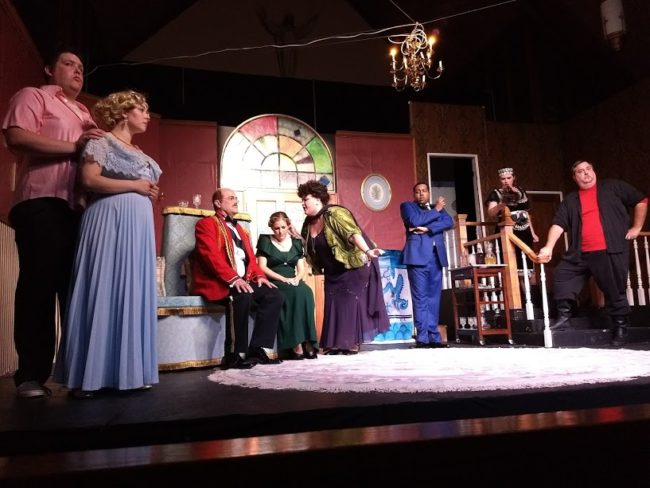 In true Third Wall Productions' style, the theatrical family of creatives are hard at work to fabricate a lavish set, decadent costumes, and the most ambitious special effects this side of Baltimore seen on a community theatre stage. Set Designer, builder and Special Effects Master Jordan Hollett has outdone himself between the numerous doors, that lend themselves to the somewhat farcical nature of the show, the varied wallpaper linings, and overall interior appearance of Rancour Manor. Assisted by Set Dressers and Decorators Jenifer Grundy Hollet, Amy Rudai, Emma Hawthorn, and Ann Pallanck— with Lady Hollet taking up the role of Property Mistress, the set is quite striking and serves the various shenanigans of the show quite soundly. Mister Hollet should again be praised for his astonishing special effects work, which to keep from being killed by falling light fixture or poison blow-dart for spoiling the show, can only be said that they're exceptional and truly to die for.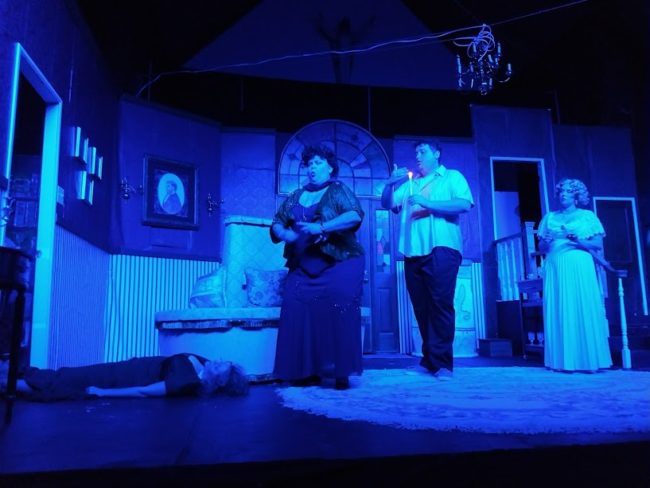 Lighting Designer Derek Zellhofer, working with Lighting Director and Sound Director Zacharias Stuart, create some impressive effects all their own for the mysterious, yet hysterical, happenings inside Rancour manner. The thunder is very convincing and well timed with the shuddering light blinks that create the illusion of lighting. Zellhofer and Stuart have created atmospheric enhancement with their lush sensually colored low-light during the romantic numbers but their shining glory is truly the "blackout" effect they use once the power has been cut from the storm. Thrusting the stage into a UV shade of blue, Stuart and Zellhofer's combined efforts create the notion that the actors are in total darkness, while enabling the audience to see them as if we ourselves wore night-vision goggles. The effect is simple yet extremely effective.
In true Cluedo fashion, Costume Designers Jenifer Grundy Hollet and Mea Holloway have swept the rainbow— in sharp hues that pop— for the show's sartorial selection. We've got a potent range of colors on each of the weekend guests once they change into their party attire for evening and it's a delightful array of decadence that well suits the show. The posh plum affair that Tweed slips into after stepping out of her namesake's suit, is just one of several eye-catching costumes. The emerald evening gown featured on Lady Manley-Prowe, the toast of high society, is even more dashing. But the outfit that outdoes them all is the snazzy sapphire suit saved for Nigel Rancour, which is as bold and outspoken as the character himself!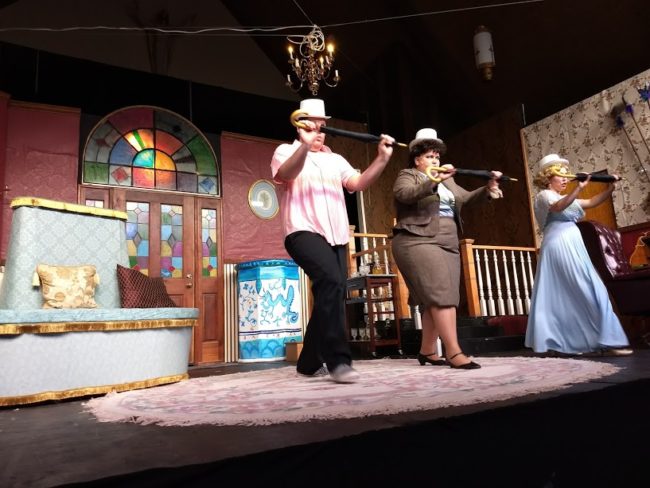 In a murder mystery musical there doesn't seem as if there would be a proper place for dancing, however Choreographer Jillian Arnold has outdone herself with some of the musical numbers when it comes to fancy footwork and fleet feet. Whether it's the mock tango during "Problematic Solution (The Dinghy Song)", the full-caned kick-line featured in "Carry On", or the train-rolling, good old-fashioned Broadway tophats and umbrella canes trio line during "I Owe It All", Arnold puts pizzazz into these steps and really highlights the movement of these routines, adding another layer of enjoyment to the production.
William Zellhofer, the one-man wonder-pit, is the show's musical director and plays the entirety of the show on a single, albeit well-endowed, keyboard from just below the stage's proscenium apron. Rocking solos and having perfect timing with his vamps that underscore particularly humorous and suspenseful moments in the script, Zellhofer manages to electrify the score the show and really gives an authentic feel of lively music without pulling the focus from the performers on stage. Creating a harmonious sound among the ensemble for numbers like "Suspicious" and "A Marvelous Weekend", Zellhofer coaxes the power of dozens from a cast of just ten and it's a glorious sounding thing.
Director Mea Holloway, with Assistant Director Michael Zellhofer, work tirelessly to tighten the pacing of the show. With a show like Something's Afoot, coming timing is everything. Holloway's ceaseless efforts are not in vein as a great many of the jokes have superseded their ceiling of hilarity, erupting into new levels of humor as the scenes— particularly those that involve disposing of bodies into the library— escalate. Both Holloway and Zellhofer take roles in the production, moving the production like a killer ensemble piece. There are moments too funny for words, many of which are owed to the camaraderie and familial sentiment that Holloway and Zellhofer have readily inspired among the cast. This is reflected in the way they play the show, creating a zesty energy that radiates out to the audience, all but begging us to engage in this uproarious journey with them.
It's a round-up of the usual suspects when it comes to the crazy cast of characters in Something's Afoot. There's Dr. Grayburn (Thomas Rendulic) who is seasoned in his medical knowledge and short-lived in his stage appearance. Rendulic, who affects a most ingenious caricature type sound for his character, fits well into the assembled gathering of those invited to Rancour Manor for the weekend. Rendulic, who doubles up later in the piece someplace else, which again shouldn't be mentioned to many times round so as to not spoil the fun, adapts a different but equally as entertaining accent when taking on that disembodied role and really makes sure that his spirit is remembered.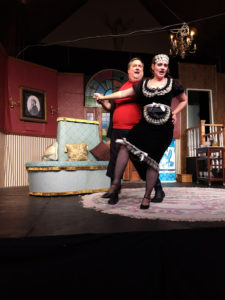 With flavorful varieties of English accents bouncing all over the countryside (and into Ireland, Scotland, Wales, and then some) we hear the most outrageous sounds coming out of the hired help, Lettie (Jillian Arnold) and Flint (Michael Zellhofer.) With popping personalities and gripping gumption, both Arnold and Zellhofer are a scream. With a delightful voice, Arnold adds excellent blends to the women's number "Carry On" and makes the duet she shares with Zellhofer, "Problematical Solution (The Dinghy Song)" a hoot. The pair are constantly snapping at not only one another but at others. Zellhofer makes the most out of his sexual innuendos every time they pop up, which they do with great vigor.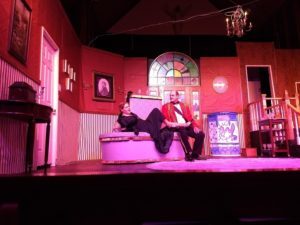 Not quite mustard, though potent as the condiment, Colonel Gillweather (Bill Bisbee) hands down wins comic timing of the show during his final moments. His expert delivery and skillful adeptness at zipping home a concise series of puns is to die for. Pairing off against the haughty Lady Grace Manley-Prowe (Lizzy Jackson Flieschmann), Bisbee puts a "cold-fish" edge his character when she starts saucing him up during "The Man with the Ginger Moustache." Flieschmann, who intentionally slathers on the seduction in that number, is absolutely electrifying as the falsely-pretentious lady of society.
In murder mysteries there are always a pair of ingénues and in Something's Afoot Hope Langdon (Mea Holloway) and Geoffrey (Joey Rolandelli) take the cake. Holloway has a delightful voice, which is well suited for her gooey love solo "You Fell Out of the Sky". Dulcet and dopey, Holloway floats along in haze of heaven right up until things start to get truly scary for her character. Paired off against Rolandelli, they both show a cheeky and flirtatious side during "I Don't Know Why I Trust You", and the pair dance delightfully and sing sublimely together for this little tune. Once they hit it off, the pair are inseparable and rise to the occasion with nearly as much virility as the Flint character.
Going head to head for show-stopping, scene-stealing, focus-pulling, attention-grabbing, happy hamming lead player, J. Purnell Hargrove and Jenifer Grundy Hollet— playing Nigel Rancour and Miss Tweed respectively— are sensational and seriously deranged. Though Hargrove's character is featured as more of a cameo and the Miss Tweed archetype is forced front and center, this does not stop the pair from running and owning the show. Though they almost never pair off directly— their storylines don't jive that way— they find their own little moments and unique little ways of stealing all the thunder— including that from the sound effects department— that the show has to offer.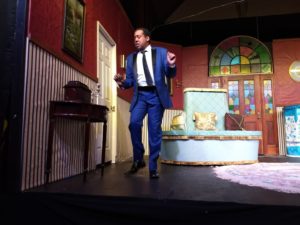 Hargrove is a class-A ham. With his severely flamboyant affectation, both in gesture and in voice, he pops the Nigel character full of vim, vigor, and vivacity. The facial expressions he pulls, especially when responding to some of the more outrageous occurrences throughout the performance, are a true scream. Fully embodying the personality of a hot-shot spoiled little rich boy, his entire rant and run through "The Legal Heir" is not only a phenomenal and hilarious number but showcases his tremendous vocal capabilities.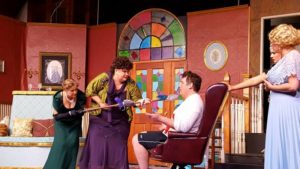 Hollet goes toe to toe with Hargrove, with facial expressions, with absurd outcries, with gestures, and then some. Gifted of voice, bold and pitch-consistent, Hollet knocks the role of Tweed clear out of the park. The way she whisper-patters through "Suspicious" is gut-bustingly hilarious to the point of having the audience in tears. Leading the women through "Carry On" showcases her boisterous and brazen personality. And bringing it home, Hollet takes point on leading "I Owe It All", yet another show-stopping number.
It's a scream. It's a laugh. It's a barrel of laughs, a murder of laughs, as it were— and something is definitely afoot! This is one hysterical feel-good production that you do not want to miss! So get your tickets to this marvelous weekend and be sure to see all of these insanely performative people doing their best to bring levity and a good time to a world that could definitely use a laugh at this point in time.
Running Time: Approximately 2 hours with one intermission
Something's Afoot plays through October 15, 2017 with Third Wall Productions at St. Thomas' Episcopal Church— 1108 Providence Road in Towson, MD. Tickets are available for purchase at the door or in advance online.