Annapolis Shakespeare Company opens its main stage with a lavish, lush, magnificent Much Ado About Nothing, Shakespeare's most genuinely romantic rom-com. Director Sally Boyett has given it a 50's spin, with a rock-and-roll soundtrack and a spectacular Tuscan villa (by way of California), with a two-story stucco house and terra-cotta dance floor (by scenic designer Jack Golden).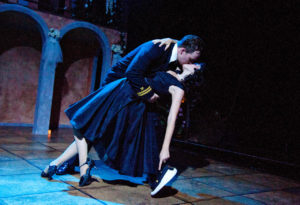 Helena Farhi and Benjamin Russell play Shakespeare's greatest lovers, Beatrice and Benedick. Farhi navigates Beatrice carefully and precisely, letting Beatrice's sharp edges show, but also the genuine chemistry for Russell's witty Benedick. They announce their mutual dislike in a flurry of wits, but Russell doesn't lose a beat as he lights her cigarette; it's an astute choice.
Beatrice is formidable in her pink polka-dotted sun-dress, one of just many costume changes that create a sense of luxury by costume designer Sandra Spence. Also very sharp: the men have all been transformed into American sailors, their uniforms brightly white and tightly creased (and very appropriate with the Naval Academy just down the street). 
As Beatrice and Benedick carry on their merry war of words, an apparently more innocent romance carries on between Claudio and Hero (Joshua Williams and Olivia Ercolano). They have a very sweet chemistry, but there is more darkness under the surface, ably foreshadowed by Ercolano. Another romance, between Borachio and Margaret (Matthew Castleman and Bethany Mayo), is often overlooked, but they create some real heat and passion. Mayo brings likeability and charm to Margaret's sass.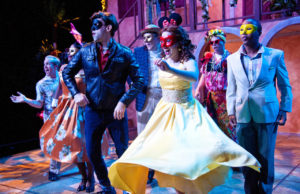 Boyett keeps the blocking and pacing lively through the cleverly-staged "gulling" scenes, where Benedick and Beatrice are tricked into admitting their love for each other. The boys are joined by Ian Charles' doo-wop version of "Sigh No More", with Claudio, Pedro (Brian Keith MacDonald), and Leonato (Frank Moorman) shoop-shooping behind him. Much Ado is a very musical play, and Boyett has filled it out with even more spectacular dance numbers, led by some slick moves from Mayo and Castleman. MacDonald and Farhi also have some spectacular chemistry in one of the play's most heartbreaking scenes, an early glimpse into Beatrice's genuinely tender heart.
Moorman's Leonato gets an unusual companion this play: his brother Antonio has been replaced by a wife, Innogen (Claire Schoonover). While I'd have liked to have seen more from Innogen during the crux debacle of the play, Schoonover really shines when she finally lets Claudio have it. Beatrice may wish to be a man, but Innogen gets the text of one, and Schoonover nails it.
Shakespeare intersperses these scenes of high romance and high dudgeon with some of his most inspired outright silliness: Scott Small wears his Boy Scout uniform and yellow stockings with pride as Dogberry. He's joined by a nerdy George Seacoal (Jack Russ, in glasses with tape) and a doddering Verges (Phil Bufithis). Together, they make a splendid comedy team.
Everything about this production is lavish: the costumes, the sets, the music, the dance. Even the cast of 20, more than Shakespeare called for, giving a very full sense to the town of Messina, and everybody getting at least one moment in the sun (like Joseph D'Angelo's Richie, given some of Antonio's lines). And a very warm sun it is: lighting designer Adam Mendelson gives us a hot California afternoon, perfect for sunbathing and romance (and definitely too hot to work).
This is a tremendous show: hilarious, touching, and consistently entertaining. It's an extravagant way to introduce Shakespeare to his new home in Annapolis, and hints at many more to come.
Running Time: 2 hours and 20 minutes with one intermission
Much Ado About Nothing plays through October 29, 2017 2017 on the Main Stage of Annapolis Shakespeare Company— 1804 West Street Suite 200 in Annapolis, MD. For tickets call the box office at (410) 415-3513 or purchase them online.