Today is the day you've been waiting for forever. Are you ready to let this be the day that something happens? Then hello, Havre de Grace, Maryland! This year— 2017— this day— in the month of October— is going to be the day where everything you've ever waited for finally happens! Making its national community theatre debut, Tuck Everlasting, the musical, soars superbly into the main stage of The Historic Havre de Grace Opera House as the inaugural production of Scottfield Theatre Company. Directed by Allan Herlinger with Musical Direction by Richard Hauf & Niki Tart and Choreography by Becky Titelman, this heartwarming coming of age tale will mystify you with its marvelous music, enchant you with its epic story, and thoroughly move you with its memorable performances.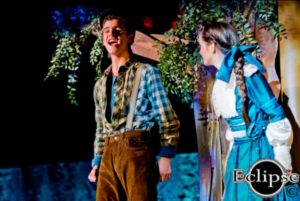 Excitement and enchantment awaits theatre goers of Harford County as the national community theatre debut of Tuck Everlasting unfurls right in their own back yard. A tremendous honor for the brand new company, Scottfield Theatre Company, to be able to produce the show almost directly following its short-lived Broadway run, audiences will be thrilled with the timeless story, based on the novel by Natalie Babbitt. With Book by Claudia Shear & Tim Kederle, Music by Chris Miller and Lyrics by Nathan Tysen, this mesmerizing tale is fantasy, fiction, and reality all wound carefully into one enchanted evening of theatre. Director Allan Herlinger produces a quality production that supersedes the expectations of community theatre, particularly when it comes to the grandiose scale of production values in this show.
Though at first the scenery seems simplistic, Set Designer Chuck Bowden puts a blaze of imagination to work in the basic painted background scenescape that he uses to encompass multiple locations throughout the show. The show's focal point, though affixed to the right of the proscenium apron, is the wood of Treegap, New Hampshire, in particular a large hand-crafted tree with roots that spill down the front of the stage's apron. Working closely and carefully with Lighting Designer William Price and Properties Mistress Heidi Pensel, Bowden's set takes on a life of its own, especially when it comes to the more enchanted elements— like all of enigmatic faire booths and the slow-spinning boat out on the lake. It's here in the scene on the lake where Price's light work is most noteworthy, with the shimmery watery gobos creating a most astonishing effect for "The Wheel." Bowden's spinning house, which folds inside and out, is another sturdy piece of scenic design that keeps the show's transitions moving smoothly.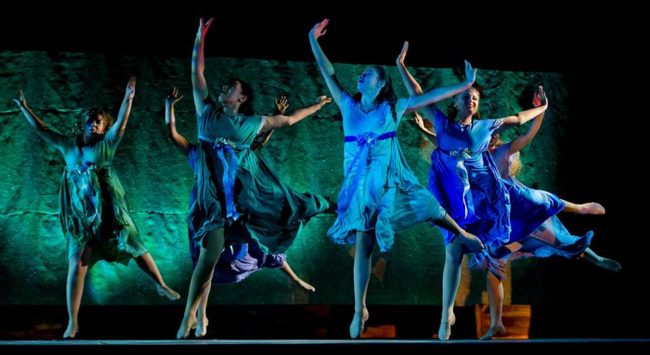 There is a magic that crackles through the storyline of Tuck Everlasting. Choreographer Becky Titelman encapsulates that magic— like catching fireflies in a mason jar and shaking them about in a dizzying whirl of beauty and enchantment— by creating will-o-the-wisp type characters out of her female dance ensemble. Seen in flowing dresses of earthen jewel tones— primarily the hues of sapphire, turquoise, amethyst, and emerald— these woodland sprites flit about with ballet-informed movements, often convincingly shifting scenes about in a manner that distracts the audience from noticing their functionality of "furniture mover." These mystical movers appear with solid consistency throughout and leap most gaily with the spirit of time that possesses them.
"Partner in Crime" is the true crowning glory of Titelman's choreographic achievement, defying description that would do it justice for the intensity, variation of style, and ability to adhere to the music whilst engaging almost the entirety of the ensemble in an upbeat, and fanciful series of engaging footwork. This becomes the show stopping number, though goes toe to toe with the mesmerizing and emotionally stirring choreography featured during the penultimate scene of the show preceding "The Wheel (Finale)." Composed as an emotionally evocative and deeply moving ballet of time, Titelman puts every available ensemble dancer to work, telling the passage of time through Winnie's life, in a fluid and strikingly beautiful ballet that again defies description.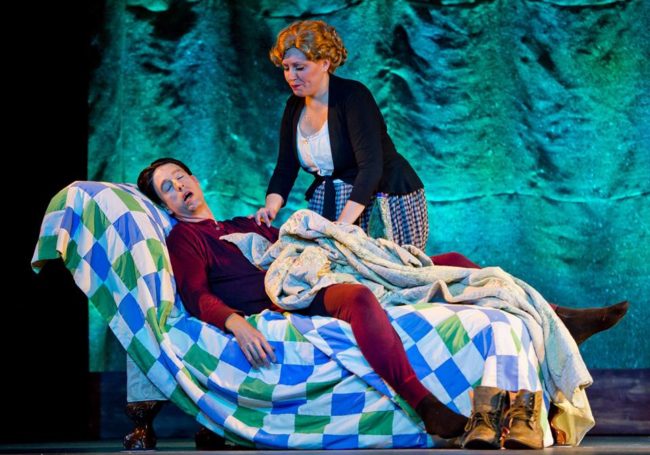 Enhancing the enchantment and overall aesthetic of the production, Costume Designer Gay Lynn Price fabricates a fantasy land that is realistic to both the time periods of 1808 and 1894 as well as the whimsical element of the magical wood. Going so far as to recreate Winnie Foster's dress from the original Broadway production— designed by Gregg Barnes— Price works miracles in finding the perfect fit for everyone in the production. The man in the yellow suit has the most repugnant and sleazy looking affair, appropriately a garish shade of yellow with gold and umber accents in the vest work, to add an extra lair of villainy to his character. The costumes Price concocts for the faire performers are dazzling in their shiny red sequins, laid evenly against black and white stripes. All round, Price's sartorial selections best befit the overall mood and atmosphere of the show.
The powerful ensemble (Stephanie Atha, Gabriel Bordner, Ellie Ford, Jimmy Hansel, Phil Hansel, Michelle Hosier, Gemma Menges, Lisa Rigsby, Maddie Saldana, Matt Tart, Braeden Waugh), under the musical guidance of Niki Tart and Rick Hauf, create powerful sounds, coming together in strong unison for ensemble numbers like "Partner in Crime", "Ev'rhtying's Golden", and "Live Like This." The sounds produced from this union of voices does a great justice to Chris Miller's stirring musical score. With gusto and a robust roundness, the ensemble transports the audience to the lively magic happening just inside these woods of Treegap, New Hampshire.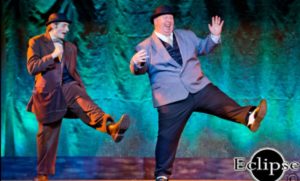 Downplayed as the subtle comic relief team, Hugo (Jesse Hutchinson) and Constable Joe (Chuck Hamrick) are readily engaging and keep the audience chuckling delightfully through their series of antics. Hutchinson adapts a spastic and clumsy nature to the junior deputy of Hugo, making him loveable if a bit peculiar and awkward. His big breakout number, "Hugo's First Case" is hilarious and yet precious, as the poor dolt fumbles, stumbles, and traipses his way through the song. Hutchinson is remarkably earnest in the goofiness of the character, earning a cherished pity and a loved series of delicate laughs from the audience when going about this solo. Adding a great deal of accidental humor to his interactions with Constable Joe, Hutchinson takes great glee in trying to take charge of the case. Hamrick, as the earnest man in charge, is the epitome of what a constable character in this situation ought to be. With a surprisingly radiant sound, he takes to singing "You Can't Trust a Man" with great resplendence, sharing the duet with Hutchinson. This number is a crowd-winning song, earning both men a well-deserved series of applause.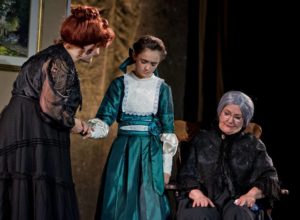 Adding her own little delights of comedic relief, Nana (Pam Provins) is a delightful addition to the dynamic shard inside the Foster household. Featured in scenes with Mother (Jill Murray), and of course with Winnie, Provins proves to be that quirky old lady character, who mouths off appropriately with Man in the Yellow Suit. Sharing the number "Good Girl Winnie" with Murray, whose singing voice is delicate and dulcet, she fits into the family portrait with ease. Both Provins and Murray are only ever seen in mourning blacks, a strong reminder that Winnie's father has passed on before the play gets underway.
The Tuck Family is a vocal force to be reckoned with, a spirited quartet of individuals who each bring their own stunning strength to the show. Miles (Gabriel Webster) is the sensible, albeit brutally tempered, Tuck, whose anger often precedes him onto the stage. With a fuming fury that guides most of his vocal and verbal interactions with the others— especially with his brother Jesse— it is an astonishing treat to witness the more versatile side of Webster's character when he settles down into the solo "Time." With a voice that is surprisingly smooth, considering the character's consistent anger, Webster mellifluously expounds the bittersweet memories of his existence through this number, and wends a tale of heartache, heartbreak, and love with just his words and expressive voice.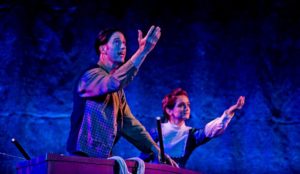 Mae Tuck (Elizabeth Marion) and Angus Tuck (Donovan Murray) are too precious for words once their backstory of love and grace begins to be explored. At first, Murray's Angus is too goofy for words, his gangly physicality flailing about as he goes bounding around the stage, limbs going every which way when he takes off in a sprint. But there is a sincerity and earnest level of truth to the way that Murray approaches Angus, which is readily exposed through the thin surface layer of silliness in which he's coated the character. His stunning duet, "The Wheel", shared late in the show with Winnie, is truly moving and draws a tear to the eye, but it's the "Beautiful Day (Part 2)" number, that he shares with Marion, as Mae Tuck, that chokes up the throat with tears of joy. Marion, who leads into that duet with a stirring solo of her own— "My Most Beautiful Day"— is convivial and maternal in every sense of the word, with delectably sweet and dulcet tones that soar through her solo and duet numbers. Sweet on both of her boys, her husband, and even the young wandering Winnie, Marion creates the epitome of a storybook mother, loving, honest, concerned, and open.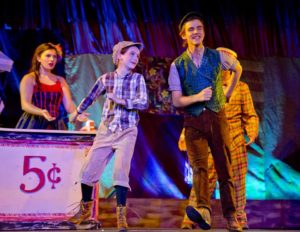 Last but by far the least of the Tuck family is Jesse (Josh Robinson.) Full of vim, vigor, gumption, and spunk, Robinson's Jesse is wild both at heart and of voice and movement. He races and roars with energy and enthusiasm through "Top of the World", thrilled to have encountered Winnie and eager to share his experiences with her. With that same indefatigable energy, he barrels through his verses of "Story of The Tuck" and carries it over with great enthusiasm into "Partner in Crime." With a limitless supply of energy, constantly burbling and bouncing through him, Robinson is the show's namesake, a true Tuck Everlasting, and when he shares duets or moments with little Winnie, they become some of the most priceless and memorable in the entire show.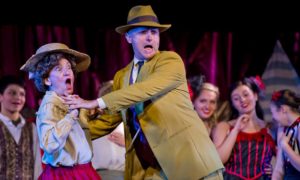 For every wondrous adventure, for every exciting story, there comes a knave, a villain, a baddie. Tuck Everlasting' s very unique urchin of the underworld wears the skin of a Carnival Barker, trussed up in a repugnant shade of yellow, not unlike egg yolk dried in the sun. The Man in the Yellow Suit (Ralph Bordner)— whose character is so vile that he's only ever referred to by his wardrobe— is a slithering snake, a revolting rat, a wriggly weasel, and vile viper, all rolled into one conniving and charismatic charmer. With a forked silver tongue that would easily cleave the strongest of heroes in twain, Bordner slinks along through scenes and slithers through songs with an unctuous disquiet that makes the skin crawl. His voice, as slippery as his personality, transfixes the audience for "Ev'rything's Golden", poisoning the ears of everyone listening as they find themselves hypnotized despite knowing his breed of evil. Remarkably engaging, Bordner is the vilest of vile when it comes to embodying this character.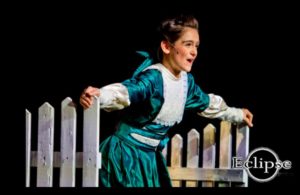 That just leaves little Winnie, played astonishingly by Sofia Bordner. With gumption, pluck, spunk, precocity, and a tenacity that will not quit, not to mention a vocal talent that soars above and beyond most children her age, Bordner is Winnie Foster. There is an undeniable spirit that just radiates through her and out into the audience. Carrying the felicity, liveliness, and emotional gravity of the majority of the show with flawless precision, Bordner brings the character of Winnie Foster to phenomenal and resplendent life. Tears of joy, sorrow, frustration, and love are all felt on behalf of the cast's stellar performance, led and charged by this magnificent and spirited young performer. Bordner is gifted, exceptionally talented, and balances her sweet serene vocal sound against her snappy teenage attitude, making for a perfect blend in the character of Winnie. "Good Girl Winnie" earns the audiences' sympathy for the poor cooped-up character, while "From Attic to Porch" explores the depth of her character arc. But it's her solo "Everlasting" that really springs up the tears, not only from the audience but choking her voice, while still maintaining the integrity of the tune and the lyrics, and bringing her tale to a stunning conclusion.
Tuck Everlasting is emotionally evocative, heart-touching, and truly sensational. Scottfield Theatre Company has created a sensational experience for their inaugural production as well as the national community theatre premiere of this too-short-lived Broadway musical. Get your tickets, because unlike the Tuck Family, this musical is not everlasting, and you'll be filled with regrets if you miss out.
Running Time: 2 hours and 10 minutes with one intermission
Tuck Everlasting plays through October 15, 2017 at Scottfield Theatre Company as guests of The Historic Havre de Grace Opera House— 121 N. Union Street in historic downtown Havre de Grace, MD. For tickets call the box office at 667-225-8433 or purchase them online.
To read the interview with Artistic Director, Becky Titelman, click here.