Pride is a luxury a woman in love cannot afford. And the devilish lengths a woman in love will go to in order to maintain that love is unseemly and unsightly to the modern feminist. But in the world of Clare Booth Luce's The Women, where the utmost priority for the women of society was maintaining a marriage and quashing scandals before they could rise, it's quite a different story. Directed by Fuzz Roark, this dated, albeit oddly charming, piece of theatre is a revolting reminder that women's rights, liberations, and overall placement in the household as well as society has come so far and yet still has so far to go. Remarkably smart to be staging such a piece at such a politically tumultuous period in our present-day timeline, The Women features 17 talented actresses who gives each of their female characters a distinctive voice, even if the messages that Luce gives to the characters is the polar opposite of what women should be vocalizing today.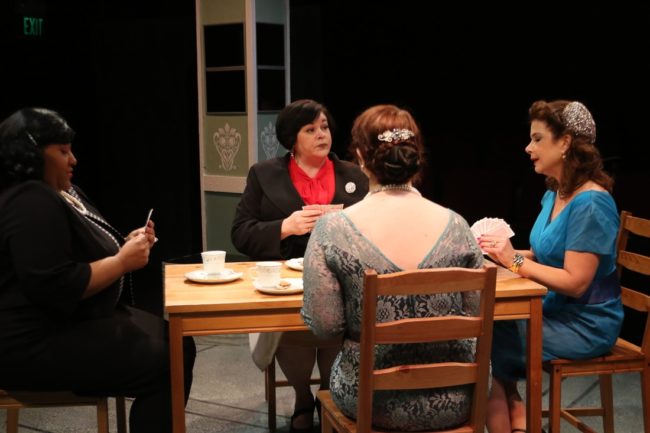 Affluence runs rampant through both the scenery and the costumes of the production. Resident Set Designer Alan Zemla sees to the decadent decoration of the set, whether it's Mary's home or Reno, and is aided in his endeavors with matching upholstery and fabric treatments fabricated by Fuzz Roark and Amy Weimer. The posh aesthetic isn't restricted to the scenic design, however, as Costume Designer Andrew Malone and Costume Team Member Amy Weimer and Darcy Elliot take to ensuring every stitch of fabric is graciously detailed with aristocratic airs. Though some of the costumes are ill-fitted to the actresses, if you can overlook this minor detail the styles and colors are perfectly suited for the play's setting.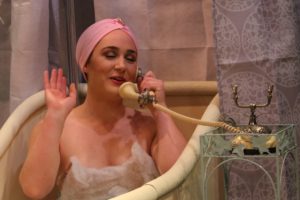 Sound Designer Lanoree Blake deserves a nod of praise for being a clever woman when it comes to covering the intense scenic changes that occur throughout each of these lengthy acts. Director Fuzz Roark, and a crew of what sounds like several dozen, moves swiftly to execute a full furniture change over from one scene to the next, keeping the audience engaged in the momentum of the play by enacting these changes like rapid, albeit clunky and somewhat noisy, lightening. The amount of furnishing that go in and out of scenes are astonishing, but the true crowning glory is Zemla's walk-in bathtub complete with shower ring and curtain.
Praise of the highest nature is deserved of Dialect Coach Sherrionne Brown for her work with the enormous cast. Brown's work is most strongly recognized in the character of Sylvia Fowler, who carries off a flawless 1940's Trans-Atlantic sound with a matching cadence that is just the epitome of the scandalmongering creature that Sylvia is meant to be. Other radiant examples of Brown's work comes in the lower-class New York doll sound featured on Olga (Megan Avery) and the harsh Irish sound quipping out of the mouth of Jane (Christina Holmes) the maid. Brown works wonders when it comes to the dialects and accents of the show and is as much a credit to the show's success as Roark is for directing it with expedience and a seasoned understanding of how to block in the uniquely intimate space.
17 women working miracles to keep the audience captivated by this truly archaic approach to the world is what is happening on the Spotlighters stage. Whether it's the aforementioned Christina Holmes and Megan Avery with their delectably deliberate accents or Lisa Rigsby modeling her sassy lingerie during the shop-girl scenes, each woman has her place in the performance. Ilene Chalmers also comes to mind, taking up the role of Mary' Mother Mrs. Moorehead, and is channeling a sound not unlike Agnes Moorehead in her pre-Bewitched days. Fierce in her advice and even more so in her stage presence, Chalmers gets the job done in her few cameo scenes.
Kate Crosby, who delivers pure sass and ferocious attitude as Princess Tamara while modeling opposite Rigsby, creates fine character work in that persona as well as her snippy Exercise Instructor character. Amie Bell and Amy Bell, who play a plethora of different characters, bring their own servings of sassiness to the table, particularly Amy Bell when playing Miss Fordyce. And who could forget Little Mary (Molly Ross)? Sweet, precocious, and absolutely in sync with the rhythm of her textual delivery, which well matches the cadence of the speech patterns of the time, Ross is an exacting fit for the character of the youngest of the women.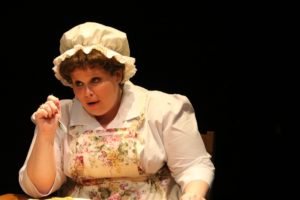 Of all the minor and cameo roles, Amy Haynes is the show-stealer, playing first the slow-talking yet hysterical cook Maggie, and later the "Girl in Distress" during the cocktail-counterpoint-confusion of the show's ending. While that character's existence is completely superfluous, Haynes takes the moment and runs with it, adding honest comedic value to the scene and truly making the hysterics which erupt from it worth watching. Her interactions with Holmes during a brief scene in the kitchen over pie, are equally as priceless and her slow method of speech is wildly hilarious, delivering languid line after line of comedic relief.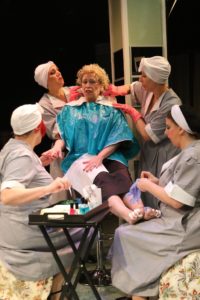 Miriam Aarons (Chaela Phillips) comes late to the party, as it were, save for one brief encounter early on. With spunk and gumption and fierce delivery in moments where it counts, Phillips is a strong force to contend with, especially when it comes to her catty fighting bits (all somewhat chaotically choreographed by Stage Combat Advisor Nick Morrison.) against Countess de Lage (Suzanne Young.) A hysterical hoot, with all her l'amour, Young is in prime comedic condition for the role and understands the exacting nuances of being eccentric yet relevant. Though she, much like Phillips' character is featured much more prominently in the back half of the production, there's no mistaking her initial encounter in the salon in scene two of the first act.  
Edith Potter (Tynesha Haden) and Peggy Day (Nina Krauss) are somewhat expendable when it comes to accountable characters, though they do have somewhat of a significant supporting role in holding up the gossip, slander, and ultimate scandal that revolves around these women. Haden and Krauss do delightfully wonderful things with their character work, imbuing each of their women respectively with little hints of nuance that differentiate these women from the others. Krauss is dippy and naïve, even more so than the blissfully unaware Mary, while Haden's character is hard and matter-of-fact, finding humor in her perpetual pregnancy. Both women play well with the others and add excitement to the scenes where required.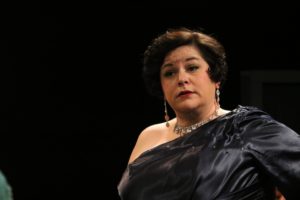 That clever woman Nancy Blake (Andrea Bush) is an absolute fiend when it comes to sarcastic quips that snap from the lips. Bush carries the Blake character with serious panache, punching her way through the thicker scenes with zesty deadpan and sarcasm that could slay the gods. Though Bush's character is short lived, her bookend appearances in the performance are extraordinary and definitely memorable. So too is Kellie Podsednik's portrayal of the strumpet Crystal Allen. Hard, though in a very different fashion from Bush's rendition of the characteristic, Podsednik is tarty, sniping, and all round deliciously unpleasant. Antagonistically engaging, particularly when it comes to snapping at little Mary in her posh British accent, and taunting Mary in the dressing room scene, Podsednik makes it exceptionally easy for the audience to absolutely hate her character without much effort on their part.
Blithe, blissful, bubbling Mary (Michele Guyton) has it all. Or so she thinks. Capturing the essence of the happy housewife character, Guyton plays the character with a charming innocence that shatters into a thousand pieces when her bubble is burst by scandalmonger Sylvia Fowler (Melanie Bishop.) Guyton's moments spent in histrionics are intensely reminiscent of every major dramatic meltdown in iconic movies of the time. Channeling that cinematic melodrama into the way she carries the character, Guyton makes a proper go of playing Mary in all of her phases, including the desperate downfalls and terrific triumphs.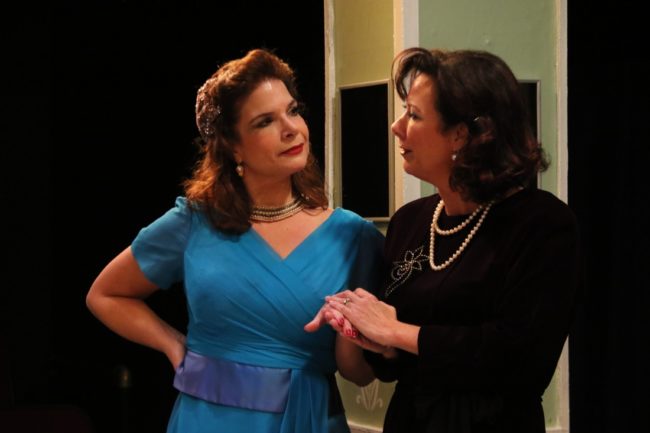 Melanie Bishop takes the show firmly in the clutches of her scandal-seeking claws and shreds it to delectable ribbons. Her physicality embodies a Myrna Loy approach, whilst encapsulating that iconic prestige reserved for the Hepburns of the world. Bishop's accent— so far beyond how she sounds but the way she delivers text— fully embraces the melodramatic flavor of a high society New York woman with a perfect Trans-Atlantic affectation. The heightened sense of excitement and importance with which she speaks, moves, and emotes becomes a dizzying intoxication in which one could easily drown. Bishop holds her own against the arguable protagonist of Mary, and draws the attention to her character in every scene that she graces.
An aptly poignant piece of comedic drama, or dramatic comedy as the case may be, because it reminds women everywhere how important our voices are and what we do with them to establish our place in this world is just as important as everyone else's, The Women is well-worth seeing this season at Spotlighters.
Running Time: 2 hours and 40 minutes with one intermission
The Women plays through March 19, 2017 at The Audrey Herman Spotlighters Theatre— 817 St. Paul Street in the historic Mount Vernon neighborhood of Baltimore City in Maryland. For tickets call the box office at (410) 752-1225 or purchase them online.