You know you've made it in Hollywood when your face is five stories high and six zeros wide. But what about the theatre? Can you ever truly say you've made it there if you haven't played the Bard's greatest role? Doesn't everyone dream of playing Hamlet? Not Andrew Rally, television's hot-shot novice surgeon who moonlights as a nature-loving chipmunk-kissing commercialist on the side. That is, of course until he finds himself in New York City in John Barrymore's apartment, staring down the barrel of a loaded Shakespeare, waiting to explode in his face. This zany comedy by Paul Rudnick, I Hate Hamlet offers an alternative to the Bard's most miserable whining boy— because as it turns out— some people just might hate the Danish Prince. Directed by Tom Colonna, the laughs are hearty, the comedy entertaining, and the evening is well spent with a good cast, great design team, and an overall solid production.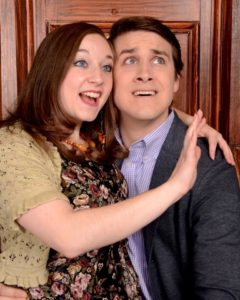 Set Designer Marc W. Smith sets the bar high when it comes to extravagance in the show's aesthetic. Capturing the essence of what could be a fantasy palace that time forget tucked high away in an apartment near Central Park, Smith boldly embodies the decadence and affluence with which Barrymore lived in his construction and overall design of the stage. The high vaulted walls to create the illusion of infinite overhead space, the molding, the windows, even the furnishings— accented divinely by Properties Mistress Lisa Boeren and Set Decorator James J. Fasching— all scream of celebrity status but in a dignified and classy fashion. Fasching, working alongside Costumer Eva Grove, pays due justice to Barrymore in his Hamlet clothing as well as highlighting the staunch differences in apparel seen in the more modern threads of the show business stereotypes.
Smith, who also heads up the Sound and Lighting Design of the production, deserves a great many accolades for this work as well. The sound effects, perfectly synchronized with the naturally occurring theatrical magic of the script, add an enchanting layer of spectacle to the production, allowing the audience to relax into the more nonsensical elements, easing them to suspend their disbelief. Smith's lighting design work is as compelling as his set and he uses these light cues along with a few other special effects to make the most out of the arrival and departure of John Barrymore, among other crucial moments experienced throughout the performance.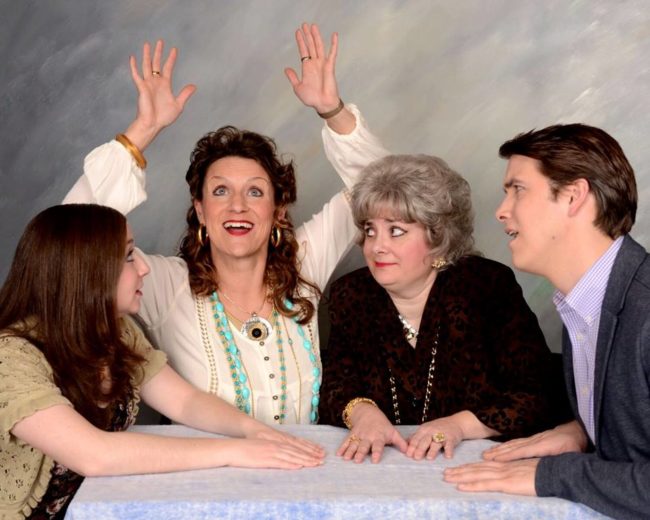 Hamlet is of course known for its intense fencing-fight scene finale, and it would be a shame not to have some nod of homage to that tucked away within the pages of this particularly play. Fight Choreographer Robert W. Oppel ensures that the epic battles of swords between Barrymore and Rally is as diehard Bard-fans expect. The fence-fight routine traverses the enormous set, including making use of the staircase and is done so cleanly and swiftly. Oppel deserves praise for his ability to craft mounting tension in the climactic build of this scene through fancy air-swipes and fleet footwork.
Director Tom Colonna drives a tight pace, which is excellent for the comedy of the production. While accents are a bit iffy, mostly in the supporting cast, the footholds of character development are solid. Colonna draws a fine balanced line between character and caricature, allowing those that need to overstep for humor's sake to do so, while keeping others honest to their character's nature. This is best witnessed in the over-the-top theatrical nature of Felicia Dantine (Jennifer Skarsinski.) Unearthing natural humor in her melotheatrical behavior, Skarsinski hams up the attempted séance scene in a vein that feels quite authentic given the way her character has behaved leading up to that point.  
Phil Vannoorbeeck wafts onto the scene in a cloud of Malibu ozone as the cultural malady Gary Peter Leftkowitz, once again demonstrating the fine line between exasperated caricature and convivial character. While Vannoorbeeck delivers cute Hollywood zips and zingers, Regina Rose— as Lillian Troy, Andrew Rally's stereotypical Jewish agent— takes a subtler approach to her comedy and actually unearths a few tender moments shared opposite the larger-than-life John Barrymore character late in the production.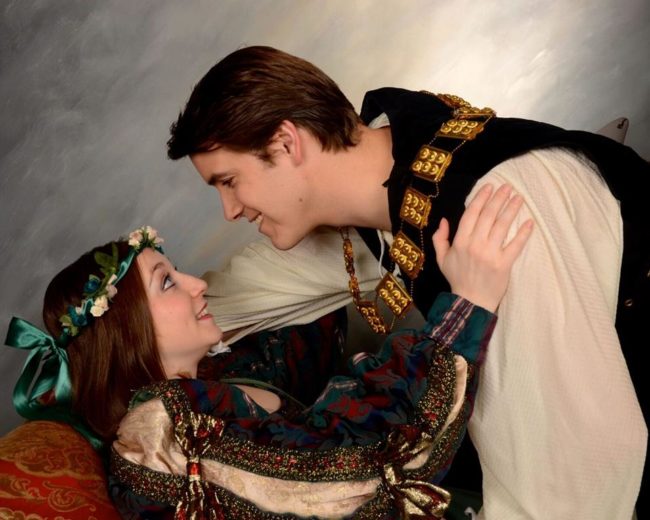 As dippy as she is pretty, Deirdre McDavey (Emily Morgan) is the perfect attaché to a TV personality like Andrew Rally. Morgan plays the flighty and simplistic character in earnest, making her adorable scenes with Andrew even more precious than is possible to describe. Charlie Lidard, playing the aforementioned TV star, works well with Morgan to craft that perpetual yearning of star-crossed lovers whose destinies have not yet fallen upon them. Their moments together are blissful yet intriguing, particularly when it comes to the way Lidard responds to her once he's been visited by Barrymore.
The entirety of the production revolves around the interactions that Lidard delivers as Andrew Rally and what Thomas "Toby" Hessenauer creates as he fills the gargantuan role that is John Barrymore. Lidard is sharp, smart, mindfully present, and gifted with contemporary grace that makes him appear au natural. Hessenauer milks every drop of his booming dramatic existence, taking the classical "ACTING" approach to the Olympian. When the pair start to fighting, it becomes a scene of intense interest as well as a great chuckle.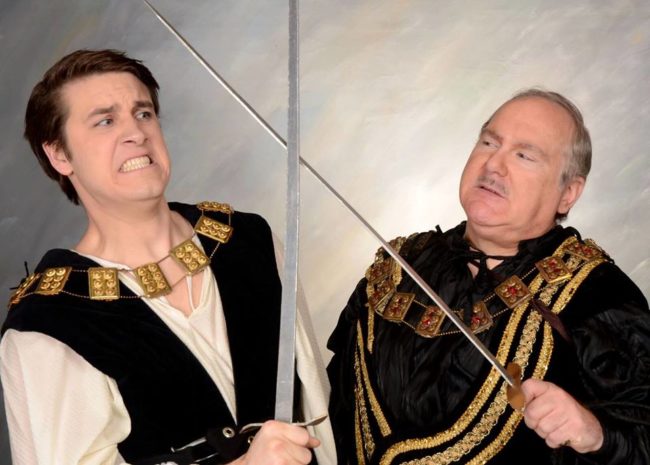 Hessenauer is a colossal titan upon the stage, prancing and parading about as if truly channeling the spirit of the late great man himself. Though there are moments, especially when he shouts on about being able to say he's played Hamlet late in the second act, where he softens, quiets, and falls into an emotional gash frozen in that moment of time. The contrast to his peacock strutting and vocal booming is quite stark and very impressive. There is a charm and a sharp sense of sarcastic wit about Hessenauer's delivery as well.  This makes for a well-rounded portrayal of John Barrymore no matter what angle you look at it.
Hopefully you'll hate Hamlet but love I Hate Hamlet at Dundalk Community Theatre this March. It's a comedy Shakespeare wishes he could have written.
Running Time: 2 hours and 5 minutes with one intermission
I Hate Hamlet plays through March 5, 2017 at Dundalk Community Theatre on the main stage of the John E. Ravekes Theatre in the College Community Center of the CCBC Dundalk campus— 7200 Sollers Point Road in Baltimore, MD. For tickets call the box office at (443) 840-2787 or purchase them online.