Striking and inspiring beauty isn't just in the covered-bridge landscape of Winterset, Iowa. It's possessed wholeheartedly in the stellar music of Jason Robert Brown's The Bridges of Madison County musical, now appearing live on stage in the Eisenhower Theatre of The John F. Kennedy Center for Performing Arts. Based on the novel by Robert James Waller with Book by Marsha Norman, Brown's stunning score of the heart-melting and utterly emotionally mesmerizing love story is populated with bittersweet poignancy and the closest thing to true American Opera the stage has heard since the 80's. An astonishing love story originally Directed by Bartlett Sher with directional recreation by Tyne Rafaeli, the hauntingly beautiful music that wends its way through this epic romantic story will linger with you long after the show has concluded.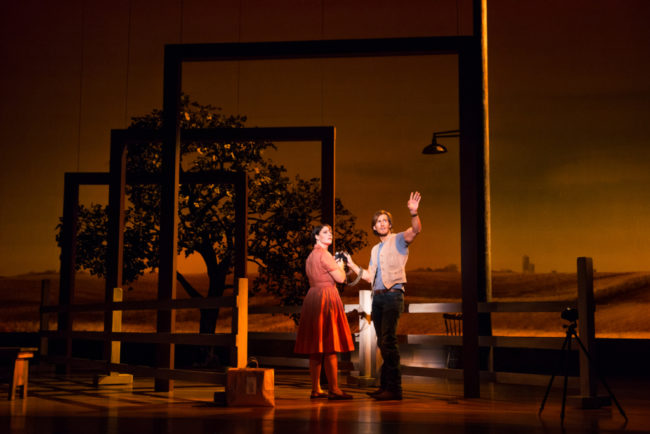 In the modern day of projections and digitization, it a refreshing relief to see authentic scenery in place. Conceived by Original Scenic Designer Michael Yeargan, with additional Set and Adaptation by Mikiko Suzuki MacAdams, the show's landscape portrait exists vibrantly with actual pieces of scenery, including lowered in skeletal house framework and the structural supports of the infamous covered bridges. Movement consultant Danny Mefford guides the ensemble in a dance of scenery as fences and other assorted scenic pieces glide their way on and off stage, threading the scenic shifts through the tapestry of the story as it unfolds. Mefford's influence reads as a gentle spilling of paint from one medium to the next, falling along the main focal lines that Original Director Bartlett Sher and Directorial Re-Creator Tyne Rafaeli envision, making the play an active moment in memory and real time.
Sher and Tyne frame scenes and songs in such a way that they invite other characters as well as the audience into a specific memory or experience the way that one individual recalled it. This happens often throughout the performance, particularly when Francesca is relating her experiences in numbers like "You're Never Alone" (a number actually performed by Bud and company) or when recollecting them as she does in "Almost Real." The fluidity of the piece on the whole, both in motion and with its musical components is astonishing to behold.
A nod must be given to the stellar illuminations provided by Lighting Designer Donald Holder who not only crafts convincing moments of indoor and outdoor lighting but transforms a simple scrim backdrop into the celestial heavens above and beyond at night with twinkling resplendence. Sunrise and sunset mark time in Holder's fabrication of incandescence, purples, pinks, and oranges blended smoothly over the entirety of the scrim whenever the day shifts from one to another. Almost as beautiful as Brown's score, Holder sets a perpetual mood of ever-churning romance, both the ups and downs of the powerful emotion known as love in his light displays.
Music that pleases the ear is pleasant enough, but music that touches the soul, ignites the heart aflame, and moves the very core of a being is what Composer (and at this performance Conductor) Jason Robert Brown has managed to create in The Bridges of Madison County. Evoking the rich complexities of human pathos, Brown's score and lyrics are highly nuanced and flooded with inclusive emotional detail, each song a building block one to the next that paints a picture in the ear as well as the eye and the heart. Poetic sincerity and graceful vulnerability are woven like fine silk through each of the ballad style numbers while quirky, earnest humor finds its place in Brown's versatile canon for numbers like "When I'm Gone" and "State Road 21/The Real World." Juxtaposed against Marsha Norman's exceptionally brilliant book, the musical is a flawless representation of romanticized America, a fairytale for real people living in the real world.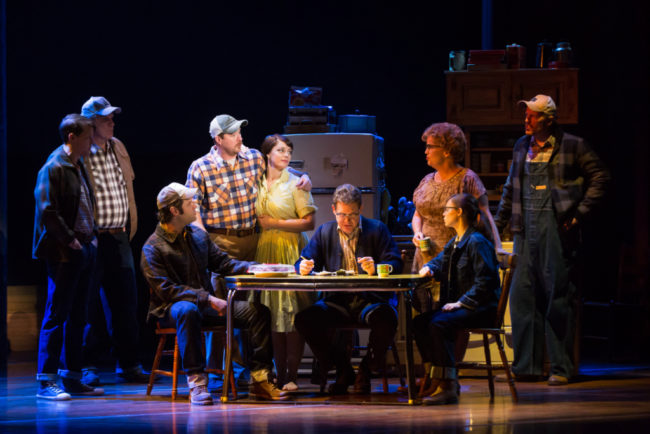 The entire yokel family that takes root in Iowa has a hearty set of pipes on them, making their rich, mid-western sound both pleasing and powerful. Michael (Bryan Welnicki) and Carolyn (Caitlin Houlahan) have brief moments featured in "Home Before You Know It" but are given a true chance to shine individually at the top of the second act during "State Road 21/The Real World." Both Welnicki and Houlahan have a firm and steady grip on their character portrayals, making these rowdy children of the mid 1960's dustbowl lively but not too over the top. The balance of real congenial farm folk against their desire to break free and have their own lives shines through in their defiance, streaming strong from both performers, often targeted at their father, Bud (Cullen R. Titmas.)
A rough-around-the-edges example of Midwestern pride, Titmas transforms the character of Bud away from the easily bent stereotype that he could be and delivers a healthy dose of heart and sincerity in his portrayal. With rich, robust vocals that carry numbers like "You're Never Alone" and "Something From a Dream", Titmas crafts a rather loveable character in the salty farmer family man, making the overall premise of the musical that much more difficult to fall in love with, considering his kind and gentle nature. Titmas divides the character right down the middle of loving his wife and being a stubborn mule with his children, the All-American Midwestern Father-Husband combo at its finest.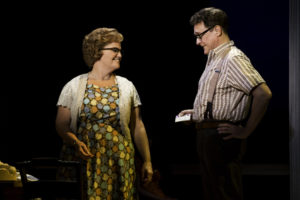 A little bit of scene-stealing comedic relief can go a long way in a deeply emotional romantic musical and for Bridges the honor and duty of such falls to the characters of Marge (Mary Callanan) and Charlie (David Hess) with Callanan being the heavier hand of the two. Quirky and amusing as the nosy neighbor next door, Callanan brings a vibrant dose of feel-good laughter with her window-peeping antics, particularly when it comes to being told off about them by Hess. Not to be dismissed as purely comic relief, Callanan showcases her vocal prowess in a sweet country-style crooner's number, "Get Closer" which inspires a bit of chemistry between the show's leads. Hess is delightfully blessed with a voice as well, as proven in "When I'm Gone", which at first seems an odd place to hand a third-string comic relief character a solo feature, but makes sense as the song winds along.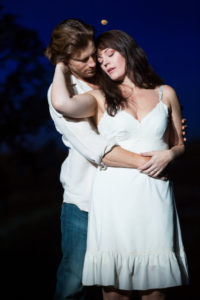 Brown's harmonies were all but written for Elizabeth Stanley and Andrew Samonsky as they take to the roles of Francesca and Robert respectively. "Wondering" as well as "Falling Into You" and "Who We Are and Who We Want to Be" are strikingly powerful duets with superb vocal talents supporting their emotional intention, drawing you so deeply into their love story that it becomes inconceivable to picture a life where these two newly-met strangers could ever be apart. Stanley and Samonsky have a magnificent chemistry between them, which starts out innocently enough, blossoming and flourishing through the gorgeous songs Brown has composed. "Before and After You/One Second & A Million Miles" echoes with tremendous ardor and emotional catharsis between the pair as everything comes to a head between them.
Samonsky's voice is haunting; the sound he procures and places into each song that of a lost soul. "Temporarily Lost" is infused with the traveling man's blues as well as determined spirit, while "The World Inside a Frame" captures the vision of his character's heart in earnest. Showcasing versatility in his singing ability as well as his acting performance, there is something that truly astounds when it comes to watching and hearing Samonsky play the role of Robert. "Before and After You/One Second & A Million Miles" is completely captivating and utterly mesmerizing, his voice blending with hers in words indescribably until the sound is resonating through the very core of the show's existence.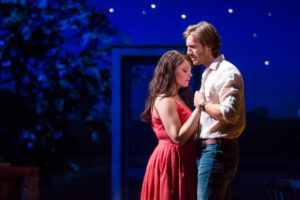 Elizabeth Stanley is mellifluous glory incarnate in this operetta masquerading as musical theatre. Emotionally invested in the strenuous arias, ballads, and duets that Jason Robert Brown has penned to perfection throughout the production, Stanley delivers a phenomenal stage presence, outstanding vocal clarity and emotional resonance, and a dedicated conviction to the character overall. Painting a picture with her voice from the moment she opens the show with "To Build a Home", the audience is enthralled with her sound and follows her every step upon the journey her character takes. Ferociously filled with heart and soul for each and every solo, numbers like "What Do You Call a Man Like That?" and "Almost Real" become turning points both musically and directionally in the production. A remarkably impressive performance given, Stanley owns the role of Francesca with unstoppable honesty.
A more moving musical experience will be difficult to locate over the summer holidays, especially one so invigorating, exciting, and new. Don't miss Jason Robert Brown's The Bridges of Madison County at The Kennedy Center's Eisenhower Theatre this summer of 2016.
Running Time: 2 hours and 45 minutes with one intermission
The Bridges of Madison County plays through July 17, 2016 in the Eisenhower Theatre of The John F. Kennedy Center for Performing Arts— 2700 F Street NW in Washington, DC. For tickets call the box office at (202) 467-4600 or purchase them online.