Well it's one for the money, two for the show, three to get ready, now go, cat go! Go directly to Infinity Theatre Company this summer as they bring on some great balls of fiery talent all wrapped up in the second half of their repertory season! One magical night— December 4, 1956— brought four of the greatest rock-n-roll performers the musical charts have ever known together for an unspeakably sensational jam session. Now Infinity Theatre Company is bringing that phenomenal night to you with their production Million Dollar Quartet. Directed by Alan Ostroff and Tommy Iafrate, with Musical Direction by Amy Jones, the show lives up to its namesake and delivers a stellar tale of four musicians together for one night only in an electrifying musical that zaps the body, sings at the soul, and blows the mind. Delivered with enough volts of enthusiastic energy to shake the nerves and rattle the brain— featuring The Man in Black, The King of Rock-n-Roll, The Killer, and The Father of Rockabilly— Million Dollar Quartet guarantees a phenomenal time for all in attendance.
Swapping out the wide open spaces of the rustic Rockies in the atmosphere, Scenic Designer Diana Chun brings the very intimate setting of the Sun Records Studio to the stage for this half of the repertory. Creating an authentic recording artist's studio, Chun settles the show into the mid 1950's with a basic motif that doesn't detract from the musical performances. Chun recognizes the importance of the magic created by the performers in telling the tale and lets their stories speak for themselves without hampering down the set in an overloaded fashion. The rock-concert band-stand at the show's conclusion is, however, the perfect touch to round out the performance.
Costumer Designer Kristina Martin accomplishes the task of outfitting the titular quartet to look their finest, toeing the fine line of iconic symbols and earnest human beings in her sartorial selections. The masses come to expect a certain appearance from these musical heroes, even though the show's timescape is early in their careers. Martin, in consultation with Hair and Wig Artist Molly Walz, finds an equilibrium upon which to perfect the overall couture for Johnny Cash, Carl Perkins, Jerry Lee Lewis, and Elvis Presley. In addition to suiting the quartet to look their finest, a simple gray suit for Sam Phillips of Sun Records and a nice period-appropriate dress for Dyanne, completes Martin's work with aplomb.
While the atmosphere preaches rock concert (and by the end of the show there's a live bandstand performance in full swing) the illumination inside Sun Records is appropriately subtle. Lighting Designer Jimmy Lawlor takes his seasoned hands to the show's incandescence with masterful discipline; Lawlor pulls the audience's attention and informs the moods with the slightest of shifts like when Sam Phillips come forward into his narrative asides or when the boys start singing gospel. Almost unnoticed these shifts go because they are so delicately handled, the mark of a lighting specialist when it comes to keep the feel of the show focused on the music.
And the music is glorious. Musical Director Amy Jones encourages full rich sounds from these actor-musicians, a rare breed of talented artists who can both play and sing their hearts out while simultaneously delivering fully developed characters. Jones inspires Brother Jay (Bob Abbott on bass) and Fluke (Chris Karabelas on drums) to find their own little patch of heaven amid the million dollar quartet. Both Karabelas and Abbott get fantastical featured solos in "Long Tall Sally" and "Let's Have a Party" respectively. The pair of stage musicians are lively and fierce, giving an extra zing of pizzazz to the show on the whole.
Directors Alan Ostroff and Tommy Iafrate pull the production together with a bang of success. Million Dollar Quartet, though deceptively appearing as a jukebox musical featuring the rock-n-roll greats of the mid 50's, has a deep narrative heart, which Ostroff and Iafrate unwind in true theatrical fashion: telling the story at its most basic level. Rather than generating caricatures or impersonations of the infamous musicians, the directorial duo cultivates a realistic human topography of the actual people that these men were behind their personalities. Ostroff and Iafrate's unique vision shifts the focus of the story to Sam Phillips, which is a remarkably astute observation in regarding narrative tone and overall storyline.
Adding a feverish flavor to the all-male cast, Bella Muller arrives on the set as Dyanne, Elvis Presley's girlfriend. Bringing a sweet disposition and a smile to her portrayal of the fictitious character, Muller holds her own against the big boys when it comes to singing and rocking out a number or two of her own. Both "Fever" and "I Hear You Knockin", the solos performed by Muller, are delivered with punch, vocally spirited and laced with a sensual performative attitude. Muller's vocal ability is nothing to sneeze at either as she proves that Dyanne isn't just any gal linked up on The King's arms.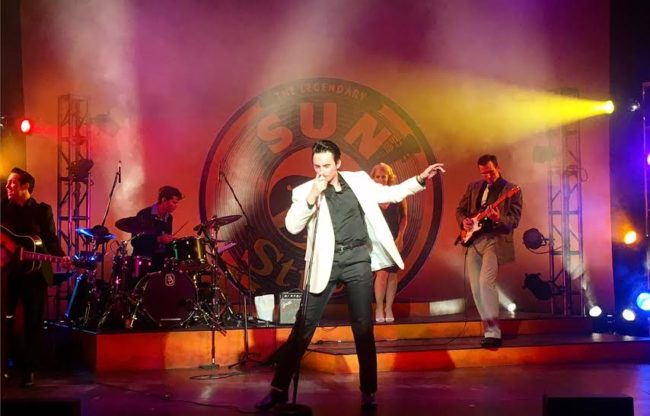 Hip-gyrating, pelvis-popping Elvis (Travis Artz) is just what the studio ordered when it comes to a little commotional motion. Artz can't sit still, a nod to Elvis' inability to do the same, and even when he's not singing and dancing he feels active and lively, vibrating an electric energy through his very essence. Bringing a welcomed versatility to the character portrayal, Artz finds a deep root of spiritual soul for "Peace in the Valley", which juxtaposes divinely against his blasting rock-n-roll sound during numbers like "Hound Dog" and "Long Tall Sally."
A natural rival of Elvis, as the show and real life would dictate, Carl Perkins (James Brock) brings his own eclectic electric vibe to the performance. Constantly going to blows with Jerry Lee (though the tension between his character and Elvis is also more than palpable), Brock is a spitfire when it comes to wielding a temper and an attitude. Informing his musical styling for songs like "Matchbox" and "Who Do You Love", this edgy temperament keeps him rocking and rolling the whole show through. Displaying a dynamic shift into 'party mode', numbers like "My Babe", a duet with Johnny Cash (Austin Wayne Price) become a fun-loving good time in the hands and vocals of Brock. He plays his guitar with so much intense soul, he even pops a string!
Price, as the Man in Black incarnate, delivers two different versions of Johnny Cash throughout the performance, both of which are remarkable. Earnest and invested in creating the man behind the Man in Black, Price finds a spiritual connection to Johnny through his vocalizations of "Down by the Riverside" and "Peace in the Valley" while still bringing that legendary sound for crowd favorites like "Folsom Prison Blues." There is a truly harrowing moment shared between Price and Brit Herring, playing the narrative Sam Phillips of Sun Records, which is the pinnacle moment of acting in the performance. Mastering Cash's physicality, including the gunshot guitar maneuver, Price channels himself into the role and still manages to deliver the sight and sound that everyone expects from Cash, especially with his renditions of "I Walk the Line" and "Ghost Riders in the Sky."
Brit Herring is a godsend to the show's narrative. As Sam Phillips, Herring takes the show by the horns and steers it in the right direction, which lends itself to the balanced direction given by Ostroff and Iafrate. There is something wildly convivial about the way in which Herring expresses all of Sam's asides. Those moments, which act like memory recall in active time, are striking and create the stepping stones upon which the show's ultimate story arch is built. Not without compassion and a burst of emotional temper, Herring is a masterful performer, particularly when it comes to trying to keep the wildly uncontrollable Jerry Lee Lewis (JP Coletta) in line.
Coletta is the definition of alive. A show-stopping, scene-stealing, superb burst of insanely unstoppable enthusiasm and energy, Coletta's Jerry Lee Lewis sparks a conflagration that blazes through Sun Records Studio like a solar flare shooting across the surface of the sun. Animated beyond compare, his shenanigans at the piano— be it playing it backwards, upside down, or in some other indescribably wild manner— are riveting and bring the audience to uproarious life. Channeling the true spirit of the rambunctious Jerry Lee, numbers like "Real Wild Child" and "Whole Lotta Shakin" become crowd thrillers from The Killer. Coletta even manages to electrify the studio with "Great Balls of Fire", his contagious spirit infecting everyone after the great 'atom bomb' implodes between Johnny, Sam, and Carl. Vocally sound, energetically pumped, and filled with a spark that the wildest imagination couldn't fathom, JP Coletta is out of this world when it comes to filling the shoes of Jerry Lee Lewis.
You won't have a better time in a theatre when it comes to a jukebox musical, or any musical this summer, truth be told. Infinity Theatre Company has done it again, sparking magnificent performances all across the board in this production of Million Dollar Quartet.
Running Time: Approximately 2 hours and 10 minutes with one intermission
Million Dollar Quartet plays in rotating repertory with Almost Heaven: Songs of John Denver through August 7, 2016 at Infinity Theatre Company at The Children's Theatre of Annapolis Complex— 1661 Bay Head Road in Annapolis, MD. For tickets call the box office at (877) 501-8499 or purchase them online.
To read a Million Dollar Interview featuring the quartet of stars from Million Dollar Quartet, click here.