Stop the clock. Take time out. Hear the Tick Tick BOOM! as it explodes on the stage of The Audrey Herman Spotlighters Theatre to close out their 54th season. Jonathan Larson's pre-Rent musical arrives under the Direction of Jillian Locklear Bauersfeld with Musical Direction by Michael W. Tan and features an intimate cast of three just living the real life of 1990 New York City. Big dreams, big goals, and the inklings of musical genius that gave Larson his start, this show is soundly packed with emotions that race the clock, time that changes the heart, and explosions of mind and soul that are perfectly packed into 90 minutes of musical theatre for a night's enjoyment.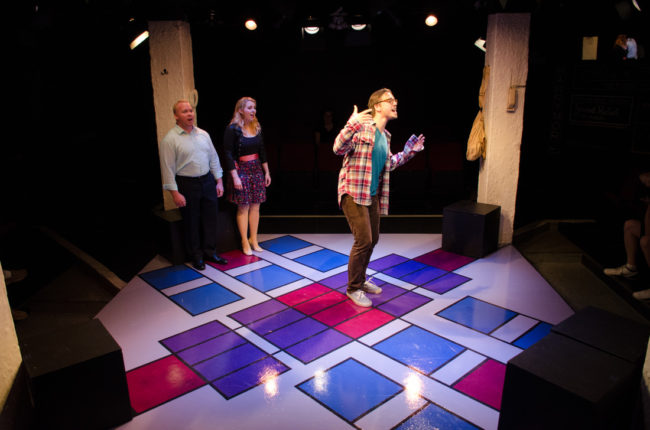 Despite the rich origins of Jonathan Larson's musical, wherein all of the loose threads that later tie together to become the musical he is best known for weave together, Tick Tick BOOM! has a striking disconnect between the musical numbers and the narrative scenes that occur between them. Both Director Jillian Locklear Bauersfeld and Musical Director Michael W. Tan, as well as the talented three-person cast, do their best to bring a more concisely focused connectivity to the piece, but the show itself is deeply flawed in its narrative to musical ratio. While the music itself is striking, often stirring and emotionally ripe, it doesn't quite synch with the masterful storyline that many musical theatre lovers have grown to expect from Larson due to the over-popularity of his "successful musical" Rent. That said, if taken for what it is— the beginning of musicals that document and discuss real life— and take into consideration the tremendous talent, effort, and dedication that has gone into the production at hand, the show still delivers a splendid evening of entertainment.
House Lighting Designer Fuzz Roark really puts pop into the illuminating essence of the show with sharply timed and executed switches in the overhead lighting. Roark uses this jarring pop to switch from moments actively in-scene to those that are occurring inside Jon's mind, delivered aloud as asides to an unseen audience. Roark also deserves a nod for his extensive work on the stage's floor— a high-gloss, stained-glass appearance in vibrant red, blue, and purple tones which adds a layer of vibrancy to the show's setting from the ground up.
Resident Set Designer and Scenic Artist Alan Zemla easily captures the atmosphere of New York City in the early 90's but keeps things simple with his black and white chalked-outline of the Big Apple skyline. Zemla's more nuanced design affectations come in near the entrances, where Broadway show-bills and subway train stops are created with intricate detail. The design work of the show works wonders with Costumer Andrew Malone, who takes a basic approach to 90's fashion. Malone's praiseworthy piece of costumery is the 'green dress' seen on Susan in the second musical number, complete with 20 buttons across the back (though the zipper is still largely visible) and an intriguing asymmetrical strap across the front.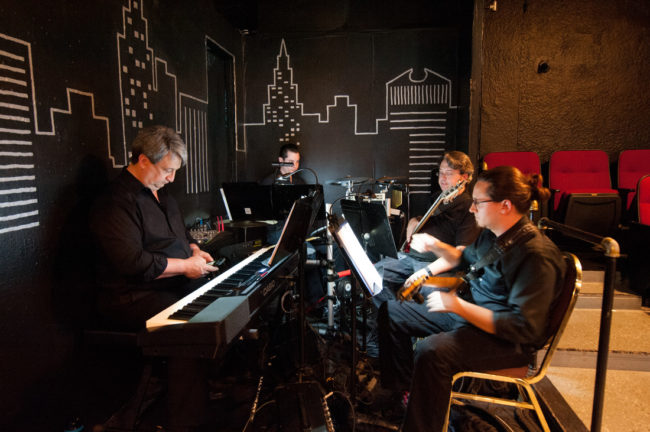 Musical Director Michael W. Tan works meticulously with Larson's score to thoroughly articulate the beauty of the music in this production. Leading a pit (featuring Christine MacDonald, Greg Bell, and William Georg) with precision-driven sound, Tan highlights the intellectual genius of Larson's work and pulls the focus of the show's overall musical scenescape to the emotional drive behind the songs. Blending convoluted harmonies to augment their strengths in musical numbers like "Sugar" and "Johnny Can't Decide", Tan highlights the musical creativity of Larson's score.
Director and Choreographer Jillian Locklear Bauersfeld keeps the show moving quickly to the frenetic pulse of Jonathan's inner clock, which materializes itself into an aural platform (fabricated into existence by Sound Designers Lanoree Blake and Fuzz Roark.) and can occasionally be heard during the performance. Bauersfeld's dance routines are simple but adhere to the ever-changing variety of song styles that Larson includes in the show. There are nods to each of these flavors— particularly the 50's jukebox style featured in "Sugar"— in each of her routines and the overall aesthetic of the show is improved because of it.
The trio of performers give the production their absolute all when it comes to tackling this complex and somewhat disjointed musical. While all three possess exceptional vocal talent, at this particular performance (owing to mild vocal strain) some of the voices were not at their peak, however, with each passing production to come, there is no doubt that the overall musical quality of the show will improve significantly. That said, there is nothing negative that can be said about the heart and earnest emotions all three performers were pumping into the vaguely disconnected storyline of the show.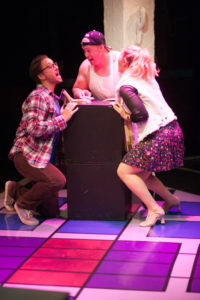 Rob Wall as Michael has rich robust sounds that often serve as filler— either in duet or backup harmonies— for a great many of the songs in which he is featured. It's Wall's character work as the clatter of characters that are not Michael that is truly praiseworthy in this situation, particularly his hilarious interpretation of Jon's agent in the scene that follows "Come to Your Senses." With a distinctive shift in delivery for each of those momentarily minor characters, Wall populates the show with a sense of real life people. Getting his dancer's groove on during "Sugar" (a trio where both he and Clare Kneebone play alternate background characters), Wall shows his versatility as not only a singer and actor but as a cut-loose dancing man.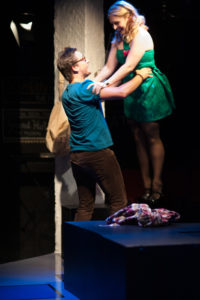 Kneebone, as Susan, has striking vocal prowess and power that she delivers with exceptional consistency throughout the performance. Though there are moments where she falls victim to the intimate nature of the show's themes, as well as the intimate nature of the venue and loses some of her powerful volume when speaking certain lines or starting off a song (a recurring problem that is shared equally among the entire cast) when she opens up, the sounds of her soul stir with a living vibrancy that really captivate the audience. "Therapy" is a duet with Jon (Garrett Zink) that showcases her ability not only to carry a duet but to switch quickly and fluidly from patter to balladeering within a breathed measure of the song. "Come to Your Senses", a solo where Kneebone plays 'Karessa', is a stunningly emotional piece that captures the essence of her performative heart and soul. Watch Kneebone's facial expressions and body language very closely in this number as they are delivered at the height of her physical capability, a rewarding feat to experience.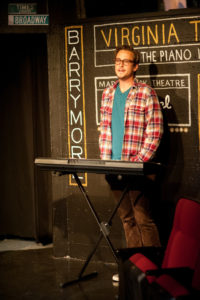 Zink, as the narrative force in the production, has a tremendously focused grasp on keeping the character of Jon both mindful and present in his surroundings. Quirky, balanced, and overall delightful, his characterization and portrayal of Jon unearths the rich versatility which Larson has written in this semi-autobiographical piece. Handling the slower, smoother songs like "Why" and "Real Life" with a dulcet and stirring clarity, Zink showcases his vocal agility in these numbers. With gritty rocker-appropriate sound, there are hints of channeling the iconic sounds that Larson is later known for in his performance that situate well within the performative atmosphere of the production.
A new feeling, a unique and rarely produced musical, with three talented individuals working to translate the musical experience to this generation, Tick Tick BOOM! has a great deal to offer for anyone willing to take a chance on the show.
Running Time: Approximately 95 minutes no intermission
Tick Tick BOOM! plays through July 31, 2016 at The Audrey Herman Spotlighters Theatre— 817 St. Paul Street in the historic Mount Vernon neighborhood of Baltimore City in Maryland. For tickets call the box office at (410) 752-1225 or purchase them online.