A quick glance to a dictionary— or in our technologically adept modern day world, Merriam-Webster's website— reveals the simple definition of the word Moxie to be: the ability to be active; courage or determination. And by golly, if Happenstance Theater doesn't have the ability to be active and have plenty of courage and determination, I'll eat my hat! Presenting, as only Happenstance Theater can, a theatrical collage of movement, mystery, marvel, and magic: Moxie: A Happenstance Vaudeville comes to the main stage of Round House Theatre this summer to delight, entertain, and reinvigorate a love for the stage-life from a time long ago. Collaboratively devised by the ensemble, featuring the musical arrangement and composition of Karen Hansen, this nostalgic bittersweet performance is a fond trip down memory lane in true Happenstance style while simultaneously being uncharted territory that tickles the audience's fancy tenfold!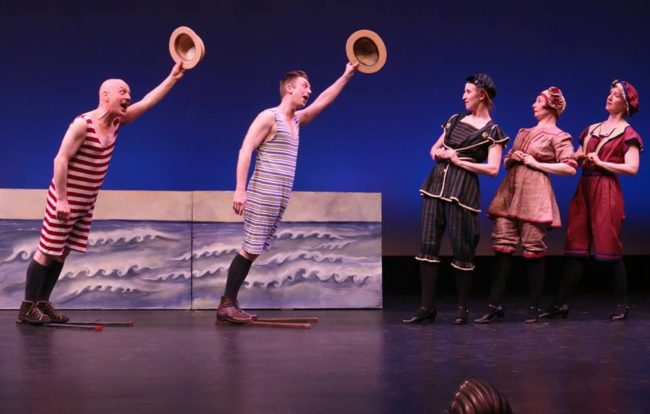 For those well-versed and loved of Vaudeville, this is the show for you! For those loving Happenstance Theater and the innovatively bold and daring new feats they accomplish as a true performing ensemble, this is the show for you! For those having no previous experience with Vaudeville or with Happenstance Theater, this is the show for you! The show appeals to audiences of all ages and experiences and has a little something for everyone from musical numbers to quirky characters and a good deal of fantastical imaginative things in-between! Focusing on the non-narrative performative style of a true Vaudeville menagerie, the show features a plethora of characters, mostly brand-new to the Happenstance circuit— though there might even be a familiar face or two from the old country that's trying to make it happen in Vaudeville.
Company Musical Director Karen Hansen consistently underscores many of the routines performed with her stellar compositions and arrangements, played to perfection on an upright piano for this production. Deviating from the plethora of instruments Hansen often plays, the piano is a sentimental touch that reverberates the musical style of the Vaudeville era. Don't be dismayed, Happenstance fans, as Hansen gets a chance to show of her tin-horn abilities as well as some smooth and cheeky squeezebox styling during an accordion duet with company member Sarah Olmsted Thomas during the performance. Serving as the show's musical undercurrent whenever it comes to a scene she's not actively in, Hansen upholds the notion of "the ability to be active" as her music inspires action among the performers again and again throughout the run of the show.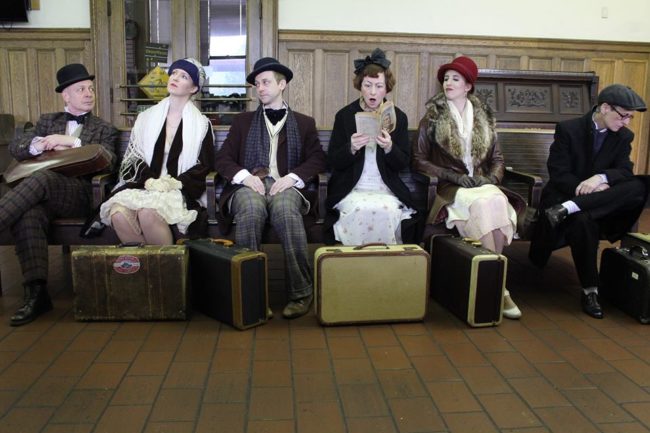 A working familiarity with the Vaudeville scene and circuit is not required to enjoy the show, but having either of those things makes the show that much more fascinating, intriguing and entertaining as all the little nods, homages, and blatant representations are persistently present and scattered throughout the show if only one knows where to look for them. Featuring everything from the full acapella six-part harmony of the show's title in song to highwaymen-style swindlers and silent film-type performers, each of the ensemble six finds a comfortable niche in Moxie that showcases their gusto, gumption, and by golly, their hearts!
Puppet Master Alex Vernon, who plays a plethora of characters including Mentalist & Illusionist Edgar Maskelyne— the swarthiest of stage swindlers— and a dapper beach-going fellow, finds his proper place at the end of the show— a penultimate act if you will— with a good buddy, Woody. Vernon's no dummy when it comes to this dummy and the pair play well off one another in a tribute to an old-fashioned Vaudeville ventriloquist act. Vernon's other mesmerizing moment that jumps immediately to mind is his exploration among the celestial parade of the heavens as a sweet, albeit somber, clown.
The aforementioned celestial parade is perhaps one of the most visually striking moments in the show as it displays both the stellar Costume Design of the company's Co-Artistic Director Sabrina Mandell and the Costume Construction of Nancy Mendez. It is a moment that must be seen to be believed as ensemblists Gwen Grastorf, Sarah Olmsted Thomas, and Sabrina Mandell parade among the heavens as the Sun, Moon, and Stars respectively. These splendid sartorial selections, which occur here and in other formats perpetually throughout the performance, are augmented in their brilliance by Lighting Designer Kris Thompson. The true radiance of Thompson's illuminating practices is experienced during the tranquil silken-butterfly performance given by Thomas, with her 'wings' capturing the glowing pinks and purples of Thompson's carefully crafted design.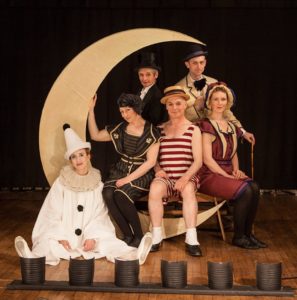 Thomas, who sings, dances, and performs like all of the ensemble, is noted for her graceful and fluid movement as this Vaudevillian butterfly in addition to her musical stylings in duet with both Grastorf and Hansen on two separate occasions in the performance. Grastorf, who finds a recurring act as an attempted Swiss yodeler trying to catch a break on the circuit, works the comedic angle of this bit while simultaneously showcasing how tough it can be to earn a place in rotation of a Vaudeville house. Both Grastorf and Thomas lend their voices frequently to the musical harmonies featured throughout the performance and are sprightly balls of energy that supply the whimsical novelty of the show, keeping it lively.
Sabrina Mandell, who appears as many different characters throughout the show— as all of the ensemblists do— should be noted for her portrayal of Miss. Lillian Bustle, the reciter of legitimate stage. One of just two characters who paths we follow from beginning to end, Mandell's representation of Miss Bustle is astounding— comic at its onset and deeply moving in a bittersweet melancholy by the second time around. What's more striking is her happenstance role of the young girl plucked from the audience in a deeply sentimental and moving "passing of the torch" sort of moment, which features Mr. Sawyer (played gracefully and stupendously by Mark Jaster) while paying homage to Baby Rose Marie, a great act of the Vaudeville circuit.
Jaster, who is known for his physical mime and body work (and does do a fair bit of both throughout the performance— including the nefarious 'silent-film' style bad-guy who sneaks off with luggage and the show's place-card— as well as various and sundry things here and there), plays a touchingly sentimental character referred to as Mr. Sawyer, which combines the best of both of his worlds. Displaying his musical ability on the saw (a true wonder if you've never seen and heard it, a delight to hear it again should you have previously been so lucky) and his ability to develop a character over the course of a show, Jaster's presentation of Mr. Sawyer much like the time-arc of Vaudeville itself is exciting and bittersweet.
With far more acts than one could ever do justice to by merely talking about them, it can be said that Moxie is as it implies with such a name: active, full of gumption and excitement, and a daring new feat that brings excitement to the stage— as all Happenstance productions do— served in true ensemble fashion as a most resplendent theatrical collage. It must be seen before it, like Vaudeville, fades into the glorious days of yesterday, ephemeral and fleeting.
Running Time: Approximately 90 minutes with no intermission
Moxie plays June 24 through July 17, 2016 with Happenstance Theater on the main stage of Round House Theatre— 4545 East-West Highway in Bethesda, MD. For tickets call the box office at (240) 644-1100 or purchase them online.
To read the interview with the entire company regarding their process and development of Moxie, click here.