Great family-friendly entertainment plus your favorite theatre in Frederick equals the Maryland Ensemble Theatre's Fun Company holiday production of Junie B. Jones in Jingle Bells, Batman Smells. BOOM! You do the math! That's right, everyone! It's that time of year when Junie B. Jones starts her holiday shenanigans with jingle-bell hats, Christmas sing-a-longs and— a burp-in-a-bag? Directed by Julie Herber, Adapted by Allison Gregory, and based on the book by Barbara Park, this fun-filled holiday adventure is a healthy dose of heart-warming hilarity that even Santa Claus would be proud of! One full hour of hysterical holiday entertainment for the young and young at heart with a tender well-received message of the true meaning of being in the holiday season (and a few burps along the way!) Fun Company is setting the seasonal bar exceptionally high with their incredible production quality and overall engaging nature of performance that keeps the kids laughing and clapping straight through to the show's touching conclusion.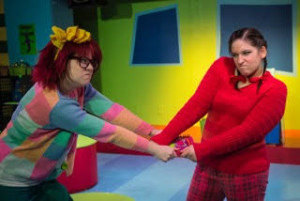 Room One is looking mighty inviting as Set Designers Joann Lee and Cecilia Lee set to the task of bringing Junie B. Jones' classroom to life in the Stage2 Performance Space of the MET. With lively colors and simple animations, Lee and Lee make the original book's imagery pop right from page to stage! But what set would be complete without a holiday cheer at this festive season? Lee and Lee work enormous striped candy-canes onto the support poles of the stage space, complete with white snow drops falling down from the top. Add to this magical landscape the nifty props like the Squeeze-A-Burp (both in miniature and jumbo sizes) and the cardboard Niña, Pinta and Santa Maria, all fabricated by Props Team Members Julie Herber, Sarah Shulman, and Vanessa Strickland, and you have a fantastical stage voyage of epic imagination about to happen before your very eyes!
When crafting the couture of a show where adults are playing children it is important to remember the look of a child. Wearing too many hats to count, the show's Director Julie Herber outfits the children in Junie B. Jones' first-grade class in vivid resplendence. Each costume is a direct reflection of these young and precocious students' personalities— especially when it comes to the felt-flower smock dress of the hoity-toity Lucille. Herber's ideas of hair-bows and bright colors all but scream first-grade fashion, especially when it comes to matching the iconic look of Junie B. Jones to that of her chapter-book original incarnation.
Herber puts her hallmark as an inspired movement designer on the piece in a fashion most subtle. There are a few slow-motion and dance-like moments that catch the eye because of their exquisite moving fluidity and relation of body-to-action in their execution. In addition to infusing the piece with highly interactive movement, Herber encourages her zany cast to be bursting and filled to the brim with the frenetic and inexhaustible energy that often accompanies such small children who are so excited about the upcoming holidays. This surge of energy and movement keeps the show flowing and moving, making it perfect for younger audiences too.
The ensemble of performers work together to pull off a truly fantastical imaginative piece of theatrical entertainment, making one full hour of Junie B. Jones' shenanigans and amazingly amusing antics truly worth enjoying. Reiner Prochaska, who takes on the role of classroom teacher Mr. Scary, is one to watch for the older members of the audience. His vivid facial expressions, especially when dealing with Ellen the Elf are absolutely uproarious and add a little nod of relatable entertainment for all of the parents in the audience. Acting and responding as one might expect a teach to respond, Prochaska is spot on in the role. Giovanni Kavota, who starts as Josè but also plays Mr. Toot, gives a memorable performance as the musical instructor, particularly when bouncing up and down to the children's unique rendition of Jingle Bells at the school-wide assembly.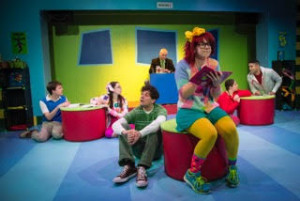 Kavota, like all of the adults playing children in this performance, is filled with a youthful energy that radiates through him with a holiday glow. Kevin Cole takes on the role of the awkwardly nerdy Sheldon (and he's a pretty spectacular stuffed elephant too when Junie B. is in her bedroom with Phillip Jonny Bob) and really nails the intricacies of being the strange kid in the classroom. This works wonders against Matt Lee's spastic portrayal of Herb, Junie B.'s best friend. Lee, who gives an enthusiastic and engaging performance as the high-fiving and excitable Herb, also doubles as grandpa Miller and his accent as the curmudgeonly old man is hysterical.
With sass and class and all that razzamatazz, Katie Rattigan plays the ever-annoying Lucille (and later the too-chipper Elf Ellen.) As Lucille, Rattigan masterfully delivers the notions of haughty arrogance that being too rich can bring to a child of just six years old. Her pouty facial expressions and temperamental mood swings are a real hoot and make several moments well worth laughing over. Holding her own against the two leading females in this production, Rattigan is a firecracker and the epitome of snotty and snooty rich-girl entertainment.
May (at this performance, Vanessa Strickland) is constantly getting into trouble with Junie B. Jones (Emily Raines.) And the holidays are no exception to this rule! Strickland, who undertakes the role at this performance with gusto, delivers the obnoxious character of tattle-tale May with great excitement. Whiny, mopey, and full of childlike energies, Strickland really digs her heels into the character's nuances, articulating May in such a way that you can completely relate to Junie B. Jones' frustrations with the girl.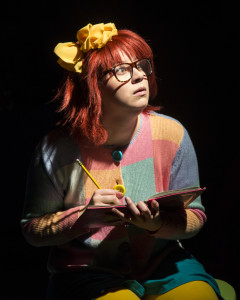 Raines, as the precocious and beautifully bratty title character, really creates a complexity to her delivery of this rich and surprisingly multi-dimensional character. Happy in her feet with an energy that bubbles from deep in her toes straight up and out her nose, Raines captures the essence of the character in a style truly delightful. Giddy, goofy, and grand, Raines is the spitting image of what Junie B. Jones ought to be. She captures the emotional complexities of the character in her voice and facial expressions and her energy never wavers. A true trooper in the role, Raines is the spirit of Junie B. incarnate!
Be sure to get your jingle-bell hats on, and get your tickets too because several performances are already sold out and you won't want to miss your chance to see this really exciting and uniquely entertaining production this holiday season.
Time: Approximately 65 minutes with no intermission
Junie B. Jones in Jingle Bells, Batman Smells plays through January 3, 2016 at the Maryland Ensemble Theatre's The Fun Company in their Stage2 Performance Space in the Historic FSK Hotel building— 31 W. Patrick street in downtown historic Frederick, MD. For tickets call the box office at (301) 694-4744 or purchase them online.