There is nothing in the world so irresistibly contagious as laughter and good humor. Mr. Dickens spoke it best when he put this sentiment into the ether at the holidays in his classic novella A Christmas Carol. And although everyone has their own version, their own retelling, are we not all but fellow passengers this time of year on our way to finding the laughter and good humor of the holiday season? The Twin Beach Players certainly seem to think so as their present their rendition of A Christmas Carol. Directed by Sid Curl, this timeless holiday classic takes on an appropriately heartwarming sentiment that truly involves the whole community of North Beach in getting the operation up on its feet so that everyone can experience the joys and magic of Scrooge's notorious transformation. A humbling experience that brings Christmas cheer and good tidings of great joy to the holiday show, Twin Beach Players bring heart and dedication to the performance this year.
Involving Miss Abigail Francisco of the Abigail Francisco School of Classical Ballet right there in North Beach, the project is a community wide one. Francisco is the show's Choreographer and makes the party scene at the Fezziwig annual Christmas party a truly splendid event. The waltzing is top-notch and well executed with Francisco teaching ensemble members of all ages to dance with grace and style for the era in which Mr. Dickens has set our tale.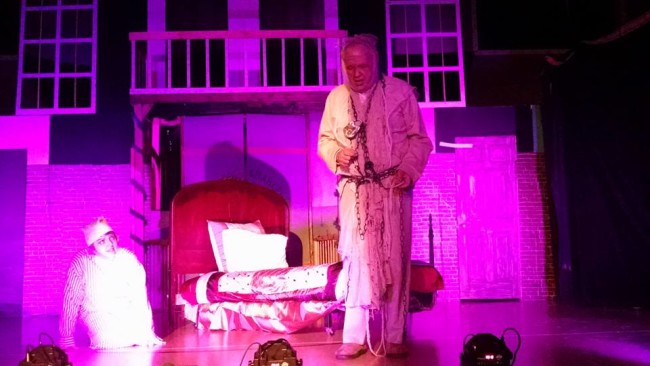 It's the design elements of the production that really take the production by storm, turning an ordinary production of A Christmas Carol into an extraordinary community theatre experience. Scenic Designer Rachel Clites Cruz uses the iconic Twin Beach rotating set-boxes to make smooth spinning transitions from inside the derelict counting house of Scrooge & Marley to the outside snowy streets of Londontown. There are even subtle little Easter eggs nodded into the artwork of the set, like the bookstore stage left being named "Charles & Dickens" a play on both Barns & Nobles as well as the author himself.
Cruz' scenic work is complimented with Director Sid Curl's Lighting Design. With specials, washes, fades, and even traditional white Christmas Lights, the set might as well be a blinking Christmas tree at the White House for all of the spectacle it holds once properly lit with Curl's numerous designs. Ghastly garish pink and red lighting to frighten Scrooge with the arrival of Jacob Marley, pristine angelic white lighting for the arrival of Christmas Past, warm and lively lighting for the party scene at Fezziwig's; all of these lighting effects showcase Curl's imaginative and creative prowess as well as his understanding of the theatre's play space.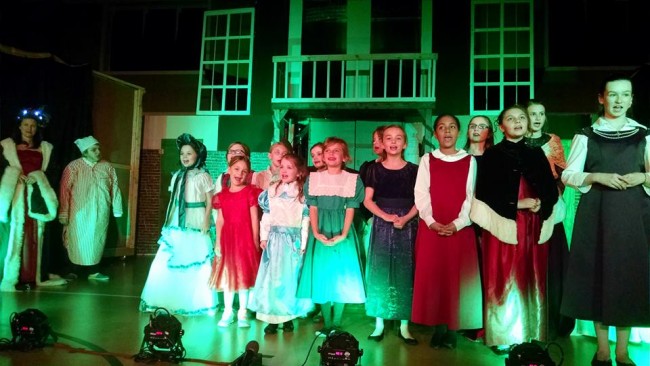 It's Costume Designer Dawn Denison who rounds out the aesthetic of the show with her fancy festivities. While the costumes reserved for the named characters are rather textbook (and at this holiday season when Dickens has penned their description so well the best one can hope for in a traditional production is in fact what Denison delivers in her simple threadwork), it's the myriad of holiday dresses supplied to the angelic girl's chorus that really bring home a sense of Christmas. Each of the young girls in the chorus— who serve to fill scenic changes with their warm and gay traditional carols— is dressed in an idyllic Christmas dress that triggers fond memories of childhood and Christmas supper. Denison's perfect piece is the snowdrop white dress with ivy green tiers that is used for Koral Kent, the show's solo singer featured during the charity song at Scrooge's door. Little Miss Kent has a powerful set of lungs and delivers a sweet rendition of her solo with angelic holiday divinity lacing her voice.
The aforementioned chorus girls have a lovely and harmonious sound to them, making this device of caroling scene changes most pleasant to the ear thanks to Musical Director Bob Snider and Choral Director Katie Evans. Snider and Evans take some of these more dated carols and give them a burst of energy refreshing as fresh Christmas snow, now sung through the girls as the scenes shift from one to the next. With ease and grace the girls provide a lovely addition to the show and the carols send out warm holiday sentiment to the audience, making them want to hum along.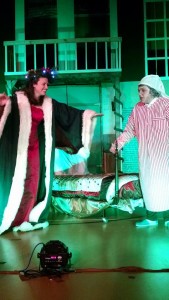 Director Sid Curl takes an eager new approach to his production of A Christmas Carol. Two-fold is his unique brand of performance in this production, the first being that the narration, which is such a crucial part of Dicken's original tale, is included throughout the play with various members of the ensemble stepping forward to recite bits as the scenes play out their merry dance. The second being that Curl has cast the majority of the leading roles (with the exception of Jacob Marley, Bob Cratchit, and nephew Fred) with women playing male characters. This makes for an intriguing but nonetheless enjoyable performance as powerful young performers take on these iconic Dickensian male roles.
With easily a cast of three dozen it would be impossible to mention everyone involved in the production, though there are some highly praiseworthy cameo and minor performances that deserve recognition. Among them include the three tawdry bitties— Mrs. Oliver, Mrs. Dilbert, and Mrs. Tackleton (Lindsay Haas, Jenny Liese, and Selah Choplin)— who appear in Old Joe's (Luke Rannacher)'s shop in a scene of Scrooge's Christmas Future. With their sassy cockney-sounding accents, and the humor of Rannacher being quite small of stature, this dark scene is funnier than how it is initially written. Ava Jabara and Garrett Heiston, who serve as the charitable gentleman who come to pay a call upon Scrooge at the beginning of the play, are also worth mentioning for their precocious nature both as the harbingers of charity and immediately after as narrative elements.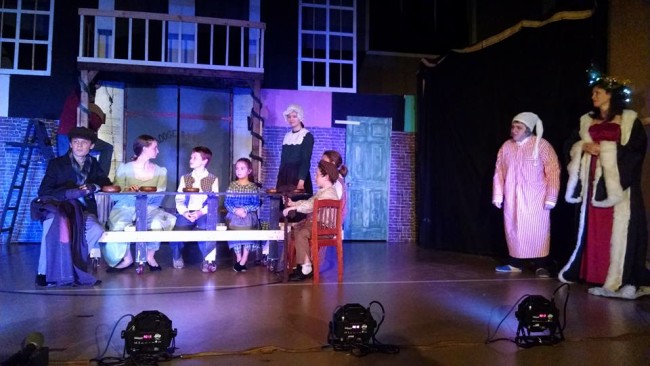 The Cratchit Family, led by a charming and quaint Bob (Cameron Walker) is a lovely addition to the show. Tiny Tim (Mikey McKinstry) is perky and cheerful despite his ailing health, all of which are shown in all their resplendence during scenes with the Ghost of Christmas Present (Katie Evans.) Radiant as her thick green robe and colorful lights that adorn her, Evans is a delightfully larger than life personality that truly suits the role. Like her predecessor, Ghost of Christmas Past (Eden Bradshaw) the room simply lights up when she enters. Bradshaw, looking like a beautiful ice princess, wafts into existence in a similar fashion, though with a far more subtle handle on her joyous nature. Both of these women exude the spirit of Christmas in every line that they deliver.
On the more ghostly end of the tale, both Jacob Marley (Rick Thompson) and the Ghost of Christmas Future (Andrew Macyko) are exceptionally terrifying, though not so awful that they'll frighten small children. Thompson's delivery is truly out of this world and on par with the terrors beyond the grave that Jacob Marley is known for while Macyko, a silent role, creeps quite disturbingly along behind Scrooge making his presence felt throughout the entirety of the scenes that take place in Scrooge's uncertain future.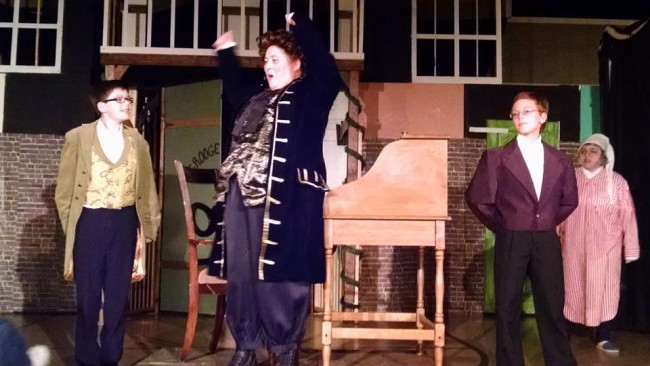 Taking the humorous holiday cake, Fezziwig (Terri McKinstry) is really the ripe cherry atop this lovely dessert offering of holiday theatre. Jolly and a bit like Santa Claus in her cheery delivery, from the moment McKinstry is wheeled into the scene with her feet propped up on her desk it is clear that Christmas spirit lives within her portrayal of good old Fezziwig. Opening the show with a subtle nod to being Charles Dickens as McKinstry is the first opening narrator in the production, she sets the tone for an evening of merriment even though we know scary bits lie in wait amid the festivities. Spinning Mrs. Fezziwig (Lindsay Haas) about the dance floor, McKinstry is the epitome of that passage of text wherein the dance between them is described.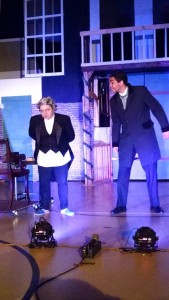 Scrooge (Annie Gorenflo) is the character the story is best known for and Gorenflo has tall boots to fill and does so exceptionally well. Gorenflo lives the hunched and bitter physicality of the curmudgeonly and grumpy old screw but beyond that is an engaging reactive responder when it comes to watching previous incarnations of her character. Whether it's School Boy Scrooge (Micah Choplin) with "Little Fan" (Sena Weaver)— a most hilarious moment as Weaver is a good foot taller than Choplin— or Carson Kyle as the young adult version of Scrooge with Belle (Kiera Gallagher), Gorenflo steals the scene with her facial responses. All of the emotions Scrooge experiences in these flashbacks are written so vividly upon her face that it's hard to not simply watch her instead of the others in the scene. These widely expressive moments occur throughout her portrayal, but none so contrasting as the emotional arc uncovered in her interactions with Nephew Fred (E.J. Roach) who maintains his holiday cheer to the last, even when Scrooge is bitter.
A lovely holiday tradition, Twin Beach Players ensures a splendid time will be had by all. So come one, come all, bring your family and children, and celebrate the holidays in a truly rewarding fashion this year.
Running Time: Approximately 2 hours and 45 minutes with two intermissions
A Christmas Carol plays through December 13, 2015 at The Twin Beach Players in the North Beach Boys & Girls Club— 9021 Dayton Avenue in North Beach, MD. Tickets are available for purchase at the door or in advance online.