Where am I in life? What's the meaning of it? In the eyes of the world, what does it mean to grow old? Colonial Players of Annapolis is answering those questions with a heartwarming comedy for the holidays. Paul Osborn's Mornings at Seven is a delightful little theatrical engagement featuring the grand dames of theatre. A timeless, undiscovered stage treasure Directed by Rick Wade, the show is perfect for a family and friends gathering this festive season.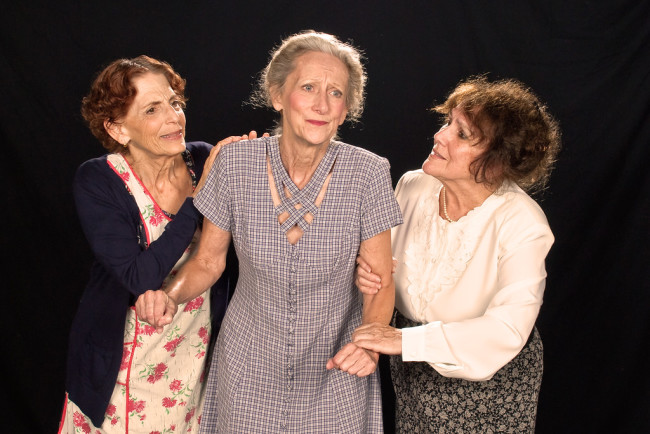 With enchanting production values in both the scenic design work, floor painting, and overall light work of the space, the performance is visually and on the whole aesthetically pleasing. Set Designer David Pindell crafts a quaint exterior of two backyards across the "360-with-corners" space of Colonial Players. Pindell's attention to detail along with Properties Designer JoAnn Gidos make for a perfectly adorable and charming backyard that is era appropriate and yet simultaneously timeless. Lighting Designer Frank A. Florentine masters the switches from daylight to dusk and nighttime with his precision execution of twilight UV glows when the crepuscular evening approaches. Rounding out the aesthetic approach, Sound Designer Theresa Riffle gets the birds of summer echoing at the very beginning of the show, which sets the tone for a relaxing and warm outdoor seasonal day. All of these designers work together to coordinate their various creative elements, the result of which is an impressive visual and audio soundtrack to enhance the performances upon the stage.
Director Rick Wade mines Paul Osborn's script for its subtle humors and works intentionally quick comic timing into some of the longer dialogue exchanges to keep the pace of the show flowing naturally. The humors are genuine, as are the emotional moments where the hints of gravity that balance this otherwise sweet and silly show fall into place. Wade, despite a few hiccups of pause where a beat just falls, runs an exceptionally tight ship as far as progressive action on the stage. For this show in particular where the subject matter runs the risk of being dated, Wade keeps every moment alive and refreshing, making the subject matter relatable to the modern audience in the process.
Myrtle Brown (Sherri Millan) may be the outsider in this family comedy, but Millan makes her chipper attitude most appreciated among the Gibbs sisters. Bubbling with a natural glow that radiates 1939 all through her voice, Millan is the perfect comic foil to the somewhat dim-witted Homer (Paul Valleau.) Her priceless and perfectly timed responses, especially when engaging with any one of the sisters, are made of comic glory and are well received for their kitschy level of camp.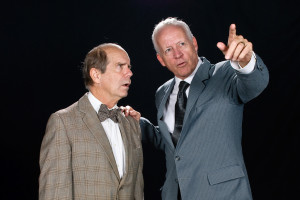 David Crampton (Greg Anderson) might as well be an outsider to the family, even if he is married to Esther (Sharie Lacey Valerio.) His pompous pontifications in his aloof and emotionless deadpan delivery are hysterical. They drive a great deal of comedy in the brief moments in which he is on-stage, particularly when it comes to interacting with Carl (Duncan Hood.) Bringing his own unique breed of entertainment, Hood relies on his facial expressions and by extension his physical interactions (largely with the mailbox) to deliver the hilarity of his character's plight.
Sharie Lacey Valerio, as one of the four Gibbs sisters— though now potentially happily married as Esther Crampton— holds up one fourth of what makes this show so entertaining and truly heartwarming. The sororal bond of these four sisters, whether it's quarrelsome, as sisters are wont to be, or good-natured and loving, as sisters often are, is well received and reciprocated in Valerio's performance. Though her characterization of Esther is mild by comparison to the other three sisters it is the most earnest of quartet in the production; it delivers a convivial reality that among the crazy dramatic and amusing thing we humans call life there can be calmness, peace, and bliss.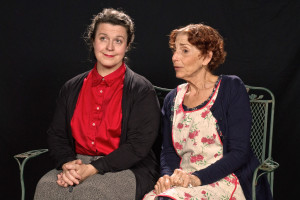 Ida Bolton (Carol Cohen) is a hysterical mess. Spastic, neurotic, and all around uproarious in her nutty portrayal of Ida, Cohen is the epitome of dotty old lady when it comes to the family dynamic. With the ever-present threat of empty nest syndrome looming in her near future, a husband who's gone off his rocker, and sisters galore in her backyard, up the street, and across the way, it's no wonder Cohen goes hog wild with the idiosyncrasies of the characters many ticks. Her moment of contemplative pause at the mailbox might just be the funniest thing to happen in the show.
Croa Swanson (Lois Evans) is well matched against her sister Aaronetta Gibbs (Dianne Hood.) Throw her husband Theodore (Michael N. Dunlop) into the mix and it all blissfully goes to hell in a handbasket in a hurry. Evans is cantankerous, but mildly so, a roaring personality that bristles caustically with her peculiar sister as portrayed by Hood. Both Hood and Evans have truly tender and touching moments with Dunlop throughout the show, but when they come to blows with one another it's a backyard barbeque waiting to blow-up in a blaze of bombastic smoke. Dunlop, despite some minor line-fumbling, holds his own against these two powerhouse females in their respective leads and makes his moments of hilarity well heard against their antics.
On the whole the production is strong, and fills the heart with a sense of good-natured family warmth which is perfect for this festive time of year. Not your ordinary holiday comedy by any stretch of the imagination, Mornings at Seven offers a blissful alternative to those seeking amusement and entertainment this holiday season.
Running Time: 2 hours and 30 minutes with one intermission
Mornings at Seven plays through December 13, 2015 at The Colonial Players of Annapolis— 108 East Street in historic Annapolis, MD. For tickets call the box office at (410) 268-7373 or purchase them online.