Tricky and thick and none too quick, in the brains department that is, a servant of two masters finds humor and hilarity in his daily task. The critically acclaimed and highly humorous production of One Man, Two Guvnors has only a few weekend performances left at the Maryland Ensemble Theatre! If the rave reviews weren't enough reason to go investigate, TheatreBloom has sat down with leading player Thomas Scholtes to hear out a few more hilarious reasons as to why people should come enjoy the production.
If you could give us an introduction to who you are, we'll get started straight away!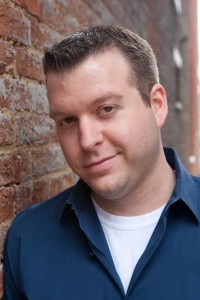 Thomas Scholtes: My name is Thomas Scholtes and I've lived in Frederick almost my whole life. I went to University of Maryland. I'm a marketing major, I work in finance right now, but I love comedy and I love the theatre. That's what I'd rather be doing. So this show, One Man, Two Guvnors, I'm playing Francis Henshall, the one man of the title. It's a role that I think I'm pretty well suited for because it's comedic and I'm a member of The Comedy Pigs, the resident Improv Troupe of Maryland Ensemble Theatre. I've been doing that for the past seven years. They're actually in their 23rd year, and that's how the MET started. In school I was in a comedy group as well.
What drew you to this show?
Thomas:  I really love comedy. When I saw that this was going to be one of the shows for this season I knew I really wanted to try and become involved. I wasn't familiar with the show before we got the list of shows for the season. It's really neat though, once the MET gets their schedule official they have all of the scripts available for the company members to read through. And once I read through it, and saw how funny it was, I knew I had to be a part of it.
When you went out to auditions were you looking for any specific role?
Thomas: Nope. I just really wanted to be a part of it. I didn't care how. There are a lot of great roles. All of the men are hysterical. Everyone's character has a memorable line that's really funny. Actually, everyone's characters have multiple lines and parts that the audiences seem to be really remembering and laughing over. I've never actually led a main stage show here, so I wasn't expecting this at all, but I think the role is very well suited to things that I can do. Interacting with the audience, rolling around on the floor? Those are all things that I think I can do well. I actually had a woman see the show and tell me that her father is a professional clown and that she was very impressed with everything I had done. I took that as pretty high praise. I've always been a clown, class clown, just trying to make people laugh.
Do you like making people laugh?
Thomas: I love it. Just getting people's reactions? They're reacting to you and you know that they're having a good time because of you that feels great. I love making other people happy and people are happy when they're laughing.
How do you find this show compares to your improv and comedy work?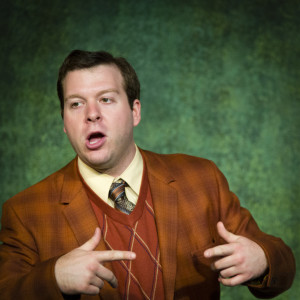 Thomas: Oh this show is essentially the same thing. I've had to miss my improv rehearsals. And some of the group have come to see the show, and I was able to say "see? I'm still practicing! I'm still rehearsing up here by myself." Half of the show is improvisation. I have to work with the audience, just like I do in the Comedy Pigs. Our shows are actually a lot like Who's Line is it Anyway? We do a lot of the short form games in the first half. In the second half we do something with an audience suggestion, a little bit more of a long-form structure. So having that in my arsenal has helped with this show immensely.
But this isn't your first scripted show, right? What was your response to being offered the title role?
Thomas: No, no. I've done a few productions with MET, The Arsonists was the last stage show I've done. I was also in Pickle My Monkey. Believe it or not that was a main stage show. It was written by Matt Lee (currently in this show as Lloyd) and some other company members, Jack Evans and Kevin Cole I think. They were the main three co-conspirators, I think. It was about conspiracies. It was an interesting show to say the least. But getting back to this show, Tad (Director Tad Janes) called me up and said "Hey, do you want to be in the show?" And I said, "Of course!" and then he just sort of blurted out "You're playing the main character." That was shocking. He has a lot of lines to memorize, so I knew that was going to be a lot of late night readings. I find it really helpful when we're rehearsing to get those lines down. It was hard, because it was exactly like rehearsing for improv. But I still had a script with lines to memorize.
How do you find yourself to be or not to be like Francis Henshall?
Thomas: Um. I like to eat. Obviously. I do have a little padding here. He's always trying to say the right thing, and I try to do that too. I try to be agreeable with everyone. I also try and do a lot of things at once, hopefully not taking on as many tasks as he does during the show. I mean I juggle two bosses, I have my day job and my theatre job. Hopefully I don't screw things up the way Francis does with his two guvnors. I don't lie as much as he does, which is probably a good thing. I think. I hope. But I think I'm a very physical person and I like making people laugh. Francis has his jokes and is always chasing after the laugh, he's always trying to make people laugh too. He's entertaining himself and others. And I think that's kind of why I can bring out everyone else's laughter as this character because that's what I like to do too. So all of the asides that I have where I break the fourth wall? That's where I can really be more of myself, you know— me talking as Francis rather than Francis just talking.
How is the accent working out for you?
Thomas: I mean I like it. We had a dialect coach and that helped a lot. I think I've gotten most of the words. It comes and goes some days on different words. We have wavering consistency, but I think that's part of the charm and the humor. It's funny, one of our cast members is actually from Britain, Bob Herbertson who plays Charlie the Duck. Matt Bannister, who is the 'character man' is also a natural Brit. The rest of the cast sort of ended up going with this working class attempt at cockney. But Bob had some friends see the show and he said they talked through intermission trying to figure out if there were other actual British actors in the cast besides Bob and Matt. So I guess we must be doing pretty good on some level?
What has been the biggest challenge for you in taking on this role?
Thomas: I guess just staying with the character and figuring out how he would handle a situation or react to a line verses how I know I would in a comedy show or just as myself. That way I can explore different actions in how he moves verses how I move. That was actually some of the most fun we had in rehearsal, exploring all these different options and deliveries. That was one thing that Tad told me during the rehearsal process, because Francis is always really hungry— heading into that final scene before the intermission there's all this food coming— he told me that that knowledge of the food was his hidden ecstasy and to go that route with it. I was just like "yay, food." And he's like "No! This is his entire motivation for the first act." It was really fun getting to work through those motivations.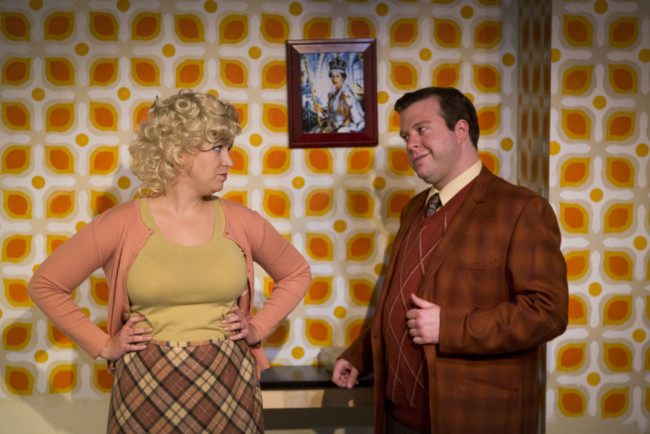 It's actually been really funny but difficult because I actually eat just before I get to the show. I'm coming from a long day at work or wherever and I have my dinner and then I get ready to go on stage and I'm like "Crap. I'm not hungry at all." I keep forgetting that I should hold off to help better motivate myself in scene. It got really trying because I'd be full from my real food dinner and then I'd have to go into that scene and eat the meatballs and stuff, knowing that I was full, that I didn't want them, but still had to find a way to devour them and be really, really excited about it. Food is apparently my challenging struggle.
Do you have musical talents?
Thomas: Not particularly. I mean I sing at the end. I think I can sing. I do karaoke, without requests. This is usually at parties, as it gets later…or maybe drunk o'clock…I get my phone out and start playing music where I sing along. I start with the crowd pleasers like Journey and Queen…all the drunk party ballads. Then I get requests and just go with it. What the mood of the crowd is that's what I sing. Disney comes up a lot. But I've never done any actual musical theatre. Well, I've done shows where I do sing, but no training or real practice.
Is there a moment that really makes you bust your gut laughing in the show?
Thomas: For me? Watching Matt (Matt Lee playing Lloyd) with his "Brixton Prison" bit. That last time when he doesn't actually say the line but just looks out over the audience and everyone busts up— that just kills me. When I'm backstage I'm loving that moment. For me in the show I like my one-person fight scene. The story behind that goes a little like this. I was on vacation for a week during rehearsal. When I was leaving I asked Tad what could I work on while I was out, and he said "Well, work on your fight with yourself because no one else is in that and we can't work on it here without you." So I was at the beach and I was throwing myself around. Now, the problem is the floor of the MET stage is concrete and the beach is made of sand. So there were things happening on vacation that did not translate onto the MET stage when I got back. But I figured it out. My favorite part is when I pick my leg up and pretend like someone is dragging me. That's what everyone seems to remember the most, I guess because it's so unexpected. But it's so much fun.
What has balancing the physical comedy verses the verbal comedy been like for you?
Thomas: Comedy comes pretty naturally to me just because of all the improv I've done. Working with the audience is really fun, but it's the hardest and the scariest part because you never know if they're going to give you what you need. The audience is a live animal and it's wild and unpredictable. But that's part of what makes it so fun. I think I fit pretty naturally with both, delivering jokes and finding the funny stuff in my physicality. A lot of that comes in with the fight with myself. You know, I get beat up— well I beat myself up, but I think that's the stuff that the audience really appreciates. If someone gets punched in the crotch, you have to laugh. You can't not laugh. I laugh.
What has been the most difficult moment to stage for you in this show?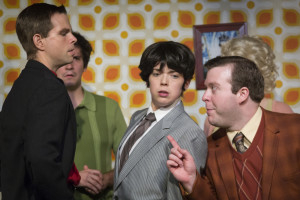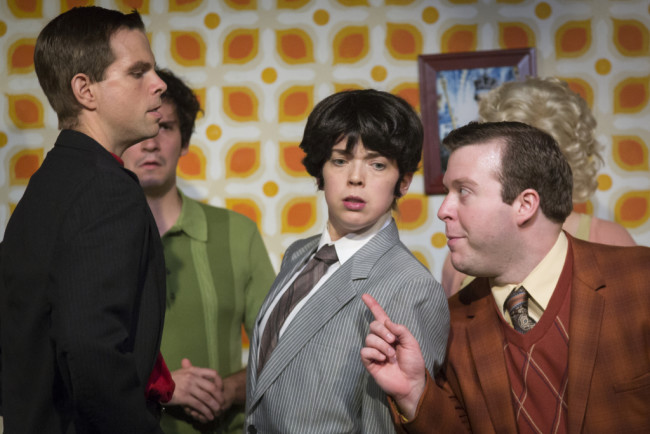 Thomas: Oh catching the grape. In the very first scene I'm throwing grapes up in the air and catching them in my mouth. Eventually I have to throw one up, back-up and try to catch it, hit the chair and fall into Matt's lap. And I'm supposed to catch the grape in my mouth while falling. So out of the eight shows I've done it I've gotten it six out of the eight times. One time I had to catch it into my hand and push it into my mouth as it was falling. One night I saw it go up, knew I was missing it, and then it vanished. No one knows where it went. We have not found this grape yet. I lost a grape somewhere up in the non-existent fly tower. Or possibly down on the floor. Maybe an audience member took it home as a souvenir but we cannot find that grape. In the original production, he goes flying across the stage and all that stuff. And we don't have a huge long stage or a chair like that, plus if I did that stunt like that I might take out a wall, plus there's concrete. So modifying that crash and catch routine was really difficult but it's a lot of fun.
What has doing this show taught you about yourself as an actor/performer? Or just about yourself in general?
Thomas: Just that I know that I can lead a show and take it on and put myself into it and do well with it. I'm getting a good reaction and everyone seems to be really enjoying it. I'm putting a lot into it and people seem to like it. There are a lot of jokes that got cut, which is good because now we have the best things to really work, and it's good to know you can really throw things around until you find what works. It's taught me to not be afraid to fail because you'll eventually get something good out of the process. The MET and Tad trusting me, and giving me this role and saying "we think you can do this" has been amazing for me as a person too. I think I'm doing a good job, at least I hope I am.
What are you hoping people will take away from an evening of seeing One Man, Two Guvnors?
Thomas: Just a good time. It's a very long show, it's probably the longest show that I've been in. But then again I do improv stuff. Each game is two or three minutes tops. So maybe it's not a long show. You don't have to follow the plot or anything, there's lots to enjoy. You get to see people get hit in the crotch, you get to see people running around. It's funny. What's not to love about that? People stay because they're having a good time. It's a good way to unwind from the cares of the work week and it's funny and people like to laugh.
Anything you'd like to say about the experience on the whole?
Thomas: I love everything about it. Great company. Great cast. Every single person working on this show has added something to the show over the course of our rehearsals. When we get there and everyone is happy and excited every night it's just an awesome feeling. Tad's been great. Everyone wants to try new stuff and Tad lets us run with it. We get to do it and try it and if it doesn't work you know he reigns us back in, but he's so very open and he likes to let us explore. We get to find what we can to make the show better.
Why should people come see this show?
Thomas: You probably haven't seen anything like it. It literally has everything. It's fun. It's funny. There's fire and water and all the elements. Hey— you might even get to participate, if that's your thing. And we've got $2 PBRs. If that's not a selling point, I don't know what is. We've got something for everyone! Oh! And we've got music. Thom Huenger, he's great. He did a great job with carrying the music of this show. He has a great personality and he relates to the audience. He jokes with Matt (actor Matt Baughman) and he keeps the show moving while we're changing the scenery. People have actually asked for the soundtrack. Everything in this show really just flows together and makes for a great production. You should come and see it.
One Man, Two Guvnors plays through October 4, 2015 on the Main Stage of the Maryland Ensemble Theatre in the Historic FSK Hotel building— 31 W. Patrick street in downtown historic Frederick, MD. For tickets call the box office at (301) 694-4744 or purchase them online.
To read the review of One Man, Two Guvnors, click here.