Having an American premier musical on the stage of The Audrey Herman Spotlighters Theatre is a fascinating event all on its own. Having music lost from history composed by an Englishman specifically for the project only adds to the sensations that are happening with the current production of A Sensation Novel. In Volume II of the exclusive TheatreBloom interview series, we sit down with British composer Michael Nash to hear how he became involved with the project and what his experience has been like composing original music for the great W. S. Gilbert.
If you could give our readers a quick introduction and tell us how you came to be involved with the project that would be great.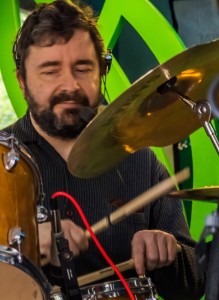 Michael Nash: My name is Michael Nash and I'm from Manchester in England. My involvement with Spotlighters came about six months ago when Michael Blum (Director of A Sensation Novel) put out a request on Savoynet for information regarding A Sensation Novel. Now, Savoynet is an internet discussion list for people who are interested in Gilbert and Sullivan and their related works.
So you are a Gilbert and Sullivan enthusiast? How did they become one of your passions?
Michael: I am, yes. 30 years ago when I started my first job after university, my boss was president of our local operatic group. He twisted my arm somewhat to get involved with their production of The Yeoman of the Guard. And then I was hooked. I was singing in the chorus for that show.
You started in the chorus and now you compose music professionally?
Michael: It's really just a sideline project. My day job, I work as a computer software developer and that pays the bills. Composition is a hobby.
You mentioned that Michael Blum found you through Savoynet, but you had previously composed music for A Sensation Novel? Where in your timeline does that fall?
Michael: That's right, I had. In 1998 I bought a second-hand book called Gilbert Before Sullivan which was compiled by an American Professor called Jane Stedman. And one of the plays in that book was A Sensation Novel. I was reading this on the train back up to Manchester and was laughing so hard, thankfully I had the whole railway carriage to myself. But I thought, "This is absolutely superb." And I wanted to put on a production of it at the International Gilbert & Sullivan Festival, which was taking place that year in Buxton in Derbyshire in England.  Up til then there'd been quite a lot of performances of Sullivan's work without Gilbert, but almost nothing of Gilbert's work without Sullivan. So I applied and asked could we perform it and they said "oh, yes!"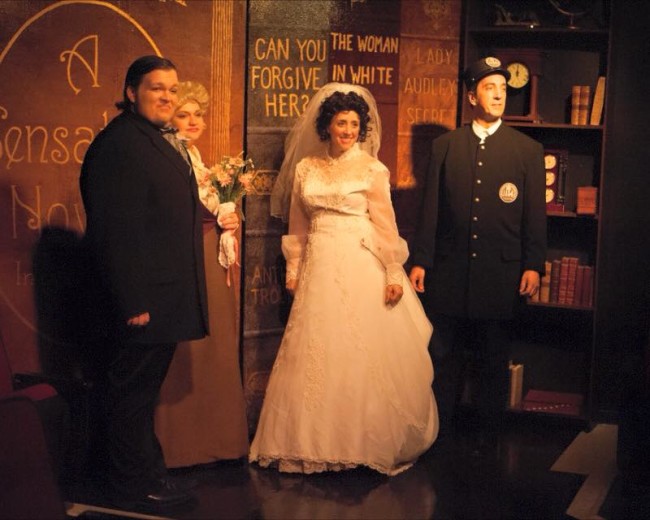 Then I looked around for the score. I found, at that stage, there was only one song that I could find, and that was Herbert's solo from the beginning of the third act. So I thought, "Well, I'll have a go." I'd written different kinds of music before. I started at the age of seven with pop songs and things through to my time at university where I was composing electronic and acoustic music. I had never actually tried to write an opera score before. But I figured I would have a go and see what people think. There was a group of people in my home Gilbert and Sullivan society who listened to it and said that it was pretty good and expressed interest in wanting to be involved. We put on the first performance of A Sensation Novel at The Buxton Festival that year.
Do you have any formal music schooling?
Michael: Not as such, I did a master's degree in Music Technology at the University of York.
What is it about this particular piece that really speaks to you as a composer?
Michael: For one thing the dialogue and the lyrics are just so funny. Whereas in the mainstream Gilbert and Sullivan operas it tends to be a little bit toned down for a more popular and wider audience. Certainly The Pirates of Penzance on forward I think Gilbert was thinking not only of a London audience but of an international audience. He was trying to think of something that would have a broad appeal. This predates that. I think he was prepared to do things that were a little bit riskier. You know, certain things like the battle that ensues between Alice and Rockalda, those words are brilliant.
Have you composed any additional orchestrations since Spotlighters took on the project?
Michael: Not as such, no. What I did do is extend the overture. Michael Blum likes to choreograph overtures. The original overture was very, very short, only about a minute and a half. It was just a little musical introduction. That wasn't long enough, it needed to be expanded to about four minutes so I got my thinking cap on again and wrote a longer overture. There was also a longer version of the Incantation music, which was written for Buxton but we didn't use it. I think that was because of the staging, we didn't have very much in the way of props or special effects then, but we got to use it at Spotlighters.
What has working on this project, even though you did a lot of the composing a while back, taught you about yourself as a composer?
Michael: It's been very encouraging, really. To begin with, I was moving out of my comfort zone somewhat. I thought, "what can I try?" I've been particularly honored, really, that people have been really complimentary about the part-writing that I did. Again, that was a new thing for me. I think that perhaps just over the years of having some experience with Gilbert and Sullivan, I've gotten an idea of what the different parts should do, but I didn't actually know until I tried it if I could write in that way or not, but again people have been very complimentary.
Is this your first time that you've had your compositions performed in the US?
Michael: It is, yes. It's a great honor that people think well enough to bring it across the Atlantic.
Is this your first visit to America?
Michael: Oh no. I've been about ten times all together but this is my first time to Baltimore.
Do you have part of the score that you composed that speaks to you or that you're particularly fond of?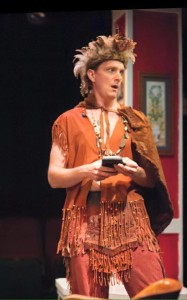 Michael: I think for me, maybe the two standout pieces— one is Gripper's Song, "When Information I Receive." I think when we did the original Buxton production that was the song that people latched onto and thought, "Oh yes, that's the hit single." The other was the music that I composed for Alice's solo, "No Father's Care." After we'd done the Buxton production a couple more of the original scores turned up, and one of them of "No Father's Care." That's probably what Spotlighters has used for Alice's solo, but they have also incorporated my music for that number as well, only now it's a Reprise sung by Sir Ruthven. I wasn't expecting that when I saw the show last night. I thought, "Oh, yes! That really works."
Do you have a Gilbert and Sullivan or Gilbert without Sullivan piece that really speaks to you or is a favorite?
Michael: I think my favorite of the Gilbert and Sullivan operas is Iolanthe. It's my favorite partly because it was the first show that I got to do a principle part in, but that was 25 years ago when I was doing my master's degree. I played Lord Mountararat. I've also played the Lord Chancellor. I think an individual piece that stands out to me is a quartet from The Yeoman of the Guard, which is "When a Wooer Goes A-Wooing." Musically it's just so beautiful. When it comes to that final section and those four voice blend, every time I hear it I just go all cold and shivery.
What was the biggest challenge for you in composing this piece?
Michael: I think I wanted to bring out this Gilbert work. A few people asked me while I was in the middle of composing, "well why don't you just put Sullivan's tunes to it?" And I didn't really want to do that because it was never a Gilbert and Sullivan piece. I didn't want people to be tune spotting and thinking about what songs were coming from where. I was trying to write something that would be in keeping with that sort of genre, because that would be what people were expecting, without actually copying Sullivan. I wanted to be sufficiently original so that people wouldn't think, "Oh, he's just trying to do Sullivan and he's not very good at it." It was quite a challenge to tread that middle ground of being too far away from that Gilbert and Sullivan style— to the point where people just wouldn't know what had hit them— to being too close and people would just dismiss it as second-rate bad imitation.
What do you think about the Spotlighters space?
Michael: Yeah, it's very interesting. I've never seen a show like this done in a square all around like that. When we did the performance at Buxton we had even less stage space. I mean it was slightly wider but the width of the stage was so narrow there was just enough room for two people to stand behind each other before they'd hit the back wall. Michael Blum has done a wonderful job of being able to rotate people around. It makes a very lively visual spectacle so that everyone can see and hear what's going on.
Have you ever read any sensation novels?
Michael: I don't think I have to be honest. To tell you the truth I'm not really a great reader of novels these days.
If your life were to be a sensation novel, what would you title it?
Michael: Oh. Um, I'd be probably thinking of the chap who's dreaming of the much more bold and romantic life out there. But his reality is that he's much more a boring and clerk sort of existence. So perhaps The Baronet of Manchester or something like that.
Do you feel like this work is still relevant to modern theatergoing audiences?
Michael: Oh definitely. Certainly with many productions of Gilbert and Sullivan, a show like Iolanthe for instance— where there's been a fair bit in the news in Britain recently about abolishing hereditary peerism in the House of Lords, and people get those jokes— they speak to modern audiences. A thing like A Sensation Novel is great because it overturns that popular perception of the Victorians. You know, everyone thinks they're all prim and proper and they haven't done anything wrong. And yet underneath they're all nasty and cruel. This is a work that presents people as people. I think when people see that, no matter what age it's from, people cotton on and they go with it. I think once people realize that you can do that with people from another time, it takes the difference of 100 years out of it. Yes they're people from 100 years ago but they're not really all that different from people like you and me.
Why should people come and see A Sensation Novel?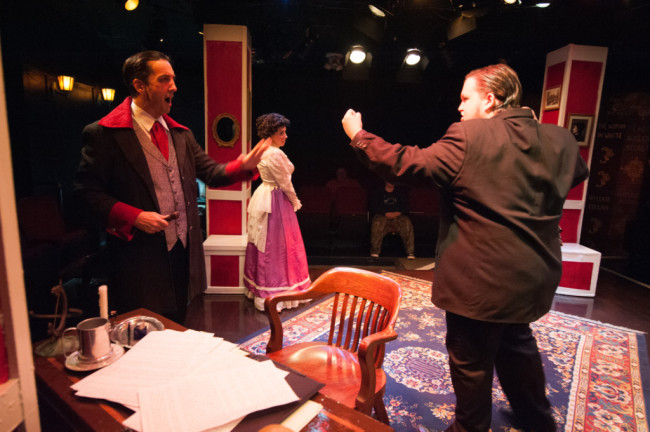 Michael: First of all it is a very funny show. The cast is terrific. The voices are very, very good. It is something that is a bit different. I hope my music has done justice to Gilbert's words. That's what I wanted to put out there, Gilbert's words. It's very witty. You do have to listen. It's not the sort of show where you can sit back through the song and dance number and then pick up the plot at the finish of the number. You have to pay attention, but I think if you do it's very rewarding.
Anything else you'd like to say about the experience?
Michael: I just feel really honored that they've picked up my work. Everyone has been so welcoming and so friendly. I felt that particularly the arrangements that Erica (Musical Director Erica Rome) has done with my work, you know she hasn't hacked it all to bits but what she has done is worked them to underscore things in a very clever way. She's arranged them as introductions and things in a really good way. It's greater than it was now that I've passed the ball to her. It's a really great show and I do hope people come to see it.
A Sensation Novel: A Musical Play in Three Acts plays through October 4, 2015 at The Audrey Herman Spotlighters Theatre— 817 St. Paul Street in the historic Mount Vernon neighborhood of Baltimore City in Maryland. For tickets call the box office at (410) 752-1225 or purchase them online.
To read the review of A Sensation Novel, click here.
To read Volume I: An Interview with Actor Jim Knost, click here.