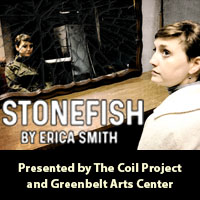 Amanda N. Gunther | TheatreBloom
Stonefish is an original play by
Erica Smith and directed by David Dieudonne.
Without wishing to spoil, Stonefish
revolves around fraternal twins Mason and Dixon (both played by Amanda Zeitler)
their younger brother Lewis, (Ren Stone) their father Stan, (Sean Butler) and
their piano teacher, Christopher (Matt Baughman.) The play itself deals heavily with grief and
trauma.

There is
little one can say about the plot without spoiling the thread of the story
except in that while it is a clever concept,