Sometimes being a liar works, and with the Maryland Ensemble Theatre there's bound to be some fireworks! In their season opener, that is. Kicking off the 2015/2015 season with a big comedic bang, MET presents Richard Bean's One Man, Two Guvnors. Based on The Servant of Two Masters by Carlo Goldoni, this physically intensive farcical slapstick endeavor is Directed by the company's Artistic Director, Tad Janes, with Musical Direction by Thom Huenger and will leave you rolling in the aisles with gut-bursting laughter.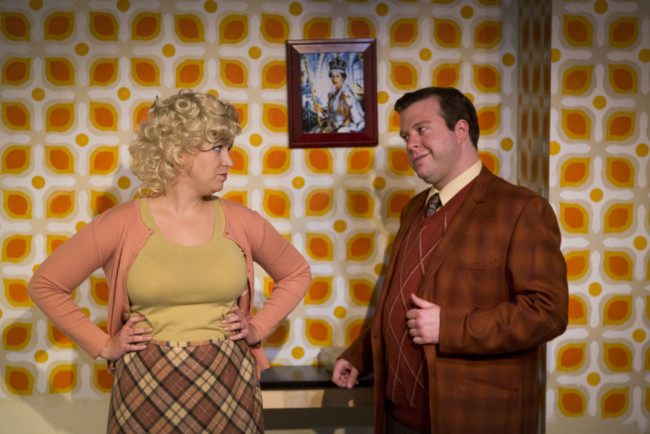 Considering the intimate black box spacing and constrictions therein of the MET stage, Scenic Designer Eric Berninghausen has set the bar to Olympus for production quality with this current production's set design. Revealing no fewer than five completely different fully painted and decorated set platforms throughout the course of the show, Berninghausen is not only artistically skilled but masterfully creative and clever when it comes to executing such drastic changes in such a quaint space. His precision with and attention to detail really situates the show in 1963, what with the garish bright paint jobs on all the interior surfaces. The orange lava bursts inside the Clench penthouse, the hideous fuchsia and magenta circles upstairs in the dining quarters of The Cricketer's Arms Pub, all of these color schemes and paint patterns scream of the overripe psychedelic but modernly trendy era of the mid 60's in Brighton. Add to it the remarkably breathtaking and yet simply painted wharf and pier set layered in serene blues and you have a visual masterpiece for the show's duration.
Adding to the show's aesthetic are Lighting Designer Giovanni Kavota and Sound Designer Doug Grove.  Working together to accent and augment Berninghausen's magnificent design work, both Kavota and Grove enhance the natural beauty discovered behind the production curtain. Kavota's claim to fame is his radioactive glow cue that illuminates a particularly humorous moment in the show that really packs a punch in the laughs department, while it's Grove's seaside sounds that bring home the win in the soundscape, even if they don't appear until nearly the end of the production. All three designers put a tremendous effort into making this show a sensational work of comedic art.
With the high bar set, Costume Designer Kirk Bowers leaps over it with flying colors when it comes to the quality of the show's couture. Matching the walls of 1963 with similar fabric patterns and color schemes, Bowers keeps the look of the displaced era vibrant and fresh, particularly when it comes to the spotty and dotty dresses and skirts of Pauline and Dolly. The wigs, of all varieties, are coifed and styled and curled to highlight the fine hairstyles of the 60's, one of many finer points of minutia that Bowers keeps his eye on throughout the production. The result of Bowers' understanding of the era is characters who fit flawlessly into their step out of time, even when the script calls for them to bash through the fourth wall back into 2015.
Setting a show in Brighton in the 60's comes with its own set of challenges, one of the most perilous being the accents that go along with the locals therein. Dialect Coach Kirsten Trump delivers with certitude a broad range of British-sounding accents that traverse the rolling isle with ease. While none of the dialects match the geographical location to perfection, Trump's work is beyond commendable for the simple fact that the actors deliver consistently in the accent with which they work. For Pauline it's less of a focus on the accent and more of a focus on her vocal intonation and laborious extension of vowels as she whines. There are a great many other examples of this sort of vocally engaged character work throughout the production, informed by Trump's consultations, making the performances thoroughly enjoyable to hear.
One of the unique aspects of One Man, Two Guvnors is the endless entertainment that is afforded to the audience between scenes. Though the music and songs are written by Grant Olding, it's Musical Director Thom Huenger that drives these songs to their full comic potential. Starting out as a lone guitarist at the top of the show, Huenger engages other cast members to play along with him throughout the production. One of the most sensational moments, which results in hysterical uproar from the audience, is the battle-style showdown between Huenger and actor Matt Baughman. Huenger nails out his half of the battle on his guitar while Baughman takes up the tuba for a rousing pump of enthusiastic music. Several of the between-scene musical numbers are clearly crafted to cover hidden scene changes, but Huenger engages in such a fashion with both his fellow performers and with the audience that you easily forget that this is the purpose of these songs and feel as if they were a part of the show for sheer entertainment's sake.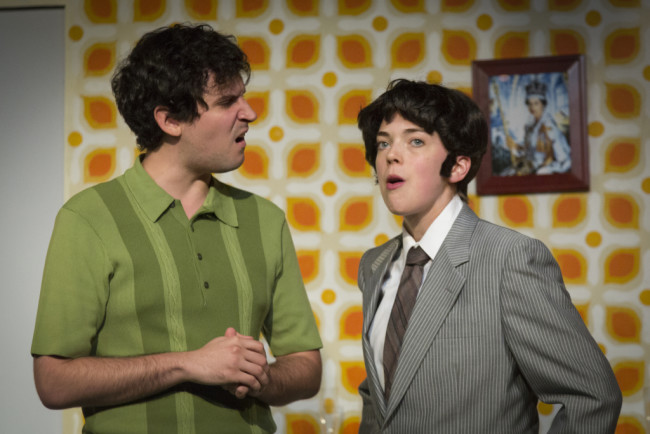 The production's one minor fault is its inconsistent pacing. Director Tad Janes needs to drive the comic movement of the show with just a touch more vigor. The finale scene before the interval is filled with slapstick, physical shtick, and true moments of flawlessly executed comic and farcical timing that stand sensationally alone as individual moments but when launched together in a fluid moving series drag their feet just a bit. If this long and hilarious scene were tightened, paced perhaps at double time, the show would quite literally be flawless.
Janes forces the actors to play these hysterical melodramatic characters in earnest, which is the best approach to such maniacally hilarious situations as those that occur within the play. His natural understanding for how to block complex scenes within the given space is astonishing and works quite well, particularly for moments where doors are involved. Janes also finds the raw humor of having a play that essentially obliterates the fourth wall, but only at seemingly random moments, and allows the cast to play with theatergoers at their discretion without disrupting the overall momentum of the show. A remarkable directorial effort on Janes behalf, the show will have you laughing so hard your sides will be sore.
Even the most minor of players in this ensemble piece earn their moments in the spotlight of comic hilarity. Matthew Bannister, playing Harry Dangle— of Dangle, Bush, and Berry— Gareth, and the copper, as well as Bob Herbertson, who takes up the slightly curmudgeonly role of Charlie "The Duck" Clench, both work their little niches into comfortably humorous moments on stage. Bannister is a laugh a minute when prattling around as the uptight waiter trying to sort out Henshall's disasters, but it's his unending gasbaggery during a scene with Herbertson just outside the solicitor's office that really takes the cake as far as his comical character work. Herbertson holds his own as well, especially when it comes to choking up over absurdities as Charlie in scenes with his dear dumb daughter Pauline.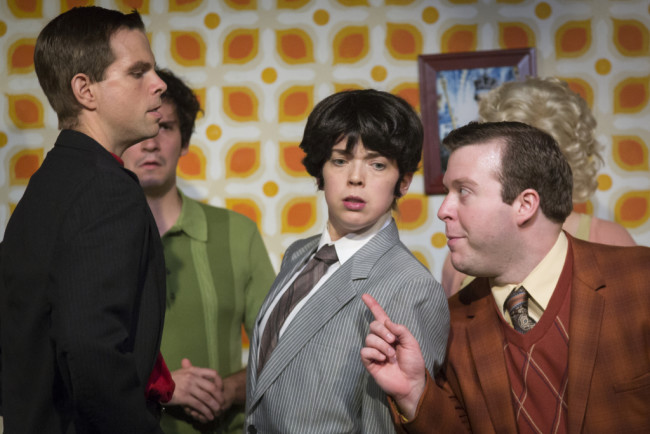 Stepping up the line comes Matt Lee, playing the ever feisty Lloyd character. Having far fewer lines than most— a fact announced as a part of the infinite fourth-wall obliteration objective that sits in the wheelhouse of this script's soul— Lee makes every blessed moment of his on stage a moment to shine. His insanely hilarious delivery of 'Brixton Prison' becomes a gag that he runs away with, a true moment of uproarious enjoyment for the audience. His spastic moments, though few and far between, are precariously balanced outbreaks of comic genius that really lead his supporting character to a great deal of stage success in this show.
Show stealer Matthew Baughman takes his place in the limelight and possibly several other places while he's there. In his dual performance, first as Alan Dangle, the audaciously haughty prep-school actor boy and later as the derelict and doddering Alfie, Baughman steals the laughs from the audience's throats so furiously that the whole house is often left gasping for breath. Distinguishing between the melodramatically moody Alan and the physically hysterical Alfie is a breeze for Baughman, who creates two distinctive physicalities and emotional palettes in the roles respectively. Baughman's keen understanding of physical comedy allows for the flawless execution of his physical shtick, particularly as Alfie, especially during scenes where he takes to banging into doors, falling through doors, and ending up arse-over-teakettle on the ground. For fear of spoilers, his most absurdly engaging performance as Alfie will be mentioned but without specific detail. Needless to say it is a riotous success that takes over the show with hysterical vigor.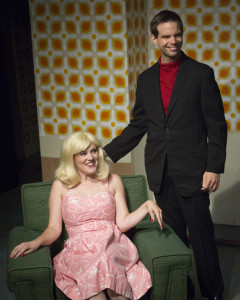 Involved with Baughman's Alan Dangle, Pauline (Shea-Mikal Green) is the epitome of a dumb blonde. They've attempted to make bricks thicker, but Green's portrayal does a great justice to the vapid wind tunnel that exists between Pauline's ears. Her wide expressive eyes and ridiculously articulated and over-exaggerated facial expressions really hone in on the character's density. It's the nasally and petulantly exasperated whine that Green forces through the character's vocalizations that truly put her a notch above your average obnoxious dumb blonde girl in this production. Her hot-swinging moods assist the humor to its fullest potential in the character as well. The chemistry that Green and Baughman discover, particularly in the opening scene where they serve as deliciously distracting and entertaining background furniture, is spot on for their characters.
Plot-plodding people of interest include Stanley Stubbers (Todd Mazzie) and Rachel Crabbe (Jenna Rossman.) Mazzie dominates the stage with his surly and cheeky airs and humors. Rossman does likewise with her commanding presence and intense eyeball-acting, relying a fair deal on the expressivity of her responses to audience commentary to really find the humor of her character. Rossman ensnares the audience with her homicidal phone rant, directed directly at us without any veil of the fourth wall and it's a scream. Mazzie, though having fewer direct engagements with the audience, manages to captivate attentions with his curious accent, and delectably questionable internal motivations that often transcend his physical actions. Both Mazzie and Rossman take exceptional control of their situational involvement with their 'guy' or their 'man' as he appears in the form of the servant to two masters, Francis Henshall.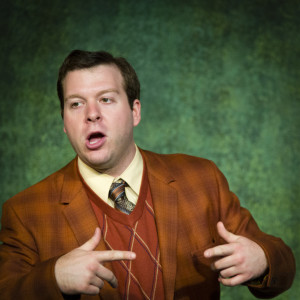 Tackling the title role of 'One Man' with vigorous aplomb, Thomas Scholtes is a comic cad who earns thunderous applause and justly so. His ability to handle a live audience with whatever they throw at him is felicitously uncanny and delivered in earnest. His ability to break the lines between in-scene and out-of-scene happens with sharply executed precision and lands its comic mark with striking accuracy. Scholtes delivers cheeky charm and charming cheek when it comes to doting on Dolly (Isabel Duarte.) His raw energy charges the scene and keeps it barreling forward, and it is more than apparent that his improvisation skills are on point when it comes to filling in the comic spaces of audience involvement. An astounding performance, Scholtes rocks in the role of Francis Henshall and makes the show a rollicking good success.
Truly witty, earnest hilarity of all formats comes romping through this comic engagement, though it's only currently engaging for a few weeks more at the MET, so be sure to get your tickets straight away or you might miss out on this bang-up hilarity that is their season opener.
Running Time: 2 hours and 50 minutes with one intermission
One Man, Two Guvnors plays through October 4, 2015 on the Main Stage of the Maryland Ensemble Theatre in the Historic FSK Hotel building— 31 W. Patrick street in downtown historic Frederick, MD. For tickets call the box office at (301) 694-4744 or purchase them online.