Fiddler on the Roof for Christmas? Unthinkable. Unheard of. On the other hand, it's a brilliant story with glorious music. On the other hand, it's not A Christmas Carol or some other stalwart tradition in the nation's capital. On the other hand, The National Theatre is bringing tradition to their stage for a limited week-long engagement smack in the middle of December this year. With original Direction by Barlett Sher (recreated here by Sari Evans) and original choreography by Hofesh Shechter (recreated here by Christopher Evans), this iconic musical is vocally impressive, choreographically strong, and full of heart.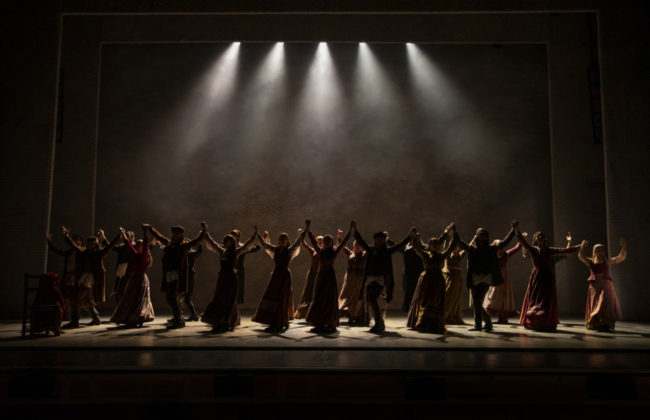 With only two notes of complaint, it's practically a perfect show, right? Of course right. While the brilliance of Barlett Sher's attempt at bookending a conceptual lens on either side of the production is clearly intentioned, it doesn't quite work. With a blank stage and the train sign reading "Anatebka" overtop, a modern-day man, wearing glasses and a downy vest-coat, holding a storybook comes out and narrates the opening monologue before stripping out of the vest-coat and stepping into the story as Tevye. At the show's conclusion, he once more reappears in this guise, making contact with the 'Fiddler' before joining the march of exile with the other characters from the story, symbolically representing that the perils of persecution still echo with relevance to the Jewish people of toady. But the bookend concept, while clever, just feels unnecessary as the show is otherwise so impressive. The libretto, music, and lyrics have not faded with time nor have their meaning lost importance, so why overcomplicate the production with this extra layer?
The production's other flaw is the underwhelming characterization of Yente (Carol Beaugard), the matchmaker in the village. Perhaps because Yente role more traditionally borders on a larger-than-life type characterization, Beaugard's incredibly understated performance feels out of place with the rest of the show's grandeur. Or maybe it's that Beaugard seems to speak with a modern cadence; her Yiddish accent has a modernity to it that is both unshakeable and noticeably different from those speaking around her. There is also a rigidity to her delivery which gives her lines a slightly contrived feel, ultimately resulting in a disappointment for anyone who has previously encountered this comic caricature of a character, and a rather odd disconnect from the rest of the production for anyone who is experiencing Fiddler on the Roof for the first time.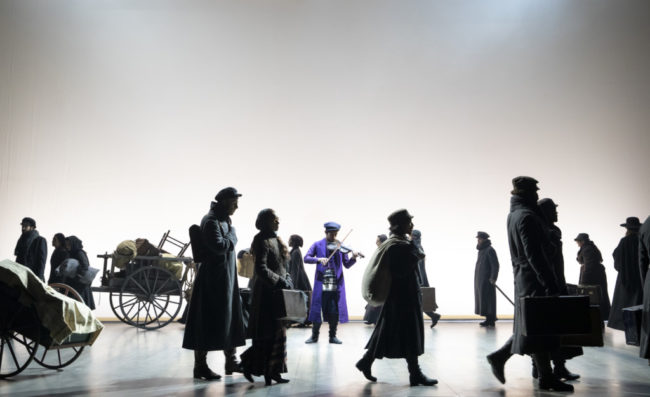 At first, with the blank stage and utterly empty set, the initial emotions toward Michael Yeargan's set design are that of frustration and disappointment, though these feelings are quickly dispelled as a rather impressive, earth-toned set sweeps in on pulley mechanisms and fly-rigs. Rich earth tones are dampened with an effect of impoverished living but the set is rather striking to look at, especially the outside of Tevye's home. Lighting Designer Donald Holder augments the natural beauty of Yeargan's set as well as the breathtaking emotional moments that are explored all throughout the duration of the performance with his illuminating design work. Though the lighting is simple, it calls attention to feeling when and where such attention is necessary, without overbearing the scene or scenery. This is particularly true when Holder's lighting is used to isolate Tevye's asides from the active moments he encounters; on the other hand, that dramatic blue is definitely in your face for these moments; on the other hand, it does the job effectively.
What makes this production tug at the heartstrings more so than the average production of Fiddler on the Roof, whose striking music by Jerry Brock, meaningful lyrics by Sheldon Harnick, and poignant book by Joseph Stein are all quite endearing on their own, is the minutia and detail that Director Barlett Sher conceived. There is a subtle moment, easy to overlook if you aren't watching him directly, when Lazar Wolf slips a gesture of humanity to Tevye's family near the end of the production. It's a tearjerker. There are dozens of little moments like this throughout the performance that call the audiences' attention to the heart and humanity of the narrative. Sher also stages the "Tevye's Dream" sequence with extraordinary puppet-esque hands and masks as the ancestors returned from beyond the grave; it's wild, chimerical and utterly entertaining while also being just a little bit spooky.
The dynamic of relationships in this production comes out in the spirited character work devised by the company and is noticeable even in the smallest of relationships. But perhaps the most fascinating of all the character relationships in this production is the way The Fiddler (Ali Arian Molaei) envelops himself into Tevye's narrative. Overtly foreshadowing perilous events in Tevye's life, Molaei as the titular, albeit wordless, character, serves to represent the unfortunate perils that creep into Tevye's timeline in Anatevka. Every time Tevye encounters Molaei's Fiddler, there is an evocative pause, a knowing glance, shared just between them, as if the Fiddler were Tevye's only personal harbinger of pending doom.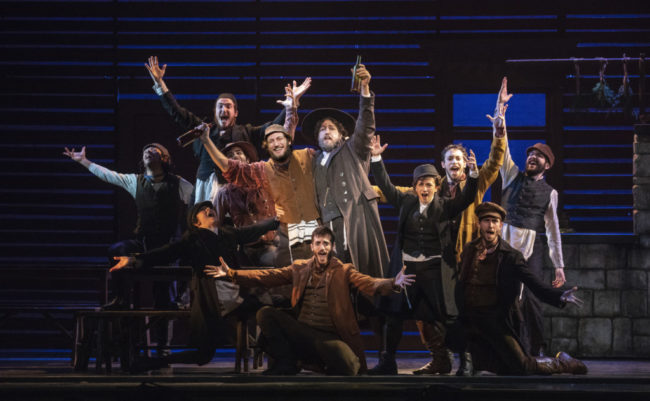 From a visual and technical standpoint, the original choreography of Hofesh Shecter, recreated by Christopher Evans, is both stunning and engaging. While the Klezmer style music of Jerry Bock's score is undeniably catchy, Shecter adds even livelier layers with the routines featured throughout the production, particularly in the rowdy inn during "To Life." The dancing male ensemble is sharp, crisp, and executes a series of impressive dance moves both here and at the wedding festivities. Enhancing the enchanting choreography, the robust and hearty sounds filling out the songs from the ensemble make this production of Fiddler on the Roof invigorating and vivacious.
Daughters he has five, Tevye does. Bielke (Carly Post) is his, Shprintze (Emma Taylor Schwartz) is his, Chava (Noa Luz Barenblat) is his, Hodel (Ruthy Froch) is his, Tzeitel (Kelly Gabrielle Murphy) is his, Motel (Nick Siccone)— not his. But miracle of miracles, Siccone's Motel the Tailor is an adorably versatile burst of comic relief, in equal parts sincerity and humors. Cowering divinely from Tevye, with a case of the body shakes so violent that he looks like a wobbling blur, Siccone finds Motel's spine when he finally brings his own heart and feelings to Tevye regarding Tzeitel. And when he bursts through "Miracle of Miracles", there is a fizziness, a refreshing effervescence to his vocalization of the number. Other rich and rewarding male voices from withing the supporting ensemble include Nic Casaula as Perchik, with his endearing rendering of "Now I Have Everything", and Sam McLellan's Sasha. While the Sasha character is little else aside from a friend of Fyedka, he does receive that big iconic solo during "To Life", which he delivers with prestige.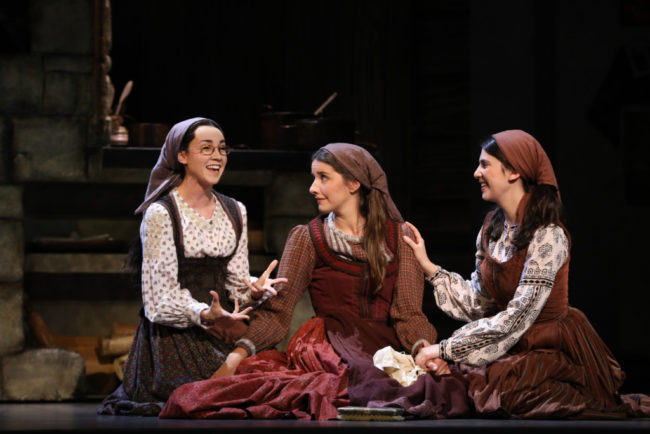 The quintet of daughters— Bielke (Carly Post), Shprintze (Emma Taylor Schwartz), Chava (Noa Luz Barenblat), Hodel (Ruthy Froch) and Tzeitel (Kelly Gabrielle Murphy)— are fair of face, delicate of voice and well suited to their roles. Post and Schwartz are the younger and more playful of the five, while Froch's Hodel starts out with a subtle saucy attitude toward Perchik, transitioning to feel fondly and affectionately toward him as the show progresses. Froch, receiving the show's only female solo song, puts a wistful longing into her delivery of "Far From the Home I Love", with deep melancholy feelings behind each verse. Murphy, as the eldest daughter of just twen— well, we shouldn't brag about her age— transforms "Matchmaker, Matchmaker" into a song fraught with worry and nervousness, which is a refreshing change from its more traditional and playful nature. And while Barenblat's Chava is only featured in the aforementioned "Matchmaker, Matchmaker" is part of the sororal trio, her dancing during "Chavaleh", Tevye's song about his middle child, is elegant and graceful.
In this touring performance of Fiddler on the Roof, the bickering nature of Golde and Tevye's relationship is brought far forward, exemplified by the strong backbone infused into the Golde character by Maite Uzal. Unafraid to burble and bristle with Tevye, the comedy that arises from their relationship is again a welcome relief to the string of challenges and sorrows that greet this family along the way. Her voice is sturdy, and well-toned, both for the more demure and accepting verse she delivers in "Tevye's Dream" near the end of that number and when she's singing in duet with Tevye for "Do You Love Me?' The tender uncertainty that Uzal brings to this duet solidifies the unique and heartfelt relationship that Tevye and Golde have created in their life together.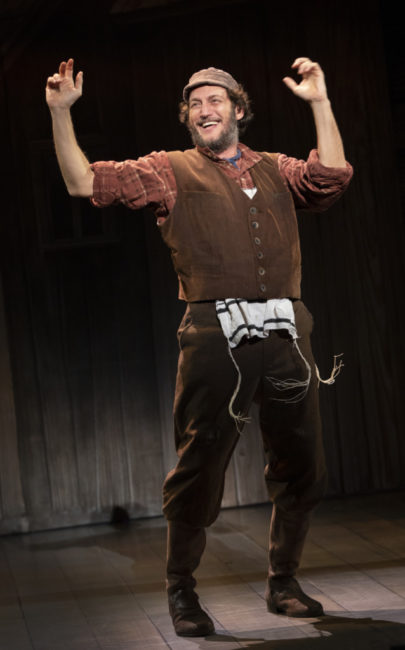 As for Tevye (Yehezkel Lazarov), at this production he is a man with two feet in different worlds. On the other hand he is traditional when it comes to the robust roaring sound that rings through numbers like "Tradition" and "If I Were a Rich Man." On the other hand, Lazarov brings a strange but not unappreciated slowness to his monologues, where several of his cues are spoken with over-emphasized inflection on certain words. On the other hand, he is a fine blend of heart, soul, feeling, and tradition all rolled into one performance. Lazarov is both a traditional Tevye and a Tevye all his own, which sounds like a complicated experience, but honestly creates a richly satisfying, and deeply fulfilling understanding of Tevye's plight, his journey, and ultimately his strengthening as a man in that situation.
While it may not be a winter-holiday-December tradition to see something so far from the holiday homey shows theatergoers love, this production of Fiddler on the Roof will not disappoint.
Running Time: Approximately 3 hours with one intermission
Fiddler on the Roof plays through December 15, 2019 2019 at The National Theatre— 1321 Pennsylvania Avenue NW in Washington, DC. For tickets call the box office at 800-514-3849 or purchase them online.