There's a saying that they have up in Havre de Grace
That helps keep happy smiles on their face
"If you want a Christmas show filled with glee— make sure that it's sparkle-jolly-twinkle-jingle-y!"
And The Tidewater Players is sparkling, twinkling, jolly, jingling their way across the stage of the Havre de Grace Opera House with their seasonal production of Elf! Directed by Laurie Sentman Starkey, with Musical Direction by Stephanie Carlock Cvach and Choreography by Carissa Lagano, this silver-screen-to-stage musical has something better than Will Ferrell! They've got Dickie Mahoney! And he's singing! And he's singing about being an elf in a Christmas musical! And he's SINGING!!! Filled with fun for everyone— and Santa-n-Buddy sleigh-riding photo ops after every show, Elf is quite the cute holiday offering from this staple of the arts in Havre de Grace.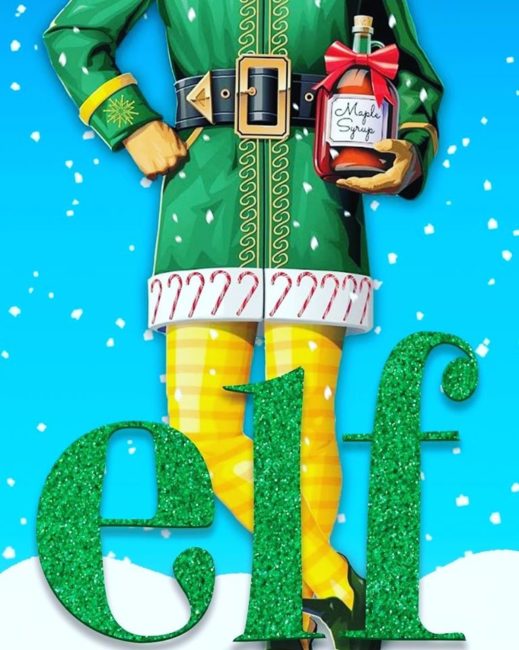 While Director Laurie Sentman Starkey's set's a little simple, Costume Coordinator Eva Grove more than makes up for the festive holiday cheery feeling with her sparkle jolly twinkle jingle costumes! Though I must say, I fear Miss Grove has confused the notion of Santa Claus with the notion of leggings; much the way the world seems to not believe in Santa, Grove does not seem to believe in leggings, despite the show taking place in the frigid chills of New York City at Christmas time…all the gals (in all the outdoor scenes) are wearing priceless "look-good-date-night" quality skirts. And no leggings. Dear Santa, I believe in you, and I believe that you should bring the ladies of Elf some leggings so they don't' freeze their calves off this Christmas as they're running around singing. Grove, despite her lack 'o leggings, does an exceptional job of fitting the iconic movie couture to Buddy the elf, gives Santa that authentic jolly flare, and stuffs the rest of The Big Apple into dreary business affairs, creating the perfect contrast to the elves inside the Macy's department store.
There are a few other Christmas faults, we'll chalk them up to holiday hijinks, that keep this production from the sheer perfection we've all come to know, expect, and love from the Tidewater Players this time of year. Using canned music, even at Christmas, isn't enough to get you on Santa's naughty list, if you do it right, which the Tidewater Players usually do. At this performance the looping interstitials sounded as if they were cut incorrectly or spliced together in a less than clean and tight fashion; this was only noticeable in a few of the scene changes, which took longer than expected, but Sound Designer Scott Harclerode should ask Santa for an orchestra pit and a live orchestra for future performances to avoid these potential hiccups.
A powerful ensemble and superb singing soloists in the leading roles are the result of Musical Director Stephanie Carlock Cvach's hard work; "Sparklejollytwinklejingley" is one of the most infectious and fun-loving songs in the show, and Cvach ensures that her performers are not only living this delightful experience but that they are radiating it fully out into the house with their voices so that everyone in attendance is infected with holiday happy. Choreographer Carissa Lagano does the same for the performers with her simplistic yet enthusiastic routines. With the limited space on the stage, Lagano recognizes the spatial challenge and adjusts her choreography accordingly so that it looks clean while still feeling extremely festive.
Exuberant joy is radiating off of our two comic crack-ups buried as character actors in the ensemble. While her named character is Sam Matthews, a stuffed blouse from Walter Hobbs office, Samantha Jednorski is FAAAABULOUUUUS as the perfumery elf inside Macy's. You won't soon forget her attention-grabbing shriek when she first encounters Buddy, it's a scene-stealing moment, for sure. The other hysterical comic actor worth her weight in humorous gold is Lisa Standish, playing Deb, the lead secretary of sorts in the office of Walter Hobbs. There is something cheeky and a bit daring about her sense of humor and her comic timing is spot on. Standish also has strong, sturdy pipes which well sort her sung bits in "In The Way", "Just Like Him", and "The Story of Buddy."
With a gorgeous sound that is both mellow and firm, Adrien Amrhein plays young Michael Hobbs, more the teenaged son of the miserable miser Walter, in this production of Elf. At first somewhat skeptical of Buddy (and quite professional in handling the wind-turbine kerfuffle on stage, he completely keeps his face together when even Buddy the Elf almost blows up laughing!), Amrhein's Michael is sweet and sincere. When he sings "I'll Believe in You", a duet he shares with Emily Hobbs (Eva Grove) there is something honest and heartwarming about the way he sounds. Grove, who wears dual hats in this production as both Step-mother-to-Buddy and the costume coordinator, is a vibrant and welcome addition to any cast. Maternal but youthful, Grove's performance is balanced, and when she sings her half of "I'll Believe In You", you believe her feelings and you feel for her need to believe. The pairing of Amrhein and Grove in "There Is a Santa Claus" is all the Christmas magic anyone might ever need to believe in the jolly old elf. Bob Willenbrink is stiff, unyielding, and damn near apoplectic, which is hilarious given how physically rigid and stoic his body is whilst portraying businessman Walter Hobbs. With a decent singing voice and a total character transformation, Willenbrink is a welcomed surprise in this production of Elf.
Newcomer to the area, Amanda Lynn McDowell proves straight out the gate that she's got what it takes to be the romantic and comedic lead as Jovie. With delicious vocals that really send you for "A Christmas Song" and keep you in whimpering stitches as you sympathize with her but can't help laughing at the lyrics during "Never Fall in Love (With An Elf)", McDowell is an all-round talent with that slightly sultry sound that Zooey Deschanel never fully delivers in the film. McDowell's dry humor is timed with precision and makes Jovie one of the most relatable and simultaneously loveable characters in this production. Her interactions with Buddy are priceless.
Before we get to SINGING about Buddy the Elf, we should probably take a moment to— to— to make sure we end up on Santa's nice list by praising the jolly old elf himself, Wayne Ivusich. Doubled up as the nasty and bitter Greenway (a perfect doubling if ever there was one; the juxtaposition of Christmas incarnate against the grumpy grinch himself is divine!), Ivusich has a fountain of personalities inside of him which he flips on a dime (and manages rapid-paced backstage costume changes to boot!) And although Santa has very few singing numbers in this show, Ivusich puts his vocals to good work. He's jolly and sincere, he might just be the real thing— so be sure to be good and get tickets to see him and Buddy and all the rest, or else he might just bring you coal for Christmas!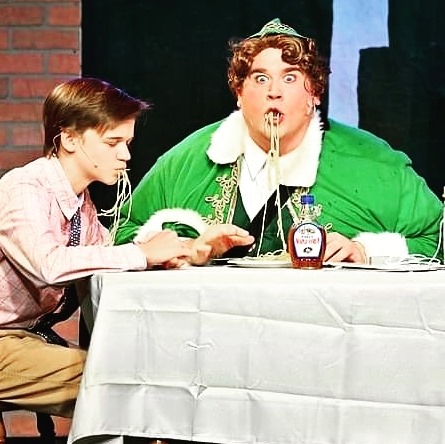 Now— now I'm SINGING. I sat through a Christmas show that didn't have a leg-lamp kickline and I'm SINGING! It had Dickie Mahoney (and not in green paint though it was a still a green costume but it wasn't Shrek) so I'm SINGING! Mahoney might actually be Buddy the Elf. The adorably confused over-sized human who accidentally somehow fell into Santa's sack and then grew up thinking he was an elf; this might actually be Dickie Mahoney. He's so comfortable in the cutesy comedic skin and jovial, blissful ignorance and innocence that is Buddy that you almost completely forget he's not an elf. Whether he's belting his way boisterously through "World's Greatest Dad" or having a heartbreaking moment like "World's Greatest Dad Reprise" or screaming "nooooooo" at the top of his lungs (and running off stage, down through the corridors, through the house, and back up again) Mahoney is Buddy the Elf incarnate, no questions asked. He's spirited to say the least and will win over the iciest of hearts this Christmas.
So you'd better be SINGING! And you'd better get your sparklejollytwinklejingley behind in gear and get tickets to see Elf at Tidewater Players this Christmas.
Running Time: Approximately 2 hours and 30 minutes with one intermission
Elf plays through December 8, 2019 with Tidewater Players at The Historic Havre de Grace Opera House— 121 N. Union Street in historic downtown Havre de Grace, MD. For tickets call the box office at 667-225-8433 or purchase them online.