If you look for it, love actually is all around you. Unless you're bitter-pill Cassie, whose got an icepick up her hoo-hah over love, romance, and happy endings. As the zany and quirky title might imply, Second City's Love, Factually, is bringing you the jaded and hardened look at the warm-n-fuzzy feel goods of the holidays this December at The John F. Kennedy Center for Performing Arts. Appearing through December 29 in the Theatre Lab, Love, Factually— created and written by Nancy Hayden, Damon Royster, and Marc Warzech— as directed by Drank Caeti, is your typical Second City, longform improv type comedy show, with a little loss holiday hoorayness and a lot more cynicism and sarcasm.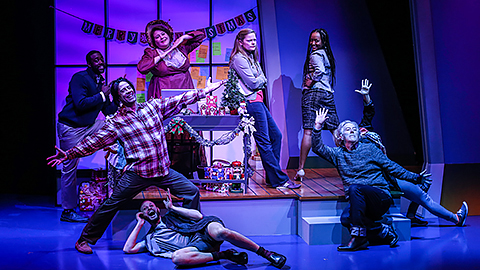 It's difficult to say where Second City went off the rails with this production, or maybe it's just the world itself who isn't gelling with the overall vibe— we are living daily in dark and difficult times and perhaps desperately cling to those sappy, saccharine happy endings of Christmas-themed romcoms (like Love, Actually) to get us through the muck and mire of our current place in the modern world— making it feel somewhat less than entertaining. To be clear, the audience did laugh, and for the most part seemed to enjoy themselves, but compared to other, more recent Second City seasonal tours, Love, Factually just didn't seem like their A-game for the Christmas season.
Creators Nancy Hayden, Damon Royster, and Marc Warzecha are trading on the hopeful familiarity of the film, Love, Actually, which despite having 16 years of existence under its belt, is not as widely recognized or appreciated in great detail the way that something like It's A Wonderful Life, or A Christmas Carol is. And while there are some subtle allusions to the latter of the two, building an entire two-hour Christmas comedy improv around a pop-culture movie without the deepest fan-base is a risky move, one that in this case doesn't quite seem to pay off. Hayden, Royster, and Warzecha do find little nuggets of relevant topics that make their way into all Second City shows, but for Love, Factually, it just doesn't quite seem to be enough to keep it from feeling subpar.
The improv players— an extremely talented cast of eight— work extraordinarily well with the sketches and characters thrown their way by Hayden, Royster, and Warzecha, and Frank Caeti's direction keeps the show moving, carving out interactive niches for the audience to receive the full "improv show" experience throughout the evening. And while everything in the show's aesthetic seems fine, there's nothing overly spectacular to write home about; it doesn't mean that Costume Designer Amy MacDonald, Scenic Designer Colin K. Bills, Lighting Designer Max Doolittle, Sound Designer Matthew Nielson, and Properties Designer Patti Kalil didn't do their job, it just furthers my point that this holiday season Second City's holiday show's heart doesn't quite seem to be in it.
Inessa Frantowski, the effervescent spirit of Ghost-of-Christmas-Jane-Austen among others, is one of two cast members who spends the most time interacting with the audience. Frantowski and Ian Owens, pair up as an elderly couple back on the dating scene (from inside the senior home) after their respective spouses (who become an unwitting pair of unknowing audience members) have passed on to the other side. Frantowski and Owens have a knack for charming the audience into their antics, and even cleverly handle the outbursts from over-eager audience members who want to participate a little too much. The pair manages to maintain the integrity of their characters and their sketch while quieting some of the more rebellious in the house and they simultaneously engage the pair brought up onto the stage to involve them in their "advice from dead spouses" segment of the show.
Versatile in her portrayal of Senator Danielle Worther and Keira, Renea S. Brown is one of the more entertaining individuals in the cast of eight; her recurring encounter as the senator— a direct parallel to the Hugh Grant storyline from Love, Actually— is both humorous and honest, hilarious and touching. Watching her give the Senator character such charm and hilarity, juxtaposed against the bubbleheaded vapid nature of the Keira character (which is a double-zinger as the character it mirrors from the movie was played by Kiera Knightley), is quite striking and a proper showcase of her many talents as an improv performer.
Rounding out the performance ensemble are Aaron Bliden, Anne Bowles, Eric M. Messner, and Scott Ward Abernathy, who pop in and out of these iconic (if you are obsessed with the movie) moments crafted into this show with ease and a practiced flow. Their improv skills are sharp, as is expected from any Second City player, it's just that their source material could use some tweaking (or changing entirely.) At the embittered behest of Kate Lambert's Cassie, the players find themselves in perilous love-disasters that really aren't all the funny. Lambert, through no fault of her own, gets stuck with the most preposterous premise in Love, Factually; she plays Cassie, a hyper-millennial whose had two seconds of heartache and thus believes that the rest of the world wants her doom and gloom outlook on romance. (And while this may be a stereotypical perception of millennials, let's work on correcting that stereotype, because as it turns out, it's not actually that funny.) So she sets to "rebooting" Love, Actually in her vein of misery, which prompts the surprise arrival of the Ghost of Jane Austen's Christmas past. (If you're going to send-up A Christmas Carol, maybe stick with Twist Your Dickens, a superb example of just how well Second City can do a holiday improv show.) And it all tumbles rather glumly downhill from there.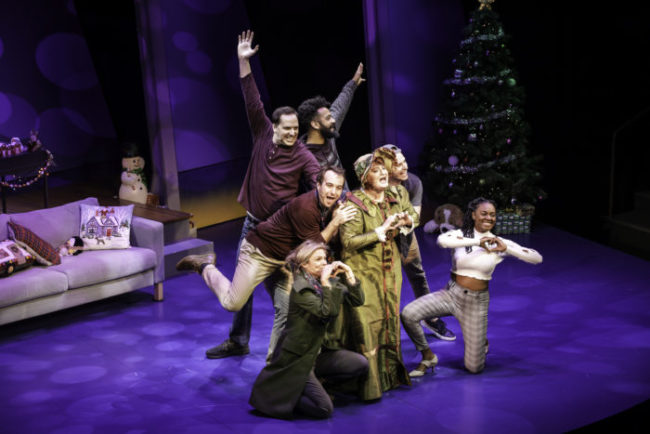 The audience participation is entertaining; some of the jokes are funny, and it's obvious that the performers are well versed in longform improv scenes, complete with callbacks, adaptability, and audience engagement and control. What's not obvious is how this made it onto the touring circuit for the holiday season, or how it was approved under the Second City stamp of awesome, because of all the things it is? Love, Factually isn't what you'd expect from Second City for Christmas.
Running Time: Approximately 2 hours and 10 minutes with one intermission
Love, Factually plays through December 29, 2019 in the Theater Lab of The John F. Kennedy Center for Performing Arts— 2700 F Street NW in Washington, DC. For tickets call the box office at (202) 467-4600 or purchase them online.