"When music is playing and couples are swaying Say! I've got to be there! I've got to be there!"
Indeed you do.
Attendance is quite simply mandatory for Cockpit in Court Summer Theater's production of Nice Work If You Can Get It still open for two full weekends at the F. Scott Black Theatre.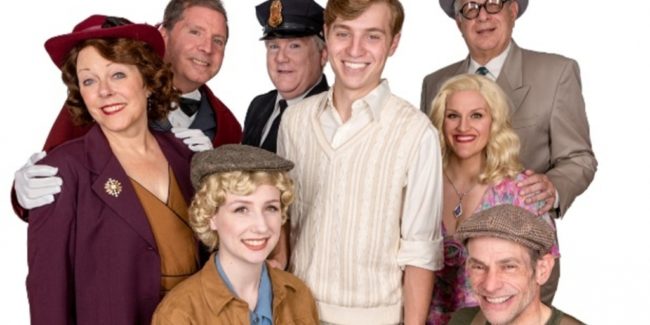 Fans of Golden Age music (and musicals) will be overjoyed to see this production, but even the most jaded of theater attendees will be bowled over by the quality production that has been assembled. Director Eric J. Potter and his team have produced a true wonder: A jukebox musical that feels both fresh and familiar.
For those unfamiliar, Nice Work If You Can Get It is a collection of George and Ira Gershwin tunes, set to a book by Joe DiPietro in 2001. Having gotten its Broadway debut in 2012, the show is a relative newcomer to the theater world, despite the instant recognition that fans of Gershwin material will have upon viewing. Familiar favorites like "Let's Call the Whole Thing Off", "S'Wonderful", and "Fascinating Rhythm" make natural appearances in a show that takes no real narrative risks.
Set at the height of the roaring 20's, this show follows the hijinks of two characters: Jimmy Winter, a wealthy but immature boy being forced into marriage (his 4th) else he be disinherited, and Billie Bendix, a tough-as-nails lady and bootlegger on the run from prohibitionists and lawmen.
In many other productions, this would be a very familiar show, sagging under it's too-familiar plot and re-hash of Gershwin classics. However, in the hands of this theater company, all of that falls away due to the sheer flawless execution and daring of this cast and crew.
Director Eric J. Potter is to be applauded for not only his masterful skill at shaping this production into a comedic machine of impeccable timing, wit, and charm, but also for assembling a top-notch crew of designers, set-dressers, costumers, and musicians. The decadent splendor of 1927 was on full display in all its glory thanks to Set Designer Michael Rasinski and Lighting Designer Helen Garcia-Alton. The marble staircases, the starry skies, and palatial foyers are simply resplendent, and all beautifully framed by both artful and tasteful lighting.
Music Director Gerald Smith is also to be lauded, for a clearly well-rehearsed and stylistically mindful rendition of these Gershwin Classics. Coupled with the experienced baton of Tim Viets, the music crackles with energy, yet is mindful of the necessity of contrast in both dynamics and tempo, all of which fantastically complements the simply phenomenal choreography of Ilona Kessell.
Kessell lives up to her impressive pedigree of multiple Helen Hayes nominations in this classic, high-energy, technical-yet-effortless tour-de-force of dance. Every motion seems natural, yet bold as both principal and ensemble glide, shimmy, and jive through each and every number. Further credit goes to Dance Captains Angela Boeren and J Purnell Hargrove, who have whipped this talented cast into such unified precision that is scarcely to be believed.
J. Bradley Bowers is simply incredible as Jimmy Winters. With a glass-smooth voice and boyish charm, Bowers is a natural in every scene and dances with the skill and confidence of a modern-day Fred Astaire. In particular, the blistering and syncopated "Fascinating Rhythm" crackles and skips in his voice and body effortlessly, yet rock-solid in its precision. Matching him at every turn is Lizzy Pease (playing Billie Bendix), who perfectly nails the slow transformation from disinterested hard-as-nails bootlegger to open-hearted yet street-smart ingénue. Pease delights with a clear, shining and soaring voice that is both appropriate and engaging.
Complementing Pease are her fellow bootleggers Cookie McGee (Patrick Martyn) and Duke Mahoney (Gary Dieter). Martyn is a laugh-a-minute, who's physical and facial expression alone is enough to keep the audience in stitches. Add his versatile vocal performance and you have a comedic knockout. Persevering through a persistent microphone issue, Martyn is simply unflappable and an absolute treat. Not to be outdone, Gary Dieter's portrayal of the dopey Mahoney is loveable and funny throughout, but in particular, his turn at "blah blah blah" is equal parts charming and hilarious.
Lynn Tallman is perfect as the insufferably high-brow Eileen Evergreen. The picture of a self-important avant-garde elitist, Tallman shines in her rendition of "Delishious" and regularly cracks up audiences with her turns as "the finest interpreter of modern dance in the world". Alongside is Evergreen's father, Senator Max Evergreen, played by John Amato. Amato nails the pompous senator to a tee, driving the prohibitionist forces along with his sister Duchess Estonia Dulworth (Jane E. Brown).
Brown is impressive as the tightly wound duchess, managing the unenviable task of convincing the audience of an otherwise ridiculous plotline for her character that seems somehow organic despite its forced conclusion. Bringing life to such stilted material is apparently no challenge at all to Brown, however, who brings a neurotic energy to this single-minded temperance worker that is a delightful foil in her interactions with the bootleggers she inadvertently encounters.
In performance that is both affable, bumbling, and endearing, Toby Hessenauer plays Police Chief Berry as driven yet kind. In a fashion that can only be described as adorable, Hessenauer delights in every scene as a policeman who wants his man but is careful to avoid impropriety or impoliteness. It was a refreshing change from the low-hanging fruit of "easily bamboozled law enforcement officer gets constantly outwitted by increasingly improbable plot devices."
Finally, we have Joan Crooks, who plays the rarely seen but always felt role of Millicent Winter, Jimmy's finally fed-up mother who is tired of Jimmy's flighty and boyish antics. Bringing spunk and charisma in spades, Crooks instantly draws attention in all the right ways in her late appearance near the end of the show, making fools of nearly every character that needs a rhetorical swat on the nose. Her snarky humor is perfectly communicated in Crook's hands and is always ready with snappy one-liners in perfect comedic timing.
In short, this show is a must see for theater-goers of all stripes and tastes. Fans of Gershwin's music will be delighted by the faithful adaptation and execution on display, and even the more jaded of theater fans will be unable to resist the absolute clinic in comedy, singing and dance on display.
Running Time: Approximately 2 hours and 45 minutes with one intermission
Nice Work if You Can Get It plays through August 4, 2019 at Cockpit in Court in the F. Scott Black Theatre of The Robert and Eleanor Romadka College Center at the Community College of Baltimore County Essex Campus— 7201 Rossville Boulevard, Essex MD. For tickets call the box office at (443) 840-2787 or purchase them online