For my part, I will have only those glorious, womanly pleasures of being very verbose and very favorable to The Rude Mechanical's production of William Wycherley's The Country Wife. A far cry from very slovenly, though indeed 'tis very drunk, this quirky Restoration comedy (apparently there was humor in the restoration era) under the direction of Alan Duda, finds its footing not in its original setting but rather in the posh and swanky New York City of the 1950's. Come along for the ride and laugh your rear right round as Duda and The Rudes put a hilarious modern neutrality to the otherwise misogynistic, borderline toxic patriarchal, play of sexual errors.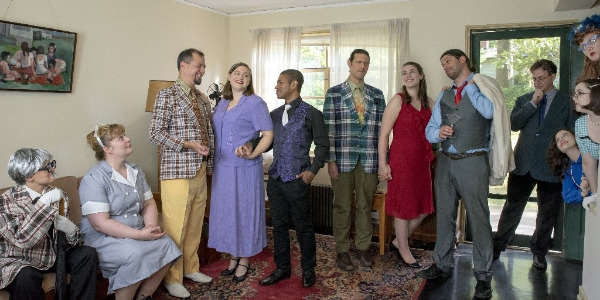 Displacing the play to the upper east side of Manhattan in 1955 is Director Alan Duda's gift to the long-dead playwright, William Wycherley. Simple comedic tropes of passionate jealousy, which by some present-day lenses are still viewed distastefully, that are the hallmark of iconic 50's sitcoms like I Love Lucy give the play a less offensive and more comical leg to stand on; Duda treats the production as if it were an actual sitcom, being filmed in front of a live studio audience, going so far as to engage an "on-stage" stage manager (Liana Olear) to call and conduct the set changes as one might expect during the actual taping of a sitcom in the 50's. With stagehands Lesley Cuevas and Kevin Newcomb, as well as behind the scenes Stage Manager Holly Trout, the shifting of scenes from inside Mr. Horner's apartment to the exterior streets of Manhattan to the interior of Mr. Pinchwife's apartment, etc., all become a functional and amusing gimmick. Duda has created a low-key set, with additional set constructive assistance from Sarah VanFossen, which allows for speedy transitions within the format of the aforementioned gimmick. Using a monochromatic black and white approach for the show's overall décor is not only thrifty but helps to craft the illusion of what will eventually become a "black and white" television episode.
The play itself runs longer than the typical Rudes production; the current Rude Mechanicals' season has been defying the long-standing tradition and practice of swiftly rendering Shakespeare and his ilk down to 90 minutes or less when it comes to stage traffic. The Country Wife, following the course of Cat on a Hot Tin Roof and Uncle Vanya (the other two offerings presented this season) does not fit neatly into the 90 minute box but is engaging and humorous enough, presented with enough talent and a strong enough concept that the two hours and odd few minutes plus the intermission move swiftly along without notice. The limited sound design, as crafted by Sound Designer Jaki Demarest, homes in on the show's running length, and is only notable because what is present is so delightful. If more laugh-tracks and sound effects of the like were to be used, it could potentially impede the already languid meanderings of the show's plot. Demarest does create some exquisite sound effects and musical backings, though sparse in her deployment thereof, and should be commended for the crowning glory creation— the voiceover, which she does herself, of the apartment attendant that announces the arrivals of various and sundry characters to the different apartments, which sounds at least one-half Roz from Monsters Inc.
50's fashion is clear and present all throughout the performance, by way of Costumer Spencer Dye, from the bad-taste suits seen on Pinchwife and Sparkish to the ensemble of gallantry composed all around Lady Fidget, her sister-in-law Mrs. Dainty, and her cousin Mrs. Squeamish. (If you find the who's who of this production confusing, Duda has included a photo key in the program that is not only stylish and cheeky but thoroughly useful! Photography credit owed to Rachel Zirkin Duda.) The outlandish peacock outfit featured on Lady Fidget alone is well worth the price of admission as it truly displays the gross affluence of 1950's highball Manhattan society.
Further solidifying the shift out of the Restoration Era and into 1950's Sitcom Tropeland, Director Alan Duda pushes characters to evolve like the TV titans of their time. Mr. Sparkish (the incomparable Paul Brinkley) is channeling Jerry Lewis so as to be wearing the comic's skin. Mr. Pinchwife (the indescribable Joshua Engel) is creating his own flavor of a Ricky Ricardo type with the hyper exaggerated physicalization and overly animated facial expressions in response to all the shenanigans that occur within his realm of existence. While other characters are more subtle in their approach to this 50's sitcom reality, it readily expressed throughout Duda's directorial choices and gives the overall performance a cohesive, fluid feeling.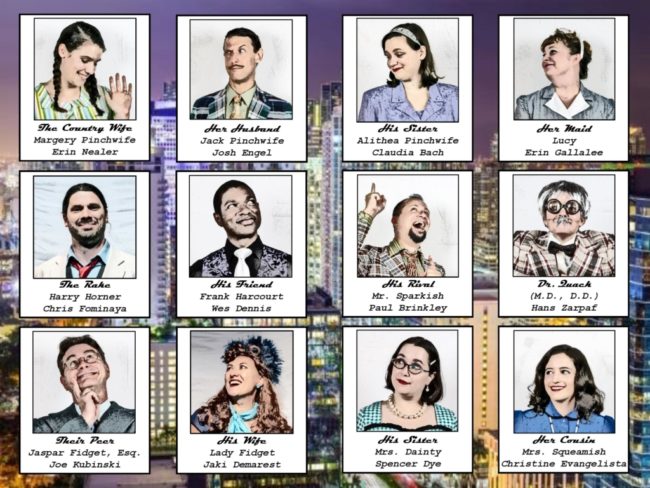 Delving into character nuances, there is none so deserving of admirable praise as Erin Gallalee, playing Lucy the Maid (of Alithea, the sister of Pinchwife.) An integral part of the plot's conclusion but not until that point in the play, Gallalee finds a way to deliciously chew scenery and earn her keep as the show's "mostly-seen-seldom-heard" stock Maid. Her background interactions and charades are priceless and add their own unique zest of comedy to an already humorous show. Mrs. Dainty (Spencer Dye) and Mrs. Squeamish (Christine Evangelista) fall into this gathering of "lesser plot motivators" but are nonetheless giving talented performances that orbit strong minutia in their character choices. The scene with Evangelista's character on the sofa-chaise and Mrs. Fidget and perfume atomizer becomes a bit of comic schtick that is too hilarious not to mention. Hans Zarpaf, a unique creation all their own, takes the bumbling city Dr. Quack and turns him into a major player. The vocal affectation, the shambling physicality, and overall enthusiastic responses that Zarpaf delivers makes this character a hilarious addition to the script, especially as in Duda's version, it is the Doctor who delivers a fair bit of the final blows that close the show.
Not your average wealthy fop, Mr. Jaspar Fidget (Joe Kubinski) would be an easily forgettable character in a more traditional production of this play. Kubinski, however, takes yet another 50's approach to spinning the character into the storyline and gives Mr. Jaspar Fidget a closeted interest in the supposed eunuch character of Harry Horner. The interactions Kubinski presents to Harry Horner create more laughter, as they are cheeky and loaded with subtle innuendo. Naturally the whole play, as it is rather a sexual comedy of errors, is loaded with innuendo, but this inclusive addition rounds out the china rather nicely.
Cheeky arrives in a forward form when it comes to Mr. Frank Harcourt (Wes Dennis), who is meant to be the friend of Harry Horner but immediately becomes taken with Alithea Pinchwife (Claudia Bach), the sister of Pinchwife. (Confused yet? There is a pictogram!) Dennis, who falls outside of the brazen comedic tropes of the 1950's, still fits into the realm of the play's existence just with the cadence of his delivery. Watch his performance when he's introduced as someone else later in the performance; it's so absurdly hilarious one might almost describe it as religious ecstasy. Bach, as the reserved and slightly conflicted Sister-of-Pinchwife-who-feels-obligated-to-marry-Mr.Sparkish-but-also-really-likes-Harcout, creates an ordinary base character from whom the more exaggerated stereotypes can grow. Bach's snappy little sarcasms, particularly when fired off at her brother, are well fitting of a polished lady of the 50's.
Not to be a summarist— one who spends most of their wordage summarizing the plot— but to give a bit of insight to this ludicrous tangle of relationships, it is the titular character— The Country Wife­— around whom this play revolves. Mr. Pinchwife has gone out into "the country" to fetch himself an unlearned woman to wife, cloistering her away from city life, despite having brought her to the city, in hopes that she will not learn to hate him as all the city wives hate their husbands, and subsequently prevent her from taking a lover and cuckholding him. So the relationship dynamic between Pinchwife (Joshua Engel), his wife Margery (Erin Nealer) and the clever rake (read: sexual Casanova) Harry Horner (Chris Fominaya) is what essentially holds the show together.
Nealer, who creates the most earnest and honest character in the performance, masterfully crafts a country bumpkin vocal affectation which furthers the transportation of this production out of the Restoration Era Londontown and countryside and into New York City and southern Appalachia. Her congeniality in marveling over the things that Margery does not know is both wondrous and credible. There is a fancy-free spirit that Nealer gives to the Margery character the defies her simple country upbringing in a way that gels with the character's essence rather than riles against it. When Nealer's Margery is playing her own brother (because why not) and she gets all atwitter over Harry Horner, it's just too precious. A delight to the titular role, Erin Nealer makes her a modestly modern woman without pigeonholing this country wife into an unacceptably meager slot of femininity.
Engel, as the principle misogynist, has crafted somewhat of a loveable goofball in this character of the obscenely jealous and obsessive Pinchwife. (If you've any working familiarity at all with the original character, seeing Engel's comedic and buffoonish transformation of Pinchwife is rather a relief compared to its cringeworthy origins.) Though Engel's emotions all tend to play at one level, elevated high from an early point with nowhere to explode to and no ability to fall from that plateau, he fits the bill when it comes to elongated comic glances and facial expressions.
Chris Fominaya, who plays the loveably charming rascal Harry Horner, is much more a lady's man than a rakish rogue of a player. Always attentive of his female charges, Fominaya readily displaces the gross arrogance and machismo that accompany Harry Horner and in their place presents lustful attentiveness, making mockery of the men in the production rather than slut-shaming the women for their indiscretions. Fominaya makes it difficult to be disgusted by his actions, which are basically fabricating an enormous lie about his sexual capabilities in order to lull married men into a false sense of security in leaving him alone with their wives so that he can seduce them. There is something strangely charming in the way he goes about this, perhaps it is the genuine series of interactions he has with the varying female characters, allowing their physical and emotional needs to dominate the direction in which their involvement progresses.
When it boils down to battles of the personalities, there is a dead heat tie between Jaki Demarest's Lady Fidget and Paul Brinkley's Mr. Sparkish. As Brinkley transforms himself into a bombastically explosive Jerry Lewis, complete with cadence, patois, and vocal affectation, Demarest puts on such airs of pretention that you can almost see them oozing down her sapphire dress. The pair, though seldom even on stage in the same scene, are madcap marvels when it comes to creating these heightened, exacerbated caricatures and yet somehow fitting them into the reality of this sitcom framework without having to overextend their believability. Both Demarest and Brinkley are the queen and king of comedy in the production and though they are second-tier leading players, their performances are simply stellar.
Well worth the two-odd hours and change of stage traffic, the salty comedy that Alan Duda has managed to coerce from The Rude Mechanicals is impressive, albeit quirky. The Country Wife is a rare bird indeed, a Restoration comedy with 1950's sitcom flavor, and has just two weekends in production for you to enjoy it.
Running Time: 2 hours and 20 minutes with one intermission
The Country Wife plays through August 17, 2019 with The Rude Mechanicals at The Greenbelt Arts Center— 123 Centerway, in Greenbelt, MD. Tickets are available by calling the box office at (301) 441-8770 or by purchasing them online.